This training camp series will provide you with in-depth analysis of key injuries and their resultant implications on a players draft value. This information comes straight from my perspective as a physical therapist and collegiate athletic trainer of ten years. Over that time, I have seen and treated almost every injury that can occur in this violent sport. Hopefully this piece gives you a little more insight into the anatomy of an injury.
---
Player: Peyton Manning
Injury: Disc excision, cervical spine
Healing Time: 12-16 weeks
Impact on your cheatsheet: Red flag. I am now concerned about Manning. Jim Irsay, the Colts' owner, tweeted that they are starting to evaluate other quarterbacks in fear that Manning may not be ready for the regular season. He is at the bottom of my first-tier quarterbacks at this point.

Player: Jason Campbell
Injury: Concussion
Healing Time: Day-to-day
Impact on your cheatsheet: No change. Campbell said he experienced some dizziness after getting kneed in the head by 49ers linebacker Ahamd Brooks. Head coach Hue Jackson said that he epects Campbell to practice Monday so we can assume Campbell's concussion-related symptoms are minimal.
Player: Maurice Jones-Drew
Injury: Meniscectomy
Healing time: Day-to-day
Impact on your cheatsheet: Undervalued. MJD has been on the practice field, but the team elected to hold him out of Friday's preseason game against Atlanta, and head coach Jack Del Rio hasn't decided if he'll play against Buffalo. But, as I stated last week, I'm not concerned. "It's just better now because I don't have that pain," Jones-Drew said. I think he is falling too low in drafts because of this injury.
Player: Ryan Williams
Injury: Torn patellar tendon
Healing time: One year
Impact on your cheatsheet: Drop. Williams is done for the year and is expected to have surgery sometime this week. These types of injuries are career-threatening and they don't allow a player to get back on the field as quickly as ACL reconstructions.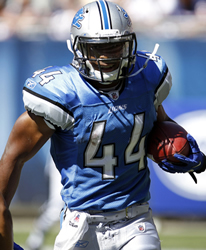 Expect the Lions to be very cautious with Best in practice this week.
Player: Jahvid Best
Injury: Concussion
Healing time: One week
Impact on your cheatsheet: Unchanged. After some non-committal answers, head coach Jim Schwartz did verify that Best suffered a concussion on the Lions' first offensive play in Friday night's preseason game. Best's symptoms were clearing up on Saturday, but with the NFL being overly cautious with this type of injury, Best will likely be watching from the sideline the majority of this week.
Player: Arian Foster
Injury: hamstring strain
Healing time: Healed
Impact on your cheatsheet: Solidified at the top. He is locked and loaded and should be one of the first two running backs off the board. His first preseason performance (5 carries, 47 yards, 2 TDs) foreshadows how productive he could be this year. Hamstring injuries can be touchy, but Foster appears to be in the clear.
Player: Darren McFadden
Injury: Orbital fracture
Healing time: 1-2 weeks longer
Impact on your cheatsheet: Unchanged. McFadden's injury has still not healed, but he probably would have played through it if this were the regular season. He is practicing in non-contact drills and will likely make an appearance in one of the final two preseason games. He is set up to have a big year, and the Raiders are just being cautious with him at this point.
Player: Ben Tate
Injury: Hamstring, Lower leg fracture with plate/screw insertion
Healing time: Healed
Impact on your cheatsheet: Rising. Either Derrick Ward or Ben Tate is going to get the backup job to one of the dream positions in fantasy football. The Texans have a great system for running backs—a good offensive line and a very good passing game to compliment the running attack. Tate looked fast and explosive Saturday night (8 carries, 95 yards, 1 TD), and since he is younger than Ward, he may be the handcuff to own.
Player: Percy Harvin
Injury: Bruised ribs
Healing time: Day-to-day
Impact on your cheatsheet: Unchanged. Harvin has missed practice since August 8th as the Vikings continue to play it safe with their best receiver. He is set to see a lot of targets with McNabb in town and having no other weapons to throw to. I like his prospects for this year, but I am left with this uneasy feeling over his tendency to be injured. He is frequently on the injury report for any number of ailments, including migraines, bruises, and muscle strains.
Player: Jeremy Maclin
Injury: Virus, unknown, mononucleosis
Healing time: Unknown
Impact on your cheatsheet: Falling fast. Much like Maurice Jones-Drew, it's going to get to the point where Maclin becomes a value pick because of his illness. But we're not there yet. Head coach Andy Reid stated that Maclin is about a week away from practicing. He needs to build up his conditioning before taking hits on the field. Don't rule him out for Week 1, but expect this talented receiver to perform his best in the second half of the season.
Player: Jonathan Baldwin
Injury: Cracked thumb
Healing time: 2-4 weeks
Impact on your cheatsheet: Downgrade. I doubt Baldwin was high on most people's sheet, but this injury will most likely make him undraftable in redraft leagues. The injury will limit any cohesiveness he might have built with Matt Cassel and it will stunt his growth as a receiver.