Knowing your league's scoring system is key. In Point Per Reception (PPR) leagues, your draft strategy certainly changes as "role players" often gain more value. Players like Theo Riddick (for example) who do not carry a big workload, can contribute to a fantasy team by catching 4-5 short passes even if his yardage, carries, and touchdowns do not fill up the stat sheet on regular basis.

While these players are certainly worth drafting in PPR formats, by doing so, it forces other players down your rankings, often a full round or more. By targeting these depressed players you often come away with incredible value as these "non-PPR" guys will often score as much as PPR specialists.

Below I will highlight five players who I feel have become nice bargains and recommend drafting all of them at their current ADP as a sort of "alternative" drafting strategy in PPR leagues.

Note: All ADP's are for 12 team leagues.

Spencer Ware, KC


(Standard ADP: 4.02, PPR ADP: 5.02)



In nearly 300 career carries Spencer Ware has averaged over 4.6 yards and for the first half of last season, looked like he was on his way to joining fantasy's elite backs. After a concussion and an injury to his ribs, Ware seemed to be running out of gas in the latter part of the season and consequently, he is being drafted as more of a low-end RB2 in PPR leagues rather than the RB1 that he showed he could be.

With the 2016 second half falter and the addition of rookie Kareem Hunt, Ware is falling out of favor with drafters but I see a real value with Ware in PPR leagues. Ware, by all indications will be the Chiefs starting running back this season. On a fairly conservative offense that wants to focus on the run and the short pass, Ware is in a prime position to rack up fantasy points, even if he's not a true workhorse back. It's strange he's being drafted a full round lower in PPR leagues even though it's very likely he will still catch the most passes out of the Chiefs backfield. While Kareem Hunt is a solid all-around back, he is not an Alvin Kamara-type prospect who excels as a receiver.

While Ware's game-to-game performances were up and down in the receiving department, he totaled 33 receptions in 14 games and had four games catching 3 or more passes, including a seven-reception game against the Chargers. While it is only preseason, Ware showed his receiving chops in game one, catching 3 passes for 20 yards, clearly working ahead of Hunt who caught just 1 pass with the backups.

All in all, the Chief's coaches seem to be behind him, his past performance supports a solid season, his preseason (to date) performance has been solid, and his competition is likely more hype than substance. In standard league's his 4th round ADP seems about right, but the full round discount in PPR leagues makes him a borderline steal.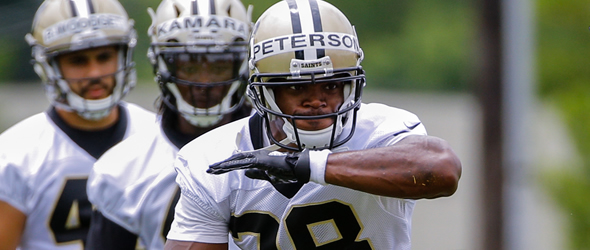 Peterson's non-PPR perception has dropped his ADP low enough to make him a bargain in PPR leagues.


Adrian Peterson, NO


(Standard ADP: 4.11, PPR ADP: 6.04)



I know as soon as some of you saw Peterson's name you probably started shaking your head, thinking "give me a break", but hear me out.

As the 27th running back off the board in PPR leagues, Peterson isn't being drafted as a starting back so you're not investing a huge amount into someone who may have landed in the best team situation he has been in for his entire career. We all know Peterson is an elite runner who just two years ago was the number one fantasy running back in most formats. Yes, he is several years older (32) and yes he has suffered several injuries make you concerned, but he's a once-in-a generation-talent that has already defied most odds as a physical freak of nature.

There is certainly some competition in the backfield with veteran Mark Ingram and rookie Alvin Kamara both expected to steal touches. While Ingram has been a fairly productive pro, he has battled inconsistency (both performance and injury-wise) throughout his career and finally (after 6 seasons) just had his first 1000-yard rushing season (1043 yards). Don't forget, the Saints benched him last season, and potential trade deals were rumored this off-season.

Kamara should eventually excel in catching passes out of the backfield and will probably get some work this season in that role, but "rookie fever" by fantasy drafters often takes a strong hold and Kamara is more likely to spend his first year as a kick returner and role player much more than a real threat to Peterson's workload. While reports of Peterson working on his pass catching have become an every yearly occurrence (and part joke), the truth is that when given the opportunity, has been a solid receiver, with four seasons of 30-plus receptions including 43 in 2009 when he averaged 10.1 yards per catch.

Peterson is now working with the best quarterback he has ever played with, on a team where opposing defenses will be focused on stopping the pass before concentrating on the run. In addition, the Saints love to throw to their running backs so even if he is pulled in most 3rd down situations, he should still get a handful of passes each game operating on early downs.

While nobody will confuse Peterson with some of the best RB pass-catchers in the game, his non-PPR perception has dropped his ADP down low enough in PPR leagues to make him a real bargain with upside.

Mike Gillislee, NE


(Standard ADP: 4.04, PPR ADP: 5.04)



While I believe Gillislee's ADP in standard leagues is a bit high, the discount drafters are giving him in PPR league's makes him a quality target in this formats. As the 22nd running back off the board in PPR leagues, Gillislee has the rushing yardage and TD upside to outperform his ADP, even if he didn't catch a single pass. While the Patriots definitely have other pass-catching backs that will get their share of targets, Gillislee is the only back on the roster that could be a true three-down option.

Given their off-season investment in the former Bill, the Patriots should give him the first crack at leading their high-powered offense and even lesser talents (Blount) have become fantasy studs in similar roles. While most drafters know that Gillislee has excelled in yards per carry the past two seasons, many do not realize that he was considered an excellent pass-catcher coming out of college four years ago. While he wasn't given many opportunities in Buffalo to catch passes, I believe Belicheck knew what he was getting when they signed Gillislee this off-season and will make use of Gillislee's full talents.

With a relatively easy schedule, positive game scripts, a ton of talent around him to keep the defense's focus elsewhere, he is set up to get 15-plus touches per week. For drafters that load up on receivers the first few rounds, Gillislee has the upside to be a RB1 but at a discounted rate thanks to public perception of him not being the Patriots featured pass-catcher. Don't fall into that trap. Gillislee is an excellent value in PPR leagues as part of a value-based, alternative draft strategy.

Doug Martin, TB


(Standard ADP: 5.06, PPR ADP: 6.06)



My argument for Martin is similar to Gillislee. While his standard league ADP is perhaps a bit high, his public perception of not being a "PPR guy" has made him a value in PPR leagues. In the two years where Martin played all 16 games, he totaled 82 catches for over 700 yards. In addition, the competition in the Bucs backfield is weak with Jacquizz Rodgers as a try-hard player but a below average talent. Charles Sims, who is a nice change of pace guy but no threat to cut into a big workload and rookie Jeremy McNichols, who by most accounts, is having trouble adjusting to the NFL game. With most camp reports being very positive, he is poised to take over the starting role as soon as he comes off suspension in Week 4. Still only 28, and on the most offensively talented team he has played on as a pro, Martin should face much less defensive pressure than seasons before.

Martin's ADP creates a great spot for several different drafting strategies. If you're taking a "Zero-RB" approach, you can grab Martin as perhaps your first running back and instantly have the upside of a workhorse back at a discount (just make sure you grab Rodgers a few rounds later). If instead, you opt to go RB-heavy your first five-six rounds, you can grab Martin as depth. Finally, if you simply take best player available, as I normally do, Martin has excellent value as a mid-to-late season starter or even a great trade piece after he comes off suspension.

Whatever way you look at it Martin is a great value in the 6th round as a guy that could be a league winner at a discount price. A down year in 2016 plus a three-game suspension, is allowing Martin to be had a very nice discount in PPR leagues, who was a top 5 fantasy back in 2015.With a full round difference between standard and PPR ADP's, Martin to me is one of my favorite targets in the PPR format.

Kelvin Benjamin, CAR


(Standard ADP: 5.11 PPR ADP: 6.08)



As the only wide receiver on my list, Benjamin leads the short list of players at his position whose ADP drops significantly between standard and ADP leagues. In fact, Benjamin is the only WR in the first 7 rounds whose ADP drops more than three spots when comparing standard and PPR leagues.

I'm not a big fan of Benjamin's talent. I thought he was drafted too high out of college and thought there were too many holes in his game to ever become an elite NFL receiver. All this being said, Benjamin is in a better than average situation for a fantasy receiver and while not a traditional PPR darling, he has about as much touchdown upside as anyone at the position. He's a lock to receive 110+ targets and is a value in PPR leagues mostly because; (A) He is coming off a down year and (B) he is seen as a low volume target. I suppose 63 catches for a team's number one receiver is not exciting, especially in PPR leagues, but despite Cam Newton's worst season as a pro, Benjamin still totaled 941 yards and 7 touchdowns, while playing in all 16 games. At times last year Newton was horrible, and while I suppose some of that blame can be put on Benjamin, Newton was clearly playing nowhere near his 2015 level. I see 2016 as Cam's floor, and thus Benjamin's floor, at least until the Panthers get more reliable help at receiver.

We must also remember, 2016 was Benjamin's first year back after ACL surgery, so some natural improvement is likely this year. As far as being a low volume target, this might be true, although too many times PPR drafters put an exaggerated emphasis on reception totals and ignore yardage and touchdown numbers, and I believe that is the case for Benjamin who is a perennial double-digit touchdown threat.

In my mind, a touchdown is worth 6 fantasy points, meaning a player has to catch 6 passes in PPR to match that total. While I realize more factors go into such a simple example, my point is, on a week-to-week basis, Benjamin has as much upside as PPR darlings that get drafted before him.

With Christian McCaffrey sure to take away a little more defensive attention and the loss of Ted Ginn Jr. opening up more touchdown opportunities, I could see Benjamin matching or slightly improving upon his 2015 rookie year when he was a top 20 fantasy receiver in PPR formats. As the 32nd wide receiver being taken off the board, Benjamin is a steal in PPR leagues where people greatly underestimate his value.