For serious dynasty league managers, it is never too early to look at the incoming NFL rookie class to get a sense of how it's players will impact your league. With the Combine and most college Pro-Days now over, and the NFL Draft less than two weeks away, now is a great time to try and project who the top rookies will be for fantasy purposes. Analyzing the best prospects now will help us better plan our rookie drafts to maximize value and gain a competitive advantage over our other league members.

While landing spot will obviously be a significant factor in player value and projection (I will do a post-NFL Draft mock as well), a pre-NFL Draft mock is a good way to look at the raw talent and ability of these players before their value is influenced by draft capital, competition, coaching, scheme, etc.

It will be very interesting to see how much this mock draft changes in a few weeks, but for now, enjoy!

Note: for this mock I am using a standard scoring, 12 team league.

1.01 - Saquon Barkley, RB, Penn State

I'm confident this pick will not be changing post-NFL draft and I would be shocked if Barkley is not the consensus first player taken in 99.9% of all dynasty rookie drafts. Barkley was the heavy favorite to be the rookie darling in fantasy leagues before the Combine, but after putting up ridiculous numbers (4.40 40, 29 bench reps, 41'' vertical) those at the top of a rookie draft can lock in their pick right now. Possessing elite size, speed, strength, and burst, Barkley is already being compared to NFL legends Barry Sanders and LaDainian Tomlinson and is not expected to make it past the top 8 picks in the NFL Draft. Regardless of his landing spot, Barkley will command a ton of volume, as he is an elite back that can play in all phases of the game including short yardage and passing downs. This pick is one of the easiest rookie selections in recent memory.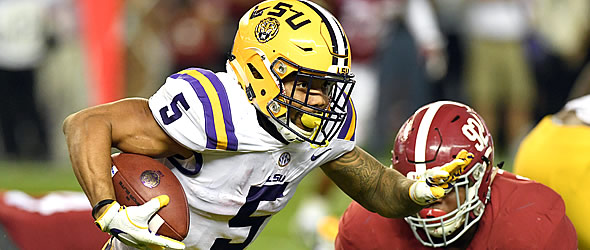 While pick No.1 in rookie drafts is a no-brainer, Guice represents one of many possibilities at pick No.2.
1.02 - Derrius Guice, RB, LSU

While Guice is not my personal favorite for this pick, I believe the hype around him along with his draft capital makes him deserving of this draft position. Guice had an injury-riddled 2017 but his 2016 tape is undeniably amazing, showing a violent running style that creates yards after contact, with just enough long speed to take any play to the house. He's a bit of a throwback back, relying on power, balance and aggressiveness more than shiftiness or wiggle. In the right situation Guice could pile up touchdowns, as he is one of the best power runners much like his ex-teammate, Leonard Fournette. While Guice is a capable receiver, his opportunities in the passing game will likely come down to his backfield competition, as he does not possess elite, traditional 3rd down back traits. If you are drafting Guice you are looking for volume on early downs and short-yardage touchdowns, which, let's be honest, could easily be enough to land him in the top 12 of fantasy backs this coming season.
1.03 - Sony Michel, RB, Georgia

There are multiple options here at pick No.3, but right now I see Michel as the right choice. He has a legit chance to be a workhorse back in the right system, with excellent size, adequate speed and burst, and more power than many give him credit for. Michel may not be elite at any specific running back trait, but his overall game is one that lends itself nicely to volume with the big play potential as a bonus. What I like most about Michel is the combination of patience and decisiveness that is nearly impossible to teach, yet so effective when mastered. While his measurables are not in the Barkley or even Guice class, I could see him producing on a similar level thanks to his attention to detail which is not quite quantifiable, yet so important for production and longevity in the NFL. Michel appears to be a safe pick here, even if his ceiling isn't quite as high as some of his fellow rookies.
1.04 - Nick Chubb, RB, Georgia

If Chubb were draft-eligible after his 2015 season we could be talking about him as the first player selected in rookie fantasy drafts, as he was simply dominating his competition. Unfortunately, Chubb suffered a devastating knee injury and has yet to look the same. Still, Chubb remains a highly touted prospect that should be among the top 5 running backs drafted due to his ability to run between the tackles with power, and with adequate speed to be a breakaway threat. Much like Guice, Chubb does not have elite third-down skills, so the upside to his fantasy value is capped. To be fair, Georgia did not throw to him enough to really judge for certain. The bottom line: Chubb has the body and skill-set to be a 250-plus carry back who can compile yardage, move the sticks, and punch it in from the goal line. While his ceiling may not be as high as some of the other players, his floor should be relatively high, making him a worthy pick at this draft position.
1.05 - Courtland Sutton, WR, SMU

The wide receiver class is shallow this year, but this range seems about the time to select the first player at the position and while Sutton may not be the first receiver chosen in the NFL draft, he seems to have the most upside of any fantasy receiver. Sutton is big (6'3'', 220lb) and fast (4.54 40, 6.57 3=cone) and posted good, though not elite college production. With no off-field concerns and a very hard worker, Sutton checks a lot of the boxes NFL GM's covet. Whether Sutton turns into Julio Jones, Kevin White, or something in between is a big question. For fantasy owners though, especially those who like to be aggressive, Sutton probably has the highest ceiling of any wide receiver in this year's draft and could potentially be a WR1 very soon if things break the right way. There is some risk involved of course due to being a bit raw and underproductive, but the payoff could be huge, especially mid-way through the first round of rookie drafts.
1.06 - Calvin Ridley, WR, Alabama

Ridley is the anti-Sutton for receivers, with a much lower ceiling but a safer, more stable floor. When people talk about Calvin Ridley, terms like "NFL ready" get used a lot, suggesting he can come in and contribute right away, soaking up a sizable amount of targets. Personally, I think Ridley is a little over-hyped but it appears he will be a first-round draft pick. With his resume, he deserves to be picked this high based on the likelihood that whoever drafts him will force the ball to him early and often. If he lands in the right situation, Ridley could eventually put up WR2 numbers, making him a valuable fantasy asset, even if he never reaches superstar status. Ridley is a quality pick in the middle of the first round of rookie fantasy drafts, especially to more cautious, risk adverse fantasy owners.
1.07 - Rashaad Penny, RB, San Diego State

Many analysts are torn on Penny, some feel he is destined to be elite because of his size/speed combo and his crazy good college production, others see his production as more of the product of the system he was in and the lack of competition he faced. Either you are getting a major steal here with Penny or you may be wasting a pick but the upside is as tantalizing as any other running back other than Barkley. Much like Sony Michel, Penny does not wow you in any one area of his game but he can run between the tackles as well as bounce outside, and was even used successfully as a kick returner. The landing spot and the amount of draft capital spent will be a huge factor in where Penny ultimately goes in rookie drafts, but for now, the second half of the first round seems like a fair estimate based on his outstanding college production at a smaller school.
1.08 - Ronald Jones, RB, USC

There was a time not too long ago when Jones was looked at as a top 3 fantasy rookie but after getting hurt at the combine, followed by a very average pro-day his stock has fallen in recent weeks. Jones was a productive runner at USC and has taken on favorable comps to guys like Jamaal Charles, thanks to his slashing style and elusiveness. Jones has a thinner frame and is not as athletic as some of the other backs in this class so most analysts do not picture him as a bell-cow, but more of a change of pace back. If true, this obviously limits his upside as a fantasy producer but with the NFL changing how it uses the position, a back that gets "just" 10-15 touches per game can still be very valuable, just ask the Saints and Alvin Kamara owners.
1.09 - Royce Freeman, RB, Oregon

Freeman is an interesting prospect, as he compiled huge college numbers but actually looked better earlier in his college career compared to his last two seasons. Freeman is thickly built and plays with good vision and power. If I could use a phrase to describe him I would say "fundamentally sound". This of course is generally a good thing, but Freeman does not jump off the screen in any one area. With a lot of touches on his resume and a few injuries, Freeman is not a flawless prospect by any measure, but still, it's hard to argue with his production at a big school and his measurables seem to confirm he should be given the chance to be an NFL starter at some point, possibly right away. Just as Calvin Ridley is a "safe yet unspectacular" prospect, I would say the same about Freeman. You should certainly get your money's worth by drafting him here, just don't expect an elite fantasy producer.
1.10 - D.J. Moore, WR, Maryland

Moore was a bit of a sleeper pick until the Combine, when he absolutely tore it up, posting a 4.42 40, 11' broad jump and 39.5'' vertical. A physical specimen, Moore put up solid, but not spectacular college numbers, in part because of poor quarterback play. While he has been compared to Golden Tate, Moore has a wide range of outcomes based on his inconsistent college play, but high potential with his measurables. I'm a big fan of Moore's upside but I believe landing spot will determine a lot, as he may need a favorable situation to live up to his potential. Still, at this point in the first round, Moore offers solid value as a high-ceiling, intriguing prospect who will likely be taken in the first 45 picks of the NFL draft.
1.11 - Lamar Jackson, QB, Louisville

When all is said and done, at least one quarterback will be drafted in the first round of most rookie drafts. That being said, the landing spot of this year's top QB's will likely determine which one rises to the top. For now, it's my belief that Lamar Jackson has the highest fantasy upside. He certainly has his critics, with some calling for him to change positions to wide receiver, but most believe he has shown enough, both production-wise and physically, to be given a real shot as a starting NFL quarterback. Jackson had an ultra-productive career at Louisville, winning the Heisman Trophy in 2016 and accounting for over 13,000 total yards in his three-year career. While the debate around Jackson centers around his talent as an efficient passer, there is little debate that he is one of the very best running QB's in the past decade. Jackson has Michael Vick type talent as a runner, and in his prime Vick was one of the very best fantasy producers at the position. For fantasy owners, this is why he should be a coveted asset and worthy of a late first-round pick in most rookie drafts.
1.12 - Dallas Goedert, TE, South Dakota State

There are a lot of different ways to go with the last pick, but I decided to stray from the conventional wisdom and go with a high ceiling tight end. Overall, the TE class isn't deep but there are 3-4 guys that stand out as solid prospects and Goedert is the most intriguing. Coming from a small school, along with the usual learning curve at the position makes Goedert a bit of a project, but much like Evan Engram, I see Goedert as having the upside to be used as a primary receiver, more than playing the traditional TE role. Goedert has all the measurables you want for an athletic receiving tight end, the size (6'5'' 255lbs), the speed, the production, and several highlight reel catches too. If drafted by a team that will start him right away I could see Goedert making a first year impact. Considering fantasy production at the position is a dumpster fire, marked by inconsistency outside the top 5, even a rookie could rise up to be a top 12 fantasy option.