It's the time of year when most fantasy gamers slow down, but not so in dynasty leagues where the action stays hot all year round. In dynasty leagues, this time of year my focus is on two things; rookie research and acquiring players at a discount.

Obvious acquisitions stand out like Patrick Mahomes, Saquon Barkley, and Michael Thomas. These guys are young, super talented, and correspondingly, SUPER expensive. More times than not, acquiring these types of players can ruin your team because of the price you will have to pay to obtain them. Instead, I look to less glamorous players that might be coming off tough seasons or simply haven't broken out yet whose return on investment will likely be much greater. When looking for these types of players I consider age, talent, and situation as my starting points as well as the basic market value of the player.

In this piece I will highlight five players that I am personally looking to acquire in dynasty leagues, why they stand out to me, and a general price Iíd be willing to pay to acquire them.

1. QB Marcus Mariota, TEN

Generally speaking, non-elite quarterbacks in fantasy football are not hard to acquire, as there is a lot of quality depth at the position. My basic strategy in dynasty leagues is to buy older veteran QBs that still can put up top ten numbers, or preferably buy younger guys that have high upside but have yet to break out or are coming off a bad year.

Mariota fits this strategy perfectly, as he is just 25 years old, supremely talented, has put up solid but unspectacular seasons. He is a buy low player because he has failed to live up to his potential and is also an injury concern. Of all the quarterbacks drafted in the past five years I would argue Mariota is physically as talented as any of them, with adequate size (6í4íí 220), a good arm, above average accuracy, and perhaps most important for fantasy purposes, elite speed and quickness for the position.

While Mariota has certainly been a mediocre QB through four seasons I would argue his (lack of) supporting cast, injuries, offensive game plan (run heavy), and coaching (quality and quantity) have been a big part of that mediocrity.

The injury concern is real, but that just makes him more of a bargain right now, as QB injuries tend to be a bit fluky, especially with guys that are elite athletes at the position.

As for his 2019 prospects, it is yet to be determined how his supporting cast will change but Corey Davis is showing flashes of above average talent and is going into his all-important 3rd season. Tight end Delanie Walker should be back after injury, and Jonnu Smith is raw but talented.
With a solid amount of cap space and many experts mocking an early WR to them, the chances are Mariotaís weapons will be improved.

Add this to a solid offensive line, an emerging run game with Derrick Henry, system continuity, and this being Mariotaís contract year, and I think the odds of a career season from Mariota could be at hand. Am I saying Mariota is going to be a top 5 QB in 2019? Absolutely not. Currently though, he is being ranked by many experts outside the top 20 dynasty QBís even though I think he clearly possesses top 10 upside at just 25 years old at a position where many of the elites are being aged out (Brady, Brees, Ben, etc.).

Even if things donít break perfect in 2019, Mariota has the talent to be an elite fantasy QB at some point so this preseason may represent the last time you can buy him at an extreme discount. In 1 QB leagues, Iíve seen Mariota get traded for as little as a high 3rd round rookie pick which is insane unless your league has very few bench spots (most dynasty leagues have large benches). Even in 2 QB and superflex leagues, Iíve seen him get traded for an early 2nd round rookie draft pick, which I would do in a heartbeat, especially in a supposed down draft year.

While trading for lower-end QBís is not a sexy move, acquiring a guy like Mariota at a big discount is the kind of move that you can look back on in a year or two and say it really helped build a successful dynasty team. While certain things will have to break the right way for Mariota to be a big hit in 2019, the investment is well worth the cost of this ultra-talented 25 year old.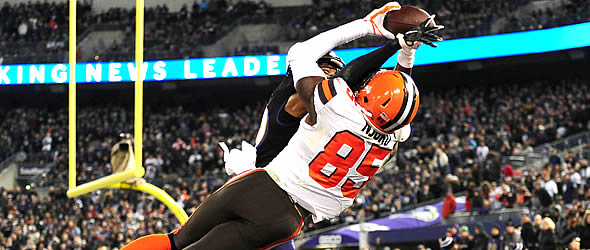 Through two seasons David Njoku has 88 receptions, 1025 yards and 8 touchdowns in 32 games.



2. TE David Njoku, CLE

Iím going all in on the Browns this coming season as I love me some Baker Mayfield, the run game, and to a lesser extent Jarvis Landry and Antonio Calloway. However, the guy that I think is the best dynasty value in Cleveland is David Njoku.

Through two seasons Njoku has 88 receptions, 1025 yards and 8 touchdowns in 32 games. Solid numbers overall but they donít scream elite just yet. After finishing as the TE9 in most leagues this past year, owners are certainly well aware of Njoku but his season was not exciting enough to make his value rise from where it was heading into last year. While you're not going to steal Njoku from anyone, based on his potential, Iíd argue this is the last time youíll be able to acquire him for a discount.

First letís look at what makes Njoku special. At 6í4íí 250 and just 22 years old, Njoku is perhaps a bit slight for a traditional role, but basically he is a wide receiver filling the TE position, both in skillset and the way he is used on the field. As an athlete there is little argument that Njoku is elite, and perhaps the very best at the position, with insane measurables in speed, agility, catch radius, and quickness.

The interesting thing about Njoku is he has only played the position about four years now (including college), so he is still learning the finer points of his role. Going into his third season, and with a full offseason to build chemistry with Mayfield, I see a potential top 4 TE season on the horizon, as one of the positions highest upside players on an emerging offense where he should be among, if not THE target leader on his team.

Njokuís situation is also very safe. If the Browns donít add anyone of significance, Njoku should be a target hog, with mediocre receiving threats around him. If they do add a WR through the draft or free agency, Njoku is still going to get the same amount of snaps and should be a redzone beast, as it appears Coach Kitchens prefers to throw near the goal line rather than run.

I firmly believe Njoku is at the bottom of the Kelce/Ertz/Kittle tier, but is usually being valued as a full tier below. In terms of rookie draft picks, Iíve seen him get traded for a later first (1.06-1.09) in several leagues and Iíd be fine even paying a bit more considering the upside, position scarcity, and age combination. This time next year you may have to pay multiple firsts for Njoku so I recommend buying now before any hype starts building and his value goes through the roof.

3. WR Tyrell Williams, FA

Perhaps the lowest ranked player on this list, Williams has played second and third fiddle most of his career with the Chargers and thus is at the very bottom of most dynasty rosters, if owned at all (in shallower leagues). For those of us who still believe in his talent, the opportunity might finally be coming around for Williams to become a consistent fantasy starter.

Speaking of talent, Williams has the profile of an upper-tiered receiver, standing 6í3íí with a massive wingspan and near-elite speed. While nobody would mistake Williams for a route-running technician, he now has four yearsí experience under his belt after coming in as a raw prospect.

Still just 27 years old, Williams will finally be a free agent and is expected to leave the Chargers in search of more playing time. While his destination is obviously unknown, the free agent WR list is short on quality so I believe Williams will have his choices of place to go (within reason), and I also believe a prominent offensive role will be his main focus wherever he signs.

The upside with Williams is that of a higher end WR2, as evidenced by his 2016 season where he produced 1059 yards and 7 touchdowns on 69 receptions, filling in for Keenan Allen who missed the season with injury. If Williams goes to a place where he is the WR1 (Buffalo? Raiders?), I fully believe he will live up to high end WR2 status, and even flirt with WR1 numbers from time to time. Even if Williams lands in a less than perfect situation I believe his floor should be that of a lower end WR3, even though he is currently trading more like a WR4.

The time to get Williams is now, before the free agency period opens and his name gets floated around and the hype begins to build. Personally Iíd be willing to go as high as a late 2nd round rookie pick to acquire him, and Iíve certainly seen him go for quite a bit less. Itís certainly a speculative trade but I believe in his talent and has some production to back it up, along with being at a prime age to realize his upside. While others in your league are out there throwing huge amounts of capital for proven studs, maximize your dynasty teamís value and acquire Williams before he becomes the next big thing.

4. RB Kenyan Drake, MIA

My argument to acquire Drake is based partly on his talent but even more on the apparent disgust that fantasy owners have for him and the Dolphins.

While Drake is far from an elite back, he has actually done quite well with the opportunities he has received. At 6í1íí, 210 pounds, with elite speed and good receiving skills, Drake has the makings of a back that could touch the ball 225+ times and be productive, yet he has maxed out at 173 touches (2018) likely due to stubborn and conservative coaching. When given the chance, Drake has produced with eight double-digit fantasy point games this past year and five in 2017 despite touching the ball 18+ times in just three games in his three-year career.

Despite his very limited usage this past season Drake finished among the top 15 at the position in receptions, receiving yards, and yards per touch. As a player just entering the prime of his career at 25 years old (and with little wear and tear), Drake just needs opportunity to break off a 2-3 year run as a top 15 back.

Speaking of opportunity, the fantasy community is very down on Drake and the Dolphins in general. To me this presents a major buying opportunity to acquire Drake for a price much lower than I believe he deserves. Based on past usage, new coaching and a team in flux we do not know what kind of role Drake will have this year but I am willing to make some educated assumptions based on what we do know. In the backfield, it is very likely last yearís starter, Frank Gore, will be gone. This leaves Drake and 2018 rookie Kalen Ballage as the main backs returning in 2019. While it is possible the Dolphins add a free agent or draft a back, I believe it is highly unlikely it is an impact player, based on lack of cap space and much bigger position needs (QB, defense, etc.).

In 2019, this is a backfield most likely led by Drake (15+ touches/game?). As a player with above average receiving skills, Drake seems immune to game script and so Iím also not worried about consistency, especially on a team that could be playing from behind a lot. With big play ability I think some long touchdowns will come, which could negate the fact that the offense in general might not be efficient or get many goaline opportunities.

While we do not know what kind of offensive philosophy new Head Coach Brian Flores will install, it is likely that, without a stable franchise QB in place, the run game and short pass game will be highlighted. This plays perfectly into Drakeís strengths and even though the Miami offense will likely not be a juggernaut, Drake could produce top 15 RB numbers as the focal point of the offense.

Ranked consistently outside the top 25 backs in dynasty, Drake should be fairly cheap to acquire. With his value and the team outlook at a new low, I believe you can get Drake for a mid or late 2nd round rookie draft pick, a price Iím more than willing to pay to acquire a player with upside to outproduce players drafted much earlier in this yearís class. Donít fall victim to the narrative around Drake in many fantasy circles, Drake is a player on the rise.

5. WR Chris Godwin, TB

Godwin is an interesting player to have on this list because he has almost no chance to be the best receiver on his team and he is already highly regarded by hardcore dynasty owners, yet I still believe the buying window is open enough to make him a hard buy at a decent value.

Godwin, through two seasons has had a huge range in production, ranging from several zero and one reception games to multiple 15+ fantasy point games. There is no doubt he has the talent, decent size (6í1íí210), above average route running ability, quality hands (just 2 drops last year) and excellent athleticism (95th percentile SPARQ score). The issue with Godwin has mostly been opportunity, as he has been at best, the 3rd option in his first two seasons, including behind target hog Mike Evans.

This coming season, the Bucs will likely lose DeSean Jackson, making Godwin their number two option in the pass game. While Evans will obviously still command the most targets, he will also command the most attention, meaning Godwin should have some excellent matchups that he can exploit. With a more capable coaching staff in charge I believe they will capitalize on Godwinís strengths and mismatches and a career year will be in order, especially if they have to throw nearly as much as last season thanks to horrendous defensive play.

The price of Godwin is debatable, as there are a ton of owners with little to no attachment to him but also some with a cult-like following for Godwin. In many cases Godwin will be priced at his peak and therefore use caution when negotiating, however Iím in several leagues where owners view him as a moderately high upside flyer. Personally, Iíd put his peak value at near a late 1st round rookie pick in this 2019 class, but I am a big believer in him, more than most. If you can get him for a mid 2nd round rookie pick that is probably more realistic and ďsafeĒ. With talk of DeSean Jackson re-signing it may be a good time to put out feelers for Godwin, but I do not believe Jackson will return to the Bucs, based on their cap space and his lack of chemistry with Jameis Winston.

Godwin, like others on this list, represents a guy that you can get for ďaverageĒ value right now but is poised to take a big leap in his third season, providing a quality return on your investment.

Honorable mention: WR Dante Pettis, SF; WR Christian Kirk, ARI; WR Albert Wilson, MIA; QB Dak Prescott, DAL; RB Tevin Coleman, FA; and RB T.J. Yeldon, FA.