Many dynasty owners make the mistake of waiting till after the NFL draft to really work on their rosters, but true degenerates (like myself) realize that the time between the Super Bowl and the NFL Draft is a key time of year to bargain hunt for players that could take your team to the next level.

Everyone would obviously love to acquire Justin Jefferson and Patrick Mahomes but these guys are going to be very expensive in just about every league. The key to dynasty is finding the NEXT Jefferson or Mahomes at a discounted price. Below are 5 (plus a few bonus recommendations) players who I am personally targeting in the next couple months who I believe have enormous upside and should be affordable in most leagues.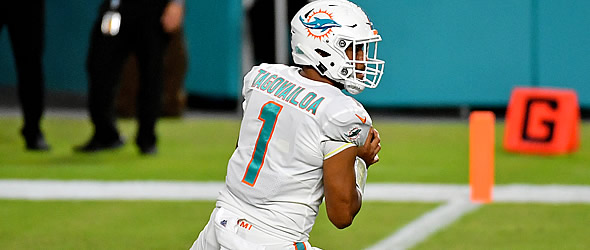 1. QB Tua Tagovailoa, MIA
Remember when "tank for Tua" was a thing? Seems like forever ago. A major hip injury his last season in college and two years in the NFL putting up mediocre numbers, dynasty owners have gone mostly cold on this former 1st round pick.

As a prospect Tua was almost bulletproof, with pinpoint accuracy, solid mobility, and great anticipation. As a pro Tua has been dinged up enough to miss several games in his two years and was benched in favor of veteran Ryan Fitzpatrick his rookie year. While there is not a whole lot to say positive about Tua's first two seasons, it's exactly why he is a screaming bargain right now and one which I'd be willing to buy at current market value.

First, there is little question Tua has the raw talent, as one of the most highly touted QB prospects of the past decade. He probably should have never played his rookie season due to injury, and you can argue that Tua was basically a rookie this past year, as he had the job to himself and should have been in much better health. While he didn't exactly light it up this past season, he did show glimpses of the QB he was in college and led the Dolphins to a 7- 5 record in his starts despite mediocre talent around him.

The thing I like the most for Tua this coming year is a likely change in philosophy, with Head Coach Brian Flores, a defensive minded coach, being replaced by Mike McDaniel, an offensive minded coach who served as the 49ers Offensive Coordinator last season. McDaniel has a bit of Sean McVay to him, young, energetic, creative and seems to play up his players strengths and hide some of their weaknesses. McDaniel made Jimmy Garoppolo a top 20 fantasy QB this past season and on paper Tua is twice the QB prospect that Jimmy ever was. With a new system in place and the return of rookie breakout Jaylen Waddle (and recently tagged Mike Gesicki), Tua should be the healthiest he's been in his pro career and in the most fantasy friendly spot as well.

Currently being drafted after the top 15 QB's in most dynasty startups, I like him to outperform his ADP fairly easily and he is one of my favorite targets to trade for, especially in 2 QB and Superflex formats. While many Dynasty owners can be very fickle, always looking for the next shiny thing, sometimes it's the old forgotten shiny thing that is the real treasure.

Other quarterbacks to consider acquiring in dynasty: Trevor Lawrence, Justin Fields

2. RB Michael Carter, NYJ

I'll be the first to admit I was not that high on Carter as a rookie, who had mediocre draft capital on a below average team and didn't profile as a workhorse-type back. While Carter didn't dominate his rookie year, he absolutely showed me enough to be excited for the next few seasons.

There were several promising signs, starting with how the Jets used him, giving him 15+ touches in half the games he played and showed some prowess in the receiving game as well. As for production, Carter was up and down but finished the season 2nd best in the NFL in missed tackles forced per touch, a confirmation of his 97th percentile agility score. Carter also finished as a top 20 back in yards per reception and overall yards per touch, despite being on an offense that ranked in the bottom five in almost every offensive category imaginable.

With so many different needs across the team it would be shocking if the team used any significant capital on another running back and Tevin Coleman, who stole some touches from Carter last year, is a free agent.

I expect some positive regression for the Jets offense, as they were led by a rookie Head Coach, rookie Quarterback, and many inexperienced players, including Carter himself. While Carter had a handful of games with excellent fantasy production, he also did not contribute much early and missed a few games due to injury so he finished outside the top 20 fantasy backs. This has led him to fly below some owners radars of just how good he actually was.

In most dynasty startups, Carter is being drafted outside the top 20 backs, especially when rookies are added, and most experts rank him outside the top 20 dynasty backs as well. In my mind he is safely inside the top 20 and I would be willing to give at least a late first round rookie pick to acquire Carter in a trade.
Other running backs to consider acquiring: Damien Harris, AJ Dillon

3. WR Hunter Renfrow, LV

Renfrow is unique on this list because he had a big year in 2021 so you would think he would be a sell or hold, but the sentiment I get around dynasty circles is that his trade value is not really that high because most people either never thought much of him before and/or they don't think he can repeat or improve upon his 2021 numbers anyway.

This opens the door for smart owners to swoop in and acquire a guy who many people think they are smart for "selling high" when in reality I think Renfrow is due for another excellent season.

After two mediocre years, Renfrow broke out in a big way in 2021, amassing 103 receptions and 9 touchdowns. While a lot of the damage he did was with Darren Waller out with injury, Renfrow and Carr seemed to form a chemistry that should carry over into 2022. While the touchdown number was probably a bit fluky, the efficiency that the Carr/Renfrow combo operated with should carry over into next season. Outside of Waller, who turns 30 in September, the Raiders are struggling with talent at the receiver position, and while they may bring in a free agent or tackle the position in the draft, Renfrow looks to have a very defined role in the offense, especially with Josh McDaniel taking over as Head Coach, as an offensive mind who emphasizes the slot receiver position heavily.

With Russell Wilson going to Denver, the AFC West is going to be absolutely loaded on offense and if anything I expect shootouts galore. No offense to Raider nation, but there will be a lot of garbage time in those six games and Renfrow is the perfect guy to clean up. Given his current situation, I'd predict Renfrow to be a lock to catch 100+ balls and even if the touchdowns come down a bit, another top 24 WR season is well within his reach, with perhaps even more in full PPR leagues. Currently being evaluated at around a low-end WR3 range, let the Renfrow owners think they are pulling a fast one on you as you offer market value trades, while you get the last laugh headed into 2022.

4. WR Chase Claypool, PIT

Claypool enters his third season after impressing in his rookie year yet taking a significant step back in year two. I put a lot of the blame on the Steelers quarterback play, as Big Ben Roethlisberger looked like toast, especially when targeting Claypool who often runs deep, contested, outside routes.

As a prospect, Claypool checks most of the boxes as a big (6'4'', 235) and fast (4.42 40) receiver who profiles as both a deep threat and a redzone monster. This of course is potential fantasy gold and Claypool showed glimpses of this as a rookie, catching 9 touchdowns and averaging over 14 yards per reception, albeit with inconsistent involvement, especially early on in the year.

In 2021 Claypool's touchdowns dropped to just 2 even though he ran a greater percentage of routes and played a significant amount more snaps. While perhaps Claypool got more defensive attention or simply took a slight step back himself, as I noted earlier, a lot of the blame should be placed on QB play, and this is measured by a significant decrease in target accuracy. In 2020, Claypool was graded as the 27th best receiver in accurate passes thrown his way. In 2021 this number dropped dramatically to 73rd. While nobody is exactly sure who the starting QB will be in 2022, the chances that he is an upgrade over Big Ben are pretty high.

With a legitimate possession receiver opposite him (Diontae Johnson), an emerging young tight end (Pat Friermuth), and a stud RB in the making (Najee Harris) toting the rock, I think Pittsburgh is setup to have a very solid offense and Claypool should be a major part of that going forward.

In startup drafts, Claypool has the ADP of a mid-range WR3 in most leagues but I have him ranked more towards a low-end WR2 with upside for more. I would float offers for him soon before the QB situation in Pittsburgh is settled and while the bad taste of a disappointing 2021 season is still in Claypool's owners' mouth. I would not hesitate at all to give a late first or early 2nd round rookie pick for Claypool, as I think much brighter days are ahead for this 23 year old.
Other wide receivers I'm looking to acquire: Jerry Jeudy, Darnell Mooney, Kadarius Toney, Terry McLaurin
5. TE Cole Kmet, CHI

Yet another 3rd year player on the list here, Kmet, unlike Claypool, was quiet his rookie year but started to come on in his second season, more than doubling his targets, receiving yards, and receptions. A solid size/speed specimen, Kmet was taken in the early 2nd round of the 2020 draft and plays more as a receiver than an inline tight end, as shown by his 253 snaps in the slot in 2021, which was top 5 for all tight ends.

What I like about Kmet, other than his basic profile, is the fact that he showed drastic improvement in year two, now has chemistry with an emerging QB, and is a major part of a passing attack suddenly devoid of weapons, with Allen Robinson expected to depart.

With all this being said, Kmet caught ZERO touchdowns last season, so he is still flying under the radar as someone who did not fully break out. With touchdowns being somewhat fluky, especially for an offense with a new QB trying, I expect Kmet to be much closer to league average or better in this category. Given the age of some of the top tier guys (Kittle, Waller, and Kelce) and the inconsistency of the next tier, Kmet has a legitimate shot at being a top 8 dynasty tight end, but with a much lower cost.
With a below average rookie tight end class coming in only adding to scarcity of the position, Kmet could pay off in a big way for those that act soon to acquire him.

Other tight ends I am looking to acquire: Dalton Schultz, Albert Okwuegbunam, Irv Smith