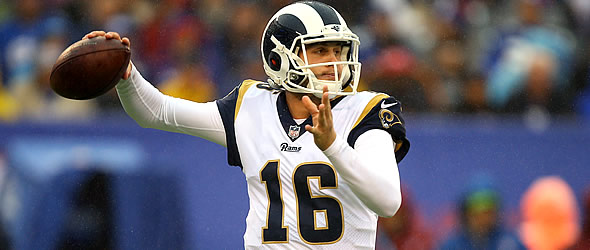 Jared Goff was low-end QB1 last season in some formats but that might be his ceiling in 2018.
QB Jared Goff
(2017 QB Rank – No.12, 20.9 FPts/G)
From rags to riches, Jared Goff went from being perhaps the most criticized quarterback in the league in 2016 and transformed himself a respected and legitimate threat throwing the ball in 2017. Goff saw one of the biggest increases in QB rating from one season to the next of any player in NFL history. It's probably no coincidence that this sudden improvement happened right when the Rams moved on from Jeff Fisher to Sean McVay, as this obviously did wonders for the Rams offense as a whole. Goff saw perhaps the biggest improvement of any player, though, as he benefited from a more high-tempo offense and particularly saw some benefit from a little-known rule that McVay was able to make use of. Coaches can communicate with players until there are 15 seconds remaining on the play clock and the Rams took full advantage of that rule. Combine that with some quick play calling from the sidelines, McVay was able to see the defense on the field and even call audibles in Goff's ear prior to the snap.
Certainly the Rams will look to continue to find ways to get an edge on the opposing defenses, but with a full offseason to prepare, defenses may opt to give Goff and McVay some faux looks initially, only to shift once the play call reaches 15 seconds. Goff is a smart enough player that he could presumably still make the right changes to re-counter the defense before the snap, but this is certainly an advantage the Rams had in 2017 that they might not have in 2018.
A natural candidate for regression, Goff threw just 477 passes this past season. The only other QBs who finished in the top-12 with fewer than 500 pass attempts were Carson Wentz, Cam Newton and Dak Prescott. Wentz had historic levels of efficiency and is likely in line for some regression of his own, while Newton and Prescott both rushed for six touchdowns in addition to some impressive rushing yardage totals. Unlike Prescott and Newton, Goff's 51 total rushing yards from 2017 show us that he has a low floor if he has a slow day through the air.
In addition to these concerns, the Rams should be even better defensively which traditionally leads to fewer passing attempts. Unless he drastically improves his efficiency - which seems unlikely - or is given the chance to throw the ball substantially more, it seems unlikely that Goff will finish at or ahead of where he did in 2017 when he finished as the QB12 in standard scoring formats. Goff isn't likely to ascend to the next level and become a top passer in the league but fantasy owners should be confident that the rookie season woes he had are now a thing of the past. That's a good thing for Goff's long-term prospects the rest of the Rams' offensive weapons.
RB Todd Gurley
(2017 RB Rank – No.1, 21.6 FPts/G)
A monster rookie season saw Gurley drafted as a top five pick in many fantasy drafts in 2016, which then led to major disappointment as Gurley and the Rams offense couldn't get things going under head coach Jeff Fisher. Many fantasy owner refused to draft Gurley going into 2017 because of the down season, but Gurley made them regret that decision and reignited belief in fantasy owners by turning in a MVP fantasy season in 2017 with nearly 2,100 total yards and 19 touchdowns.
While his receiving stats last this past season were propped up a bit by a few dump offs which he took for big yardage, Gurley has proven himself to be a reliable pass catcher and playmaker. He was targeted 29 more times in the passing game in 2017 than he was in 2016. The thing that didn't change from 2016 to 2017 was Gurley's usage on the ground. He had 278 carries in 2016 while he got 279 carries in 2017. The big difference was that the Rams offense as a whole was substantially improved which allowed Gurley to increase his yards per attempt by a full 1.5 yards.
Now considered one of the top players heading into 2018, Gurley is in line to see a heavy workload both as a runner and a pass catcher, with the team not having invested much in the running back position this offseason. Even in his significant down season of 2016, Gurley finished as a mid-level RB2, which gives us a glimpse at what would be his absolute worst-case scenario, presuming he stayed healthy. The upside, as we've seen, is tremendous with a player like Gurley. He's one of the league's few remaining workhorse-type backs and that makes him a real contender to again be a league-winner this season.
RB Malcolm Brown
(2017 RB Rank – No.82, 3.3 FPts/G)
Malcolm Brown could enter the 2018 season as Todd Gurley's primary "handcuff," for whatever that's worth. The fourth-year back saw 18 touches in Week 17 last season when Gurley and the majority of the Rams offensive starters were sitting, but was not overly impressive with those touches as he generated just 61 total yards with no touchdowns. Of course, he presumably would have been more efficient if the starters in the offense were also on the field, but the overarching point here is that he's certainly no threat to Gurley's touches.
Brown offers practically no value at all from a fantasy standpoint unless Gurley gets hurt. In fact, Brown himself might see his already limited number of touches go down due to the team drafting rookie running back John Kelly.
RB John Kelly
(2017 RB Rank – N/A)
A sixth-round rookie from Tennessee who scouts had wildly differing opinions on, John Kelly enters a situation where he may see very little playing time for the foreseeable future.
Some scouts saw Kelly as a top five back in the entire class while others were turned off by his low yards-per-carry in college and poor athletic testing at the Combine. Kelly was useful in the passing game in his final season at Tennessee, however, catching 37 passes for 299 yards. He projects to be a pass-catching specialist if he's able to make the roster in Los Angeles.
Like fellow back Malcolm Brown, Kelly won't get enough playing time to be a fantasy consideration unless Gurley gets injured. Even then, he and Brown would probably split time, with Kelly potentially being the more interesting player to own due to his pass catching upside. Still, neither player should be drafted in most scoring formats unless it's a very deep league and, as a Gurley owner, you're just looking to lock up the Los Angeles backfield.
WR Brandin Cooks
(2017 WR Rank – No.9, 9.7 FPts/G)
Cooks finds himself in his third home in five seasons as a pro after spending the first four years of his career playing with future Hall of Famers Drew Brees and Tom Brady. He'll now move to Los Angeles where he'll play with third-year quarterback Jared Goff. While Goff certainly took a huge step forward in 2017, it's not a stretch to say that Goff will have a tough time getting the ball to Cooks in the same way that Brees and Brady did.
While he's finished as a WR1 numerous times, Cooks has never surpassed 84 receptions, 1,200 receiving yards or achieved double-digit touchdowns receiving in a season. He has, however, been consistent in his production over the past three seasons, going for between 1,082 yards and 1,173 yards and between seven to nine touchdowns in each of those three seasons.
Cooks enters a crowded Los Angeles pass catching group which saw both Cooper Kupp and Robert Woods catch 56-plus catches, along with Todd Gurley who added 64 receptions of his own. Cooks presumably replaces Sammy Watkins, who joined the team late in the offseason and never seemed to get fully acclimated in the offense. Watkins was targeted just 70 times in 15 games, but did lead the team with eight touchdown receptions.
Given his track record and the fact that he'll get to spend an entire training camp with the Rams, Cooks should get a healthier target share than Watkins did, but that still could limited him to fewer than 100 targets. Cooks saw no fewer than 114 targets in each of his past three seasons, playing with elite-level quarterbacks, and he still didn't put up elite fantasy numbers. Cooks is typically being drafted somewhere around 15th-to-20th at his position, so there is some upside here, especially if Woods were to be injured at some point during the season.
WR Robert Woods
(2017 WR Rank – No.32, 9.1 FPts/G)
Woods' 2017 numbers don't jump off the page on a per-target basis, but he did excel in in one key area - QB rating when targeted. On pass attempts from Goff to Woods, the duo managed an impressive 114.9 passer rating in 2017. That's good enough for sixth-best of any duo in the entire league.
Woods only played 12 games but was on pace for 113 targets, which would have led the team despite it being his first year in a Rams uniform. Staying on that kind of pace for targets might be difficult this season when you look at the track record of wide receivers in Sean McVay offenses. In his four years as an offensive coordinator or head coach, no player in a McVay offense has ever reached 115 targets in a season.
Brandin Cooks will almost certainly see more targets than Sammy Watkins did in 2017, while Cooper Kupp could also see a bit of an increase in targets now that he's played a full season in the league - both of these things would hurt the potential target upside for Woods this season. Woods is not a bad bet to end up leading the Rams on the year but that could still mean that he sees fewer than 100 total targets on the season, which will likely not be enough to allow him to ascend to much more than a mid-to-low-level WR2.
WR Cooper Kupp
(2017 WR Rank – No.27, 7.8 FPts/G)
In a draft class which featured the likes of Corey Davis, Mike Williams, John Ross, JuJu Smith-Schuster and Zay Jones, it seemed unlikely that a slot receiver going to a team that had previously finished the season as one of the league's worst offenses could possibly lead all rookie wide receivers in catches. But that's what happened in 2017 when Cooper Kupp caught 62 passes for 869 yards and five touchdowns, while sitting out in Week 17 as the Rams had nothing to play for.
As the Rams primary slot receiver, Kupp played more than 50 percent of his snaps from the slot. This is good for consistency purposes because we don't have to worry about him transitioning into a new role now that the Rams added Brandin Cooks, who primarily plays outside.
Cooks will likely see a larger target share than Sammy Watkins did, but that shouldn't cut too much into what Kupp does. The ceiling isn't particularly high for Kupp given the average depth of target that he sees as a pass catcher and the fact that he isn't a big time end zone threat, but Kupp does have a decently high floor, particularly in PPR formats which makes better use of his volume-over-big-play style.
TE Gerald Everett
(2017 TE Rank – No.37, 2.9 FPts/G)
Second-year tight end Gerald Everett is the tight end you'll want to take a chance on, if any, in the Los Angeles offense this season. While third-year tight end Tyler Higbee is competition, Everett is a substantially better athlete, but perhaps most importantly was a player drafted by the McVay regime in the second round of the 2017 NFL Draft.
That type of draft capital, combined with superior measurables and a year of learning the system, should lend its way to Everett seeing the field much more this season than he did as a rookie. Everett was only on the field for 37.3 percent of the Rams' passing plays in 2017, while Higbee was on the field for 48.7 percent of the Rams' pass plays. Still, when he was on the field, Everett saw a significantly higher target share than Higbee, which leads us to believe Everett has the bigger fantasy ceiling between the two.
Unfortunately, these two players will likely continue to vulture one another's work in the passing game which makes it tough to trust either of them from a season-long perspective. They still could have some value in DFS, though, particularly if the other player misses time with an injury.