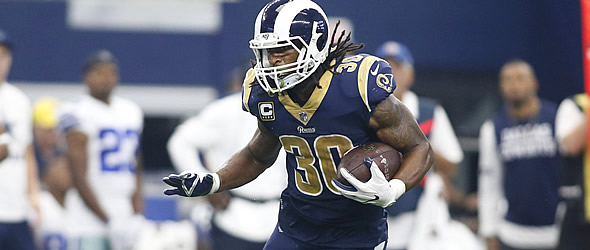 Injury concern has pushed Todd Gurley down all the way to an ADP just outside the first round.
QB Jared Goff
(2018 QB Rank – No.6, 24.1 FPts/G)
Once considered a bust by many analysts, 24-year-old Jared Goff now leads one of the most potent offenses in the league into the 2019. Goff, however, may be facing more pressure than ever before as Rams running back Todd Gurley continues to deal with chronic knee problems. While there is some concern that the Rams offense could take a step back overall if Gurley misses significant time this season, it's also true that Sean McVay would likely lean more heavily on the passing game if his star running back is out. This could actually lead to an uptick in pass attempts for Goff this season, who already finished as the sixth-highest scorer at the position in 2018.

Goff now has to be considered a locked in top-12 option for fantasy purposes and a real contender to be a top-three option at the position given the weapons he has at his disposal. It can often be difficult to predict which one of these Rams receivers is set to command the highest target share in a given week and the best way to hedge your bet might just be to invest in Goff. Currently being selected barely inside the top-12 in most platforms, Goff is being drafted essentially at his floor with plenty of upside. There is something to be said for simply streaming the position each week, but if you're someone who is looking for a consistently high-floor option at QB with the potential for some boom weeks, Goff really is a great value right now in fantasy drafts.

The one major concern with Goff is that he was not nearly as successful without Gurley as he was with the all-pro running back. In weeks 15 and 16, as well as the NFC Championship and Super Bowl when Gurley was either out or significantly limited, Goff struggled to produce fantasy-relevant performances. He threw for just 235 yards per game with six total touchdowns, completing just 61 percent of his passes with two interceptions. Worse yet, four of those six touchdowns came in the Rams' Week 16 victory over the 49ers and he was held to just two scores in the other three games mentioned. While this is way too small of a sample size to give us any definitive proof that Goff cannot produce without Gurley on the field, it is a legitimate concern and one that we need to be aware of if making the investment in Goff in fantasy football.

RB Todd Gurley
(2018 RB Rank – No.1, 22.1 FPts/G)
After finishing as the top-scoring fantasy running back in each of the past two seasons, there is no question that Todd Gurley is one of the absolute top fantasy players we've ever seen in this sport. Unfortunately, all good things must eventually come to an end and that may be on the verge of happening this season for the 2017 NFL Offensive Player of the Year.

Gurley's chronic knee issue led to the superstar back sitting in weeks 15, 16 and 17 of the 2018 regular season. This, many believed, was a plan by the Rams coaching staff to make sure that their tailback would be ready to play in the playoffs. The Rams had a bye week in the playoffs which meant that Gurley had a full month off prior to Los Angeles' divisional round playoff game against the Cowboys when he ran the ball 16 times for 115 yards and a touchdown against one of the league's best defenses. Unfortunately that game may have finally been the demise of Gurley's surgically repaired left knee, as the back would touch the ball just 16 times for 47 total yards in the NFC Championship and Super Bowl while taking a backseat to plodding veteran running back C.J. Anderson.

While Anderson is now in Detroit which could mean less confidence in the rest of the backfield, we still have to be very concerned that Gurley's body just can no longer physically hold up to the wear and tear of a full workload in the NFL. That concern has pushed the once-considered top overall fantasy player down draft boards, all the way to an ADP just outside the first round in most leagues.

Reports out of Rams camp are that Gurley has not suffered "any sort of setbacks" with his knee this offseason and we know that he can be a dominant producer when on the field, so the upside is certainly still there for him to produce high-end RB1 numbers once again this season. The risk, however, is that Gurley's knee problems flare up once again and we're left every week wondering if he's going to play a full snap share or be limited to just a few series. That volatility, even more so than the player simply being declared "out," can derail a fantasy team very quickly and that's why Gurley is a risk that fantasy owners have to be comfortable with if they're going to select him in drafts.
Rookie running back Darrell Henderson saw his fantasy draft position skyrocket this offseason when he was selected by one of the league's best offenses. Henderson, who at Memphis produced one of the most impressive seasons by a running back in college football history this past year, was selected in the third round of the Draft and many are viewing him as the eventual Todd Gurley replacement. In an offense as potent as Los Angeles', that could very well make Henderson one of the breakout fantasy stars as early as this season.

The traditional strategies of "handcuffing" may not apply in Los Angeles, however, as we don't know exactly what the team plans on doing at the position if they do end up being without Gurley for any sort of significant stretch this season. We thought that Malcolm Brown or even John Kelly would be the Gurley replacement in 2018 but it ended up being veteran C.J. Anderson who didn't even begin the season with the Rams.

Still, we saw what even an aging, slow, unathletic back like Anderson could do when given an opportunity in this high-powered offense. Anderson ripped off three straight 100-yard games on the Rams while totaling 488 rushing yards and four touchdowns in the five games he played. Given that Anderson was released by both the Panthers and Raiders earlier in the 2018 season, it's safe to say that he was a shell of his former self, yet he was still productive in this Rams offense once given the opportunity.

That's the type of upside that a player like Darrell Henderson would be stepping into if he were to be given the opportunity to see the lion's share of touches in this backfield. Even without an injury to Gurley, there's a very realistic possibility that the Rams could simply opt to limit Gurley's touches this season, especially now that they have a young, athletic back like Henderson on the roster. A roughly 60/40 backfield split is not out of the question and would make Henderson a viable starter in many fantasy leagues on a week-to-week basis, especially given that he could see serious touches down the stretch in games where the Rams are significantly ahead on the scoreboard.

RB Malcolm Brown
(2018 RB Rank – No.84, 3.2 FPts/G)
Entering his fifth NFL season, Malcolm Brown signed a two-year, $3.3 million contract with Los Angeles. The pressure was put on the Rams, who had to match an offer extended to him by the Lions, and they ended up forgoing potential draft pick compensation in order to keep Brown on the roster. That is certainly a sign of confidence in the veteran, but the Rams did add rookie Darrell Henderson in the Draft, which gives him more competition than he's ever had as the backup to Gurley.

Many seem to be forgetting, though, that Brown was indeed the primary backup for Gurley throughout both the 2017 and 2018 seasons. Brown broke his collarbone in Week 13, however, and that kept him sidelined during Gurley's absence down the stretch this past season, leading to the team signing C.J. Anderson off of the street. Anderson, of course, produced monster numbers when given the opportunity and it's tough to not imagine that Brown would have at least come close to replicating that type of production if he had been on the field.

While the consensus seems to be that Henderson is now the primary backup for Gurley given the team's third-round investment in him, that remains to be seen. It seems likely that both Henderson and Brown would see snaps in the scenario that Gurley is out, which could make them both frustrating to own, but there's also a possibility that Brown's familiarity with the offense gives him the inside edge to lead the backfield if Gurley is out. Given Brown's ADP, which is undrafted in most leagues, he's worth taking a look at in your final rounds.

WR Brandin Cooks
(2018 WR Rank – No.12, 10.9 FPts/G)
It's extremely rare that a single team has three startable options at wide receiver, let alone three who are currently being drafted in the top six rounds of fantasy drafts, but that's exactly what we're seeing unfold in Los Angeles this offseason.

The highest-drafted of the bunch is currently Brandin Cooks, who finished No.12 at the position in fantasy scoring this past season, produced his third straight 1,000-yard season, all of which were for different teams. Cooks' 1,204 receiving yards were a career high and his 80 receptions were his second-most ever. Now with a full season under his belt in the Sean McVay offense, Cooks looks to improve on those numbers and further cement himself as a WR1 for fantasy.

The major question seems to be whether or not the Rams can sustain three viable weekly starters for fantasy and while that previously seemed nearly impossible, the McVay offense seems to be bucking that trend. Cooks caught at least three passes in all but two games this past season and one of those was when he was taken out of the game early due to a concussion in Week 5 against the Seahawks.

WR Robert Woods
(2018 WR Rank – No.10, 11.2 FPts/G)
He was the lowest-drafted of the three heading into the 2018 season, but Robert Woods finished the 2018 season as the highest-scoring of the Rams' wide receiver trio as he completed his first full season as a WR1 for fantasy. Woods crushed his previous career high of 781 receiving yards with a massive 1,219 yard season in 2018 while also setting career highs in receptions (86) and touchdowns (6).

Woods caught at least four passes in all but two games, including the playoffs, for the Rams, and was targeted 130 times - by far the most of his career. Part of that was due to the team being without Cooper Kupp for much of the season, but Woods had numerous 10-plus-target weeks even before Kupp went down. While Cooks is certainly the receiver with the most pedigree of the group, Woods has been the most consistent of the bunch since McVay took over as head coach in Los Angeles.

Woods may see a slight downtick in targets this season but should still be effective enough to produce solid weekly WR2 fantasy numbers with low-end WR1 upside.

WR Cooper Kupp
(2018 WR Rank – No.46, 11.9 FPts/G)
An injury-riddled 2018 season cost fantasy owners of Cooper Kupp dearly as the receiver had been on a trajectory for a huge fantasy season. Kupp originally sprained his ankle early in the season, only to return and then tear his ACL in Week 10. Prior to the ACL injury, however, Kupp was actually the Rams' most effective fantasy receiver, having caught six touchdowns in just eight games, including the Week 6 game when he saw just one target before spraining his ankle. That type of touchdown production was certainly in for some regression even if he didn't get hurt, but it does give us insight into the reality that Kupp isn't the typical "catch a ton of passes with no touches" type of slot receiver, at least within the context of the Rams' offense.

Kupp's upside, just like Woods and Cooks, is low-end WR1, but his floor is also likely no lower than a low-end WR2, assuming that he's able to stay healthy. All reports seem to be that Cupp is back and ready for the regular season, but he will likely not see much preseason action to give us much to review on field, but there's little reason to be worried about the knee at this point.

WR Josh Reynolds
(2018 WR Rank – No.71, 6.5 FPts/G)
The Rams ran three receiver sets more than any team in the NFL this past season, with that personnel grouping being on the field for 77 percent of their total offensive plays. Typically this means that Brandin Cooks, Robert Woods and Cooper Kupp are all on the field for just about every snap, with other receivers very rarely getting any sort of significant snaps. That changed this past year, however, when Kupp missed 11 total games, including playoffs, with a sprained ankle and then a torn ACL, leading the way for Josh Reynolds to see a major uptick in playing time. Reynolds was prominently utilized in the second half of the season, including seeing at least four targets in all but one game after he became a regular starter in Week 11.

Reynolds was clearly the third option in the passing game behind Woods and Cooks, but he did produce 425 yards and three touchdowns on 30 catches over the Rams' final nine games, including the playoffs. It's also worth noting that he saw significant playing time against the Packers in Week 8 when Kupp was out, which he turned into a two-touchdown day.

There aren't many "handcuff" wide receivers in fantasy football, but Reynolds may very well be the most noteworthy one in the league. He has a versatile skill set that would allow him to step in and play should Cooks, Woods or Kupp miss time this season and that makes him an interesting stash in deep leagues as well as in dynasty formats.

TE Gerald Everett
(2018 TE Rank – No.24, 3.2 FPts/G)
The Rams primarily utilize an offensive set that includes three wide receivers and one tight end on the field, but there's no question that the team is typically looking to get the ball to their receivers - not their tight ends. The snap share numbers alone don't tell the story because there are times when their tight ends are on the field for almost every play yet only once throughout the 2018 season did a Rams tight end catch more than five passes in a single game. That tight end, oddly enough, was actually Tyler Higbee, who is typically considered the better run blocker between him and Gerald Everett.

Everett, however, was the more productive fantasy tight end in 2018 as he caught 33 passes for 320 yards and three touchdowns in comparison to Higbee's 24 catches for 292 yards and two scores. At 6'3" and 240 lbs, Everett lacks the size to be a great run blocker which does limit his snaps, particularly in the red zone. He did see his snap share increase down the stretch and he even out-snapped Higbee in three of the Rams' final four regular season contests, but he finished the season with less than half as many snaps as Higbee.

There's a case to be made that either player could be a borderline fantasy starter if the other one were to go down with an injury, but Everett and Higbee vulture one another's fantasy upside too much, which makes each of them non-starters in most fantasy leagues.