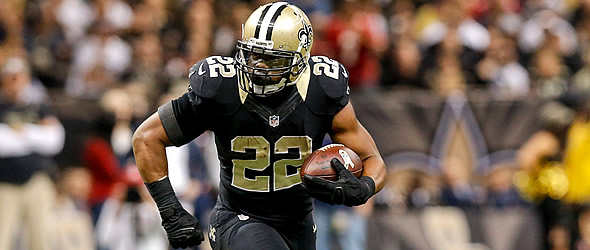 If the Ravens narrow down their RBBC, Mark Ingram can easily put up RB2 numbers in 2019.
Mark Ingram to the Ravens is a match made in fantasy heaven. In a world of #HOTTAKES, I tried to avoid absolutes when I'm writing fantasy previews or outlooks, but the move of Ingram to Baltimore should really shake up the fantasy running back rankings.

Let's be honest, Ingram had a very sluggish start to his NFL career. Despite being a highly touted 1st round pick, the former Alabama star couldn't stay healthy. A near yearly barrage of foot and leg injuries kept him on the shelf for 11 games during his first three years. During that time he displayed little in the way of receiving ability, and frankly, things looked bleak for his career.

But the switch flipped in 2014, as Ingram rumbled for nearly a 1,000 yards to go along with 9 touchdowns and 29 receptions. Career years followed in 2016 and 2017, despite splitting time in the 2017 season with Alvin Kamara. The Saints offense was clicking better than in had in a decade, and Ingram finally lived up to the billing. But then the four-game suspension hit last season, and he had a tough time gaining back the 1-B role in the run game. The offense continued to flow through Kamara and the passing game, and the Saints let Ingram test the market this offseason.

Now Ingram heads to the Ravens to enter his age 29 season, and figures to vault right to the top of the depth chart for a team that easily led the league in rushing attempts this year. Ingram is the perfect back for the offense Baltimore intends to build around Lamar Jackson. He's a one-cut runner with enough power and wiggle to get yards for himself, is familiar with the endzone (55 career touchdowns), and has caught 45 or more passes in three of the past four seasons. He's a three-down back and will benefit greatly from the "Jackson Effect", an advantage some runners have when the threat of the quarterback running leaves wide open lanes in the defense. We've seen running backs have career years with the likes of RGIII and Michael Vick as their quarterback, as the defensive ends must respect the keeper and off tackle plays can go for big yards. Gus Edwards, who no one would mistake for Barry Sanders, averaged 5.2 yards per carry and rushed for 718 yards in only six games with Jackson at the helm.

With enough versatility, gas in the tank, and scheme match, I think Ingram slots in as an easy RB2 with upside. Jackson may pilfer some red zone scores from time to time, but if the Ravens continue to play good defense, and rely on the run game, I don't see any reason why Ingram can't make a significant fantasy impact in the 2019 season.