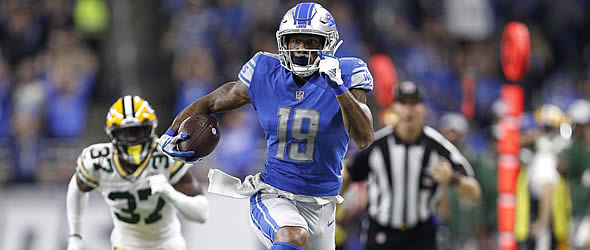 Does the return of Marvin Jones and Darrell Bevell at OC cap the upside of Kenny Golladay?
QB Matthew Stafford
(2018 QB Rank - No.20, 17.5 FPts/G)
If youíve been reading my player outlooks for any stretch of time you will notice I enjoy breaking down the quarterbacks, with Stafford being one of my favorites to examine. While his play on the field hasnít equated to many wins for Detroit, heís always been an overlooked fantasy asset. Unfortunately I took little pleasure in watching the Lions offense last year, and preparing for this breakdown has been equally rough.

Breakdown is a great word to describe Stafford. Despite being one of the toughest sonova-guns in the NFL (he essentially played several games with a broken back last year), the constant beatings heís taken have begun to take their toll. He played much of the season with lingering back and upper body injuries and it showed in his play. He accounted for his fewest total touchdowns (21) since his second year in the league, and he simply couldnít overcome the myriad of injuries suffered by the line, backs, and receivers. Losing the reliable Golden Tate via in-season trade seemed to be the death knell on Staffordís season, as his post trade numbers were significantly worse without his slot-security blanket. The dysfunction on offense was enough for the Lions to make a change, going with the well-traveled Darrell Bevell as the new OC. Bevell comes to the Lions after a highly successful seven-year stint with the Seahawks. Bevell is a safe, unexciting hire for the Lions, and someone who will work to transform this offense into a run-first, pass later philosophy.

I canít really argue with what the Lions are trying to do on offense. Sure, it seems like a backward philosophy in todayís NFL, but what has the high flying, throw the football 600 times strategy really gotten the Lions anyway? While the Lions woes have been great for Staffordís fantasy football value, heís been beaten down. With the signing of C.J. Anderson, and the healthy return of second year back Kerryon Johnson, I can see Staffordís pass attempts come down, perhaps to some of the lowest in his career. The reality is the days of top-7 value are gone, and the best we can hope from Stafford is as a decent QB2.

RB Kerryon Johnson
(2018 RB Rank No.32, 10.9 FPts/G)
Despite a knee injury that cost him seven games, Johnson did something not seen from a Lions player in 5 years. He rushed for 100 yards in a game, 101 in Week 3 to be exact! Johnson went on to repeat the feat in a dominant Week 7 performance against Miami and justify the draft capital Detroit spent on him.

Injury aside, Johnson had a solid first season in the NFL. His 10.9 standard points per game would have made him an easy RB2, and his 5.4 yards per carry, and 32 receptions lived up to his pre-draft scouting report of explosion and versatility. The one knock on his game did come to fruition, and that was the durability. The health of Johnson and the nature of the position lead straight to the biggest red flag for Johnsonís 2019 value, and thatís workload. The former Auburn Tiger has shown the ability to become a fantasy stud, but under Matt Patrcia and new coordinator Darrell Bevell, it's going to be a difficult reality. Patricia and Bevell have a history of using multiple guys in the backfield, and I just donít see them suddenly switching course and hitching their sled to one lead dog, despite how capable he might be. Patricia has already gone on record this offseason about his desire for a committee backfield, and any hope that Johnson will make up the loss of rushes with more receptions can just look back at the history of Bevell and how underused his backs in Seattle were in the passing game.

Watch tape from last year and you will see that Johnson plays the game with an effortless stride, and explosive first step. Heís the best back the Lions have had in years, and in typical Detroit fashion, he will cede work to lesser talented players. Maybe he simply plays so well he becomes the alpha and the Lions canít take him off the field, but Iím afraid that while heíll have no problem leading this committee, there is no way he approaches 18-20 carries a game, and likely tops out as an RB2 with upside.

RB Theo Riddick
(2018 RB Rank - No.65 4.0 FPts/G)
Other than taking on a little more of the rushing load late last season after a spate of injuries, Riddick remained mostly a 3rd down/two-minute drill player. His final numbers were solid, as his 75 targets and 61 receptions were the most since 2015. Entering the final year of his contract, Riddick should continue to be a reliable outlet for Stafford, and do a nice job of siphoning touches away from Kerryon Johnson. He offers nothing in standard leagues, as he only had 40 rushing attempts and failed to score a touchdown last season. With the way this backfield figures to be split this season, and the fact Riddick doesnít seem to be in the teamís future plants, it remains to be seen if heíll even retain marginal PPR value.

RB C.J. Anderson
(2018 RB Rank - No.58 6.9 FPts/G)
Anderson is a tough nut to crack. After showing so little early last season with the Panthers, he was cut after Week 10, only to surface with the Rams and run like gangbusters over the final regular season weeks and into the playoffs. Iím sure fresh legs and an extremely favorable scheme helped, but Anderson looked so dominant that surely he could parlay that into a new deal. Well that never came to fruition, as Andersonís market was cold, and he had to settle for a one-year deal with Detroit. What makes things even more awkward is that the Lions preferred to sign a different Rams running back, Malcom Brown, but L.A. matched the offer. Despite the production last year, I donít believe Anderson has much in the tank, and as the Lions ďPlan BĒ at best, it doesnít sound like the rest of the NFL believes heís return to his early career form either. I anticipate Anderson as nothing more than a guy that will soak up just enough carries to keep Johnson fresh. As he offers nothing in the passing game, heís a two-down plodder that will likely vulture a handful of touchdowns as well. In a nutshell, Anderson exists to drive Johnson owners crazy, and really doesnít deserve a non-handcuff slot on your roster.

WR Kenny Golladay
(2018 WR Rank - No.20, 9.1 FPts/G)
After making a splash during his rookie season in 2017, Golladay took over the whole pool as he broke out for a 70-1063-5 line during his sophomore year. Taking full advantage of his 6í4íí frame, ďBaby TronĒ showed elite ball skills and a penchant for big plays. Thrust into the WR1 role after losing Marvin Jones for the final seven weeks of the season and the trading of Golden Tate at the deadline, Golladay showed he has the ability to be the main cog in the Detroit passing game. Despite most of the offense crumbling around him, he found a way to have some big production weeks, and an overall consistent season for such a young player from a small school.

Out of all the players on this offense, Iím most comfortable with Golladayís potential production. Although the offense should be more balanced and conservative, Offensive Coordinator Darrell Bevell was never shy about having Doug Baldwin be his clear No.1, and this is the role Golladay steps into in his 3rd season. Golladay has elite physical skills, and enters a year in which receivers tend to really break out. With a few more scores easily achievable, and a season of his own health and those around him, Golladay is WR2 that has a good of a shot as any to outperform his draft slot and find himself as a WR1 by the end of the season. Currently coming off the board as around the 18th receiver in standard leagues, his ADP has actually dropped this summer with owners likely scared by the return of Marvin Jones, and the increased emphasis on the run game. Iím willing to gamble on the monster upside Golladay has and Iíll be happy to take him in as many leagues as I can.

WR Marvin Jones
(2018 WR Rank Ė No.57, 9.0 FPts/G)
Despite missing a good chunk of the season due to a knee injury, Jonesí PPG average would have put him into near WR2 territory in standard leagues. Although itís clear Jones is about to take a backseat to Golladay in the passing game and he struggled to connect with Stafford consistently last season, Jones is only a year removed from a breakout 2017 season where he finished as a WR1. The offense coming over to the Lions this year is based on multi-receiver sets, and Jones should have enough chances to return value in 2019.

A big play threat when heís on the field, Jones should see a decent chunk of target share, with enough to approach 45 receptions. The loss of Golden Tate leaves a huge void, and Golladay and Jones should form an effective duo. Jones has typically been familiar with the end zone (he had 5 touchdowns in only nine games last year, and led the team with 9 in 2017), so it would seem his standard league value is much better than his PPR.

Jones has a history of being a productive fantasy receiver on a moderate volume, so donít overlook Jones. His shortened 2018 season and ascendance of Golladay is sure to make many owners forget about Jones, but donít hesitate to add him as a depth with upside.

WR Danny Amendola
(2018 WR Rank Ė No.78, 4.2 FPts/G)
Unceremoniously cut after leading the Dolphins in catches and yards, Amendola joins some familiar faces in Detroit on a one-year deal. Added to provide some stability and professionalism to the locker room Matt Patricia is trying to build, Amendola also gives the Lions a solid, if unspectacular slot replacement for Golden Tate. With a 60-catch, 600-yard floor in recent healthy seasons, Amendola is a warm body you can add to your roster. He wonít score or do much with the ball, but he will be places where heís supposed to be, and generally be a reliable target. He was somehow productive in Miami despite abysmal quarterback play, but at age 33 is nothing more than a bridge player. Worth a look-see in PPR leagues, heís pretty far from relevant fantasy value in any format.
The most complete tight end to come into the NFL in some years, ďHockĒ was the 8th overall selection of the 2018 draft, and should instantly become an important piece of the Lions offense. Coming from a pro-style system at Iowa, Hockenson is a highly gifted athlete well versed in a varied route tree. More than just a move tight end, Hockenson drew raves for his blocking and tenacity in college. Hockenson was a deep threat, but also displayed the savvy to run drag routes and get open in tight spaces. He plays fast in his 6í5íí 251 pound frame, and gives the Lions some stability at a position they havenít been able to figure out in a long time.

Measurables and college production aside, understand that rookie tight ends rarely are fantasy relevant. Most of the current elite tight ends were nearly invisible their rookie seasons, but few of them had the talent and polish to be top-10 picks. With the addition of former Steeler Jesse James, the Lions will likely employ a decent amount of ď12Ē personnel, or 2-tight end sets, with T.J. being the ďmoveĒ. Hockensonís ability as a pass catcher and the shallow depth at the position should definitely earn him a look as a TE2.