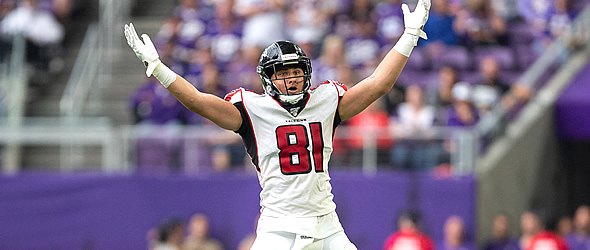 Hooper turned his career year into a fine $44 million dollar contract with the Browns.
Austin Hooper has made monumental growth from the time he entered the league as a 3rd round pick in 2016. A complimentary player in a high powered offense for his first two seasons, Hooper's ascension to fantasy point factory came in 2018 when he set career highs with 71 receptions for 660 yards and 4 touchdowns.
Flash forward to 2019 and Hooper was off to a blistering pace, with a 52-591-5 line over the first half of the season. With No.3 receiver Calvin Ridley injuried, and few backfield targets getting in the way, Hooper was a PPR gem for fantasy owners. Unfortunately his numbers tailed off greatly down the stretch because of his own injury, but he still set career highs across the board (75-787-6) while finishing as the No.7 overall tight end in standard leagues despite starting only 13 games. Buoyed by the sixth-most targets by a tight end, Hooper turned his career year into a fine $44 million dollar contract with the Browns.

Hooper has been as consistent as they come from the tight end position over the last two fantasy seasons. He's found a way to produce at a high level despite having a target hog on the field in Julio Jones. So can he find similar success in a dysfunctional Browns offense that couldn't seem to get out of its own way most of the time? I have my doubts. The Falcons were one of the most pass heavy teams in the league for the better part of the last few seasons, and Hooper took tremendous advantage as being the offense's main short yardage receiver. With Devonta Freeman a mere checkdown option, Hooper dominated the seam and intermediate routes with Jones taking most of the attention. With many more mouths to feed in Cleveland (Odell Beckham Jr., Jarvis Landry) and more capable receivers in the backfield, it's tough to figure out exactly where Hooper fits. Not to mention athletic freak David Njoku remains on the roster and a threat for playing time.

I do like that fact that new boss Kevin Stefanski utilized the tight end in Minnesota consistently, and Hooper is a versatile, heady player who should help stabilize this offense with his knowledge of the game, and ability to block. Pushing 100 targets in this offense is going to be a mighty feat, but with Landry coming off serious hip surgery, Hooper could play a big role to open the season. Cleveland paid him to be a major part of this offense, and because the fantasy tight end position is starving for players, Hooper should still find himself in the top-10 conversation.
Look for a strong start to the season while Landry rounds into form, but this offense should be much more balanced than Atlanta's offense in previous seasons, thus limiting Hooper's overall fantasy impact.