QB Joe Burrow
2019 QB Rank - N/A
I have fond memories of playing NCAA Football on my Playstation in the late 90ís. It was a blast going through a season and seeing what kind of silly stats you could put up with your Heisman winning player. Itís taken the better part of two decades, but someone finally came along and put even my best NCAA season to shame. 60-6 touchdown to interception ratio, 76% completion percentage, over 5,600 yards passing; while they seem video game-like, these are actual stats Burrow put up in likely the most impressive season by any quarterback in NCAA history. Those are just the surface numbers though. Dig deeper into things like accuracy under pressure or out of the pocket, against the backdrop of playing in the best conference in the country, and Burrowís season is one for the ages.

We know that numbers in college donít always correlate to success in the NFL. Having to learn an offense remotely with mostly informal work with teammates isnít going to help Burrowís transition to the NFL. While he possesses elite physical gifts, and maturity and poise beyond his years, there are question marks about the coaching that is tasked with his development at the next level. Zac Taylor, he of the withering branches of the McVay coaching tree, and offensive coordinator Brian Callahan didnít exactly inspire confidence in their two-win rookie season. The positive is that both guys are very young, and thus are more likely to be flexible with the scheme they put Burrow in.

With solid talent at the skill positions, an average offensive line, and a bottom tier defense, Burrow should have plenty of opportunity to compile stats in his rookie year. If his accuracy and decision making can make the jump, and he continues to be an efficient runner (368 yards and 5 touchdowns last season), Burrowís floor should be Daniel Jones from last year and itís not inconceivable he be an asset down the stretch, and a possible QB1 by seasonís end.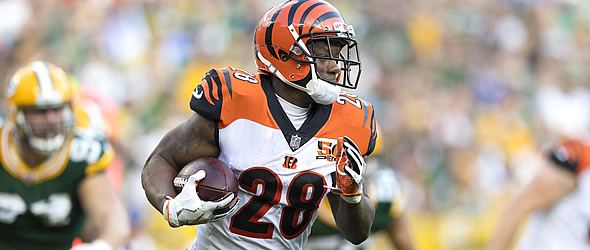 RB Joe Mixon
2019 RB Rank - No.12, 11.9 FPts/G
It was a tale of two halves for Mixon in 2019. In Weeks 1-8, he limped to a 101-320-0 rushing line on a team that was 0-8 and going nowhere fast. The line was horrendous, and with teammates dropping like flies, Mixon quickly became the main threat on offense. This all makes his Weeks 10-17 that much more impressive. Coming out of the teamís Week 9 bye, the Bengals gave Mixon a season high 32 touches, nearly doubling any single game total from earlier in the year. He would go on to rack up a 177-817-5 line during those final 8 games, finishing as one of the hottest fantasy players in the league.
As he enters his 4th year in the NFL, we know what Mixon brings to the table. Heís the rare three-down workhorse back that is powerful, quick, and elusive. The offense around him is in line for a massive upgrade, as 2019 1st round tackle Jonah Williams, and veteran A.J. Green return healthy. With an improved offensive line and a more threatening passing game, Mixon should have much more space to operate. If this offense can gel, Mixon has a shot to repeat his efficiency numbers of 2018 when he rushed for nearly 5 yards-per-carry and caught 43 passes. He finished as a top-10 fantasy running back in that season, and should be poised to do it again.
RB Giovani Bernard
2019 RB Rank - No. 74 2.5 FPts/G
Scooping up the scraps left when Mixon needs a breather, Bernard is best viewed as an end of the draft handcuff. Iím baffled by the Bengals' unwillingness to improve on the talent behind Mixon, as Bernard provides a solid veteran presence, and nothing more, and itís been that way for several years now. 2019 6th round pick Trayveon Williams from Texas A&M didnít register a meaningful stat last season, but did rush for 1,700 yards and catch 27 passes during his senior season, so there is clearly some talent there. At this point Bernard is such an underwhelming handcuff that I would almost rather take a flier on Williams instead. Bottom line... donít give too much thought to this backfield beyond Mixon.
WR A.J. Green
2019 WR Rank Ė N/A
Once one of the premier fantasy receivers in the NFL, injuries have kept Green sidelined for the better part of the last two seasons. Fully healthy, but now 32 and just recently signed after being franchise tagged, Green likely enters his final season with the Bengals.

Iím not really sure what to make of Greenís fantasy prospects this season. Heís honestly one of the hardest players to evaluate in all of my outlooks this year. While his talent and track record are undeniable, heís breaking in a rookie QB, and we havenít seen what his role looks like in this offense. How many 32 year-old receivers return to form after missing their last 20 games? I do think that professional pride and financial motivation will spur him along this year, but physically can he hold up? With an increased emphasis on slot routes and the development of Tyler Boyd, there is a chance Green doesnít even lead the team in targets. Maybe he makes sweet music with Burrow and bounces back with a vintage season or maybe his health fails again or the ragged offseason keeps this offense from coming together before itís too late. I really donít know what to expect. Unless he falls so low in the draft to make it a no-brainer, Iím willing to let another owner make the tough call on Green as he has as good of a chance to finish as the overall WR14 as he does the WR40.

WR Tyler Boyd
2019 WR Rank Ė No. 23, 8.6 FPts/G
Proving that 2018ís 76-1028-7 line was no fluke, Boyd after being thrust into the WR1 role after A.J. Green missed the entire season, piled up the 7th most targets in the league (148) and turned those chances into 90 receptions (8th in the NFL), 1,046 yards and 5 touchdowns. Keep in mind that Boyd put up these numbers without a tangible threat in the passing game to siphon off attention, and with Andy Dalton being benched for a few weeks. A terror from the slot, Boyd seems to only benefit from the return of Green, and the drafting of Burrow. As a focal point in this passing scheme, Boyd has an outside shot to return WR2 value on an offense that figures to be up-tempo. Currently the most reliable receiver on the depth chart, I feel much better about the value the 5th-year receiver will return.
WR John Ross
2019 WR Rank Ė No. 67, 8.6 FPts/G
Ross the 1st round disappointment is likely on his way out, while his direct replacement, Higgins, was just added to the roster in the 2020 draftís 2nd round. A one trick pony, Ross is nothing more than a low volume lid lifter who occasionally hits a homerun. He shot out of the gates last season with 20 targets, 11 receptions 270 yards, and 2 touchdowns over the first two games. Unable to get much going after his return from a broken clavicle, Ross was once again failed to meet expectations. Injuries may have derailed the young speedster so far in his career, but after having his 5th year option denied, heís going to need to stay healthy and flash more consistent ability if he wants to salvage his employment. The presence of Higgins and the depth around him will prove to make that difficult.

Higgins, the first pick of the 2nd round this year was a boom or bust deep threat for the Clemson Tigers his final two years. Using his giant 6í4íí frame to get down the field and devour passes from Trevor Lawrence, Higgins figures to be in a camp battle with Ross for a starting outside role in three receiver sets. How quickly Higgins can adjust to the nuances of the NFL and refine his route running will go a long way to determining how quickly he can eat into Rossí target share. These two players are certainly more interesting to Bengal fans, as they are very unlikely to see enough steady volume to warrant selection in any fantasy format.

TE C.J. Uzomah
2019 TE Rank No. 41, 2.8 FPts/G
Unless you are in a league that starts only tight ends or something insane like that, it's best to just pretend this offense doesn't use one. After finally moving on from Tyler Eifert in the offseason, the Bengals, unsurprisingly did absolutely nothing to upgrade the position. Uzomah enters his 6th year with Cincinnati, but this time finds himself as the undisputed starter. A solid role player when called upon, Uzomah simply won't have much of a chance to shine in this scheme. The Zach Taylor offense runs a heavy dose of 11 personnel (1 RB, 1 TE, 3 WR) and asks their tight ends to block and be outlet receivers most of the time. 2019 2nd round pick Drew Sample figures to be the main blocking tight end, so that leaves Uzomah to scavenge the leftovers from the receivers, making his career best 2018 line of 43-439-3 his likely ceiling.