QB Baker Mayfield
2019 QB Rank Ė No.16 19.5 FPts/G
Mayfield, and frankly the entire Cleveland offense was the subject of great debate this time last offseason. On paper the offense should have been one of the most explosive, dynamic units in the NFL, but in reality, they struggled to get out of their own way most of the season. The passing game lacked any sync, the offense line was a nightmare, and Mayfield took a step back in his development. All the strife and dysfunction led to the gutting of the front office, and the firing of Head Coach Freddie Kitchens and his staff. With a new scheme, new administration and uncertain offseason, what can we expect from Mayfield as he enters an important 3rd season as a pro?
Cleveland invested heavily in the offensive line this offseason, drafting Jedrick Wills from Alabama, and committing $42 million dollars to tackle Jack Conklin. Throw in another $44 million for tight end Austin Hooper, and you can see the Browns are serious about upgrading the foundation around Mayfield. But will it be enough to get him back on track? I guess it better be! His 22-21 touchdown to interception ratio was the worst among starting quarterbacks last season, and was a problem nearly the entire year. Was it the result of a brash young guy being overconfident, or trying too hard? Maybe, but unless Mayfield can figure out a way to bring his game under control, this entire offense is going to be inconsistent.
The funky offseason certainly wonít do this team any favors, but I do think Stefanski has a chance to get Mayfield back on track. Expect the former Vikings offensive coordinator to bring a play-action based attack that will fit extremely well with Clevelandís personnel. The threat of Nick Chubb and Kareem Hunt must be respected, and combined with the offseason acquisitions, should help lower the pressure Mayfield will be under. Stefanski helped Kirk Cousins have three incredibly efficient seasons while in Minnesota, and should be able to do the same for Mayfield. I really like the former No.1 overall pick at his current QB2 price. He may get off to a slow start, but if he can get comfortable with the offense, Mayfield has the talent and weapons to return some great value.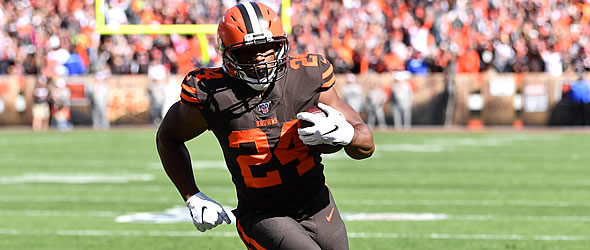 RB Nick Chubb
2019 RB Rank Ė No.6 14.1 FPts/G
While the passing game was mostly a dysfunctional mess, Chubb and the running game were an unstoppable force. Second in the NFL with 1,494 rushing yards, the former Georgia Bulldog kept Cleveland in many games, using a combination of speed, power, and vision to pile up seven 100-yard games. He absolutely destroyed the Ravens in Week 4 with 165 yards and 3 scores, and his second straight 5.0+ yards-per-carry average season means he gives the offense a big play threat from the backfield. His 36-278 line as a receiver also helped make him valuable in PPR leagues. But despite his ability to be a decent receiver, the full-time presence of Kareem Hunt is going to severely impact Chubb's role in the passing game. In only half a season with the team, Hunt had more receptions than Chubb did all year, and during the final three games of the season, Hunt out-caught his backfield mate by a 15-4 margin.

Nick Chubb has proven to be one of the most efficient runners in the NFL during his first two seasons, so itís not a matter of talent. The existence of Hunt makes Chubb a two-down back, so short of a monster season, it will be extremely difficult for Chubb to improve his numbers from last year. I do expect him to be a focal part of this new offense as an early down workhorse and he should be a reliable RB1 anchor for your fantasy team if he finds the endzone at a similar clip.
RB Kareem Hunt
2019 RB Rank Ė No.53, 8.1 FPts/G
After returning from an 8-game suspension, Hunt hit the ground running, piling up 11 touches for 74 yards in his Cleveland debut. That game would be a harbinger for things to come, as Hunt instantly became the main receiving option out of the backfield. His 37 receptions over the final 8 games put him on a 74 reception pace over a full season, so is that our starting point for his 2020 receiving outlook? That total might be a bit high, but I think a 60 reception floor is realistic, as is a greater increase in rushing attempts (he only had 43 last year). Chubb and Hunt complement each other perfectly, as both guys are capable of playing on all downs, and it keeps the opposing defenses guessing. The Browns have spoken frequently about using Hunt more in base packages this season, and Stefanski has proven the ability to use running backs in multiple roles. Also keep in mind Hunt is playing for a big free agent deal, so there is that added motivation.

Hunt is no normal ďback-upĒ running back. He was an elite fantasy performer during his time in Kansas City and is going to get enough touches to be a high end FLEX/RB3 option and can be a league winner if anything happens to Chubb. His ADP is too rich to be a simple handcuff, and I suspect it will keep climbing as we approach the season. The talent and motivation is there, so itís just a question of opportunity. Hunt is going to be a player Iím going to go after aggressively. Heís going to get enough chances to at least be usable in my lineup, and if he ever steps into the starting role, heís instantly a high end RB1 in all formats.
WR Odell Beckham Jr.
2019 WR Rank - No.31, 8.0 FPts/G
The last three seasons have not been kind to OBJ. After enjoying ďeliteĒ status his first three seasons, injuries, apathy, and dysfunction have dropped him from the ranks of the mighty. His move to the midwest was largely a bust, as the volatile receiver failed to establish much of a rapport with Mayfield. He only caught 55% of his targets, by far the worst among players who saw at least 130 targets. Previously a prolific scorer, Beckham Jr. only scored four times in 16 games. In fact, the only real positive that can be taken from 2019 is that he did play in a full season for only the second time in his career.

2020 is a crucial season for Beckham in many ways. Losing in Cleveland is not like losing in New York. Itís nearly impossible to stay relevant in a small market when you arenít winning or performing at an All Pro level. Beckham Jr. is enjoying his first healthy offseason in a long time and that is the key. If he regains his early career form, heís going to be a force. The Browns offense is loaded (stop me if youíve heard this before), but this time, at the right spots. The improved line play and play action scheme of Stefanski will pay off huge for Beckham. The addition of Austin Hooper gives Cleveland a reliable mid-level threat so itís going to be impossible for defenses to dedicate too much attention to Mr. Mercurial. Currently wavering in the WR1/2 category, Iím willing to gamble on his talent and motivation. 2019 was a humbling experience, but if Mayfield can get right and Beckham can stay healthy, a top 10 finish is within the range of high end outcomes.
WR Jarvis Landry
2019 WR Rank No.14 9.7 FPts/G
While many fantasy players salivated at the Mayfield-Beckham Jr. pairing going into last year, it was Landry that became the calm in the stormy waters that 2019 devolved into. While Mayfield was forcing the ball into Beckham, Landry feasted on the decreased attention. He outgained his good buddy in all of the important receiving metrics, and even displayed big play ability, flashing for a career high 14.1 yards-per-reception. By seasonís end Landry proved to be one of the best receiver values in fantasy football.

Unfortunately I donít anticipate a repeat in 2020. A quick look at Landryís numbers from last season show a huge drop in production down the stretch as a hip injury took its toll. That same injury lingered into the offseason causing Landry to go under the knife in February. With a 6-8 month recovery timetable, itís unlikely that Landry will get in much work in the abbreviated training camp. The Browns ďhopeĒ he will be ready for Week 1. Besides his health concerns, there is the presence of Kareem Hunt and Austin Hooper. Those guys figure to take on many of the routes Landry runs from the slot so you are taking on a ton of risk if you draft Landry as a WR2. With so many other mouths to feed and his health to consider, I canít see Landry coming close to 2019ís totals. If he can do some work in camp maybe his outlook improves, but today I couldnít trust him as more than a mid-level WR3.
TE Austin Hooper
2019 TE Rank No.7, 8.8 FPts/G
One of the best fantasy tight ends (especially in PPR) over the last two seasons, Austin Hooper joined the Browns this offseason with a record setting contract. Although flush with talent at other skill positions, and ultra-athletic David Njoku already on the roster, Hooper gives Cleveland a reliable option for Mayfield and a calming professional presence for the team. An average blocker, Hooper is still a big improvement over Njoku, and is any improvement along that line is welcome. Heís found ways to compile two straight 70+ reception seasons by being a heady, sure handed route runner who identifies holes in the defense. He will be in Stefanskiís tight end friendly scheme, and should make a killing on play action waggle and drag routes as Mayfield is an accurate on-the-move passer. With Landry almost assuredly to be eased into the season, Hooper could be the No.2 passing option on the team for the first quarter of the year. While reaching his 73 reception average over the last two seasons is probably on the very high end range of outcomes, Hooper is still going to be a big part of this offense, and is worth a pick as a back-end TE1 option.