QB Matthew Stafford
(2019 QB Rank - No.29, 25.9 FPts/G)
Despite starting the 2019 season playing some of the best football of his career under new coordinator Darrell Bevell, things cratered fast for Stafford and the Lions, as the Detroit captain missed his first games since 2010, and was eventually shelved for the season with broken bones in his back. With the head coach and general manager in the hot seat, and Stafford the focus of trade rumors this off-season, Stafford is clearly at a career crossroads in 2020.

Although nasty back injuries have hampered him the last two years, Stafford was dazzling for the first half of last season. His 25.9 FPts/G would have placed him in the top-3 at the position, and he was on pace for nearly 5,000 yards and 40 touchdowns before going down. Looking comfortable in a new offense that uses the run game to open up shots down the field, Stafford utilized one of the best deep balls in the game to great success. His 8.6 yards-per-attempt was 2nd in the NFL to only Ryan Tannehill (Things I thought I would never read for 500 Alex).

With this unprecedented offseason, offenses with continuity in coaching staff and personnel will have a big advantage, and Stafford and the Lions have both. Golladay is a blossoming stud, Jones and Amendola are the vets, and last years' top-10 pick T.J. Hockensen should be a threat to be respected. Throw in dynamic rookie D'Andre Swift as a receiver out of the backfield and Stafford arguably has the best of playmakers he's ever been surrounded with. If the line can keep up their end of the bargain, this offense can and should score plenty of points. That's a good thing, because a defense that got torched by the pass replaced their All-Pro corner with a rookie.

I can't imagine a world where this offense stays relatively healthy and doesn't score close to 30 points per game. Stafford is going to have to overcome a defense that isn't going to stifle teams for four quarters and has the talent at the skill positions to not have to play superman. As far as QB1 value goes, there won't be many better than Stafford.

One of the most dynamic players in college football last season, and considered by many analysts as the top back in the draft, itís no wonder that the Lions couldnít pass on Swiftís value in the 2nd round. Yes, they had other needs at the time, but theyíve also needed a consistent backfield weapon since No.20 hung em up.

Swift joins the Lions as part of a long lineage of talented backs from Georgia. And while I absolutely love his fit in this offense (heíll never see an 8-man box), I have a sneaky suspicion this will be one of the most confounding fantasy backfields in the NFL. Kerryon Johnson, 2018ís 2nd round pick has proven to be solid when heís been able to remain healthy and Swift was selected partly because health hasnít come easy for the former Auburn star. I envision a near 50-50 split for these guys with Swift being the preferred option in the passing game. The real cap on Swiftís fantasy impact will come near the goal line where the Lions have other short yardage options, as well as big bodied receivers. As things stand I much prefer Swift in PPR leagues where he could catch 50 passes and is explosive enough to get yardage production with limited ground attempts. Now if this backfield thins out a little, watch out, as the potential for RB1 production exists. I really like Swift as an early season FLEX play with league winning prospects down the stretch.

RB Kerryon Johnson
(2019 RB Rank No.47, 9.6 FPts/G)
Unfortunately Johnson has been the poster-child for the reason the running back position gets a bad rap. A difference maker when on the field, alas Johnson has missed 14 games since entering the NFL in 2018 and his lack of availability led the Lions picking DíAndre Swift in the draft. A more than capable three-down runner, Johnson enters a pivotal point in his career. He simply must stay healthy and effective to hold off Swift, and while I think his experience in the offense will help him hold down a share of the early season load, he could quickly drop in the pecking order with another injury or a continued drop in efficiency. Even when healthy last season Johnson failed to live up the expectations set after his rookie year. In theeight games he played in 2019, his yards-per-carry average dipped from 5.4 in 2018, to 3.6 and he was on pace for fewer targets and receptions despite being the teamís clear cut RB1.

In a crowded fantasy backfield like Detroit, Iím going to always go with the more explosive/versatile player, and while Johnson certainly has upside because of his age, draft pedigree and goal line chances, he needs just too many things to fall his way to achieve fantasy difference maker status.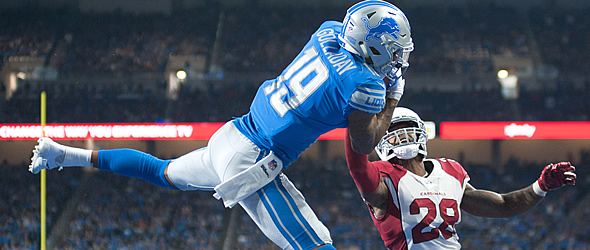 WR Kenny Golladay
(2019 WR Rank - No. 3, 11.6 FPts/G)
Continuing his meteoric rise since being a 3rd round pick out of Northern Illinois in 2017, Kenny Golladay tickled the upper echelon of fantasy receivers by finishing 3rd overall in standard scoring leagues. Buoyed by an NFL leading 11 receiving touchdowns and a career high in yardage (1,190) Golladay was dominant at times during the 2019 season. All of this production came despite catching passes from the likes of David Blough for almost half the season.
His size and ability will always favor the deep ball, so heís unlikely to catch a high percentage of his passes or be a PPR stud, but his scoring potential and return of Stafford bode extremely well for his 2020 prospects. There are enough threats on the offense to keep defenses from focusing too much on Golladay, so a return to near double-digit touchdowns is a good bet. With an uptick in efficiency and continued experience in the offense, there arenít many receivers in the NFL with the upside of Kenny G. There may be some week-to-week volatility based on his role in the passing game, but Golladay is a fit as a WR1 in all formats.
WR Marvin Jones (2019 WR Rank Ė No.28, 10.1 FPts/G)
After an injury marred 2018 season, Jones rebounded nicely, compiling a 62-779-9 line across 13 games. Like he has several times in his career, Jonesís production comes from his ability to score touchdowns, as he has never caught more than 65 passes in a season. A deeper look into 2019 shows that nearly half of his yardage and nearly all of his touchdowns came in four games but thatís the life you choose when drafting Jones. Serving as the clear WR2 in this offense, Jones forms a formidable down field threat tandem with young stud Kenny Golladay. On the negative side they fill very similar roles in this offense and that really caps the upside of Jones at a WR3 at best. With Hockenson, Swift and Amendola taking most of the mid-range targets, Jones will need to score 6-plus touchdowns to have value in PPR leagues. Entering his 8th year in the league there arenít any surprises of who Marvin Jones is as a player. A WR3 that can win you the week once or twice a year and bury you just as many.
WR Danny Amendola
(2019 WR Rank Ė No.62, 4.9 FPts/G)
It was a largely successful first season in Detroit for the 34-year old Amendola. Brought in to be a reliable slot receiver, Amendolaís 97 targets nearly cracked the top-30 in the NFL, and his 678 yards were actually the second-most of his 11-year career. Although he showed heís got gas left in the tank and provided decent production last season, there are a few things working against him in 2020. The addition of free agent Geronimo Allison is a younger, cheaper option in the slot. The return to health of T.J. Hockensen, and the addition of rookie DíAndre Swift also mean that there are going to be more dynamic players vying for touches in the passing game than there was at times last season. The odds of Amendola repeating his numbers from last year are virtually impossible, making him a fringe fantasy option in PPR leagues only.
TE T.J. Hockenson
(2019 TE Rank – No.32, 4.1 FPts/G)
A 6-131-1 NFL debut in Week 1 last season seemed to instantly squelch the idea rookie tight ends can't be fantasy assets. Those 131 yards were actually an NFL record for a rookie tight end in Week 1! But alas, that game would go down as easily the best game of his first season, as Hockensen only surpassed 5 receptions and 50 yards in only one more time each before his season came to a premature end with an ankle injury during Thanksgiving.

The development of Hockenson in his second season is an incredibly important thing for this entire Detroit offense. As a top-10 pick at the tight end position he has to be a well-rounded, and a consistent threat that the defense must account for. How defenses respond to him is going to dictate how open the rest of the offense can be. I'm going to bank on this happening. With the tight end position in fantasy an annual crapshoot for the most part, Hockensen has the talent and offense to flirt with top-15 status. With his quarterback returning to health and plenty of defensive attention focused elsewhere, Hockenson is an upside option for those that like to stream the tight end position.