QB Baker Mayfield
2020 QB Rank - No.25, 19.0 FPts/G
Sure, the final fantasy numbers and rank for Mayfieldís last two seasons are nearly identical, but by every metric, and the famous ďeye testĒ, Mayfield was an infinitely better player during the 2020 season. Credit new head coach Kevin Stefanski with designing an offense that played off Mayfieldís strengths (timing throws out of the pocket, and play action), as the 3rd year pro cut his interceptions by 60%, improved his completion percentage, and overcame a shaky start to the year by leading his team to the 2nd round of the playoffs. So what does the gunslinger from Oklahoma have for a follow-up in 2021?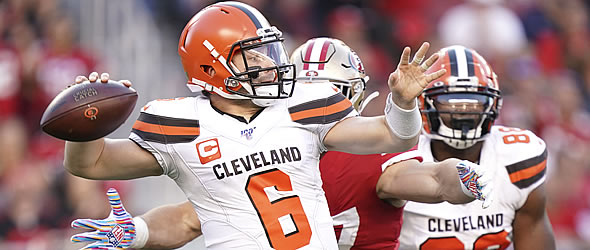 For the first time in a long while there are true expectations clinging to the Browns and Mayfield. After a near run to the AFC title game last season, many expect this team to compete for a shot at the Super Bowl. The return to health of OBJ and the resigning of Kareem Hunt are the big ďadditionsĒ to an offense that returns largely intact. Mayfield found a comfort zone in this offense last year and righted a career on the brink, but thatís the negative in this fantasy equation. Despite the quality season by NFL standards, we judge numbers here in the fantasy world, and by the important ones, Mayfield was no better than 17th in the NFL in attempts, completions, and yardage and 13th in touchdown passes.

Stefanskiís offense made great use of the play action, as Mayfield was very effective on deep throws on run fakes. Therein lies the problem. This is a run-first offense led by perhaps the best tailback duo in the NFL. The mauling run game allows Cleveland to control tempo, limit turnovers, and churn the clock late in the game. While the return of OBJ will give the passing game juice (if he stays humble in his role), Iím not sure itís enough to push Baker into the QB1 category. With such depth at the position, and little to offer as a runner, I think Mayfield tops out as a strong fantasy back-up.
RB Nick Chubb
2020 RB Rank - No.4, 16.1 FPts/G
Let me just start by saying that I think Nick Chubb is one of the most underrated players in the NFL. Since entering into the league in 2018, heís averaged better than 5.0 yards per carry in every season, and has yet to score less than 8 touchdowns. Despite splitting snaps with Kareem Hunt, and missing four games in 2020, Chubb churned out over 1200 total yards and tacked on 12 scores. His speed/power combination is one of the best in the NFL behind only Derrick Henry, and he similarly dominates late in games with Cleveland running out the clock, evidenced by his 7.2 yards -per-carry average in the 2nd half of games. His efficiency and touchdown scoring allowed him to finish in the top 10 in standard scoring leagues to with only 16 receptions.

So whatís holding him back from grinding up the NFL even more than he has? Two words...Kareem Hunt. Chubb has the blessing (more rest) and curse (reduced touches) of having an All-Pro for a backfield mate. Chubb simply doesnít play on 3rd downs or clear passing situations, and his 18 targets last year put him around 70th among running backs. A slight dip in running efficiency would be a hit, but on the flip side, an injury to Hunt could let Chubb dominate touches. Clearly Chubbís value lies in standard leagues as long as Hunt is around, but a full season of health gives the former Georgia Bulldog a very good chance at a top-5 season.
RB Kareem Hunt
2020 RB Rank - No.21, 11.3 FPts/G
On another team Hunt would be an elite RB1, but as his time in Cleveland has shown, there is still enough opportunity to produce top flight numbers even with Nick Chubb around. Despite playing 1B to his teammate, Hunt tallied over 1,100 total yards and 11 total touchdowns and had double digit carries in 13 of 18 games. But while the new system in Cleveland gives Hunt a ton of fantasy value across multiple formats, there were a few troubling signs that lead me to believe a repeat finish in the top-25 is going to be very tricky.

First, the complete lack of explosive plays by Hunt is alarming. While Chubb had 12 rushes of 20+ yards and three over 40 yards, Hunt lagged way behind with only 3 rushes past 20 yards. Thatís below a half dozen quarterbacks, and 3rd fewest among players with 150+ rushing attempts. The 2nd, and frankly bigger problem, is that despite being the teamís clear passing down back, Hunt had only 38 receptions, just 1 more than he had in his 8-game debut season in Cleveland. This tells me a few things about this Cleveland offense. First, they simply donít scheme to throw to the backs that often out of the backfield. Hunt had more receptions on 1st down (12) than on 3rd down (11), which means that certainly isnít his defined role. Secondly, Hunt was arguably worse when Chubb was out for a 4-game stretch in Weeks 5-8, when despite being the workhorse, failed to reach 100 yards or find the endzone on the ground. An ankle injury definitely slowed him at times during the year, but itís going to take an injury to Chubb for Hunt to be more than a RB2 in 2021.
WR Odell Beckham Jr.
2020 WR Rank - No.27, 9.0 FPts/G
OBJ has had his fair share of ups and downs in his whirlwind 7-year career. After dominating the NFL over his first three years, heís spent the next four battling injury, and chasing the HOF expectations of his early career. Itís fine time that he, and fantasy owners accept that fact there is a very good chance heís already had the best statistical seasons heís ever going to have, and instead focus on how he can best help Cleveland get deep into the playoffs. Despite his all-world talent, this offense seemed to settle into a groove after he was lost for the season in Week 7 with a torn ACL. Without the pressure of keeping him happy, Baker Mayfield found a comfort zone within the offense, and I canít imagine Kevin Stefanski is going to go out of his way to change much to accommodate his return. Instead, I look for the Browns to deploy OBJ all over the field, in a variety of creative ways. Offseason and minicamp reports surrounding his health have been glowing, so if he has recovered his elite speed and quickness, he remains a threat defenses must account for. With improved chemistry with Mayfield his catch % numbers should also rise, but the simple fact is this offense is built on a foundational running game and the volume to sniff a return to elite WR1 status simply isnít there. Short of a flurry of touchdowns, Beckham Jr. is looking like at best, an upside WR2.
WR Jarvis Landry
2020 WR Rank - No.47, 7.3 FPts/G
If you are in the market for a decent WR3 who wonít kill you, but probably also wonít stray too far from his expectations, Jarvis Landry is your man. I know that sounds a little underwhelming, but for a variety of reasons, thatís just how his career has been. Take 2020 for example. Clevelandís main passing game weapon tears his ACL in Week 7. It takes Landry until Week 12 to register his first receiving touchdown and 100-yard game. And while he was certainly solid from Week 12 on with 50+ yards and/or a touchdown in every game, the fact remains that Landry is a complimentary player on a run-first offense. Heíll move the chains, complete a long pass off a gimmick play, and score a few touchdowns, but the healthy return of OBJ caps his upside at, you guessed it, WR3/4.
TE Austin Hooper
2020 TE Rank-No. 22, 5.2 FPts/G
Last offseason Hooper signed with the Browns for $44 million, including $23 million guaranteed and entered into Stefanskiís tight-end friendly system. But while many reasonably expected a push for a top-10 fantasy finish at the position, Hooper instead became more of a blocker than receiver, watching his pass game numbers take a nosedive from his time in Atlanta. Hopper was the 16th most frequently targeted tight end in the NFL, and finished with the 22nd most receiving yards at the position. This is all the more troubling as Cleveland was starving for playmakers in the passing game after losing OBJ. Hooper is a fine all around football player, and fits what Cleveland wants to do perfectly. And thereís the rub. What Cleveland wants him to do, and what you need from your fantasy tight end, are two wildly different things. Baring a major shift in philosophy or David Njoku being traded/hurt, there just wonít be enough volume or scoring opportunity to make Hooper a fantasy option outside of fringe leagues.