Grab a Helmet



Gus Edwards @ LV (Mon)

With Dobbins and Justice Hill going down with season ending injuries just weeks apart, Gus is about the only guy left to drive the backfield bus for the Ravens. Edwards has been ultra-efficient as a complementary piece, so it remains to be seen if he can remain that way when asked to carry a larger share of the workload. A near complete lack of passing game chops hurts the offensive diversity much more than Edwards' fantasy numbers, as more carries, especially near the goal line, is sure to make up the difference. With only unknown commodity Ty'Son Williams to vie for carries with, Edwards suddenly becomes a high floor RB2, especially against a middling Raider defense.

Edwards tore his ACL in practice Thursday. Ty'Son Williams becomes a viable RB2 in Week 1.

Raheem Mostert / Trey Sermon @ DET

While the Niners figure out their starting quarterback conundrum, they can rely on the most effective running scheme in the NFL to beat the Lions into submission. Detroit is sure to be chippy as they open as big home underdogs in Week 1, so I expect San Francisco to use the run game to control the clock and game tempo. This is likely to be a near-even 50/50 backfield split while everyone is healthy, but there should be enough volume, and positive game script for both backs to see 12+ rushes. With a double-digit touch floor, against one of the worst run defenses in the NFL, look for Mostert and Sermon to be strong multi-format FLEX plays this week.

Nick Chubb @ KC

Although I wouldn't put it past him, Patrick Mahomes can't throw a touchdown pass on the bench, and the best way to keep him there is to control the clock with a punishing running game. It just so happens that Nick Chubb is up for the task! With Derrick Henry, Chubb is one of the best pure runners in the NFL, able to both dish out punishment, or glide past defenders for long touchdowns. Cleveland had KC on the ropes in the divisional round game last season, a contest where Chubb went over 5-yards-per-carry on 13 totes. Cleveland would like that number to be closer to 20 in one of the premier matchups of Week 1. If the game stays close it will be because of Chubb and the Cleveland run game. Fire him up as an RB1.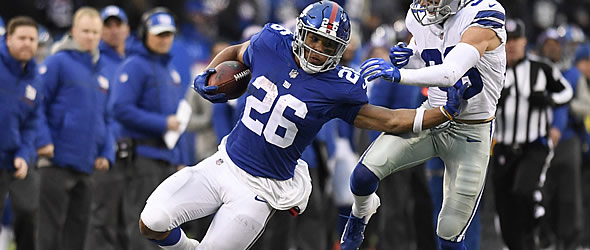 Grab Some Pine



Saquon Barkley vs DEN

While there is no doubting his generational ability, there are too many things working against Barkley in Week 1. First is the fact he'll only have about a week's worth of live practices before squaring off against Denver as he comes off that devastating knee injury from a year ago. For a guy that relies on gnat-like jump cuts and lateral acceleration that's a scary proposition. Let's also take a look at the schedule, where the Giants play three games in a 14-day span, so the likelihood that Barkley gets a full 20-25 touch workload in the season's first week is incredibly wishful thinking. Best case scenario in Week 1 for Barkley is 12-15 high leverage touches as long as the game is close. If the game gets out of hand either way, he'll be yanked. While you simply cannot sit Barkley when he's playing, temper your early season expectations.

Devin Singletary vs PIT

Singletary and Zack Moss have been in a preseason battle to lead this backfield, and while it seems Singletary has come out on top, a few things about this match-up dampened my enthusiasm. Volume and efficiency are two things trending downward this week against Pittsburgh. The Steelers swallowed runners up last season, including in their Week 14 match-up last season. This offense is going through Josh Allen even more than it did last year, and I expect a high volume passing attack, especially if T.J. Watt doesn't play. Take a wait-and-see approach with this backfield before you commit.

Clyde Edwards-Helaire vs CLE

A popular bounce-back candidate until an ankle sprain ended his preseason, CEH remains a low ceiling bet, who is slowly becoming injury prone in his very short career. It seems like both he and Darrel Williams will be ready to roll this week, but these injuries are making it more likely that this backfield morphs into a bigger committee that we might have guessed. In brief preseason action it looked as though Edwards-Helaire was the preferred option between the 20's, before giving way to Williams in the red zone. A low rush volume, with little goal line work would push CEH into the RB3/FLEX range in standard leagues.

Quarterbacks | Running Backs | Wide Receivers