Grab a Helmet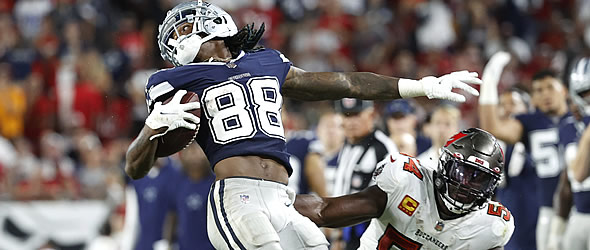 The Vikings are playing an exciting brand of football, but how much that defense can bend before it breaks remains to be seen. The Minnesota secondary has given up the 4th most fantasy points to receivers, and Lamb is on pace for career bests in all categories. Vegas not only expects the Cowboys to win, but the game has the 2nd highest over/under for the week. Fire up the skill position players in this one.
Letís stick with the Dallas/Minnesota game and take a look at Hockenson. In two games with his new squad, the former Lion has 16 receptions on 19 targets, numbers he hardly ever saw during his time with Detroit. Heís instantly become the 2nd option in this passing game, and with so much attention directed toward Justin Jefferson, Hock should continue to see tons of looks at the intermediate level of the defense.
Boyd has been a bit of a letdown since JaíMarr Chase was lost with a hip injury, but heís still seeing a consistent target share, and I doubt the Bengals are up 35-0 at the half this week against the Steelers. Heís unlikely to see big yardage days, but should have a solid floor against a Steelers defense thatís struggled mightily in the secondary.

Grab a Headset
Short of a few busted coverages last week against the Titans, the Broncos have been a secondary to avoid this season. In Week 4 Adams went for 9-101 on 13 targets, but this is an offense thatís been in a tailspin, losing four of the last five since that game. Without Waller and Renfrow, Adams is the only threat in the passing game, and the attention heíll draw could result in a disappointing week.
Disgruntled for not being traded at the deadline, and stripped of his captaincy, it seems like Cooks and the Texans are destined for a divorce. In the meantime, look for Houston to feature Nico Collins and their band of backups as their season circles the drain and they look to 2023.
Ultra talented with a bright future ahead, it's still hard for me to have faith in the Jet passing game this week in Foxboro. A few weeks ago, Wilson piled up a career best 115 yards, but with Corey Davis still hurt, and Elijah Moore still in the doghouse, I think Coach Bill makes it a priority to stop Wilson. Plus, Zach still seems to see more ghosts than a kid on Halloween.

Quarterbacks | Running Backs | Wide Receivers