Targeting weekly waiver picks is a completely subjective business, but this column hopes to point out some obvious and not-so-obvious selections to help your team from week to week while you strive to collect fantasy wins, reach your league playoffs, and win the elusive title that your friends say is out of your grasp. While I'm a big proponent of making trades to bolster your roster, the waiver wire can be an almost limitless resource when it comes to discovering fantasy value in strange places. Each week, I'll highlight some of the popular (and not-so-popular) players who can help your squad and may still be available in your league. I'll also provide a brief update on the players I covered the previous week.

Feedback is always welcome, appreciated and encouraged. I'll get to as many e-mails as I can.

For Week 1, I'll provide you with some options for leagues that offer waiver wire or open the free agent pool post-draft. With some last-minute shakeups (and signings) to mitigate, there's a clearer picture emerging in for some tweaks to your roster.


---
Quarterbacks
Ben Roethlisberger, PIT – It seems like forever since we've seen Big Ben under center, but we shouldn't rule him out as a significant fantasy QB just yet. While we've seen more mobile QBs elevate the position into rarified air the past couple of seasons, a healthy Roethlisberger (who operates as well as anyone in a muddy pocket) still provides massive upside considering his resume and bevy of explosive WRs and RBs. At just 61% owned in ESPN leagues and currently sitting in the free agent pool in one of mine, he's even worth considering in a tasty Week 1 matchup.

Kirk Cousins, MIN – We featured Cousins in this exact spot last season, and he went on to post the best RTG of his career (107.4) along with 3603-26-6 – efficient if not otherworldly numbers. You could do a lot wore than Cousins as your fantasy backup, but the loss of speed-burning WR Stefon Diggs removes an important downfield weapon. Still, I have a hard time understanding how he's owned in just 22.5% of ESPN leagues.

Joe Burrow, CIN – Now may not be the time to add Burrow (about 50 percent owned in ESPN leagues), but if he succeeds in posting Top 10 QB numbers in his NFL debut, he won't be available next week. There's a reason he was the No.1 selection in the draft, and I'm expecting big things from this rookie gunslinger.

Other QBs to consider: Jared Goff (40-45% owned), Jimmy Garoppolo (35-40% owned), Philip Rivers (15-20% owned), Gardner Minshew (15% owned), Teddy Bridgewater (12-15% owned)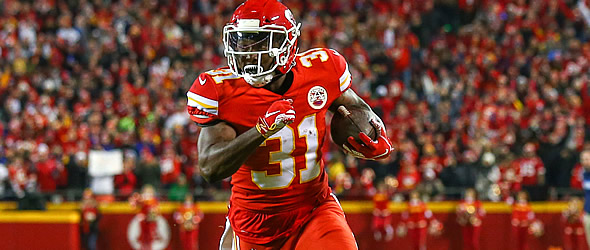 Running Backs
Alexander Mattison, MIN – Most of the owners in the 60-65% percent of leagues that drafted Mattison probably did so as a handcuff to Dalvin Cook – a wise move that could pay off if the Vikings bell cow misses any time in 2020. But Mattison is a proven runner who could see more touches in 2020 as he did carry the ball a bit more down the stretch last season. He had seven games where he totaled at least 45 rushing yards and finished with 100 carries for 462 yards in the season. He's a must-own in 12-team leagues.

Duke Johnson, HOU – The "other" Johnson in the Texans backfield (starter David Johnson should get the volume of carries and overall touches), Duke isn't they most exciting fantasy option. But he has significance in PPR leagues and ability to step into a bigger role should anything befall the former Cardinals standout.

Darrell Williams, KC - If your leagued drafted in mid-August there's a chance that Williams (15-20 % owned) went overlooked as the conventional wisdom assumed DeAndre Washington (practice squad) would be the direct backup to rookie Clyde-Edwards Helaire. Williams could see significant snaps to start the season as Andy Reid eases his his first round running back.


James Robinson/Chris Thompson, JAC – Robinson (5-10% owned) gets the nod as the Week 1 starter, with Thompson (40-45% owned) likely handling the passing game work. Game script might favor the latter in some less favorable matchups, but it should be interesting to see how the RB duties shake out in the backfield that ousted Leonard Fournette.

Boston Scott, PHI – All indications are that Miles Sanders will see a much heavier workload in 2020, but with Jordan Howard gone, we'll likely see quite a bit of Scott (35-40% owned) as well. We can also expect Scott to assume the Darren Sproles role in the Philly offense, and Sanders hasn't proven his body can stand up to the punishment we see lead backs take.

Chase Edmonds, ARI – Edmonds (30-35% owned) is not much more than a handcuff to Kenyan Drake right now, but we've seen him explode for monster games when given an opportunity. He's a necessary handcuff and should be owned in all 12-team leagues.

Other RBs to consider: Adrian Peterson (25% owned), AJ Dillon (15-20% owned), Dion Lewis (1% owned)
Wide Receivers / Tight Ends
Darius Slayton, NYG – Last season I had Michael Gallup in this spot, and now he's one of the Top 30 WRs drafted. Slayton (65-70% owned) will have a harder time getting targets this season with both Golden Tate and Sterling Shepard healthy, but he's an explosive young player with a nose for the ball and the end zone. Although undersized and unheralded (he was a fifth-round draft pick in 2019) Slayton started to see heavy snaps in Week 6 and finished with 348-740-8 in his rookie campaign.

Robby Anderson, CAR – We'll have to see how the addition of Anderson (and QB Teddy Bridgewater) changes the Carolina offense, but Anderson (65-70% owned) has always been a big-play receiver who can takeover a game. He's on the other side of the field from D.J. Moore, so he will consistently draw weaker coverage. He's also healthy.

N'Keal Harry, NE – Perhaps the changing of the guard in New England could lead to more targets in 2020 for Harry (45-50% owned), who fizzled a bit as a rookie last season after an early injury stymied his integration into the Pats' offense. This year, he could take some big steps forward, facing a tough test in Week 1 against a pair of decent Miami CBs.

Anthony Miller, CHI – I can't begin to imagine how valuable Miller (35-40% owned) would be with a passable QB throwing him the rock, but his 85 targets in 2019 (up from 54 the previous season) point to increased involvement in the Bears' offense and in the red zone. His talent should overcome some of the negatives that come with receiving passes from Mitchell Trubisky.

Parris Campbell, IND – We're not the only ones expecting big things from Campbell (30-35% owned), who's finally healthy and ready to rock in 2020. This talented Ohio State product should improve with Philip Rivers bringing his skill set to Indy, where the Colts open up against a decidedly soft Jacksonville unit.

TE Mike Gesicki, MIA – Last season I pegged Mark Andrews as my breakout TE, and this year Gesicki is similarly underappreciated at just 60-65% ownership. I'm a believer in the big guy and he's got some big-play potential as a seam-busting behemoth for the Dolphins.

TE Chris Herndon, NYJ – The Jets defense could be terrible in 2020, which makes Herndon (40-45% owned) an interesting candidate for heavy targets. Sam Darnold doesn't have a great line, and the check-downs will be plentiful, leading to some huge games for the talented pass catcher, who's been plagued by injuries and suspensions thus far in his career.

TE Jonnu Smith, TEN – With Delanie Walker finally retired, Smith (20-25% owned) could see a huge breakout in 2020. If they're smart, the Titans will be designing screens and drawing up more redzone looks for the playmaking Smith, who seems more than capable of filling Walker's ample shoes.

Other WRs/TEs to consider: Randall Cobb (20-25% owned), Alshon Jeffery (20-25% owned), Cole Beasley (10-15% owned), Steven Sims (10% owned), TE Eric Ebron (30-35% owned), TE Blake Jarwin (20% owned)