MyFantasyLeague.com Users...
Check out the most popular waiver wire pickups this week across thousands of MFL leagues. Also, quickly see who's available on your waiver wire this week by using the MFL Power feature at FF Today. Just input your league's 5-digit ID number away you go!

Targeting weekly waiver picks is a completely subjective business, but this column hopes to point out some obvious and not-so-obvious selections to help your team from week to week while you strive to collect fantasy wins, reach your league playoffs and win the elusive title that your friends say is out of your grasp. While I'm a big proponent of making trades to bolster your roster, the waiver wire can be an almost limitless resource when it comes to discovering fantasy value in strange places. Each week, I'll target both offensive and defensive players — sometimes breakout stars that eluded your team's draft — as well as players who can help your squad that may still be lurking in deeper leagues. I'll also provide an occasional daily fantasy recommendation, as I'm hopelessly addicted to DFS sites.



Off the Top -

Includes my premier recommendations. These are sometimes players available only in more shallow leagues, and occasionally guys who are more ready but are thrust into the fantasy spotlight because of opportunity or exceptional production. Usually, they are available in at least 25 percent of public leagues.



Digging Deeper -

Covers the next tier of quality waiver wire specimens, usually players available in a majority of online leagues. There are a lot of gems in this range who can be plucked rather easily. Usually, these players are available in at least 50 percent of public leagues.



Scouring the Barrel -

Chronicles the deepest of fantasy adds — and sometimes highlights players being tacked onto fantasy squads who I don't have much confidence in. Make sure you read the fine print because I don't always love them. For the most part, you'll find these players available in about 75-100 percent of fantasy leagues

Each week, I'll also provide a brief update on the players I covered the previous week. It's the most accurate, comprehensive one-stop waiver-wire column available on the Internet, and it's only available here at fftoday.com. Let's get to some of the players who could be still out there on the waiver wire and in the free agent pool as you prepare for Week 1!


Feedback is always welcome, appreciated and encouraged. I'll get to as many e-mails as I can.


---
Note:
Each player's next four matchups are listed in parentheses ( ). Since IDP league composition is so varied, I'll just list defensive players per position and use their Yahoo ownership rates – which due to site ranking anomalies and the high rate of variance in availability, are often much lower than actual ownerships rates.
Quarterbacks
Off The Top
Andy Dalton, CIN (CLE, @NO, @HOU, @TB) – Dalton is a much better quarterback when he has A.J. Green at his disposal, and the Browns secondary does have its lapses. I like the remaining schedule for the Bengals and while I've heard a lot of people advocating dropping Dalton, I'm doing just the opposite. Pick him up.

Ryan Tannehill, MIA (@DET, BUF, @DEN, @NYJ) – Tannehill had a solid Week 9 for owners who were brave enough to plug him in despite his struggles, getting 288-3-0 and 47 rushing yards from the former Aggie in what was definitely his best game of 2014. He's still available in about half of fantasy leagues and there are a couple matchups down the line that look favorable.


Digging Deeper
Austin Davis, STL (@ARI, DEN, @SD, OAK) – Davis had a rough Week 9 (105-1-2) but managed to secure a win in San Francisco. He takes on the Cards next week and could get into a shootout.

Blake Bortles, JAC (DAL, BYE, @IND, NYG) – Bortles will look to exploit the porous Dallas secondary in Week 10 before his bye, and he's starting to develop rapport with his deep threats. I'm considering him for daily fantasy contests next week as valuable salary relief.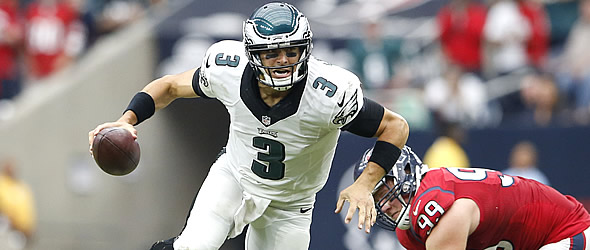 As the trigger man in Chip Kelly's offense, Mark Sanchez can help fantasy owners down the stretch.

Scouring The Barrel

Mike Glennon, TB (ATL, @WAS, @CHI, CIN) – Glennon's fantasy day was rife with miscues, but he managed 260-2-2 after hooking up with rookie Mike Evans on a couple TD passes. The Falcons secondary is in shambles, so fire him up in deep leagues as a QB2 or if your quarterback is on a bye and you're suddenly without a viable backup in Week 10.

Mark Sanchez, PHI (CAR, @GB, TEN, @DAL) – Sanchez is much more suited to Chip Kelly's decision-making system than the one he endured with the Jets, where the emphasis was on making tough throws. Here, he can check down and free up the occasional bomb to Jeremy Maclin – instead of having to move the chains via deep outs. With Nick Foles out about a month (maybe more), he's a more valuable add than you might imagine.

UPDATE: The latest is that Foles will miss at least six weeks, and likely the rest of the regular season, vaulting Sanchez into the starting role. While the former Jets QB struggles to hit targets outside the numbers, he's an effective game manager who could thrive in this offense. He should be owned in all formats, at least as a speculative add.

Updates

Carson Palmer, ARI (STL, DET, @SEA, @ATL) – Palmer had his fourth straight solid performance, throwing for 249-3-1 against Dallas on Sunday. The Cards are now 7-1 and Palmer is limiting his turnovers, moving the ball down the field and finishing off drives. He's a second-tier QB1 with plenty of upside next week against the Rams.

Kyle Orton, BUF (KC, @MIA, NYJ, CLE) – Orton's coming off a bye but isn't a recommended start against the Chiefs in Week 10. I'd look elsewhere, but keep him in mind for Week 12-13 against the Jets and Browns.

Brian Hoyer, CLE (@CIN, HOU, @ATL, @BUF) – Statistically, Hoyer had his second-best game of the season, throwing for 300-2-2 in the win over Tampa Bay. He also appears to have held onto his job for at least another week, as the Cleveland brass had considered experimenting with Johnny Manziel.

Michael Vick, NYJ (PIT, BYE, @BUF, MIA) – Vick had 196-1-0 and 18 rushing yards Sunday in the loss to Kansas City. He's the Jets' best option but has little fantasy value until he can show some meaningful production. The matchup with Pittsburgh could end up manufacturing some fantasy points, but I'd find a more consistent option if possible.

Derek Carr, OAK (DEN, @SD, KC, @STL) – Carr finished with 192-2-2 Sunday and the Raiders lost their eighth straight. He could be worth a look next week against Denver as he'll likely throw a couple TD passes in garbage time, but for the most part, the situation in Oakland is one to avoid from a fantasy perspective.

Brandon Weeden, DAL (@JAC, BYE, @NYG, PHI) – Despite getting the start and having a full week's worth of reps to prepare for what seemed to be a relatively favorable matchup, Weeden (183-1-2) put up about the same number of fantasy points in a full game Sunday as he did in two drives last week against Washington. Unfortunately, the erratic quarterback is still on the QB2/daily fantasy radar with the Cowboys facing the Jaguars next week, six teams on bye, and Tony Romo's (back) status up in the air.

UPDATE: Romo made the trip to London and a similar injury to Baylor quarterback Bryce Petty kept the youngster out just a week. While Romo is a little long in the tooth and his prior back problems don't ensure as quick a recovery, it's more likely than not he'll suit up against the Jaguars.

Running Backs

Off The Top

Jeremy Hill, CIN (CLE, @NO, @HOU, @TB) - I hadn't considered that Hill may still be available in some leagues, but he's still owned in just 74 percent of Yahoo leagues coming off his Week 9 breakout (154 rushing yards, 2 TD; 1-9-0 receiving). Obviously, he's the top add this week if he's somehow still on your waiver wire, and with Bernard likely out again Thursday, he's primed for another big performance.

Bobby Rainey, TB (ATL, @WAS, @CHI, CIN) – Rainey is the leader of the new committee in Tampa Bay (for now) and is coming off a productive day tallying 121 total yards in a tough loss. His upside isn't great, but he's an every down back if they need him to be – and we don't know if Charles Sims can fill that role yet.

UPDATE: ESPN is reporting that Doug Martin is now relegated to the No. 3 RB role in the Bucs offense, clearing the way for Rainey to handle the majority of carries. Plug Rainey in as a low-end RB2/solid flex against the Falcons.

Matt Asiata, MIN (BYE, @CHI, GB, CAR) – Asiata had three TDs on Sunday and is on a Week 10 bye. The Vikings are improving and will likely be seeing more red-zone opportunities in the coming weeks.



Digging Deeper

Terrance West, CLE (@CIN, HOU, @ATL, @BUF) – The rookie out of Towson State was the better runner on Sunday as Ben Tate struggled to find lanes. West had 15 carries for 48 yards and caught a 2-yard TD pass from Hoyer and figures to be a popular add this week.

UPDATE: West figures to handle most of the carries in the Browns committee, with Tate taking a back seat. Don't hesitate to grab West as the first (or second) RB off the wire this week.

Anthony Dixon, BUF (KC, @MIA, NYJ, CLE) – Boobie was on a bye but figures to be heavily involved in the offense alongside Bryce Brown in Week 10 against the Chiefs. Distribution will be hard to project and likely will follow a hot hand approach, but Dixon was the guy to own the past two games.

UPDATE: Fred Jackson wasn't practicing Monday and there won't be a clear picture until later in the week. The smart money is on Dixon starting Sunday and F-Jax missing one more game before returning in Week 11.

Scouring The Barrel

Daniel Thomas, MIA (@DET, BUF, @DEN, @NYJ) – If Lamar Miller misses any time, the underwhelming Thomas would likely see more touches and assume the early-down work. He's not great, but you'll have to stay tuned to the injury report.

UPDATE: Miller is day-to-day with a sprained AC joint (shoulder) and still has a shot to play in Week 10 against the Lions.

Chris Polk, PHI (CAR, @GB, TEN, @DAL) – Polk saw some significant work on Sunday, toting the rock eight times for 50 yards and a TD. He's worth acquiring just to see if the Eagles run the ball more while Foles is out.



Updates

Mark Ingram, NO (SF, CIN, BAL, @PIT) – While I wasn't going out on a limb recommending Ingram last week, he had a great game (100 rushing yards, two TDs; 1-10-0 receiving) and was still available in over 30 percent of Yahoo leagues when the Week 9 column posted. His matchup with the 49ers isn't exactly favorable, but he's clearly being used as he was intended when the Saints drafted the former Heisman Trophy winner in 2011.

Knile Davis, KC (@BUF, SEA, @OAK, DEN) – Strangely, Davis had just three carries for 9 yards and wasn't targeted as a receiver against the Jets.

Jonathan Stewart, CAR (@PHI, ATL, BYE, @MIN) – With DeAngelo Williams active, Stewart was relegated to a timeshare and 46 yards on eight carries. He's the better running back but the Panthers use him only sparingly when possible.

Lorenzo Taliaferro, BAL (TEN, BYE, @NO, SD) – Taliaferro rushed for 21 yards on seven carries, lost a fumble and tallied 3-34-0 receiving. The Ravens never got into position to use him repeatedly near the goaline, where he's at his best.

Charles Sims, TB (ATL, @WAS, @CHI, CIN) – Sims was inactive Sunday but figures to take on part of a committee as soon as he's up to speed in the offense.

UPDATE: See Rainey blurb above – Sims has apparently passed Martin on the depth chart and should be active this week against Atlanta.

Theo Riddick, DET (MIA, @ARI, @NE, CHI) – Riddick was on a Week 9 bye but the Lions plan on using a committee to handle running back duties the rest of the way, guaranteeing him more touches.

Juwan Thompson, DEN (@OAK, @STL, MIA, @KC) – Hillman saw most of the work and Thompson was an afterthought as the Pats jumped out to a big lead and C.J. Anderson received touches in the final couple drives.


Wide Receivers/Tight Ends

Off The Top

Mike Evans, TB (ATL, @WAS, @CHI, CIN) – Evans had his rookie breakout game and hauled in 7-124-2 in the loss to Cleveland. Games like this usually represent a shift in targets, where you can expect to see him getting 7-10 consistently for the rest of the way. Remember though, Vincent Jackson has been drawing the No. 1 CB and some double coverage from opposing teams.

Allen Hurns, JAC (DAL, BYE, @IND, NYG) – Hurns is undoubtedly a popular waiver wire addition this week after he went off for 7-112-2, but he's a true boom-or-bust option with a high-ceiling and low floor. Those expecting him to repeat his Week 1 performance had to wait eight weeks for a similar line. While you don't want to be that guy, he should be owned in 12-team leagues and considered against the Dallas secondary.



Digging Deeper

Jarvis Landry, MIA (@DET, BUF, @DEN, @NYJ) – He makes a fine contrarian play in daily fantasy and should be rostered in season-long leagues as a WR4 with upside. Sunday, he tallied 5-46-1 and is becoming a popular red zone target for Tannehill.

Kenny Britt, STL (@ARI, DEN, @SD, OAK) – Britt has taken over primary receiver duties from the injured Brian Quick and turned in a decent, even if low-volume, performance (2-32-1) Sunday in a tough matchup. His targets should go up and he's still capable of some big plays.

UPDATE: Britt played on 93 percent of the Rams snaps on Sunday and figures to see a bunch of looks against the Cards this week. He's a talented guy, a sneaky add in 12-team leagues, and a cheap roster fill-in for DFS junkies.

Scouring The Barrel

Harry Douglas, ATL (@TB, @CAR, CLE, ARI) – Don't forget about Harry. The third receiver in Atlanta has caught 15-163-1 on 22 targets this season, but is a security blanket for Matt Ryan. He's a decent salary relief option in daily fantasy and WR5 with some marginal upside.

Taylor Gabriel, CLE (@CIN, HOU, @ATL, @BUF) – Gabriel is the flavor of the week for Hoyer and the Browns, as he was targeted six times and caught 5-87-1 on Sunday. His upside is minimal but is worth adding in dynasty leagues, as he's receiving consistent targets as a rookie.



Updates

Brandon LaFell, NE (BYE, @IND, DET, @GB) – LaFell was relatively quiet in the first half but finished with 6-53-1 as the Patriots easily dispatched the Broncos. He should be owned and started as a WR3 in 12-team leagues.

TE Heath Miller, PIT (@NYJ, @TEN, BYE, NO) – Miller had just 1-14-0 on two targets in the win over Baltimore Sunday night. His former consistent role has been reduced to a boom-or-bust TE2 play.

Andrew Hawkins, CLE (@CIN, HOU, @ATL, @BUF) – Hawkins was targeted eight times but missed some opportunities, finishing with 3-34-0 against the Bucs. He's a low-end WR3 on a short week Thursday night in Cincinnati – his former home.

Martavis Bryant, PIT (@NYJ, @TEN, BYE, NO) – Bryant had another big night, hauling in a pair of TDs and finishing with 3-44-2 in the win over Baltimore. He's clearly a popular red zone option for Big Ben and should be owned in all 12-team leagues.

John Brown, ARI (STL, DET, @SEA, @ATL) – Brown was targeted five times but caught just 2-10-0 in the win over Dallas, as the complement of Cards receivers spread around the production. As I mentioned here before, he's just a risky WR4 with a relatively high ceiling but a very low floor.

Donte Moncrief, IND (BYE, NE, JAC, WAS) – Update coming Tuesday.

UPDATE: Moncrief took a back seat and played only a handful of snaps with Reggie Wayne healthy and active Monday night.

Mychal Rivera, OAK (DEN, @SD, KC, @STL) – Rivera (8-38-2 on Sunday) was one of two pass catchers I recommended in this column who hauled in two TD passes this week. He's heating up and should continue to be utilized on 3rd down and in the red zone against the Broncos next week.



IDP

Linebackers

LB Mychal Kendricks, PHI (CAR, @GB, TEN, @DAL) – Kendricks is finally healthy and had a monster Week 9 (12 total tackles, sack, FF). He should be owned in all IDP formats and is a LB2 with upside.

LB Chris Borland, SF (@NO, @NYG, WAS, SEA) – Borland's Week 9 breakout (15 solos, three assists) could have been due to the hometown official scorer, but he's clearly emerging as a quality IDP option with the 49ers LB corps in disarray.



Defensive Backs

DB Antoine Bethea, SF (@NO, @NYG, WAS, SEA) – Bethea has had a productive 2014 (42 total tackles, sack, two INT, five PD) through eight games and has been cleaning up a lot of the tackles that get through the 49ers front seven. He's a consistent DB2 with upside.

DB Major Wright, TB (ATL, @WAS, @CHI, CIN) – Wright is the new safety to own in Tampa Bay with Mark Barron traded to St. Louis, and he didn't waste any time putting up decent IDP numbers (13 total tackles) in his first week starting. He's universally available and could surprise down the stretch.



Defensive Lineman

DL Gerald McCoy, TB (ATL, @WAS, @CHI, CIN) – After a slow start and some nagging injuries, he's had a couple good games in row (three total sacks in his last two) and could abuse the Falcons offensive line next week. In leagues that require a DT, he's money if he's eligible.

DL Dontari Poe, KC (@BUF, SEA, @OAK, DEN) – Another DT-eligible lineman, Poe makes tackles and should be able to make some plays at the point of attack Sunday. He's worth a look in deeper IDP formats.



Updates

LB Anthony Barr, MIN (BYE, @CHI, GB, CAR) – Barr didn't blow up the stat sheet but complied four solos and a sack in Sunday's 29-26 win over Washington. He's a bona fide LB1 if his quiet days are this good.

LB Avery Williamson, TEN (@BAL, PIT, @PHI, @HOU) – On a Week 9 bye, Williamson will look to continue his burgeoning effectiveness against the Ravens this week.

DB Kenny Vaccaro, NO (SF, CIN, BAL, @PIT) – Vaccaro had just three total tackles Thursday in the win over Carolina.

DB Joe Haden, CLE (@CIN, HOU, @ATL, @BUF) – Haden turned in another stellar performance with just three total tackles but three PD in the win over Tampa Bay.

DL Robert Quinn, STL (@ARI, DEN, @SD, OAK) – Patience is paying off for the owners who hung onto Robert Quinn, and the savvy owners who picked him up before Week 8. He now has 4.0 sacks, nine solos, two FF and a PD in his last two games.

DL Sharrif Floyd, MIN (BYE, @CHI, GB, CAR) – Floyd had five total tackles and a half-sack in the win over Washington. He's coming into his own on that improving defensive line.