MyFantasyLeague.com Users...
Check out the most popular waiver wire pickups this week across thousands of MFL leagues. Also, quickly see who's available on your waiver wire this week by using the MFL Power feature at FF Today. Just input your league's 5-digit ID number away you go!

Targeting weekly waiver picks is a completely subjective business, but this column hopes to point out some obvious and not-so-obvious selections to help your team from week to week while you strive to collect fantasy wins, reach your league playoffs and win the elusive title that your friends say is out of your grasp. While I'm a big proponent of making trades to bolster your roster, the waiver wire can be an almost limitless resource when it comes to discovering fantasy value in strange places. Each week, I'll highlight some of the popular (and not-so-popular) players who can help your squad and may still be available in your league.

Feedback is always welcome, appreciated and encouraged. I'll get to as many e-mails as I can.


---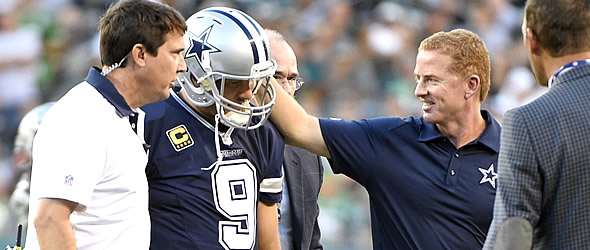 Tony Romo's shoulder injury may put QB Brandon Weeden in the saddle for the next eight weeks.
Quarterbacks
Derek Carr, OAK – Carr lit up the Ravens defense for 351-3-1 and 23 rushing yards in a heroic last-minute victory. Despite a thumb injury in Week 1 that initially threatened his Week 2 status, Carr spread the ball around to 10 different pass catchers and clicked with both Amani Cooper and Michael Crabtree. He's a must-add in 12-team leagues, especially with the injuries to Tony Romo and Jay Cutler.
Blake Bortles, JAC – Bortles is worth adding too, as he led the Jags to a win over a tough Miami defense on 18-for-33 passing (273-2-0) and 27 rushing yards. He should be owned in all deeper leagues and promises to improve on his 2014 campaign.
Teddy Bridgewater, MIN – After a putrid Week 1, Bridgewater looked better in the win over Detroit, throwing for 153-1-0 and rushing for 21 yards and a TD. He's still somewhat of a game manager, but didn't need to do much against a lackluster Lions team that doesn't look like much of a contender at this point.
Johnny Manziel, CLE – Dare I say it? When he wasn't fumbling (four in two games) Manziel (172-2-0) looked like an NFL QB in a breakout game where he clicked with explosive WR Travis Benjamin. I'm not buying him as a viable fantasy starter, but he's worth exploring in deeper leagues and could be worth reinvesting in dynasty formats.

UPDATE: Mike Pettine is reportedly considering moving Manziel ahead on the depth chart even when Josh McCown (concussion) is healthy, which must be both amusing and exhilarating for Browns fans. Godspeed, Johnny Football.
Brandon Weeden, DAL – There's no way to predict how Weeden will respond to becoming an NFL starter for the next 8 weeks or so behind this line. He's got weapons, though no Dez Bryant, and this team has to feel deflated after losing Romo. Expect lots of running plays and the occasional TD and INT, as Weeden has some upside but carries inherent risk.

UPDATE: Luke McCown, NO – The humorous Verizon spots notwithstanding, McCown may very well be thrust into action in Week 3 with Drew Brees dealing with a bruised rotator cuff in his throwing shoulder. While there's no tear, it's still an injury that could require a couple of weeks of the younger McCown, who seems to maintain NFL relevance through some dubious necromancy involving the football gods and possibly the voodoo of old New Orleans. He's not a recommended fantasy add in anything but DFS or the deepest of redrafts.
QB Updates
Marcus Mariota, TEN – After a 257-2-0 performance with two lost fumbles, they've apparently postponed his fitting for the yellow Canton jacket.
Andy Dalton, CIN – Another solid Dalton outing (214-3-0) has him looking much better than 2014.
Alex Smith, KC – It was Thursday, but 191-0-2 isn't going to get it done. He's a backup QB2.
Nick Foles, STL – Is this the same quarterback who took down the Seahawks in Week 1? 17-32, 150 yards, 1 TD.
Tyrod Taylor, BUF – Taylor was a top 5 fantasy QB on Sunday (242-3-3; 43 rushing yards, TD), although the Pats secondary looked awful at times.
Ryan Fitzpatrick, NYJ – UPDATE: The veteran QB threw for 244-2-1 on 22-for-34 passing in the win over the Colts, but the possible short-term loss of Eric Decker (PCL injury) could hurt his fantasy prospects, as there's not much reliability besides Brandon Marshall in Jets offense.
Running Backs
Matt Jones, WAS – Jones (50 percent owned) barely out-touched Alfred Morris (22 over 21) but really outperformed him, rushing for 123 yards, 2 TDs on 19 carries and catching 3-23-0. This is an offense that's looking for a hero and given his involvement and success this week, Jones must be owned in all formats moving forward.
James Starks, GB – Starks ran for 95 yards on 20 carries filling in for the injured Eddie Lacy (ankle) in Sunday night's win over Seattle. It'll be worth following Lacy's progression this week to determine if Starks is worth a high priority waiver wire bid.

UPDATE: X-rays on Lacy's injured ankle came back negative, and it's likely the bulldozing back is just dealing with a sprain. He's hoping to play in Week 3 but if the Packers run out and grab a live body somewhere, it could speak to Lacy's availability (or lack thereof) heading into the Monday night matchup with the Chiefs.
Isaiah Crowell, CLE – Crowell looked solid in a winning effort with 72 yards and a TD on 15 carries in Week 2 and is still a better option than Duke Johnson (12 carries, 43 yards on Sunday).
Dexter McCluster, TEN – McCluster is once again on the fantasy radar after a 10-carry, 98-yard performance that saw him add 4-26-0 receiving. Expect inconsistent production from both him and Bishop Sankey as Mariota and the offense finds its way.
Devonta Freeman, ATL – Freeman (12 carries, 25 yards, TD; 4-34-0) ran well at times versus the Giants, and will get the majority of work if rookie RB Tevin Coleman (who ran for 32 yards and a TD on nine carries before leaving with a rib injury) is forced to miss additional time.

UPDATE: Coleman has a broken rib and will be sidelined "a couple of weeks," according to human text message Adam Schefter. While Freeman isn't the workhorse or gamebreaker back you'd like to see getting the majority of touches, he's the only other back except UFDA Terron Ward on the Falcons roster.
UPDATE: Montee Ball, FA – The Falcons had expressed interest in Ball a few weeks ago, and following the bloodbath that was Week 2 in the NFL, there must be teams willing to sign the once-acclaimed RB. Just last summer, Ball was drafted in the first round of the majority of fantasy football leagues before losing favor in Denver. With so many backfield injuries, he could still have an impact in 2015 and is worth a look as a deep-league waiver wire addition.
Shane Vereen, NYG – I know Vereen (6 carries, 19 yards; 8-76-0 receiving in Week 2) is available in some shallow leagues, because I inexplicably dropped him in one non-PPR 10-team league after a disappointing Week 1. He's obviously got more value in PPR leagues, but should be owned in all formats.

UPDATE: Bilal Powell, NYJ – Powell's production is far from exciting, but Chris Ivory (groin) is still a bit banged up and Powell could be worth adding in deeper PPR leagues. He ran for 38 yards on 12 carries Monday night and caught 4-16-0 in the win over Indy.
RB Updates
Bishop Sankey, TEN – McCluster looked better this week, but there's still reason to be optimistic about Sankey in 2015.
Danny Woodhead, SD – With 36 rushing yards and 6-68-0 receiving, Woodhead gave us another solid performance from this PPR waiver wire gem.

David Johnson/Chris Johnson ARI – David emerged as must-add option and made the most of his five carries (42 yards, TD) adding a 105-yard kickoff return TD to start the game.
Ronnie Hillman, DEN – Neither Hillman (nine carries, 34 yards) nor C.J. Anderson could solve the Chiefs defense on Thursday. This running game looks like it could be a problem in 2015.
Marcel Reece, OAK – With Latavius Murray looking good, there wasn't much need for Reece in Week 2.
Dion Lewis, NE – For the second straight week, Lewis emerged as a dynamic offensive weapon with 40 rushing yards and a TD on seven carries and 6-98-0. LeGarrette who?
Karlos Williams, BUF – Williams vultured some touches and a score from LeSean McCoy, who looked great despite a hamstring injury that limited him in practice this week.
Lance Dunbar, DAL – Dunbar's role is in question with Weeden at the helm, but he's still a factor in the passing game and should be owned in deeper leagues.
Khiry Robinson, NO – Even with C.J. Spiller active, Robinson got carries (5 for 48 rushing yards and added a nine-yard reception.
Jarryd Hayne, SF – Two carries, 3 yards. Not good.
Wide Receivers / Tight Ends
Allen Robinson, JAC – He's available in at least 10 percent of fantasy leagues after impatient owners dropped him in Week 1. But after a ridiculous Week 2 (6-155-2, 12 rushing yards), he'll be much closer to 100 percent owned.
Torrey Smith, SF – Smith (about 75 percent owned) turned back the clock with 6-120-1 in the loss to Pittsburgh. Not every week will see him getting seven targets, but it's nice to see him making the most of them.
Anquan Boldin, SF – Boldin eclipsed Smith with 10 targets but hauled in 6-60-1. Some of this was in garbage time, but it's obvious Kaepernick and the 49ers will have to throw the ball once in a while this season, providing both veteran receivers with some upside.
Michael Crabtree, OAK – Crabtree (40-60 percent owned) saw an incredible 16 targets on Sunday and caught 9-111-1, following up an eight-target Week 1. He looks like a good fit in the Oakland offense and could have a career resurgence in 2015. He should be owned in all formats given his 24 targets through two games.
Doug Baldwin, SEA – Baldwin (25-50 percent owned) turned in a 7-92-1 performance on Sunday night in the loss to Green Bay, but it's hard to trust Tough Doug as anything more than an inconsistent fantasy contributor with marginal upside.
Leonard Hankerson, ATL – Hankerson had a solid 6-77-1, but the 11 targets is what fantasy owners should be looking at. He's the new Roddy White (RIP?) in Atlanta, and should thrive this season playing for a team with a real QB under center.
Darrius Heyward-Bey, PIT – The much-beleaguered DHB saw fewer targets in Week 2 but caught 4-77-1 in the win over San Fran. His role will diminish when Martavis Bryant comes back, but for now, he's getting looks and seems a trustworthy target for Big Ben.
Robert Woods, BUF – Woods (5-10 percent owned) doesn't get enough targets to be a consistent contributor, but he makes the most of his limited work by catching everything thrown to him. Perhaps the 3-60-1 performance will have Taylor looking his way more often.
Philly Brown, CAR – "Philly" is the team's best WR right now, but he's not getting many looks from Cam Newton. With 3-57-1 on four targets in Week 2, he's a similar option to Ted Ginn, Jr., who caught 4-41-1 on nine targets.
Rishard Matthews, MIA – Matthews (2-5 percent owned) has double-digit fantasy totals in two straight weeks in PPR leagues, following up a solid Week 1 with 6-115-0 against Jacksonville.
TE Crockett Gillmore, BAL – Gilmore came out of nowhere with a monster fantasy performance (5-88-2 on six targets) and even outscored Rob Gronkowski (7-113-1). He's on the fantasy radar and should be added in 12-team leagues.
TE Anthony Fasano, TEN – Fasano filled in admirably for Walker at TE (5-84-1) and could remain involved in the offense even when the titans top TE returns. Stay tuned.
WR/TE Updates
Kendall Wright, TEN – Four target and just 2-17-0 despite the absence of Delanie Walker. Mariota needs to look his way more often.
James Jones, GB – Jones caught just one pass on Sunday night, but it was a 29-yard TD. He's over 90 percent owned now.
Travis Benjamin, CLE –If you took a shot on him after Week 1, congrats. He exploded for 3-115-2 (including a 50-yard TD and 60-yard TD) and returned a punt 78 yards for a TD. Wow. He's got three TD receptions on just seven targets this season.
Percy Harvin, BUF – Just 4-47-0 in a game where the Bills threw a lot. He's a marginal WR4/5 with some upside.
Donte Moncrief, IND – UPDATE: Even with T.Y. Hilton active, Moncrief led the team with 7-122-1 on eight targets and showed off some impressive ability on several athletic catches. He's looking more and more like a better fantasy option than veteran Andre Johnson and should be owned in all formats.
Brandon Coleman, NO – Coleman will continue to get looks in this offense but has just 3-33-0 on six targets Sunday.
Nate Washington, HOU – The veteran had eight targets Sunday and caught 3-63-0.

Jerricho Cotchery, CAR – With 1-11-0 on one target, Cotchery all but disappeared this week.

UPDATE: According to Ron Rivera, Cotchery suffered a high ankle sprain in Week 2 and could miss some action.
Cole Beasley, DAL – He had 4-14-0 receiving and his value takes a serious hit with the injury to Romo.
TE Austin Seferian-Jenkins, TB – In a much closer game and with Mike Evans back, ASJ tallied just 2-29-0 on three targets. He's still got huge upside with a rookie QB.

UPDATE: ASJ is dealing with a sore shoulder and could miss 4-6 weeks, according to reports from the Tampa Tribune. Brandon Myers and Luke Stocker don't offer a lot of fantasy excitement.
TE Tyler Eifert, CIN – Eifert followed up his huge Week 1 with 4-49-1 and remains a top 5 fantasy TE moving forward.
TE Darren Fells, ARI – Fells (foot) was inactive in Week 2.

UPDATE: Cleaning up my mixup. The other Fells (Daniel with NYG) was inactive. Darren was active for the Cardinals but saw zero targets in Week 2.
TE Ladarius Green, SD – Green caught five of six targets for the second straight week, but went from 74 yards and a TD to 47 and no score. He's still a low-end No.1 fantasy TE.
TE Jared Cook, STL – He caught 5-47-0 on seven targets – quiet but steady production.

UPDATE: TE Jake Stoneburner, MIA – With Jordan Cameron dealing with a groin injury, Stoneburner caught 2-18-1 in the loss to Jacksonville. He could be worth a look in deeper leagues since Cameron has been a slow healer in his career and will likely miss Week 3 against the Bills.