MyFantasyLeague.com Users...
Check out the most popular waiver wire pickups this week across thousands of MFL leagues. Also, quickly see who's available on your waiver wire this week by using the MFL Power feature at FF Today. Just input your league's 5-digit ID number away you go!

Targeting weekly waiver picks is a completely subjective business, but this column hopes to point out some obvious and not-so-obvious selections to help your team from week to week while you strive to collect fantasy wins, reach your league playoffs and win the elusive title that your friends say is out of your grasp. While I'm a big proponent of making trades to bolster your roster, the waiver wire can be an almost limitless resource when it comes to discovering fantasy value in strange places. Each week, I'll highlight some of the popular (and not-so-popular) players who can help your squad and may still be available in your league.

Feedback is always welcome, appreciated and encouraged. I'll get to as many e-mails as I can.


---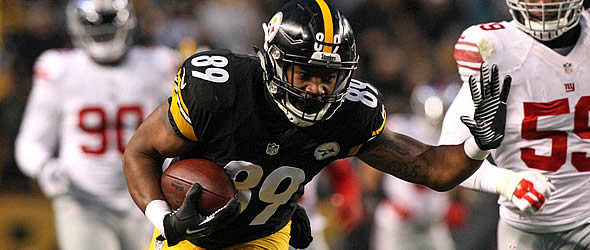 It took a couple weeks, but Ladarius Green rewared fantasy owners with 110 yards and a TD.
Quarterbacks
Joe Flacco, BAL – Hopefully you added Flacco a couple weeks ago on my recommendation, because the Week 13 matchup with Miami was a good one, and he delivered a standout 381-4-1 performance that made him Sunday's best fantasy QB. He'll have a tougher time against the Patriots, but the Ravens have healthy receiving weapons and will likely try to keep up with Tom Brady and the potent New England offense. He's still only about 30-55 percent owned in fantasy leagues.
Andy Dalton, CIN – Even missing A.J. Green (who could be out until Week 17) and Giovani Bernard (torn ACL), Dalton had a solid Week 13, throwing for 332-2-0 in the win over Philly. The Bengals play the Browns in Week 14, and that's all you really need to know, right? I'll add this: Over his last three games (2015-16) against Cleveland, Dalton has 762 passing yards, 7 TDs and 0 INTs.
Bryce Petty, NYJ – UPDATE: It would probably be a mistake to start Petty in the fantasy playoffs in one-QB leagues, but there's a case to be made for a guy with such a strong arm and a mandate from his head coach that he's starting the final four games. The Jets benched Ryan Fitzpatrick in the first half after the veteran completed just 5-of-12 passes for 81 yards and an INT. Petty wasn't much better, throwing for 135-1-2. Still, the Jets face the 49ers in Week 14 and after the embarrassing loss on Monday night, it makes sense that the team rallies around Petty and puts forth a real effort.
Updates
Carson Palmer, ARI – Palmer rewarded fantasy owners with his best game (300-3-0) since Week 2, and the Cards offense is looking sharp heading into matchups with the Dolphins and Saints in weeks 14 and 15.
Colin Kaepernick, SF – Oh boy. This is what happens when you put your faith in a struggling team on the road in inclement weather, my friends! Hopefully you saw the weather forecast (it was snowing) and switched to a safer option before lineup lock, because Kaepernick (1-for-5 for 4 passing yards; 20 rushing yards) and the entire 49ers offense (excluding a decent day by Carlos Hyde) was hideous. Kaep got benched in the fourth quarter with the game out of reach, allowing Blaine Gabbert to get some snaps under center (4-for-10, 35 yards passing). I'd avoid both QBs against the Jets.
Ryan Fitzpatrick, NYJ – UPDATE: See above under Bryce Petty.
Running Backs
Jalen Richard, OAK – Richard (30-50 percent owned) has run well all season, and the Raiders will need a capable complimentary back to spell Latavius Murray, who's due for a reduced workload as soon as the Raiders clinch a playoff berth. The rookie ran for 53 yards in nine carries Sunday and is worth a speculative add in most formats heading into the fantasy playoffs.
Mike Gillislee, BUF – It was poetic justice that the Bills lost to Oakland after screwing LeSean McCoy out of three (3!) rushing TDs in Week 13, handing two to Gillislee (50-65 percent owned) and one to QB Tyrod Taylor. He's a nice piece to have, especially if you're a McCoy owner.
Jonathan Grimes, HOU – Grimes rushed five times for 43 yards and caught 1-15-0 in Houston's 21-13 loss to Green Bay in Week 13. He also saw more snaps (31) than Alfred Blue and could be more involved in Week 14 at Indy with Lamar Miller (ribs) ailing and seeing less action.
Zach Zenner, DET – Zenner has nine carries for 40 yards in the win over New Orleans and is primed for more work when then Lions face Chicago next week. A powerful runner at 5-11, 222 pounds, Zenner has just as much fantasy upside as the Lions backs not named Theo Riddick, who's troublesome ankle is just one tweak away from forcing him to miss some action.
Justin Forsett, DEN – UPDATE: The Broncos claimed Forsett off waivers from the Lions and it's a move that brings him back in the fray with Gary Kubiak's offense. Forsett played for him in Baltimore and had the best year of his career with the Ravens' 2014 offense. Kapri Bibbs is out of commission with a high ankle sprain, so Forsett could get a chance to carve out a role with Devontae Booker struggling.
Alfred Morris, DAL – UPDATE: Is he available? If so, then he's a must-own in all formats as the Cowboys approach their clinching protocol and the possibility that Morris will assume lead back duties once the games no longer matter. Ezekiel Elliott could use the break, and Morris could use the reps.
Updates
Kenneth Dixon, BAL – Dixon ran for 56 rushing yards on six carries and hauled in 4-21-0 on four targets, while Terrance West got the glory with two TDs. This is an equal timeshare, but eventually Dixon will get more looks in the red zone to help even the fantasy value.
Derrick Henry, TEN – The Titans were on a Week 13 bye but return to face the Broncos in Week 14.
Charles Sims, TB – Sims was inactive in Week 13 but could return as soon as the matchup with New Orleans in Week 14. Stay tuned.
UPDATE: Martin missed the final three drives after being "bent back" awkwardly, but the veteran back said he's fine. Still, even if Martin plays in Week 14, Sims will have a fantasy-worthy role in a good matchup against the Saints. He's the better pass-catching back and the Bucs probably don't want to overwork Martin.
Denard Robinson, JAC – Robinson rushed for 53 yards on 17 carries and added 1-11-0 on his lone target – a decent showing despite the tough matchup. T.J. Yeldon only finished with a few more points, rushing for 55 yards on 14 carries and adding 3-27-0 on seven targets.
Wide Receivers / Tight Ends
Tyler Lockett, SEA – I've been holding onto Lockett in a 14-team league since I drafted him, knowing he makes his hay at the end of the season and when healthy. It appears we've finally arrived there, as Lockett (15-30 percent owned) broke out for 5-63-0 on six targets and a 75-yard rushing TD, representing his highest reception and fantasy point totals of the season. He's the perfect offensive weapon to outmaneuver the Packers in Green Bay next week.
Malcolm Mitchell, PIT – It's Mitchell's second appearance in the Wire, and his ownership has likely doubled or tripled since we discussed him prior to the Week 12 games, but he's still available in about 45-65 percent of fantasy leagues. He's going to be a risk in such a crowded field of New England pass catchers, but his upside is there.
Adam Thielen, MIN – Thielen has 25 targets and 20-204-1 over his last three games and should be used quite a bit on short routes in Week 14 against Jacksonville, a team that defends the long pass well. His ownership levels are even lower than Mitchell's, and his upside is almost as high. Minnesota State – Mankato may not be much of a breeding ground for NFL talent, but his excellent hands and route-running ability certainly belongs in the league!
TE Dennis Pitta, BAL – Pitta's 9-90-2 was tops among TEs in terms of fantasy production, and his scores represented the first time he'd hit paydirt since 2013. With Pitta off the schneid, expect more looks going his way in the red zone.
Pierre Garcon, WAS – UPDATE: Garcon had another solid week (7-78-0 on nine targets) in the absence of Jordan Reed, and continue to get looks from Kirk Cousins. He'll be a decent WR3/4 or flex play against the Eagles.
Updates
Tyreek Hill, KC – Tyreek wasn't spectacular in Week 13, hauling in 5-53-0 on six targets and adding 19 rushing yards on two carries, but he's still a solid WR3 option in most formats heading into the fantasy playoffs and matchups with Oakland and Tennessee the next two weeks.
Quincy Enunwa, NYJ – UPDATE: Enunwa was quiet on Monday night (1-10-0 on two targets) and Robbie Anderson seems to be Petty's favorite target, but I imagine the 49ers will take note and force Petty to complete some passes to the bigger Enunwa. He's not a great option, but if you're desperate, he could be worth a look, as could Anderson.
Marquess Wilson, CHI – Wilson was targeted just once and didn't record a catch in Week 13. It's possible the weather or his previous foot injury played a factor, as he was conspicuously absent from the box score.
Dontrelle Inman, SD – Inman's two-catch, 49-yard day was his lowest reception total since Week 6, but one of those catches was a 35-yard TD pass from Philip Rivers. He'll be a solid WR4/flex facing the Panthers in Week 14.
Sammy Watkins, BUF – The Bills passing game was atrocious in Week 14, with Watkins going for just 3-38-0 on nine targets. His foot is still reportedly a problem, even if the third-year receiver is underplaying its effect. They'll need him active and involved to beat the Steelers next week.
Will Fuller, HOU – Fuller had 5-59-0 in Week 13 against the Packers and makes a solid WR3 play in deeper formats next week against Indy.
UPDATE: If you're looking even further ahead to Week 17, Fuller has a nice matchup against Tennessee.
Dorial Green-Beckham, PHI – Green-Beckham's 4-29-0 was a disappointment in a game where he saw 10 targets from Carson Wentz, and if he's still working to shed the "project" label and see consistent looks from his QB, this didn't help.
Taylor Gabriel, ATL – Gabriel returned to normalcy with 5-44-0 on six targets on Week 13, but could see more plays designed for him if Julio Jones continues to struggle in the red zone and deal with his balky ankle.
UPDATE: It's actually turf toe that's bothering Jones, and Gabriel might be a decent start against the 49ers in Week 15, when the Falcons will look to solidify a playoff spot.
TE Ladarius Green, PIT – There were a lot of flashier names available off the waiver wire in Week 13, but I'm glad that Green was the only one I included, as he erupted for 6-110-1 and finished second only to Pitta in terms of fantasy production among TEs. He's clearly going to be part of the Steelers game plan in the coming weeks.