Quote of the Week:



The most heartbreaking tweet I saw about fantasy football after the Monday night game went something like this: "I lost in the semi-finals because Christian McCaffrey is a better QB than Drew Brees."

Ouch. (But as a McCaffrey owner, I have to smile.)



Last Week's Question: Do any leagues allow top seeds to choose their opponent?



My column for Week 15 featured a question from Jim, who wondered about allowing the top-seeded owner to choose his opponent from the rest of the field rather than having to face "the ultra hot wildcard" that seems only to be gathering steam as it charges into the fantasy postseason.

I was therefore delighted to receive this response from Keith via email:
In my 20 year+ league we have had the #1 seed pick their opponent for several years and everyone seems to love it. It's a 10-team league; 4 teams get in; and often the #1 seed (and theoretically the best) faces a #4 seed that's red hot and been frequenting the waiver wire for the latest hot pickups. We thought collectively that the reward should be for the #1 to pick their foe. This year a team has been ravaged with injuries and the #1 selected him. It has sometimes backfired (as in the #1 should have stayed with their original #4 opponent) and that's what adds to the fun to giving the #1 seed this opportunity.
So at least 1 league out there has adopted this practice and enjoys the results. Since I would like to see this approach become a little more commonplace, I want to share some follow-up commentary (along with a question) from Jim:
Having the ability to actually pick an opponent among the teams that qualified for the playoffs should not be an easy thing for any top seed. We all know that even the team that seems like they have the toughest matchups for the players "on paper" can still be the wrong choice in the end. The playoff owners would be wondering who the top team will choose, adding some intrigue and drama. Stories would be told of the eventual team that gets picked by the top seed and then pulls the upset and goes on to win it all, when if the top seed had just picked the lowest seed the championship team would've been eliminated.

[Still, I wonder about other details, including] when the choice needs to be made by, if there are more than 4 seeds if the 2nd seed also gets to choose their opponent, etc. The more I think about it, the more I think it would be an interesting addition to a league.
I agree that it would make for additional intrigue (and opportunities for smack talking) in most leagues. My initial response to the question about how to handle the selection process in a league with more than 4 teams in the playoffs would be to say that after the top-seeded team selects his opponent (even if it turns out to be the second-seeded team), the next highest-seeded team in the remaining field gets to make its selection. In other words, the only way the 2nd-seeded team would be deprived of the opportunity to select an opponent in a 6- or 8-team playoff scenario is if the 1st-seeded team chooses the 2nd-seeded team as an opponent.
If you have other ideas about how to handle that situation (or additional responses for Jim or Keith), please comment below or email me. My thanks go out to all readers who participated in this discussion.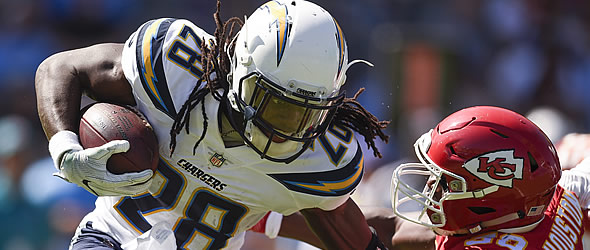 This Week's Question: Does your league reshuffle divisions each year?
As I've explained in the past, my money league is a mega-league with multiple conferences of twelve teams each. At our largest, we had 4 conferences (48 teams). Back in 2015, when I last won the championship, we were down to 3 conferences (36 teams). Another conference has folded since then, and we're down to just 2 conferences (24 teams).

But wait. Here we must pause for a gratuitous aside about how well my team has performed this season. I had a fabulous draft, landing Melvin Gordon and Christian McCaffrey in the first two rounds. By the third round, all the elite receivers were gone, but I still managed to grab T.Y. Hilton, Amari Cooper, and Emmanuel Sanders in rounds 3-5. I later gambled (wisely, it turns out) on Andrew Luck in the 9th round. It was painful to lose Sanders for the entire post-season and Gordon for the quarter- and semi-final contests, but fortunately I had a bye in Week 13, a great performance from Coop in Week 14, and a solid day from CMC in Week 15. Now I expect to have Gordon back just as my opponent (who has Todd Gurley, of course!) appears to have lost Keenan Allen and possibly Aaron Rodgers as well. [Here endeth the gratuitous aside. Wish me luck.]

The injuries on my opponent's team are less important than the fact that he was the wildcard runner up in my own oxymoronic division: the Atlantic West. (Our conferences are always named for time zones; each includes three 4-team divisions named East, Central, and West. Yes, there used to be a Pacific East division. Go figure.) The point is that no matter who wins the Super Bowl in our fantasy league, the title will go to someone in the Atlantic West.

In 2017, another team in our division won the title. In 2016, the title went to another team in our conference (though not from our division). In 2015, as I already mentioned, I won the title (thanks to an unbelievable zero-RB draft that landed me OBJ, Julio Jones, and DeAndre Hopkins).

So in a league with 24-36 teams, the 4-team Atlantic West has claimed 3 out of 4 fantasy titles from 2015-2018. Our oxymoronic division is ridiculously competitive compared to the rest of the league. All 4 teams scored over 2000 points during the season; 3 out of 4 racked up double-digit wins (despite the damage we did to each other head-to-head). No other division in the mega-league matched us on either front. The guy who finished last in our division this year won the Super Bowl last year and still made the playoffs this year thanks to one wildcard spot being awarded based on total points alone.

So my question is simple: Shouldn't it be a disadvantage to be in the Atlantic West? I mean, anyone with any sense would run from the division based on the idiotic name alone. But why would anyone want to play 2 games each season against the strongest (or perhaps the luckiest) owners in the league?

The folks in the Mountain Conference (our sister conference) reshuffle their divisions every season so that owners don't have 6 games against the same 3 teams year in and year out. Our commissioner is considering adopting such an approach for the Atlantic Conference and asked my opinion.

Shouldn't I have said yes?

Wouldn't I be much happier in a divisional situation like that of the Patriots—with 3 cellar-dwelling opponents that I can count on dominating every season?

So why did I say no? Why do I like being in a division that reminds me of the NFC East of the 80s, with Joe Gibbs and Bill Parcells routinely challenging Tom Landry for dominance in a single division that often translated to dominance of the NFL.

Part of my opposition to reshuffling divisions is that we have had years of stable rivalries in the Atlantic West. Even though my division mates are better at beating me than any other owners in the league, I look forward to playing them. I can't help it. Consistent rivalries create opportunities for smack talking and emotional highs & lows that will be lost if we reshuffle divisions every year. I grew up as a fan of the Oakland Raiders and their opponents in the old AFC West, including the Seahawks. I was used to caring about the Seahawks even when they were playing the Broncos, Chiefs, or Chargers because of the impact it had on my Raiders. I've had years to get used to Seattle as part of the NFC West, but I just don't care about their matchups (now with the Cardinals, Rams, and 49ers) in the same way that I used to. In fact, those rivalries seem pretty tame and lame in comparison to the AFC West era.

What's your opinion on divisional reshuffling in fantasy leagues? Do you see it as an effective tool for leveling the playing field or an impediment to the development of rivalries?
Please let me know your thoughts by commenting below or emailing me.

Survivor Pool Picks

Bonus Pick: Colts over Giants

The Colts aren't available to me this week because I've used them in all 3 slots below. (Note that they won each time I picked them.) Indy's shutout of Dallas in Week 15 should have persuaded you that Andrew Luck & company are very serious about making the playoffs, a dream long since abandoned by the Giants. Don't sleep on the improvements the Colts have made defensively (especially in the speed department); they had no trouble containing Amari Cooper (who exploded for Dallas in 2 of the previous 3 weeks) as well as Ezekiel Elliott. The Giants have an analogue for Elliott in Saquon Barkley, but no analogue for Cooper (with Odell Beckham Jr. injured), so this matchup should be even easier. If the Colts are available to you, use them.

Pick #3: Patriots over Bills
(9-6; GB, NO, CHI, LAC, CIN, car, TB, IND, oak, phi, ari, jax, KC, car, BAL)

The Pats are favored by 13 points in this game for good reason. They have better players & coaches; they're poised to set an NFL record by clinching their tenth consecutive playoff berth; and they're playing at home. It doesn't hurt that Bill Belichick is 32-5 vs. Buffalo as New England's head coach. For all these reasons, you should probably feel comfortable taking New England, but this is only my 3rd choice because divisional games always make me nervous; AFC East games make me especially nervous; and effective rushing QBs like Josh Allen scare the bejesus out of me.

Pick #2: Rams over Cardinals
(10-5; no, LAC, hou, GB, CAR, MIN, IND, PIT, KC, atl, tb, BAL, TEN, DAL, phi)

The Rams are coming off back-to-back losses vs. the Bears and Eagles, and yet they are 14-point favorites over the Cardinals. Is Arizona really that bad? Yes. I don't care that the Rams are on a skid; I don't care that this is a divisional matchup; I don't even care that the Cardinals are playing at home. The Rams are one of the best teams in the NFL; they're jockeying for a bye in the postseason; and the latest news reports confirm that they continue to have a player named Todd Gurley. Gurley alone had 3 TDs vs. Arizona in Week 2. As a team, the Cardinals have only scored 3 or more TDs twice this season.

Pick #1: Titans over Redskins
(11-4; BAL, LAR, min, JAX, NO, GB, LAC, CHI, dal, KC, car, IND, HOU, pit, ATL)

The Titans and Redskins are both still alive in the playoff race, but the Titans are surging whereas the Redskins are dangling by a thread. Both defenses are capable of crunch performances, but there's a huge difference between the offenses, especially in the running game. Tennessee's Derrick Henry has showcased his patience (not to mention an other-worldly stiff-arm capability) over the past 2 weeks. No one expected him to follow up his 238-yard rushing performance vs. the Jaguars with a 170-yard explosion against the Giants. But that didn't stop him. Washington's Adrian Peterson, by contrast, has been held to 67 rushing yards in the same two-week period and is nursing a shoulder injury. The quarterback situation only widens the gulf between these teams. Tennessee's Marcus Mariota is inconsistent, but he is a seasoned, dangerous QB who is comfortable with his role in the Titan offense. Washington's Josh Johnson is a backup to a backup who will be playing in his third game of the season vs. the ball-hawking Titans. He played well against the feckless Giants and did just enough to win against the phoning-it-in Jaguars, but is in for a long day against resurgent Tennessee.


---
Mike Davis has been writing about fantasy football since 1999--and playing video games even longer than that. His latest novel (concerning a gamer who gets trapped inside Nethack after eating too many shrooms) can be found here.