Last week's question: How much FAAB would you have spent on Adrian Peterson, Alfred Morris, or both just before the season began?



In last week's column, I asked readers how much of their FAAB they would have been willing to spend on Adrian Peterson (filling in for Derrius Guice) or Alfred Morris (filling in for Jerick McKinnon) or both.

The question was inspired by Doug Orth's bold decision to target both RBs in the FFToday Staff League. Orth bid $300 of his $1000 on Peterson and $200 on Morris and won both bids. In other words, before the Sunday games for Week 1 were underway, half of Orth's FAAB for the season was gone.

At the time, we didn't know how things would shake out in Washington or San Francisco, but I understood why Orth was tempted to roll the dice on both players. As the McKinnon owner in that league, I was interested enough in Morris to bid $121 for him. It didn't surprise me that someone else was willing to bid $200, but it did surprise me to see that same someone paying $300 in that same waiver wire session for Peterson.

Does that surprise you? Don't think about that question based on what we've seen from Matt Breida & Chris Thompson since then. Think about it purely in terms of the percentage of FAAB Orth put at risk with those two bids. Would you be willing to make that bold a move on the running back market that early in the season?

Before you answer, let me share two responses from readers that demonstrate how dynamic FAAB can be in different league contexts.

The first reader to email me was Mike, who paid even more for Peterson than Orth did: "I actually spent 33% of my FAB money on Peterson this week. If he stays a RB2 -RB3, [he] will be well worth it. [As] a Fournette owner [I] needed him the next few weeks."

The second response I received on Peterson came from Sid, whose league seems a bit more relaxed: "I got Peterson for $1 of FAAB."

Obviously, the value of RBs like Peterson will fluctuate wildly between leagues based on roster depth and the number of owners. In a small league with shallow benches, Peterson might still be unclaimed from waivers. The FFToday Staff League, however, features deep benches (18 spots) for 12 owners who each start 2-3 RBs per week. When bye weeks and injuries conspire against you, it can be difficult to find 2 startable RBs just by scouring the waiver wire at the last minute, so it's easy for me to understand why Orth would be willing to sacrifice half of his FAAB on 2 RBs with as much upside as we could all imagine for Peterson & Morris in Week 1.

If you knew how valuable starting RBs are in this particular league, you could easily understand the appeal of gambling a sizable amount of FAAB on Peterson or Morris (or Thompson or Breida, for that matter). But even then, you might hesitate at the idea of giving up so much of one's FAAB (50%) so early in the season.

But just think about that for a minute. If the value of FAAB comes from the players you spend it on, then the sooner you spend that FAAB, the sooner you can start realizing that value. Saving your FAAB for the end of the season makes it impossible for you to get more than a few weeks of productivity out of a player, whereas spending your FAAB early can result in months (perhaps even an entire season) of productivity.

I want to confess here that I, like most owners, am probably too cautious when it comes to spending my FAAB. I'm always inclined to save it for later, which means that I routinely finish the season with more than half of my FAAB unspent. It comforts me to know that it's there … just in case. In case of what? If you routinely finish the season with more than half of your FAAB unspent (as I do), the case you have in mind probably isn't presenting itself frequently enough to justify your spending habits.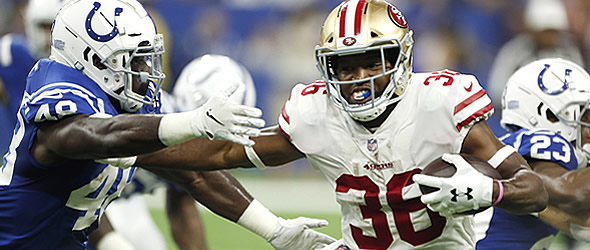 Do you typically blow your free agent budget early in the season? Are you a FAAB saver?




This week's question: Are you any good at managing FAAB?



I'm not asking whether you're good at fantasy football or drafting or executing trades.

I'm asking, very specifically, whether you're any good at managing FAAB? If so, how do you know? If not, how do you know?

I tipped my hand in the previous section. I don't think I'm very good at FAAB management because I finish too many seasons with too much FAAB left unspent.

How about you? Do you blow it all too early on adds that are entirely too speculative?

Are you good because you know exactly how much to bid for players without overpaying?

What are the secrets to your success or the indicators that you should change your strategy? Please answer by posting a comment below or emailing me.



Survivor Pool Picks



Trap Game: Patriots at Lions

The Lions were unable to steal a game from the 49ers while visiting San Francisco last week, but they did cover the spread (as many of us expected) because they aren't anywhere near as bad as they looked in Week 1. In Week 3, they host the New England Patriots, who are still licking their wounds from a 31-20 drubbing by the Jaguars. The Pats have seemed discombobulated going back to their Super Bowl loss, so I don't see how they deserve to be 6.5-point favorites as a visiting team. For the second week in a row, I expect the Lions to cover the spread & perhaps even to squeak out a victory.

Pick #3: Chicago over Arizona
(2-0; GB, NO)

The Cardinals look even worse than most analysts anticipated in the preseason. In 2 games, QB Sam Bradford has 243 passing yards, 7 rushing yards, 2 picks, 1 fumble, and 0 TDs. Coach Steve Wilks insists that Bradford remains the starter, which is only reasonable. Perhaps the greatest kindness Wilks can do for Arizona fans is to allow them to dream that their abysmal team would be competitive if only Josh Rosen were playing instead. That seems like a pipe dream at this point. I'll be picking against the Cardinals until they show signs of a pulse—or play against the Bills.

Pick #2: Houston over NYG
(1-1; no, LAC)

I can explain why the Texans are 6-point favorites against the Giants in three steps: 1) Of the two NFL teams in Texas, Houston has a ton of freakish talent (Deshaun Watson, DeAndre Hopkins, Will Fuller), whereas Dallas has 1 star running back (and how's that formula working for Buffalo & Arizona, by the way?); 2) Dallas already beat the Giants; 3) if a Texas team that reeks as much as the Cowboys can beat the Giants, then a Texas team with as much talent as Houston better do the same.

Pick #1: Vikings over Bills
(2-0; BAL, LAR)

The Bills travel to Minnesota as 16.5-point underdogs. Yikes! Maybe the Vikings should lend the Bills either Stefon Diggs or Adam Thielen to give them a sporting chance, but it would probably just confuse the Bills to have a legit receiving threat on the roster. This is one of those matchups that begs us to remember what can happen on "any given Sunday" in the NFL. Of course, penalties and weird bounces on kickoffs can change the face of a game. But for a team as inept as the Bills to defeat a team with a rock solid QB, elite receivers, and one of the best defenses in the league would require an almost miraculous concatenation of weird penalties.




---
Mike Davis has been writing about fantasy football since 1999--and playing video games even longer than that. His latest novel (concerning a gamer who gets trapped inside Nethack after eating too many shrooms) can be found here.