Last weekís question: What are the most outrageous trade offers you have received (for James Conner)?

Although my question about outrageous offers applied to trades in general last week, the RB situation in Pittsburgh had the attention of readers focused on what might be a fair exchange for LeíVeon Bellís understudy. The first commenter on the column (Eric) wondered whether he could reasonably ask for Carlos Hyde or Lamar Miller in a swap for Conner. That comment was posted before Conner filled in so admirably for Bell and before it was clear that Bell would be sitting out for Week 2.

I also heard from Hugh (via email) before the games. Even though Conner had not yet played, Hugh was very excited about his prospects (having acquired him in the second round of a dynasty-league rookie draft last year). From Hughís perspective, it seems quite likely that Bell will miss most (or all) of the season and that Conner could realistically turn out to have been the steal of last yearís draft.

Hugh shared his thoughts before Conner became the second most productive fantasy RB (behind Alvin Kamara) in Week 1.

How quickly things change. With Bellís holdout still going strong and Conner looking so reliable in relief of him, I would rather have Conner than either Hyde or Miller. I understand that Bell could come back unpredictably and that Connerís value would immediately shrink to negligible in that case, but his upside is absolutely worth the risk in my opinion. I would much rather have Conner (with Bellís uncertain return looming on the horizon) than Miller (who has DíOnta Foremanís uncertain but inevitable return on his own horizon).

In my opinion, the Steelers would have beaten the Browns (instead of tying) with Bell in the lineup. Bell is an immensely talented player, and I wish the team would just compensate him and get him back onto the field of play. But my wishes have nothing to do with whatís going to happen. And what seems likeliest to happen is that the Steelers will go out of their way to make a success of Conner if only to show Bell that they donít need him as much as he thinks they do (even if heís right!).

This is why I wouldnít be in any hurry to trade Conner. The uncertainty at his position is too much for someone to offer Melvin Gordon or Saquon Barkley for him, but his opportunity is too valuable for me to consider Kenyan Drake or even Jordan Howard in exchange. Some people may think itís madness not to value Howard (a talented back with an assured role for the remainder of the season) more, but Howard doesnít have Connerís upside. As long as Bell refuses to report to camp, I believe Mike Tomlin will be under more pressure from his front office to make Conner look like an apt replacement for Bell than to win games (witness Cleveland). That makes me very excited about Connerís prospects.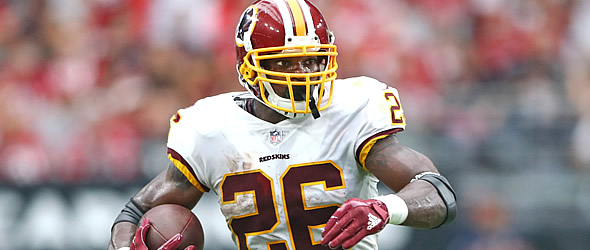 Adrian Peterson has found an early-down role in Washington. Did you acquire him prior to Week 1?




This week's question: What percentage of your free agent acquisition budget (FAAB) would you have spent on Adrian Peterson & Alfred Morris in Week 1?



Injuries to Washingtonís Derrius Guice & San Franciscoís Jerick McKinnon prompted many owners to scramble for their backups: Peterson & Morris. In the FFToday Staff League, one owner acquired both of those backups by making a couple of bold FAAB bids in Week 1. What percent of your FAAB would you have paid for Peterson? For Morris? And if you could have gotten both at those prices, would you have taken both, or would you have settled for one? Please answer by posting directly to the comments section below or emailing me.



Survivor Pool Picks



Trap Game: San Francisco over Detroit

The 49ers are 6-point favorites at home against the Lions in Week 2ónot because Jimmy Garoppolo & co. looked good against the Vikings in Week 1 (they didnít), but because Matthew Stafford & co. looked horrible against the Jets (oh boy did they). Because the Vikings are a good team, weíre very quick to forgive the 49ers for getting less than 100 rushing yards between Alfred Morris & Matt Breida and for making George Kittle the teamís leading receiver. I think we should be less forgiving of San Franciscoís many shortcomings and more forgiving of the Lions, who never stood a chance against a Jets defense that was decoding Staffordís signals throughout the game. In other words, I think the 49ers arenít even as good as their 16-24 loss to Minnesota suggests, and I believe the Lions are much better than their 31-point deficit vs. the Jets suggests. I expect Detroit to cover the spread in this oneóand possibly to steal the game as well.

Pick #3 NO over Cle
(1-0; GB)

Remember when the Saints were 9.5 point favorites at home against the Buccaneers last week? How did that work out for my #2 pick? Not so great. So why am I going back to the Saints in a very similar situation in Week 2 (9-point favorites at home vs. Cleveland)? Well, I sort of explained that last week with my misgivings about the Tampa Bay matchup. I reluctantly took the Saints because I believed the Bucs had a legit shot at defeating a divisional rival they face twice each season. I donít think thatís possible for the Browns, who are capable of playing above themselves against a divisional opponent like the Steelers, but unlikely to do so against the Saints.

Pick #2 LAC over Buf
(0-1; no)

The Chargers have a rock solid QB in Philip Rivers, an elite wide receiver in Keenan Allen, and a workhorse RB in Melvin Gordon. The Bills, by contrast, have a quarterback carousel in full swing (itís only Week 2), a vacancy sign in the wide receiver department, and a crowded backfield managed by a coaching staff that has somehow managed to lose sight of LeSean McCoyís obvious talents. I usually try to stick with home teams in Survivor Pools, but Iíll be picking against the Bills no matter where they play until they show a pulse.

Pick #1 LAR over Ari
(1-0; BAL)

Itís unusual for me to take a divisional match-up as my top pick of the week even when it comes with a 13-point line, as is the case here. However, the Rams really are that much better than the Cardinals right now. There are lots of ways to analyze this game, but Iíll put it in terms any fantasy enthusiast can understand: Todd Gurley & David Johnson are two of the best RBs in business today, but Gurley is on a great team with a fabulous surrounding cast and excellent coaching, whereas Johnson Ö isnít.



---
Mike Davis has been writing about fantasy football since 1999--and playing video games even longer than that. His latest novel (concerning a gamer who gets trapped inside Nethack after eating too many shrooms) can be found here.