Last Week's Question: Second Quick Quarterly Quiz of 2019
My column for Week 9 featured the second of four quarterly quizzes in this column in 2019. Each quiz consists of 10 questions about the current top 5 performers (at QB, RB, WR, TE, & Def) and invites readers to predict 1 player who will still be in the top 5 at the end of the season and 1 who won't (without repeating any answers from the previous quarter).
The quiz can be as quick and painless as readers want it to be. The only answers required are 10 names (which can be supplied without explanation, punctuation, or even a verb). However, some readers included a rationale behind each selection. I was delighted that one such reader was David, whose response to the 1st Quarterly Quiz set the tone for this approach. For ease of reference, David includes his 1st quarter picks parenthetically after each 2nd quarter selection:
The first [quiz] took about 5 minutes. Not being able to repeat any of those answers this time around took considerably longer.

1) Russell Wilson (Q1: Patrick Mahomes)
2) Aaron Rodgers (Q1: Dak Prescott)

The rationale still seems on point, Mahomes just got hurt - if he was healthy he likely stays in with Dak getting bumped out. Russell has a couple of "pass funnel" defenses coming up with games against the Bucs, Eagles, and Vikings so I think he'll keep making plays. The recent run Rodgers is on seems largely fueled by the 6-TD outburst against the Raiders' facsimile of a secondary (who aren't in the NFC North, so he won't see them again) so he drops out (since I can't pick Dak again).

3) Dalvin Cook (Q1: Christian McCaffrey)
4) Leonard Fournette (Q1: Austin Ekeler)

Cook and McCaffrey feel like the two most "set it and forget it" running backs on the fantasy landscape - Zimmer's run commitment keeps Cook in the top 5. Even though I think Fournette is due for some positive TD regression, he was the back I liked the least of my remaining choices (since I couldn't double down on Ekeler).

5) Michael Thomas (Q1: Julio Jones)
6) D.J. Chark (Q1: Mike Evans - FINALLY I WAS RIGHT)

With Brees returning, selecting Thomas almost feels like cheating. Similar to the running back choice, Chark's role isn't quite as crystallized as the ones the other receivers have. If Foles returns, he had better rapport with Westbrook...if Foles doesn't reclaim the job, then maybe I'm wrong...again...LOL.

7) Austin Hooper (Q1: Travis Kelce)
8) Evan Engram (Q1: Mark Andrews)

From my Q1 response: "I think Hooper stays involved as I imagine the opposition (playing with the leads that Atlanta will not have) using softer coverages with said leads, allowing Hooper to accumulate yardage underneath." Yeah, that. Engram's target share probably shrinks a bit with Tate settling in, Shepard returning, and Slayton exceeding expectations...and I can't pick Andrews again.

9) 49ers (Q1: Bears)
10) Giants (Q1: Steelers)

The 49ers have really impressed me, they're just a rock solid all-around defense (and this way I can save the Pats for the next quiz). I assumed the Giants being on the list was a typo so I'm going to pick them to drop out before you update the article. Really fun exercise.
My thanks to David for having fun with the challenge--and especially for pointing out that the Giants feel like they can only be a top 5 defense by virtue of a typo. Their total points on the season put them a whopping 13 points behind the #4 Panthers, but only 2 points ahead of the #6 Eagles. In fact, there's less of a total point differential between the #5 Giants (74) and the #15 Texans (61) than between Carolina (87) and New York.
I also heard from Bruce, who has perfected the art of confining his rationales to a single sentence (or, more accurately, a name plus a subordinate clause). His odd-numbered picks are the players who will remain in the top 5; his even-numbered picks are the ones who will fall out:
1) Q1: Mahomes bc Chiefs' running game isn't as reliable as Seahawks'. Q2: Wilson bc he's my MVP prediction.

2) Q1: Jackson bc he's the least experienced of the non-Mahomeses. Q2: Prescott bc as a Bills fan predicting bad things for a Cowboy is one of life's most satisfying actions.

3) Q1: McCaffrey bc Carolina needs the offense to run through him. Q2: Cook bc he'd better stay healthy for me.

4) Q1: Ekeler bc of Gordon. Q2: Fournette by process of elimination.

5) Q1: Kupp bc Goff looks to him. Q2: Thomas bc he can do no wrong.

6) Q1: Evans bc the Winston-Godwin connection seems more lasting. Q2: Godwin bc he and Evans are likely to finish 6-7 or 7-6.

7) Q1: Waller bc Oakland needs him week in and week out while Kelce is one weapon of, like, 50. Q2: Hooper for a similar reason as for Waller over Kelce.

8) Q1: Engram bc he's on the Giants. Q2: Andrews bc I can't pick Engram twice.

9) Q1: Patriots bc they play so many bad teams this year. Q2: 49ers bc their offense will keep their defense rested.

10) Q1: Jets bc they're like the Bills D used to be and are bound to burn out from being on the field so much. Q2: Giants bc it has to be a typo that they're in the top 5 at all.
Okay, maybe I decided to feature the comments from David and Bruce because they independently found their way to the "typo hypothesis" of the NYG defense. In any case, my thanks to everyone who participated. We can all look forward to an even more challenging version of this quiz in Week 13.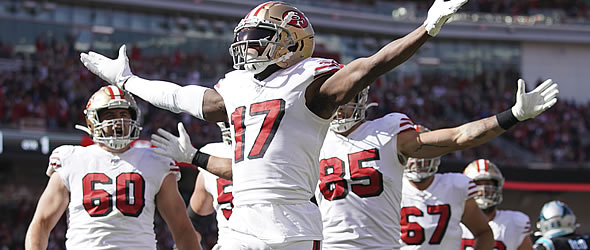 This Week's Question: Which NFL player traded during the 2019 regular season will have the greatest fantasy impact?
In the FFToday Staff League, I finished the draft with Kenyan Drake, Emmanuel Sanders, and Josh Gordon, all of whom have been traded into situations that could end up making them much more valuable than suggested by their preseason ADP (especially Gordon, who lasted into the double-digit rounds because he hadnít even been cleared to play before our draft).
I like Drakeís situation. His performance last Thursday in relief of both David Johnson and Chase Edmonds would have been impressive against any team. The fact that it came against a previously stout SF run defense a mere three days after Drake joined the Cardinals makes it remarkable. I have no idea what Drakeís long-term prospects in Arizona are, but I vastly prefer him in a Cardinal timeshare (whatever shape that takes) than as the unquestioned lead back in Miami.
Iím even more stoked about Sanders, who appears to be doing the exact thing with the 49ers that many of us believed Pierre Garcon would do with Kyle Shanahan back in 2017. Does anyone doubt that Shanahan can turn just about any reasonably athletic and savvy veteran wideout who understands his system into a top-15 WR? Although nagging injuries prevented Garcon from delivering on that promise, Sanders appears healthy. Even with Flacco throwing him the ball earlier this year, Sanders already demonstrated that he can be a productive WR. With Shanahan having legitimate reason to think that Sanders can fill a role that has suited neither Deebo Samuel nor Dante Pettis this season, my hopes for Sanders are as high as they were for Garcon back in 2017.
Iím more ambivalent about Gordon. Between injuries and the ephemeral Antonio Brown circus in New England, Gordon faded into the Patriot background even before landing on IR and being released by the Pats. The 27 other teams who had waiver priority over the Seahawks and passed on Gordon may have been right to do so. I havenít seen enough of him in 2019 to be confident about his capabilities. But the silver lining here is a mother vein--because it involves Russell Wilson, who appears to be single-handedly willing the Seahawks to victory week in and week out. Wilson is making brilliant use of a very limited toolset, and Gordon could be just the extra target that Wilson needs to continue his MVP campaign.
Other trades may bode well for other owners. Mohamed Sanu already looks like a great fit in New England. Or maybe you think the biggest impact will result from a trade involving a defensive player (e.g. Leonard Williamsí impact on offensive production within the NFC East).
This week, Iím challenging readers to go on the record (either in the comment section below or by emailing me) about which NFL player traded during the 2019 season will have the greatest impact on fantasy championships.
If youíre feeling ambitious, you can rank your top 3 in order with brief accompanying explanations. Iím eager to see what the future holds (and what the rest of you think it holds) for these players.
Survivor Pool Picks (courtesy of Matthew Schiff)
#3 Colts over Dolphins (8-1; PHI, BAL, SF, lar, NE, WAS, GB, NO, SEA)

There are two reasons to avoid this game in Week 10. The first is that the Dolphins got their first win of the season in Week 9 (vs. their former head coach, Adam Gase, and the lowly New York Jets). The second is that Jacoby Brissett may not be under center, in which case Indy will have to rely on Brian Hoyer. Yes, thatís a far cry from Andrew Luck--but no, itís hardly as if Indy needs Luck (or even Brissett) to defeat the Dolphins. The fact that one can even worry about the ďquarterback situationĒ in Indy suggests that there is a position to which the Coltsí problems may be confined, whereas the Dolphin organization is a never-ending series of problems run amok.

#2 Saints over Falcons (6-3; HOU, BAL, NE, ind, kc, lac, SF, MIN, BUF)

Much as we try to avoid intradivisional contests in survival pools, weíve reached the point of the season when it becomes almost impossible to steer clear of them (partly because of byes limiting the number of games and partly because of having used up 9 teams in each slot). When picking such games, however, it is nice to take a double-digit home favorite like the Saints. Itís especially nice when that home team is coming off a bye (as New Orleans is) and even nicer when its Hall of Fame QB got a chance to knock the rust of after returning from injury before the bye (as Brees did). Take the 7-1 Saints over the 1-7 Falcons.

#1 Ravens over Bengals (8-1: NE, SEA, DAL, LAC, PHI, dal, BUF, SF)

Parity in the NFL means itís always possible to imagine an underdog beating a favorite. But did you see the Lamar Jackson and the Ravens handle the New England Patriots in Week 9? The Ravens are no joke. The winless Bengals, by contrast, are very difficult to take seriously. Theyíve benched Andy Dalton to see what they have in backup Ryan Finley, and their game plan for the rookieís debut has been to make unsubstantiated claims about A.J. Green (who appears unlikely to play despite pronouncements to the contrary from Zac Taylor). Can the Ravens, who just beat Tom Brady and the Patriots, realistically figure out how to lose to Finley and the Bengals? Anythingís possible, but some things arenít bloody likely.


---
Mike Davis has been writing about fantasy football since 1999--and playing video games even longer than that. His latest novel (concerning a gamer who gets trapped inside Nethack after eating too many shrooms) can be found here.