Last Week's Question: Which midseason NFL player trade was most valuable for fantasy?
In Week 10, I discussed the change in fantasy outlook for players who switched teams midseason (e.g. Kenyan Drake, Emannuel Sanders, Josh Gordon, and Mohamed Sanu) and asked readers to chime in on which trade was most important from a fantasy perspective.
For Randy (who might be a little bitter), the choice was easy:
No contest. Antonio Brown [bouncing from the Raiders to the Pats] to Nowheresville is gonna have the greatest fantasy impact. He taught us all a valuable lesson about steering clear of headcases. For me, the first two rounds have always been about talent plus opportunity (i.e. being on a good offense or at least a team in a soft division). From 2020 on, those early round picks will be about talent plus opportunity plus some minimal capacity for adulting.
The Brown fiasco feels like ancient history at this point, but Gary went back even earlier, since he thinks "none of the midseason trades amount to much compared to Seattle's acquisition of Jadeveon Clowney, clearly the most important trade of 2020." Even though Gary focused on a trade completed before the season was underway, his argument is compelling enough to warrant some attention:
I moved Deshaun Watson ahead of Patrick Mahomes when I heard about the Clowney trade because I knew Houston's defense would struggle without Clowney, especially if J.J. Watt missed time, which, let's be honest, was a pretty safe bet. It's not a midseason trade, but I didn't see fantasy analysts reacting to the pressure Houston's loss of Clowney would put on Watson to overachieve. This should have been more obvious to more people.
Thanks for the insight, Gary--even if it's not technically on topic. As TomJ explains, however, it wasn't an easy topic to stick to:
Tough question this week. Can I say 'kinda no one' as my answer? :)

Bennett to Dallas might have a significant impact, if he's able to be the player he's been in the past. If he can help Dallas shut down opposing offenses, then in theory Zeke would get more run if Dallas gets leads. But...Zeke will be involved whether they are ahead or behind.

Ramsey to the Rams (which made them even more Rams-y...get it?!) is maybe my top spot, because he'll limit Lockett in week 14 and Cooper in Week 15, in theory. Those two are likely to be on playoff teams. Can't say the same for Minkah Fitzpatrick, who gets the Cards, Buffalo, and Jets in the playoffs, and Browns-Bengals-Browns before that. Not much fantasy playoff relevance happening there.

So, Ramsey #1. Based on a recency bias, Sanu #2. And...I'll cheat mildly and say Hyde to the Texans right before the season started at #3. He might be flexing to help some folks make the playoffs.
My thanks to TomJ for his careful thinking about the impact key defenders will have on what's left of the 2019 fantasy season. And I can't really nitpick the Hyde pick, since I just indulged Gary on Clowney. The fact that readers are having to kinda sorta "cheat mildly" just to have this discussion suggests that the midseason trades of 2019 don't have many people excited.
My thanks to everyone who responded.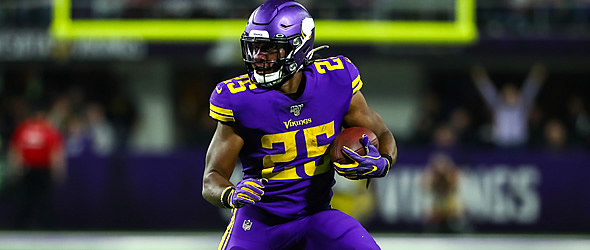 This Week's Question: Who is the best bench stash of 2019?
This week Iím challenging readers to identify the best bench stash of 2019. A bench stash is a player (often a handcuff) who can come out of nowhere at the end of a season to carry a team to a championship.
This is a slight twist on a question from Bruce, who wanted to know about the biggest injury impact of the season. Thatís a fun question to ponder, but itís hard to generate consensus. Owners of Patrick Mahomes will say Mahomesí injury was more important than Saquon Barkleyís; owners of Barkley will say that his injury was more important than that of Davante Adams; etc.
Iím expanding Bruceís injury question to the category of the bench stash to force readers to weigh the personnel changes that have happened vs. those that might happen. Wayne Gallman really was important in Week 4 in a way that Darrell Henderson and Ryquell Armstead havenít been, but most people would rather have the Ram or the Jaguar than the Giant as the last player on their bench. Allen Lazard showed tremendous promise in Week 6, but would you rather have him or Sammy Watkins (who has done next to nothing since Week 1) on your bench?
If you think the best bench stash of the year has already delivered, please say so (and identify the player). If you think the best is yet to come, please comment below or email me to explain your rationale for devoting your last bench spot to A.J. Green instead of Tony Pollard.
Survivor Pool Picks (courtesy of Matthew Schiff)
My apologies to Matthew Schiffís fans for an editorial oversight in Week 6 that allowed Dallas to be used for a second time. As a reader brought to my attention last week, the only mistake in Matthewís top pick this season was the Week 6 pick of the Cowboys, who were ineligible (having been used successfully in Week 3). Doh!
#3 Vikings over Broncos (8-2; PHI, BAL, SF, lar, NE, WAS, GB, NO, SEA, ind)
The Broncos are coming off their bye week, which may be the only thing they have going for them in this matchup against a Vikings team that is undefeated at home in 2019. If this game were in Denver, we would avoid it. But when you take this seasonís lackluster Broncos out of their high-altitude, open air environment and ask them to compete with a dome team like the Vikings, well, itís a big ask. We just saw the Cowboys fail to contain Dalvin Cook in Dallas, so itís hard to imagine the Broncos containing him in Minnesota. And even if Denver somehow manages to bottle up Cook, theyíll probably just light a fire under Kirk Cousins (especially if Adam Thielen can recover from his hamstring injury in time to be activated).
#2 Panthers over Falcons (6-4; HOU, BAL, NE, ind, kc, lac, SF, MIN, BUF, no)
The Falcons surprised a lot of Survival Pool participants (including yours truly) in Week 10 by dominating the Saints in New Orleans. Can they win a second consecutive road game against a divisional opponent? Sure. The NFL is all about parity, and the 2-7 Falcons may be experiencing a November rebound. This late in the season, however, itís very hard to find eligible teams to pick in favorable situations. Weíve got a great feeling about Christian McCaffery and the Panthers snapping a 2-game losing streak because theyíre a) at home and b) too talented to keep losing. But this one really comes down to your evaluation of Atlantaís Brian Hill (who played well in relief of Devonta Freeman in Week 10). Freeman will miss another game in Week 11, and we already know that Ito Smith isnít much of a threat in his absence. If you believe Hill will exploit Carolinaís porous run defense, stay away from this one. Weíre still rolling with the theory that Hill must have spent most of the season behind Smith on the depth chart for a reason, but we could absolutely be wrong about that. (Emergency use only for this one.)
#1 Raiders over Bengals (9-1: NE, SEA, DAL, LAC, PHI, dal, BUF, SF, BAL)
This pick is all about the winless Bengals being a) terrible and b) more interested in seeing what rookie QB Ryan Finley has to offer the franchise in years to come than in winning in 2019. Finley was thrown to the wolves in Week 10 and eaten alive by a Baltimore defense that turned both of his turnovers into scores. The Raiders are inconsistent, but theyíre certainly capable of controlling any offense as dysfunctional as the one in Cincinnati. Donít stop at using Oakland in your survivor pool; you might want to stream the Raider defense in your fantasy matchups this week.

---
Mike Davis has been writing about fantasy football since 1999--and playing video games even longer than that. His latest novel (concerning a gamer who gets trapped inside Nethack after eating too many shrooms) can be found here.