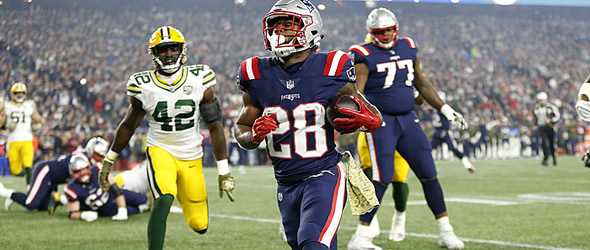 Last Week's Question: Should owners be allowed to trade draft picks already burnt on keepers?
Suppose you are in a keeper league that allows you to keep one player from your 2018 roster as long as you give up your pick in the round in which that player was acquired. You took Patrick Mahomes in the 10th round, so you'll gladly give up your 10th-round pick this season to keep him. Whether you're picking at 10.01 or 10.12 doesn't matter to you because you're getting Mahomes either way.
You have a friend who snagged James White in the 9th and will give up his 9th-round pick to retain White. He doesn't care whether he gets White at 9.01 or 9.12.
Since you won your championship, you will be picking from the 1.12 slot (which comes with picks at 9.12 and 10.01 in your snake draft).
Since your buddy came in last, he will be picking from the 1.01 slot (which comes with picks at 9.01 and 10.12).
Why should you waste the 10.01 pick on Mahomes, who would be yours by rights even at 10.12?
Why should your buddy waste the 9.01 pick on White, who would be his by rights even at 9.12?
So you trade the 9.12 & 10.01 slots to your buddy for his picks at 9.01 & 10.12. Now you get to pick first in the 9th round (which doesn't disadvantage your buddy in any way, since he's getting White no matter what), and your buddy gets to pick first in the 10th round (which doesn't disadvantage you in any way, since you're getting Mahomes no matter what).
You both acted in your own best interest, so this isn't anything like collusion as we are accustomed to seeing it in fantasy.
But is there something wrong with this deal? Did the rest of the league get screwed? What if something like this happened in rounds 3 & 4 instead of 9 & 10? Is this kind of draft slot trading savvy or unethical? That was the real question Nathan posed.
The first response came in a Disqus comment from JDixon:
The way we handle it is that trades are locked from the trade deadline of the previous season until after the keeper declaration deadline of the new season. Once keepers are selected, those draft picks are no longer the owner's property, and are replaced with the player. Trading then opens back up. In this case, people can still 'play' the system by trading down in their keeper's draft round, but the rules require them to do so prior to the previous year's trade deadline. What we've found is that people don't take advantage of it nearly as much that way because there is more risk involved - many people aren't entirely sure who they're planning to keep for the next year prior to the trade deadline (or don't yet have them on their roster), so figuring that out, then finding the ideal trade partner for that round- all while worrying about the current trading season, seems to be too difficult to make 'playing' the system worth it.
Great suggestion, JDixon. Instead of making a rule to forbid such trades, you can schedule deadlines that are likely to make owners feel as if they are rushing into arrangements they may come to regret. More importantly, I love the idea that "Once keepers are selected, those draft picks are no longer the owner's property, and are replaced with the player." Working backward from that point to set deadlines in keeping with the spirit of your league strikes me as a very workable approach.
Hugh emailed me his thoughts on the value and fun of trading draft picks (a practice which is important to his league for reasons too intricate to explore here, though I look forward to sharing the details in a future column). My takeaway from Hugh was his final paragraph:
Sure, trading picks is sometimes confusing, hard to quantify, and a bit of a risk. However, the game of fantasy is all of those things anyway. So let teams do what their owners want too. Let everyone enjoy managing their team in any fashion they choose, so as to be as fun as possible for everyone.
Part of the reason I like JDixon's answer so much is that it leaves room for the laissez-faire spirit of folks like Hugh.
Ben wrote me not to defend the trading of draft picks in general, but to defend the trading of them under the circumstances described by Nathan:
I am in a league very similar to Nathan's except that we snake each round. We allow trades of draft picks. If someone wants the 1.01 (for example) and you have the 1.10, they may swap 1st round picks and maybe a 3rd or 4th round pick. Very ethical. It is exactly what the NFL does.

One trade this year had our league squawking that it was a travesty. The owner with the 1.12 pick traded that pick to the owner with the 1.03 pick. The owner with the 1.12 pick was keeping DeAndre Hopkins as his 1st-round keeper. The owner with the 1.12 pick didn't have picks in Rounds 3, 5, 6, & 7.

The owner with the 1.12 pick (Deandre Hopkins) traded the 1.12 pick & the 8.14 pick (from an earlier trade) to the owner of the 1.03 pick for the 5.12 (from an earlier trade), 6.12, 7.03 and 8.03.

You would have thought it was a mutiny. After it was explained that the 1.12 owner wanted more picks in the middle rounds since he didn't have them, it was okay.

In Nathan's league, it will be okay if people will calm down and listen to the details.
Based on a follow-up email I received from Nathan, I'm not sure his league is ready to calm down (as there's an added twist to the problem that we can't get into this week), but that doesn't change the advice of JDixon, Hugh, or Ben, who all advocate setting up a system in which the kinds of trades proposed by Nathan are possible (if inconvenient). Nathan also mentioned in his note that he saw JDixon's comment and had already proposed a similar deadline-based model in his league. Please feel free to keep us updated by posting in the comment field below, Nathan.
This Week's Question: Should Weekly High Score Payouts Be Weighted to the End of the Fantasy Season?
Weekly high score payouts are a common strategy for incentivizing owners to remain active and competitive even after they've been eliminated from playoff contention in their fantasy leagues.
After a 1-7 start, why should you even bother setting a lineup for Week 9? Your defense is on a bye. Fine. Your quarterback is on IR. Fine. Those zeros won't bother you because they won't make any difference anyway. You're done.
So the owner who plays against your team in Week 9 posts a season-low score of 71 points--but still wins because your team is MIA. Because of that win, that owner earns a wildcard spot and knocks the commissioner out of the playoff hunt.
The commissioner thinks, "Oh no, this will not do. I shall encourage all my owners to play their hearts out to the bitter end, even after all hope for a playoff berth has been lost. Behold the weekly high score prize, which any team can win (regardless of its record on the season) on any given Sunday."
The weekly high score payout improves things, but then the commissioner has an idea to make things even better: "No one is out of contention in the first four weeks of the season, so those payouts for high scores aren't incentivizing anything that wouldn't happen anyway. Therefore, let there be zero payouts for high score in Weeks 1-4, regular payouts in Weeks 5-8, and double payouts in Weeks 9-10. So let it be written. So let it be done."
The commissioner in this case is my brother, who doesn't talk like that. Still, he considers himself a benevolent dictator, so it's not far off the mark.
What do readers think about this approach to a weekly payout system? Is it a good idea? Will it work? Are there any non-financial perqs that could be awarded to the high point scorers in Weeks 1-4 in lieu of the money they would have won in years past? Please share your thoughts in the comment section below or by emailing me.
Survivor Pool Picks (Courtesy of Matthew Schiff)
#3 (1-0; PHI): Ravens over Cardinals

In Week 1, the Ravens were as unstoppable as Kliff Kingsbury's Cardinals aspire to be. Lamar Jackson scored 5 TDs, including 2 long scores to Marquise Brown. Mark Ingram chipped in with over 100 rushing yards and 2 TDs of his own. The Cardinals had an impressive fourth quarter rally thanks largely to an impressive connection between Kyler Murray and Larry Fitzgerald, but they showed far too many weaknesses in the first three quarters of the game. Right now, the Ravens look like the class of the AFC North, whereas Arizona looks like an also-ran finding its way in the NFC West. Gimme the team that looks like it's en route to a division title.

#2 (1-0; BAL): Texans over Jaguars

Deshaun Watson played his heart out on Monday Night Football. But this time, in spite of another officiating error, the Saints were able to win on a last-second field goal because of Drew Brees' efforts. Gardner Minshew is no Brees, and in spite of his 11-2 record at Washington State and finishing fifth in last year's Heisman vote, the Jags should find themselves 0-2 after losing Nick Foles in Week 1. No Lamar Miller for the Texans? No problem. In Watson we trust and a defense that should shut down the rookie Minshew.

#1 (1-0; SEA): Patriots over Dolphins

The question isn't "Will Antonio Brown play?"; it's "Do the Patriots even need him?" And if the opponent is Miami, the answer is "Probably not." The Dolphins were torched last week by the Ravens, and this week looks like a complete disaster for a Miami defense that is last in yards allowed and points allowed. While it's true that we usually steer clear of divisional matchups (at least as the #1 pick), it's also true that despite being in the same division, these teams are not in the same league.



---
Mike Davis has been writing about fantasy football since 1999--and playing video games even longer than that. His latest novel (concerning a gamer who gets trapped inside Nethack after eating too many shrooms) can be found here.