Last Week's Question: What was your biggest waiver wire triumph of 2020?
Although my question for Week 9 pertained to the 2020 season, it fired the memory banks of a reader named Joey, whose biggest waiver wire triumph occurred way back in 2004:
I can't remember the exact year, but I'm sure you will.

I was 12th priority in a 12-team league, but I was able to snag both Billy Volek and Drew Bennett from that spot.

The next 3 weeks were bonkers.
Fantasy football wasn't as popular then as it is now, but the Volek-Bennett phenomenon was the stuff of fantasy legend. There's a fun article on that duo by Paul Eide. As Eide writes, "The 2004 run that QB Billy Volek and WR Drew Bennett went on over the last 11 games of the season...was responsible for many fantasy football championships that year." Their streak lasted over 2 months, but there were spectacular high points during that span, such as Volek throwing for 918 total yards in just 2 consecutive games and Bennett catching 8 TDs in 3 games.
Joey's story reminds me of the elation my brother experienced in landing Kurt Warner on waivers back in 1999. One of my most valuable fantasy lessons was watching Warner carry my brother to the fantasy postseason that year. I've advocated taking QBs late in drafts ever since Warner (who went undrafted in almost every fantasy league at the time) turned out to be the most important fantasy commodity of 1999.
These old school waiver wire stories are so much fun that I probably shouldn't have specified 2020 in my question. But since I did, let's move on to the answers that played by the rules.
The first response to my question came from Mike Krueger just after he posted the article: "Mike Davis has got to be the answer for most people, yes?"
That's certainly what I expected--as any red-blooded Mike Davis would!
But more emails mentioned James Robinson than Davis. And for what it's worth, Robinson was the only one mentioned in comments posted to last week's article (by a reader named Francisco).
I suspect that may be a consequence of the "What have you done for me lately?" attitude in fantasy. Over the course of the season, Davis has had more of an impact than Robinson--but Davis' numbers have been down for 3 weeks, whereas Robinson's have been up for 3 games in a row.
The only quarterback who came up more than once was Justin Herbert. In Bruce's case, however, the acquisition didn't work out as well as it might have:
I've been terrible on the waiver wire this year, getting some good guys but not starting them until they cooled off and then dumping them too soon. My only half decent one was Tee Higgins. In one of my leagues I was able to snag Justin Herbert, but that's the one I already had Josh Allen in, so I've left a lot of production on the bench.
Doh! There are a lot of disappointed Dak Prescott owners out there who would like to get their hands on either Josh Allen or Justin Herbert to have a chance at one of those 40-point games. But if you have both Allen and Herbert on your roster, you could easily end up sitting both of them at exactly the wrong times.
Bruce also shared his midseason QQQ answers, which are always fun:
Top 5 QB now who will finish top 5
1.P Mahomes bc I trust KC's O the most and he's its engine.
1.1 Wilson bc he's Seattle's O's engine!
1.2 Allen bc the Bills D is no good.
Top 5 QB now who won't finish top 5
2.P Prescott bc I'm a Bills fan and this would be pettily satisfying. [Oddly, no, not at all.]
2.1 Murray bc of unevenness of their O.
2.2 Brady bc the Bucs' D is really good.
Top 5 RB now who will finish top 5
3.P McCaffrey for a similar reason as #1 above.
3.1 Kamara bc he was my top pick in both leagues I'm in and I need him to keep things rolling even after Thomas returns.
3.2 Cook bc wow!!
Top 5 RB now who won't finish top 5
4.P Henry bc as much I hate the Cowboys I gotta respect Zeke enough not to put him here first. He's up next!
4.1 Elliott bc Cowboys and bc their air attack is so on.
4.2 (Could I be right for the wrong reason on Zeke?) Carson bc of injuries and QB culinary arts over there.
Top 5 WR now who will finish top 5
5.P Thomas bc he's consistent and durable.
5.1 (Jeez, I went and jinxed Thomas!) Hopkins bc as uneven as the Cards' I can be, he's reliable!
5.2 Adams bc wow!!
Top 5 WR now who won't finish top 5
6.P Hill bc I worry about injuries and games where KC doesn't need his production to win bc the threat of his production creates opportunities for everyone else.
6.1 Ridley bc I can't trust the Falcons but I trust Julio more.
6.2 Cooper bc jeez.
Top 5 TE now who will finish top 5
7.P Kittle bc of his will and wiliness.
7.1 Kelce bc KC gets him the ball no matter what.
7.2 Hockenson bc why not?
Top 5 TE now who won't finish top 5
8.P Waller bc I'm not convinced last year wasn't a fluke.
8.1 Tonyan bc I'm not convinced last week wasn't a fluke.
8.2 Ertz bc jeez.
Top 5 defense now that will finish top 5
9.P Well, there's no place for the Bills, so I'll go with the Steelers as the next-closest defense.
9.1 (Thank God the Bills D wasn't a possibility then!) Colts bc holy cow!
9.2 Bucs bc of 2.2 answer.
Top 5 defense now that won't finish top 5
10.P Chiefs bc they can't help but let down at times when the O is putting up so many points so consistently.
10.1 Rams bc they've been about as disappointing as the Bills so far this season on D.
10.2 Pats bc I still hate them and bc their O is so bad it's wearing down their D.
Thanks to everyone who wrote in. If other readers are inspired to share waiver wire triumphs from yesteryear, I may be able to bundle them into a future column. Stay tuned.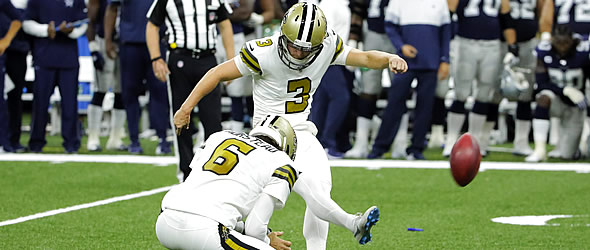 This Week's Question: Are there any fun ways to replace kickers?
This week's question comes from Jeremy, who is ready to get rid of kickers so he can replace them with something more interesting, though he isn't sure what that should be:
I am finally coming to terms with the possibility of not having kickers in our league anymore. At this point, it's almost like throwing a dart, they aren't worth anything in a trade and you can almost sub any of them for another. We already have a QB flex. Anything else out there that's a little different to fill that roster spot?
There must be some interesting possibilities out there that I haven't heard about or considered. If you are in a league (or know of a league) that has replaced kickers in fantasy with something more meaningful, please let me know about it via email or by commenting below.
Perhaps someone out there has broken up defense and special teams into separate categories and replaced kickers with special teams. Or maybe there's something fun to do with return specialists (though I'm not sure that there are enough solid performers to make the position competitive in 12-team leagues). Or maybe instead of playing defenses and kickers, owners should make IDP choices on a scoring system that roughly equalizes points for linemen, linebackers, and secondary players for a sort of a la carte approach to IDP. Or maybe people do something really weird with the kicker spot, such as using it for picks against the spread or survivor picks or something along those lines scored in some unique way that we'll learn all about in next week's column.
At least I hope to hear some interesting suggestions.
Survivor Pool Pick (Courtesy of Matthew Schiff)
#3: Green Bay over Jacksonville: 5-4 (BAL, KC, az, sf, LAR, min, was, PHI, PIT)

Barring a Covid outbreak in Packer Country--or worse yet, a cheese shortage--Aaron Rodgers and company should have an easy home game against the AFC South's weak link. Jacksonville, a top ten defense in points allowed, has been decimated by "opt outs" and injuries. This year, the Jags rank 25th in points given up and rushing yards allowed--and a horrendous 27th in passing yards allowed. We've seen what Aaron Rodgers and Davante Adams can do to legit NFL defenses; now we get to see what they can do with a defense that is like a screen door on a battleship.

#2: Cleveland over Houston: 7-2 (ind, AZ, TB, BAL, sf, MIA, LAC, KC, NE)

If you were fortunate to take the Texans over the Jags last week, be smart and bet against them now--especially if our Vegas pick below scares you. Cleveland lost OBJ to an ACL injury, but whether Nick Chubb is available to share the workload with Kareem Hunt or not, the Browns should have no trouble pounding the rock against a Houston defense that is 31st against the run and giving up an average of over 110 yds/game to running backs. This isn't a slam dunk with the Browns defense giving up over 200 yards and 2 TDs per game through the air, but the Dawg Pound faithful finally have a winning team to cheer for, and should be able to keep pace with their division mates, the Steelers and Ravens.

#1: Las Vegas over Denver: 8-1 (KC, GB, IND, LAR, BAL, ne, BUF, TB, HOU)

This is the week that separates the men from the boys. You've probably used Green Bay, Pittsburgh, Buffalo and Philadelphia. The last time you took the Browns as your pick in a survival pool was probably back when Bernie Kosar was the QB in the late '80s. So when this analyst suggests the Las Vegas Raiders (still sounds funny) over the Denver Broncos, run for the hills. This is going to be a battle. John Gruden and his men in black are hosting their storied rivals in their new "digs" as a team that is currently the 6th seed in the AFC playoff rankings. The silver and black haven't been to the postseason since 2013. With the second half of 2020 on the line for Las Vegas, and the Masters tournament over by halftime of this game, sit back, watch, and listen as you'll hear the ghost of Al Davis say, "Just win, baby."

---
Mike Davis has been writing about fantasy football since 1999--and playing video games even longer than that. His latest novel (concerning a gamer who gets trapped inside Nethack after eating too many shrooms) can be found here.