QB Patrick Mahomes
(2021 QB Rank – No.4, 25.9 FPts/G)
Remember that five- or six-week stretch when the league had "figured out" Mahomes and the Chiefs offense... only for the quarterback to throw 23 touchdowns and four INTs over his final eight games of the season, during which the Chiefs went 6-2. Ah, good times, good times. You can almost hear that same group warming up the choir about how trading Tyreek Hill to the Miami Dolphins will spell the end of Kansas City's offensive dominance in 2022. Some people never learn.

To be clear, Mahomes is an elite talent, and his uncanny ability to buy time in the pocket and make throws most QBs can only dream of is always going to elevate those around him. In the same way that Aaron Rodgers will be fine without Davante Adams, Mahomes is going to deliver numbers even with Hill in South Beach. In four full seasons as the starter, the Texas Tech product has averaged 4,677 yards passing, 295 yards rushing, 38 TDs, and 9 INTs per year.

Yes, there will be some changes with Hill gone, but the arrival of the Hyphen Bros (copyright pending), JuJu Smith-Schuster from Pittsburgh and Marquez Valdes-Scantling from Green Bay, along with the selection of Skyy Moore, should keep any deterioration to a minimum. Plus, don't underestimate how astute head coach Andy Reid is as an offensive play caller. Other than Josh Allen and perhaps Justin Herbert, there's nobody at the position that should be selected ahead of Mahomes.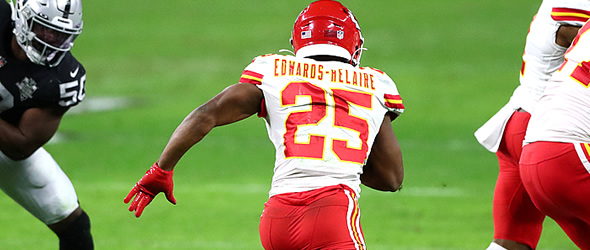 When the Chiefs drafted Edwards-Helaire with the final pick of Round 1 in 2020 many expected him to be the second coming of Kareem Hunt, who averaged 1,492 total yards and 12.5 touchdowns in his two years with the club before being released for off-the-field issues. To date, that hasn't happened. Part of that is due to injury with Edwards-Helaire having missed 10 games in two seasons, but even when he's been available the team has been hesitant to put the ball in his hands too much -- to that end he posted 20 touches in a game just once since Oct. 19, 2020, and never last year.
As you'd suspect with modest usage, CEH has delivered modest results. He averaged 64.6 yards per game a year ago, and he topped 100 yards just twice in his 10 appearances. Kansas City responded by upgrading its running back room with the signing of former Tampa Bay Buccaneer Ronald Jones, which suggests they don't plan on featuring Edwards-Helaire any more prominently in 2022; a decision that is totally understandable given his struggles to stay healthy and make plays. CEH's stock has fallen quite a bit, and he enters this season as a midrange RB3, slightly above his new backfield partner.
RB Ronald Jones
(2021 RB Rank – No.84, 5.5 FPts/G)
Jones put together two pretty solid years with the Buccaneers, though they were bookended by a pair of thoroughly uninspiring ones. After functioning as the lead back in Tampa Bay's Super Bowl season of 2020, Jones was relegated to a secondary role behind Leonard Fournette, who parlayed big showings during that playoff run into the top job last year. Upon hitting free agency, the Chiefs landed him on a one-year deal where Jones will try to rehab his value.
On paper, it's a nice addition as RoJo has some explosiveness as a runner and is a capable receiver out of the backfield as well. Given Edwards-Helaire's durability concerns, it made sense to bring in a more proven complement after relying on Darrel Williams and assorted retreads the last two seasons. Those medical issues for CEH provide Jones with a little juice as a low-end RB3 or strong RB4 as he's one snap away from stepping into a prime spot in one of the NFL's most dangerous offenses.
Much like Jones, Smith-Schuster arrives in KC on a one-year deal with the notion that catching balls from Mahomes (instead of the animated corpse of Ben Roethlisberger) will attract the same kind of attention in free agency next offseason that players like *checks notes* Christian Kirk and Zay Jones (!?) got this year. That marks a spectacular decline for Smith-Schuster, who was heralded as the second coming of Antonio Brown in Pittsburgh after he posted a 111-1426-7 line in 2018.
In the three years since, however, he has dealt with some injuries and cobbled together 1,512 receiving yards combined. Last year was the toughest as he suffered a severe shoulder injury in Week 5 and missed the remainder of the regular season, though he did return for the playoffs. Smith-Schuster has some big-play potential but is more of a possession target; don't read too much into his terrible yards-per-catch average the last two years, however, as Big Ben's right arm was cooked.
It certainly feels like the assumption in fantasy circles is that Smith-Schuster is the top receiver to target in Kansas City, but I'm not sold. After all, it was Valdes-Scantling that got the multi-year deal and is much closer to approximating Hill's speed than the former Steeler. If you target Smith-Schuster as a WR4 with upside that feels like an appropriate hedging of your bet.
While living life in Davante Adams' shadow might have kept his numbers down, Valdes-Scantling's growth as a receiver was oft noted by those that covered the Packers. The former sixth-round pick was utilized primarily as Green Bay's de facto field stretcher, something his size/speed combination made him well suited for. He can do more than that. MVS is also considered a very capable blocker and an improved route runner that can work the middle of the field.
His high watermark with the Packers came in the 2020 NFC Championship Game against the Bucs when he hauled in four passes for 115 yards and a score while looking like arguably the best player on the field in a game littered with stars. The consistency never showed up, though whether that was on him or a byproduct of Rodgers' tunnel vision for Adams is hard to say. In a new offense with another elite QB delivering him the ball, Valdes-Scantling would be an intriguing late-round lottery ticket.
WR Mecole Hardman
(2021 WR Rank – No.75, 8.5 FPts/G)
There have long been comparisons drawn between Hardman and former teammate Hill due primarily to their respective size and speed. To date, Hardman has yet to show he's more than a pale imitation. That's not to say he's without value. The speedster is a threat to take it to the house every time he gets the ball in his hands, and he could certainly inherit some of Hill's line-of-scrimmage targets where the team essentially says, "here's the ball, do something with it."
Then again, the Chiefs seemed to place a premium on getting bigger at the position, signing MVS (6-foot-4, 206 pounds) and Smith-Schuster (6-foot-1, 215 pounds), and drafting Moore, who packs an additional 15 pounds onto his 5-foot-10 frame versus Hardman. It seems doubtful that the Chiefs would phase Hardman out completely, but it's best to take a wait-and-see approach until some clarity is gained on what role he'll fill. Add him to your watch list.
TE Travis Kelce
(2021 TE Rank – No.2, 16.6 FPts/G)
At this stage, what's even left to say about Kelce? The six-time Pro Bowl selection has topped 1,000 yards in each of the last six seasons, and he's finished with over 90 receptions the past four. He's also incredibly durable, having never missed more than one game in any of his eight years in the league. Now, following the departure of Hill, Kelce is the clear No. 1 option in the passing game, a duty he's effectively split with the lightning-quick wideout since 2017.
You could make a case for two concerns with Kelce: 1) he's entering his age-33 season and has taken a lot of punishment over the years, eventually that has to take its toll, and 2) until one of the new WRs establishes himself, Kelce will be the focal point of opposing defensive gameplans. Neither of those are enough to warrant dropping Kelce from the No. 1 overall fantasy tight end, though, unless you really want to bank on Mark Andrews or Kyle Pitts.