One of the most difficult tasks in drafting a fantasy football team is trying to decide between two players you feel have nearly identical value. Knowing how to break such a "tie" can be important, as often a pick comes down to a dilemma between Player A and Player B. The purpose of this article is to not only identify players of similar value in 2019, but also take a look at the process of solving those dilemmas. This week, our search for truth takes us to a couple of borderline WR1s.

Both Keenan Allen and Amari Cooper have enjoyed some success thus far in their NFL careers mixed in with a little hardship, too. Both are on teams that should still be playing meaningful regular season games come December. And, both have shown a penchant for "monster" games in terms of receptions, yardage, and touchdowns. So, who has the upper hand? Let's dive in: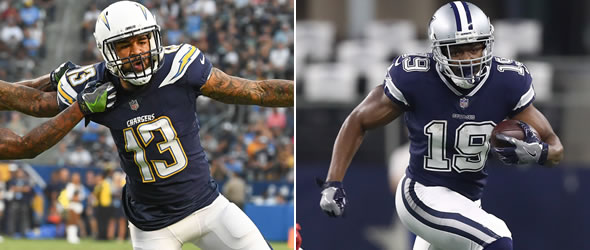 Your league scoring system may play a huge factor in deciding between these two top-end WRs.
The Strengths
Allen is one heavily targeted receiver. After missing nearly all of 2016, Allen remained healthy each of the past two seasons and has been targeted in the passing game by Philip Rivers a whopping 295 times. That is tied for fifth most over that span with Michael Thomas, trailing only DeAndre Hopkins, Julio Jones, Antonio Brown, and Jarvis Landry.
He and Rivers have now played together for six seasons allowing the type of chemistry to develop that leads to frequent looks in the passing game. Allen was also used 9 times on rushing plays in 2018 to the tune of 75 yards. That might not seem like much, but it underscores just how much the Chargers want the ball in his hands. The emergence of Mike Williams should also keep defenses honest in defending Allen. That should allow him to once again approach the 100 reception mark in 2019 as he's done each of the past two years (102 and 97 respectively).
Cooper is not targeted as much as Allen given that Dallas is essentially a run-first team, but he did make the most of his targets the first year in Dallas scoring a reception 70% of the time as compared to 67% for Allen. Additionally, Cooper averaged nearly a yard and a half more than Allen per catch indicating a greater ability to break off big plays (5 career TDs of 87 yards or longer).
Cooper's 9 games in Dallas also resulted in as many receiving touchdowns as Allen was able to achieve in a full 16-game slate. Whereas the Chargers have several mouths to feed in the passing game, there's little dispute who is first at the feeding trough in Dallas.
One could argue that an off-season to work out any chemistry issues with Dak Prescott can only favor Cooper as well. He's found something in Dallas that just wasn't there in Oakland and with a new contract likely coming at some point during or after the season, his motivation couldn't be higher.
The Weaknesses
I noted it indirectly in discussing Cooper, but Allen doesn't find the end zone like an elite fantasy option at the wide receiver position. In 70 career games, he's only caught 28 TDs which equates to merely 0.4 TDs per game over that span. Granted, Cooper is only marginally better, but the development of Mike Williams combined with the re-emergence of Hunter Henry includes two guys who offer better red zone value than Allen. There's little doubt Allen will remain a force between the 20s, but he's hardly the only game in town near the goal line. Don't expect the TD totals to improve from his high of 6 the past two seasons. After all, his career high is 8 and he hasn't achieved that since he was a rookie.

On the other side of the ledger, Amari Cooper has averaged 7.62 targets per game in the 61 NFL contests that he's played. That's well below the nearly 9 targets Allen averages game in and game out. Cooper simply hasn't proven to be a high-reception guy during his first four years in the league with 83 being his high mark during his sophomore season with Oakland.
Michael Gallup showed promise last season, but defenses are still going to make stopping Cooper their top priority on game day given that Gallup is still learning the pro version of the position. Plus, Jason Witten isn't scaring anyone in his comeback bid and in games that Dallas builds a solid lead (very possible given their defense), they will lean heavy on the run, limiting Cooper's production.
The Verdict
Based on the facts presented, could it be that the verdict in this case simply comes down to scoring format? Standard non-PPR leagues grant greater value to wide receivers who can rip off yardage in chunks. It doesn't matter if it's 8 catches for 95 yards or 3 for 95 … the points are the same. And, let's face it: Cooper is far more capable than Allen of achieving the latter given his propensity for huge yardage plays.
That being said, in PPR leagues where receptions carry value, Allen has clearly proved to be the better option of the two. His receptions over the past two seasons alone out-number Cooper's by 38 per season even while playing in only 3 more games than Amari over that span. That equates to 380 extra receiving yards needed per season by Cooper in leagues awarding one point per reception.
So, the choice is…uh…clear. Allen gets the edge in PPR while Cooper's value in standard scoring is a bit higher. And, if you need some sort of additional tie-breaker to convince, watch and see which guy gets his star RB back on the field first. With Melvin Gordon and Ezekiel Elliott still holding out as this goes to press, both WRs could be asked to do more if those hold-outs carry over into the season. In the end, you're likely going to be happy with either guy if they fall to you in the early to mid-third round in a redraft league.