One of the most difficult tasks in drafting a fantasy football team is trying to decide between two players you see as having nearly identical value. Knowing how to break this "tie" can be important to your draft success.

The purpose of this article is to not only identify pairs of players that are considered of nearly equal value in 2020, but also take a look at the process of solving those dilemmas. Our second installment of this feature examines two young, rising wide receivers.

Both A.J. Brown and D.J. Moore are expected to be Pro Bowl caliber receivers in the near future and possibly for the next decade. Both possess skill sets that make them a natural fit for the WR1 on most NFL teams. But, for fantasy purposes, both generally reside just outside the top ten in terms of rankings at their position, making them borderline WR1s if not very high end WR2s. If you are looking to add a wide receiver in the late third round or early fourth, this might be a choice you will encounter in your upcoming draft. What to do?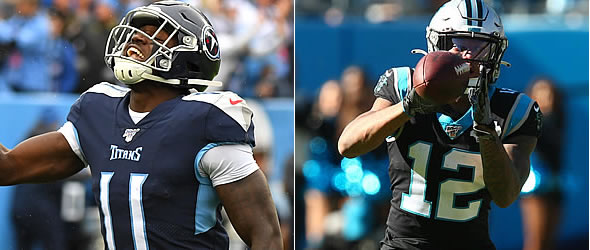 The Strengths
Moore is entering his third season in Carolina. In 2019, he expanded upon his rookie season numbers by way of 32 more receptions, 387 receiving yards, and a whopping 53 targets. All of that was accomplished with Carolina not really having a viable NFL QB to get him the ball. So, if a WR can produce like that with a substandard arm, what might he do with a proven QB like Teddy Bridgewater?

While it's true that Bridgewater doesn't throw the ball downfield the way many of his contemporaries do, he did throw for 276 yards per game last season during his 5-0 stint with the Saints while completing nearly 70% of his throws. Considering Moore only took in 64% of his targets last season, even a 5% increase would be an additional 7-8 catches and 90-100 yards.

The targets received tells you everything you need to know about how involved the Panthers would like Moore to be in the offense. And, with Robby Anderson now in tow to provide a more vertical element, look for Moore to be targeted in a similar fashion over the middle with improved reception and yardage totals. 90+ catches and nearly 1,300 yards is something any fantasy owner would be thrilled to have.

Brown burst onto the scene last season in Tennessee easily overtaking Corey Davis as the Titans' go-to receiver. Brown looked like a young Julio Jones on the field as a physically gifted player who was simply too much for most cornerbacks to handle one on one.

He only started 11 games, but racked up an incredible 20.2 yards per catch to top 1,000 yards. That would have been tops in the league in 15 of the past 20 years with only Mike Williams of the Chargers averaging more in 2019 at 20.4 per catch.

Brown is 30 pounds heavier than Moore, but you would never know it. He glides down the field like a gazelle as do most WRs who average such lofty totals per catch.

Not only did Brown pick up big receptions, he also converted them into touchdowns. Twice as many as D.J. Moore to be exact. Brown is, as such, a dynamic red zone option on top of everything else. It would appear he's ready for a second-year leap and if that's the case, his upside could spell top five at the position.

The Weaknesses
It was just mentioned in the context of lauding Brown, but we'll mention it again for clarity's sake. D.J. Moore has scored 6 touchdowns in two full seasons. With Christian McCaffrey on the team as a dual threat to score in the red zone, there's not a great deal of room for a WR to record double-digit TDs or even match Brown's total from last season.

Moore's targets and yards gained suggest he is a WR who can get open, gain yards after the catch, and factor prominently in the game plan each and every week. But, truly "elite" fantasy WRs score touchdowns. That's the name of the game. Guys who score 5 or less over the course of a healthy season are rightfully viewed as WR2s at best. McCaffrey is still in Carolina and as such, Moore's upside, in terms of TDs, may be capped.
Meanwhile, there's a reason the expression "sophomore slump" exists.

Wide receivers who break out as rookies often are defended very differently their second season. Whereas Curtis Samuel and Robby Anderson will keep defenses honest in defending Moore, A.J. Brown has no such luxury. He will likely face frequent double teams and as the Titans are a conservative offense by nature, I would expect many games in which Brown is used more as a decoy or "field stretcher" than an all-out weapon.

Sure, in the red zone, he'll be a top option, but piling up huge reception totals may be a stretch with a QB not known for elevating WRs. After all, DeVante Parker didn't become the receiver he was until AFTER Ryan Tannehill left. All in all, Brown is a cornerback's worst nightmare… but with frequent safety help, maybe not quite so much.

The Verdict
Any evaluation of two players whose values appear to be so interchangeable often comes down to the scoring system your league utilizes. And, that is ultimately the conclusion that will be drawn with these two big-time talents as their strengths and weaknesses make them each a better fit based on scoring system.

In PPR leagues, Moore gets the nod as he is very likely to build on his lofty reception totals from last season. The tremendous increase in that category from year one to year two suggests that 100+ receptions isn't out of the question. And, if he simply maintains his YPC average, that would also lend itself to 1,300+ yards. That makes him the slightly better option from when receptions are part of the scoring equation.

But, what about leagues in which yards and TDs are all that matters? It's a near certainty given Tennessee's offense that A.J. Brown isn't going to catch as many balls as D.J. Moore. And, it may not be close. But, oh, what he's likely to do with the balls he does catch. Given five more starts, Brown would look to possibly add as much as 30% in production which would mean 70-75 receptions and 1,400+ yards. That's fewer receptions than Moore, but slightly more yards. So, still maybe an advantage for Moore… until you factor in touchdowns. Brown has the potential to double Moore's TD totals and could do better than that. With receptions not factored in, the upside of Brown's big yardage games and trips to the end zone pushes him over the top.

All in all, these are two WRs to target as your WR1 if you opted for other positions in Rounds 1 and 2 of your redraft or as a very strong WR2 if you didn't. Just be mindful of how points are scored impacts which of these two you like best.

Next week: Tale of the Tape will turn to the RB position. Until then…