For a number of years any fantasy football publication worth its salt will offer up the same advice to its readers: Wait on taking your starting quarterback. Let others spend an early pick at a position of depth where steals can be found in later rounds.

Veteran fantasy owners pride ourselves on how deep into a redraft we can go before taking our first QB. Itís kind of like a limbo contest where the last person to continue going under the bar is declared the winner.
But, eras in fantasy football (much like in football in general) come and go and sometimes you have to recognize change before itís too late.

In this article, we will examine whether waiting to draft your first quarterback is still rooted in wisdom or if doing so without any consideration for an alternative plan can be folly. Weíll begin with the case for staying the course and not taking a QB until the middle roundsÖ

Stay the course and take a QB in the middle rounds

Using standard FFToday scoring to calculate the difference between having the No.1 fantasy QB on your roster vs. having the No.12 fantasy QB in 2020, that difference was 7.0 points per game. The number lowers to 3.5 points per game if you look at the difference between No.1 and No. 7.

In leagues that have starting lineups of 8, 9, 10 or even more players and only 1 QB cracks that weekly lineup, the difference in points is commonly seen as not warranting a high selection of a QB on draft day.

In the case of this yearís top three projected QBs (Patrick Mahomes, Josh Allen, Kyler Murray), one might have to spend anywhere from a mid-to-late second round pick through a mid-fourth round pick in order to obtain one of those three coveted signal callers.

Letís focus on Allen for a moment. Assuming Allen goes at or near the 3/4 turn in most 12-team redrafts, you are likely taking him over a No.16-20 RB or a No.12-16 WR. If you pass on Allen and take the No.9 QB off the board, that would likely occur three full rounds later if not four - about the same place as you would get a RB or WR in the No.30-35 range.

So, whatís the difference between last seasonís No.18 RB and the No.34 RB? Itís about 5.3 points per game, nearly two full points per game more than the variance in QBs. Add in the fact that running backs are more often injured than quarterbacks and getting quality at that position seems justified over nabbing the QB position early in which depth is much more attainable.

And, we havenít even factored in PPR yet which doesnít affect the gap from QB to QB at all, but further widens the gap between a top-20 RB and a low-end RB3 by most projections. Those in favor of ďwaitingĒ on a QB until the middle rounds thus have an argument in this court of draft opinion.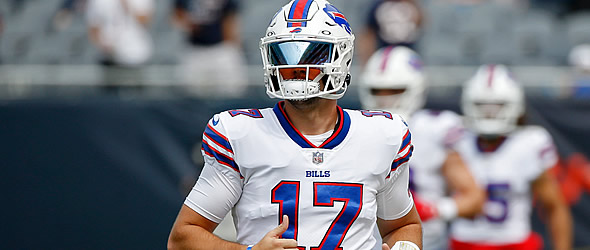 But, the top 6

All that said, the top half-dozen QBs of 2021 donít play like the QBs from a decade ago and for fantasy purposes, donít score like them either.
Case in point, the quartet of Josh Allen, Kyler Murray, Lamar Jackson, and Russell Wilson rushed last season for a combined 2,758 yards. The trio of Allen, Murray, and Jackson rushed for 26 TDs.

This yearís projected No.7-12 QBs (Herbert, Rodgers, Brady, Tannehill, Stafford, and Burrow) combined to rush for 909 yards and 21 TDs. Thatís about 150 yards rushing per player and exactly 3.5 rushing TDs as compared to 690 yards per player and nearly 9 rushing TDs for the previously noted QBs residing in the top five of most QB lists this summer. Thatís quite a disparity and it points out how rushing ability has separated the most elite fantasy QBs from the tier of QBs that run the ball sparingly.

Even Patrick Mahomes rushed last season for over 2x as many yards as the QBs noted above who rank from No.7 to No.12. And, as these talented, young dual threat QBs continue to develop as passers, that aspect of fantasy production will also be enhanced.

Again, we will use Josh Allen as an example. Already considered a top-7 QB heading into 2020, Allenís improvement in terms of passing propelled him to heights that few could have ever predicted by the end of the season. Some might argue that as passing numbers improve, rushing numbers will decline and there is likely some validity to that given that Allen did rush for fewer yards in 2020 than he did in each of the previous two seasons. But, his fantasy production went from 21.2 to 29.1 points per game. No one I know who had him on a roster last season was lamenting much of anything.

Maybe the difference between QB1 and QB7 in terms of scoring doesnít have you convinced to take a quarterback earlier yet. But, the difference between No.1 and No.12 (again, a full seven fantasy points per game) should very much have your attention.

QB is more predictive

Another thing to consider is the overall stability of the quarterback position. In 2020, eight of the projected top ten QBs by way of FFToday projections ended up finishing in the top ten at seasonís end. Thatís an 80% rate of success generally speaking from year-to-year at that position.
In contrast, only half (5 out of 10) of the running backs projected to be in the top ten ended up there. Injuries, as was noted earlier, played a part, but so did the general volatility of the position.

At WR, the ratio shrinks to 40% (4 out of 10). The bottom line is that success from year-to-year can be most readily predicted with respect to the QB position. As such, why wait late into your draft with the odds of picking a top 6-8 guy being so good?

In the end, it will feel foreign and maybe a bit immoral to consider taking a QB in the first 4-5 rounds for many longtime advocates of late-round QB. But, it is something worth considering.

Critics will point to statistics that show that fantasy managers who take a QB in the first three rounds of a redraft only finish in the top half of their league 1/3 of the time. But, the fourth and fifth rounds look like an ideal time to pounce on one of the top half dozen or so QBs given they all possess the ability to score in multiple ways.

Maybe itís not a question of whether to take a QB early or lateÖmaybe, in fact, that is asking the wrong question. Maybe the question is how do I get my hands on one of the elite, dual-threat guys before I am left with a QB whose dual-threat skills include 150 rushing yards a season and 3 TDs?

No more weekly headaches

One final benefit of taking a top-6 QB is that it eliminates the guess work from week-to-week. For example, drafting Matthew Stafford and Matt Ryan this season could end up being exhausting as a fantasy manager. There are few things in fantasy football more frustrating than having two quarterbacks of nearly equal value and not predicting how match-ups will impact their production correctly.

So, unless you have an unyielding devotion to Patrick Mahomes, to wait or not to wait comes down to...

Yes, wait until at least the fourth round to look for your starting QBÖ and no, donít wait past the sixth roundÖmaybe not even past the fifth. The new breed of dual-threat QBs are worthy and youíre likely to see the late-round QB strategy take a back seat in 2021.