One of the most difficult tasks in drafting a fantasy football team is trying to decide between two players you essentially see as having identical value. Knowing how to break such a tie can be important as often a pick comes down to a dilemma between Player A and Player B. The purpose of this article is to not only identify pairs of players that are considered of nearly equal value in 2021, but also take a look at the process of solving those dilemmas.

Our second installment in this three-part series focuses on wide receivers, specifically, two receivers who are extraordinarily gifted in terms of physical size, strength, and speed. In other words, these two are "total package" wide-outs.

Both DK Metcalf and Calvin Ridley are likely to be picked towards the middle of the second round. It's entirely possible they could even be picked sooner in certain scoring formats. Both are young and still learning how to be the best version of themselves. In fantasy terms, we refer to that as "upside" and both of these guys have it. There are half a dozen WRs worthy of a second round draft choice and of those, no two players mirror each other quite like these two. Which is the better choice?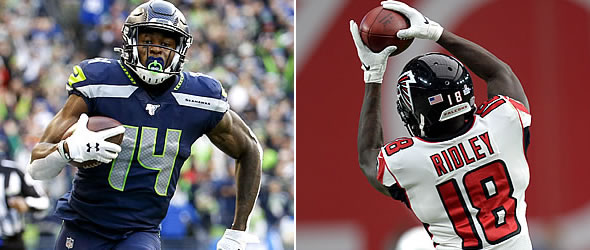 The Strengths
Metcalf burst out of the gates in 2020 and by the end of Week 9, he was averaging 98.5 yards per game alongside exactly one TD per contest. Seattle's defense gave up over 30 points a game during that stretch which was forcing the Seahawks into shoot-outs. With an experienced, impactful receiver opposite him in the form of Tyler Lockett, defenses were not allowed to simply double-team Metcalf on every play.

Additionally, receptions per target increased for Metcalf from 58% in his rookie year to 64.3% in his sophomore season. That indicates a growing rapport with Russell Wilson that is likely to only get better as the two continue working together. Metcalf runs both downfield routes and shorter routes which utilize his size and strength in one-on-one match-ups with cornerbacks. He averaged 11.3 yards downfield in 2020 prior to making receptions.

Finally, Metcalf is fairly close to being matchup-proof. Case in point is that his best performance of the 2020 season in terms of fantasy production came against a top-5 pass defense (49ers) and three other productive games came against top-10 defenses. Over the years, certain receivers have been known to do much of their damage in 3-5 games. Metcalf had 80 yards or more receiving in 9 different games. And, he scored at least one TD in 8 games. In other words, Tyler Lockett he is not.

On the other side of the argument, the Falcons felt so comfortable with Ridley that they traded longtime superstar, Julio Jones, to the Tennessee Titans. Ridley's first two seasons were spent in the shadow of Jones, but in 2020, he took advantage of Jones's absence at times and increased his reception totals by 37 on an increase of 50 targets. Whereas one might think the increased coverage and responsibility sans Jones would have kept Ridley subdued, he instead enjoyed some of his best games averaging 109 yards per game in those contests. Not to mention that his four best performances of the season (14. 13, 12, 12) came with Jones sidelined.

And this season, Ridley will have potential rookie phenom, Kyle Pitts, stretching the seam and in theory, allowing him more room to free himself on short, intermediate, and deeper routes.

Like Metcalf, Ridley will also be playing on a team that is going to need to score points in order to win and/or remain close in games. And, without a bell-cow RB to lean on, Atlanta will look to Ridley to be their primary weapon on offense.

The Julio Jones era in Atlanta had its glorious moments, but it's Ridley's turn now and he looks fully capable of ushering in the new era with a season similar to or even better than 2020.
The Weaknesses
The potential weaknesses of both receivers are aligned in the sense that coaching staff matters. For Metcalf, he will be playing for the same head coach as last season (Pete Carroll), but will be adjusting to a new offensive coordinator (Shane Waldron) and thus, a new system. Carroll likes to have his hand on what is taking place on the offensive side of the ball and that has often been to Metcalf's detriment the past two seasons.

The Seahawks got away from their aggressive focus on downfield throws such that Metcalf's targets reduced from 68 in his first eight games to 61 in his last eight. Even more significant, however, was a reduction in touchdown receptions from eight in the first half of the year to only two in the second half. Those who had Metcalf on their team likely felt that sting as he was not nearly the fantasy force in November and December that he was prior.

Waldron may bring a fresh approach that better utilizes Metcalf's fairly complete skill set, but Carroll's continued oversight is worrisome.
Beyond that, Metcalf's primary weakness is receptions per game. He averaged just over 5 per in 2020 and that is likely not what PPR managers are looking for from their WR1.

Calvin Ridley is also going to be trying to cope with coaching changes in 2021 in the form of a new head coach and a new offensive coordinator. Arthur Smith comes to Atlanta from Tennessee and while he oversaw a successful offense there, he also sought to run that offense primarily through Derrick Henry… not that anyone could blame him for doing so.

The fact that Dave Ragone had been with Chicago the past five seasons coordinating the passing game doesn't exactly instill confidence in what the Falcons will be doing this season. Even so, there is little doubt that Ridley is going to be a target monster as last season he received nearly 10 a game with Julio Jones still in the fold for half of those contests. But, the passing game may revolve around Kyle Pitts, particularly in the red zone. Nothing is guaranteed when a new coaching staff is in place and that is worth at least a pause before moving forward with the selection of Ridley on draft day.

The Verdict
When comparing the physical attributes of both of these young receivers, it becomes obvious that both are prototypes for what a WR1 should be. That's in both real-world and the world of fantasy football. As such, it comes down to the team and the systems they employ.

Ridley averaged one more catch and ten more yards per game last season than did Metcalf, but he was also in his third season whereas Metcalf was only playing in his second campaign. Third year receivers often make a "leap" much like the one Ridley enjoyed last season. As such, is Metcalf poised to improve on his numbers from 2020 such that he is the better choice over a player who slightly out-performed him last season? Perhaps. It would be easy to make that argument and my projections for DK do include an increase in receptions and yards.

But, Ridley's ability to shine even brighter when Julio Jones was out of the lineup last season leads me to believe a leap is probable for him as well. And in the end, it is my confidence in that projection that drives my choice of Ridley over Metcalf.

The good news is that if Ridley is sniped right before you and Metcalf is still available, you'll still be getting a player whose stats are set to improve from what was already a stellar previous season. In other words, you can't go wrong with either of these marquee receivers in the early or middle parts of Round 2.


Projected 2021 stats:

Calvin Ridley - 103 receptions, 1,520 receiving yards, 8 TDs
DK Metcalf - 89 receptions, 1,390 receiving yards, 10 TDs