It's fair to ask after 11 years of writing this series how many Top 10 Risers I've correctly predicted along the way. To be honest, I didn't actually know until the thought occurred to me you all might want to, leading to some quick figuring. The answer is…more than I would have thought: 42.6%. It's a lot easier identifying 3 of 10 QBs, RBs, or WRs likely to fall from the Top 10 ranks every year, especially when a lot more than that usually do. It's significantly trickier trying to identify three replacements from a much larger group of candidates, to include a crop of brand new gridders. I should say trickier and more challenging, but also a heckuva lot more fun. Shall we?

A quick reminder of the Top 10 fantasy QBs from last season…

Note: All rankings are based on FFToday's Non-PPR league scoring.


Quarterbacks Most Likely to Rise in 2022: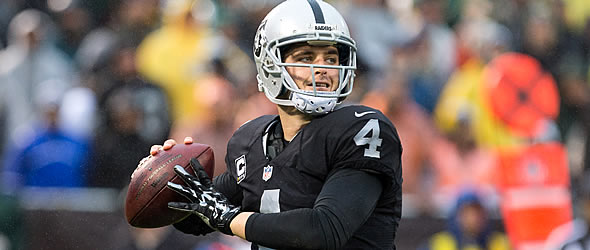 Derek Carr, LV: I nailed all three of my predicted riser QBs in 2021 (Dak Prescott, Matthew Stafford, and Joe Burrow, thank you very much), so it feels like I'm playing with house money this season. Who better to double down on than Sin City's own Derek "Don't Call Me David" Carr? The Raiders' most pivotal player this coming year has been consistently, remarkably mediocre in eight professional seasons, clocking in no better than QB12 but no worse than QB20, including a stretch from 2016 to 2019 when he rated QB16, QB19, QB18, and QB17 in succession. Nevertheless, that career best QB12 rating was just last season and he ended up QB13 in 2020, so ya' gotta like the trendline. It seems all Carr needs to finally get behind the velvet rope is…

How 'bout the league's premier route runner paired with one of last year's surprise stars? Vegas was able to woo Davante Adams away from Titletown with a $141M contract and will now line him up with Hunter Renfrow, a revelation in his third year (103 receptions, 1,038 yards, and nine scores), and Darren Waller, who recently compiled consecutive 1,000-yard seasons at a position not known for them. It didn't hurt that Carr and Adams played together at Fresno St., certainly, but it's still a pretty amazing get for a team needing more skill position juice. Moreover, that collegiate connection likely shortens the "gettin' to know you phase" new battery mates often experience.

Adams had to stick his foot in his mouth recently when he compared Carr to former teammate Aaron Rodgers, a surefire Hall of Famer. Carr isn't that, but he's got enviable weapons and a new coach whose calling card is offensive creativity and explosivity. He finally joins the Top 10 club this year.

Russell Wilson, DEN: It even feels weird to type it. The long-time Seahawk played for only one head coach during his decade-long stint in the Emerald City, and while they won a Super Bowl together and were thisclose to winning another, the relationship clearly frayed the last couple years. Russ wanted to cook while Pete wanted to pop it in the Crockpot, set it, and forget it. Somewhere in between is where Seattle needed to be, most likely, and I think Wilson's new boss, Nathaniel Hackett, is wise enough to know that.

Hackett brings some definite swag with him from Wisconsin, where he worked the last three years with the game's most talented flinger and consecutive MVP winner. The pair couldn't net Packer backers another Lombardi trophy (sigh), but the balanced Green Bay offense unlocked some crazy Aaron Rodgers efficiency (85 TDs to 9 INTs) the past two years. Rodgers didn't need to throw a ton of passes to achieve said efficiency either, checking in at QB8, QB13, and QB12 for pass attempts in Hackett's three seasons as OC.

Wilson has also thrived with relatively low volume in his career (by design) but is clearly more valuable when he tosses it north of 500 times per campaign. In four such seasons (2016, 2017, 2019, and 2020), he averaged 24.3 FPts/G. In six other seasons, when he's dipped below that magic number, he averaged only 22.0 FPts/G. The former rate would be Top 10 worthy in ANY season. The latter wouldn't likely do the trick these days. Denver's 1-2 punch at RB is reminiscent of Green Bay's dynamic duo, but Hackett's inherited a more talented WR room. I'm expecting Russ to be tonged up and back at the grill in 2022, ready to reclaim Top 10 glory.

Lamar Jackson, BAL: Jackson and Kyler Murray are the most obvious candidates for Top 10 reclamation this year, even including the guy we just talked about. The former is carrying an ADP of 4.11 (QB5) as we creep toward the big August draft weekends, while the latter is in the same neighborhood at 5.09 (QB7). That's not to say they don't both face significant headwinds. Jackson's coming off a late-season bone bruise and lost his most productive target, Marquise Brown, this off-season. Murray gains Brown but loses his most productive target for a third of the season (DeAndre Hopkins). The Cards' new $230.5M man also gained some skeptics this past week when his "casual" study habits were not so subtly challenged in contractual language.

At least Murray got that bag, Jackson's probably thinking, as he sits here in early August waiting for his own monster extension. Oddly, the negotiations might be more complicated minus the middleman (Jackson isn't represented by an agent), but the Ravens are certain to make it happen because they know, as we do, their quarterback is one of the game's most elite weapons. What he lacks in conventionality—he's only thrown more than 400 passes in a season one time (barely)—he makes up for with rare athleticism. Simply put, there may not be a more dangerous man with the football at any position, let alone one playing the most important one.

The Ravens seem to be leaning into Jackson's offbeat brilliance, trading the aforementioned Hollywood Brown to Arizona. That leaves WRs Rashod Bateman, Devin Duvernay, and James Proche as Baltimore's 1-2-3 this season. Not exactly a who's who, right? It won't matter. He still has Mark Andrews and those dynamite feet. Lamar comfortably returns to the Top 10 this season.