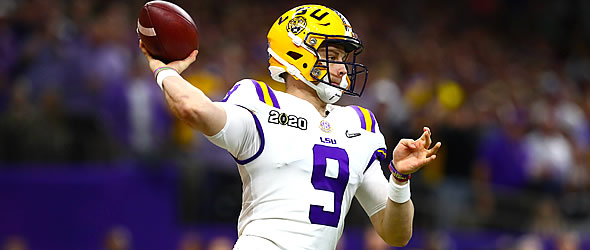 The Bengals have holes on both sides of the ball but it will be a shock if they let Joe Burrow slide.
1. Cincinnati Bengals - Joe Burrow, QB, LSU
Joe Burrowís historic season led to him likely becoming the first overall pick in the 2020 NFL Draft. He possesses exceptional football IQ to go along with outstanding anticipation. Heís a quarterback that can throw his receivers open, while working around pressure in the pocket. Burrow can read the entire field, working through each of his progressions. Arguably his best trait is his accuracy, limiting mistakes while maximizing his opportunities.

Burrow doesnít have any burning red flags to his game, but he is already 24 years old. Still, his production against elite level competition allows us to overlook his age. Burrow doesnít possess great arm strength, but his accuracy and anticipation will likely make up for deficiencies at the NFL level.

The Bengals have holes along both sides of the ball. They benched Andy Dalton in 2019 for Ryan Finley, who is clearly not their quarterback of the future. Burrow is a player that has the upside to turn a franchise around, even with glaring holes at multiple positions. Heís a franchise quarterback, who can elevate the players around him and the Bengals will finally have a player that they can build their team around.

2. Washington Redskins - Chase Young, Edge, Ohio State
Chase Young is likely the safest and most complete player in this draft. Heís an outstanding defender in the run game, setting the edge without much give and is a game-changing pass rusher. He boasts elite hands at the point of attack, while possessing more than enough pass rush moves to keep offensive linemen guessing. Young has a great first step, quickness to match, outstanding bend, and elite speed to the quarterback. He doesnít solely rely on speed, possessing tremendous power when utilizing power techniques.

Young doesnít truly have any flaws but he could get better in coverage and space, but his athleticism will allow him to do that as he matures that part of his game.

The Redskins drafted their franchise quarterback last year and have plenty of holes to fill, but itís clear that an elite pass rusher in the NFL has the ability to change games. Young is arguably the safest prospect with the highest ceiling in the draft. He boasts Hall of Fame potential, and is the type of defensive game-changer Washington is in need of.

3. Detroit Lions - Jeff Okudah, CB, Ohio State
Okudah enjoyed one of the best collegiate careers for a cornerback in recent memory. Heís an excellent man coverage corner, featuring elite quickness, athleticism, and ball skills. Heís a confident player that isnít afraid to crowd receivers. Okudah is aggressive, allowing him to jump routes and make plays that others may not trust themselves enough to make. He also played in a complex college system, making his transition to an NFL system that much easier.

Okudah sometimes trusts his instincts a bit too much. His speed allowed him to make up for this at the collegiate level, but that may not be the case in the NFL. He also will need to find more success as a zone coverage cornerback, although any team that drafts him should switch to a man-based scheme.

The Lions saw their star cornerback, Darius Slay, take a step back in 2019. Heís set to become a free agent after this season, and has already stated he wants elite cornerback money. Detroit could potentially pay him to pair him with Okaduh for what could be one of the best cornerback duos in the NFL, or they could use their rookie to take over as their shutdown option once Slayís contract is up.

4. New York Giants - Andrew Thomas, OT, Georgia
Andrew Thomas was a three-year starter at left tackle in the SEC. He played in a pro-style offense at Georgia, accumulating plenty of high-level experience. He is already an outstanding run blocker, displaying tremendous power. He has found success as a pass blocker, flashing more than enough upside to find success on the left side of the line in the NFL. He boasts great hands as well, possessing a tremendous first punch that allows him to control defenders.

Thomas has struggled at times with his footwork. He has displayed enough foot speed to fix these issues with more coaching, although he tends to rely on his power.

The Giants have plenty of holes that need to be filled on the defensive side of the ball. Isaiah Simmons would make sense here, but the team also needs to protect their first round franchise quarterback. At the moment, there are a few offensive tackles that could be first off the board, but Thomas is a relatively safe option that should be able to play at a high level on the left side of the line for quite some time.

5. Miami Dolphins - Tua Tagovailoa, QB, Alabama
Tua Tagovailoa comes with tremendous upside as a rhythm passer in the NFL. He is an intelligent quarterback that reads defenses before the snap, while making progressions after the play begins. Tagovailoa possesses tremendous accuracy to go along with elite-level touch. He also stays composed under pressure, making plenty of high-level throws with defenders in his face. Tagovailoa doesnít possess elite speed, but he finds ways to work around pressure in the pocket, while boasting enough mobility to extend plays.

Tagovailoa relies heavily on his accuracy and touch because he doesnít have elite arm strength. Still, his throwing power will be more than serviceable in the NFL. He has durability concerns, including a gruesome season-ending injury that has likely caused him to fall a bit in this draft. Furthermore, there are questions as to whether Alabamaís receiving group made the quarterback or if the quarterback made the receiving group.

The Dolphins started their ďTank for TuaĒ campaign at the beginning of the season. They didnít stick with it, though, ending up with the fifth overall pick. Still, they could get their quarterback of the future because of injury. Tagovailoa possesses the character and leadership that a team like the Dolphins could use.

6. Los Angeles Chargers - Justin Herbert, QB, Oregon
Herbert has the prototypical size and arm strength for the NFL. He possesses the ability to make any throw on the field, while flashing elite potential at times. Herbert is an athletic player that has the mobility to leave the pocket and pick up first downs with his legs. He isnít overly consistent, but when he gets into rhythm, he finds plenty of success.

While Herbert has the upside of an NFL quarterback, he comes with quite a bit of question marks. His accuracy is less than stellar, struggling to consistently make high quality throws. Herbert struggles to progress through his reads, as well. While he possesses the arm strength to make elite throws, his inconsistencies could result in plenty of missed opportunities.

Philip Rivers is no longer the quarterback of the Los Angeles Chargers. They could search for his replacement in free agency, or they could look in the NFL Draft. Herbert was one of the top quarterback prospects last season, and thatís the case once again this year but heís somewhat of a clear third option behind Burrow and Tagovailoa. Herbert isnít as safe as the other options, but he owns franchise-changing potential if his skills are maximized at the next level.

7. Carolina Panthers - Isaiah Simmons, LB, Clemson
Isaiah Simmons is a player that could fly up draft boards. Heís as versatile of a defender as anyone in recent memory. At Clemson, Simmons played 100+ snaps at five different positions. He could find success in the NFL at linebacker, slot corner, safety, or as an edge rusher. Simmons is an outstanding tackler, while boasting elite sideline-to-sideline range. He can guard at a high level in both zone or man coverage. His cardio is outstanding, and he possesses the football IQ to seamlessly maneuver from position to position depending on the team needs in each defensive package.

The Panthers have plenty of holes throughout their roster. They lost Luke Keuchley to retirement, leaving a massive hole at linebacker. They also need help at cornerback and potentially safety.

Simmons is a player that can fit nearly any role a defensive coordinator needs, and he has game-changing potential on his side of the ball. Simmonsí limitless versatility nearly guarantees heíll find success at the NFL level, and thatís something Carolina needs on defense.

8. Arizona Cardinals - Tristan Wirfs, OT, Iowa
Tristan Wirfs is a gritty lineman from a school that consistently produces that type of player. He possesses an impressive frame, but that doesnít limit his foot speed. Wirfs comes with tremendous power, suggesting heíll find success against both speed and power rushers at the next level. He isnít an overly polished run blocker, but has flashed once he gets to the second level of defenses. His initial contact is generally successful, but he struggles to consistently finish plays in the run game.

Wirfs would be an interesting addition to the Cardinals line. They need help at tackle, which is where he projects by most scouts at the NFL level. With that being said, some have suggested that Wirfs will need to slide inside to guard. If thatís the case, Arizona could go with another offensive tackle option here, but Wirfs is the type of player that could protect Kyler Murrayís blindside for years to come.

9. Jacksonville Jaguars - Derrick Brown, DT, Auburn
Derrick Brown is an NFL-ready player that is one of the best prospects in this draft. He has an elite combination of power, speed, explosiveness, and technique. Brown is a player that will be stout in the run game, while possessing plenty of interior pass rush upside. Heíll be a day one starter in the NFL, and has proven for years of experience in the tough SEC. While Brownís best attribute is his power, his elite cardio/motor is one of the biggest reasons heís projected to find success at the next level.

The Jaguars could use help on the interior defensive line. Taven Bryan seems primed to break out, but Brown would be a player that can completely change their defense. He boasts an outstanding ceiling, and heís one of the safest players in the draft. Similarly to Simmons, Brown could end up being a top-three pick in this draft, making him a steal for a team like Jacksonville that needs help at his position.

10. Cleveland Browns - Mekhi Becton, OT, Louisville
Becton has absurd size, resulting in tremendous power at the point of attack. As is the case with bigger linemen, this size and strength helps Bectonís power run blocking. He has the potential to be one of the better run blockers in the NFL. Surprisingly, Becton has the footspeed to reach the second level, as well. His size and power allows him to anchor his body in pass protection, while also possessing the speed to meet speed rushers before itís too late.

While Bectonís strength is such an advantage at the moment, it could also be one of his biggest downfalls early on in his career. With his ability to rely solely on his power at the collegiate level, Becton lacks the technique and polish needed for the NFL level. He has struggled with his initial punch at times, and his strength wonít make up for that in the NFL the same way it did in the ACC. Becton has also struggled with known weight issues, although that shouldnít be an overly large concern for coaches if Becton is committed to success at the next level.

The Browns offense took a massive step back in 2019. A large part of that was the play of their offensive tackles. Greg Robinson and Chris Hubbard both struggled, and it isnít guaranteed that either is back as a starter. Becton could immediately slide into a starting role, even if he isnít ready. At worst, he has the run blocking ability to fill the right tackle role, but he also comes with the upside to move to left tackle later in his career. There are safer options in this draft at this position, but the Browns are in need of a game-changing tackle.

11. New York Jets - Jerry Jeudy, WR, Alabama
Jerry Jeudy is an elite route runner, who possesses fluid hips. He understands the nuances of his routes, setting up defenders, while quickly getting in and out of his breaks. Jeudy has tremendous body control, allowing him to track the deep ball at a high level. He isnít overly dominant after the catch, but has the ability to make big plays on short routes. While it isnít the most important part of scouting reports, Jeudy is also a willing blocker, making him one of the most complete receiving options in this draft.

Jeudy doesnít have many flaws in his game, although he tends to let the ball get to his body. He needs to work a bit on his drops early in his career. Jeudy is often seen as the safe option as opposed to other high upside players in this draft, but he has all the makings of a WR1 at the NFL level.

The Jets have some talent in their receiving group, but they donít have a true number one for their franchise quarterback to rely on. Adding Jeudy would allow them to open up their offense, while giving Sam Darnold the next step for his development.

12. Las Vegas Raiders - CeeDee Lamb, WR, Oklahoma
Lamb is another outstanding receiving option in this draft, who has flashed WR1 potential. He has the ability to help an offense at every level, possessing tremendous ball skills. Lamb is also an outstanding tracker once the ball is in the air. He has the potential to run a full route tree, adding tremendous YAC potential on short routes. Similarly to Jeudy, Lamb is a willing blocker, often helping in the Oklahoma run game.

Lambís combine will likely determine his value. Some have questioned his speed, and he could jump Jeudy as the top receiver if he performs well in the 40-yard-dash. Lamb is also a wide receiver that has to answer questions about the talent of his competition. The Big 12 is known as an offensive conference with less than stellar cornerbacks. Some may question whether Lamb can dominate NFL cornerbacks the same way he did to the Big 12ís options.

The Raiders are in dire need of a game-changing playmaker on the outside. After Antonio Brown left the team, Las Vegas was left with Tyrell Williams as their top option. Hunter Renfrow was a pleasant surprise in the slot, but Las Vegas needs a true number one option on the outside. Lamb has the potential to become that, making him a great fit.

13. Indianapolis Colts - Jordan Love, QB, Utah State
Love is an outstanding option from a physical standpoint. He has tremendous size, strength, and mobility for a quarterback. Love has a quick release with plenty of arm strength to make any throw at the next level. He also isnít afraid to extend plays with his legs, improvising on the spot. Furthermore, Love is a passer that is willing to attempt nearly any throw on the field, flashing unwavering confidence in his arm throughout games.

While he has all the physical traits, Love has struggled with his decision-making. Heís a player that trusts his physical tools far too much, often times testing defenses with throws that are easy turnovers. Love will need to greatly improve his pre-snaps reads, along with his ability to diagnose coverage at the next level.

The Colts lost their franchise quarterback, Andrew Luck, to a surprise retirement last season. They replaced him with Jacoby Brissett, but he didnít have a season to make them believe heís the future at the position. The Colts could use this pick on a few players, but if they believe they can get their franchise quarterback in the middle of the first round, thatís likely a shot theyíd be willing to take.

14. Tampa Bay Buccaneers - A.J. Epenesa, Edge, Iowa
A.J. Epenesa was seen as an elite prospect prior to the season, but he fell off a bit in 2019. Heís a lengthy player that boasts tremendous power. He utilizes this power in his pass rush moves, although he has gotten better with his hands throughout the season, as well. Furthermore, Epenesa is outstanding at setting the edge, as his size and power allows him to hold his ground, even against bigger linemen. Similarly to many players from Iowa, Epenesa is a player that is willing to do the dirty work in the trenches.

While he boasts tremendous power, Epenesa isnít an elite athlete. He doesnít possess great burst for a pass rusher either. Essentially, Epenesa is seen as a solid prospect, who isnít capable of turning into an All Pro player.

If the Buccaneers arenít using this draft for their quarterback of the future, they are in dire need of pass rushers. Outside of Shaquil Barrett, the entire Tampa Bay defense struggled to get pressure. While Epenesa doesnít possess speed around the edge, heíll help in the run game, while flashing more than enough power to get to the opposing quarterbacks. He could immediately help Tampa Bayís defense.

15. Denver Broncos - Trevon Diggs, CB, Alabama
Trevon Diggs is a cornerback that possesses tremendous size. He also boasts length as a defender, and the athleticism to cover quite a bit of ground in the secondary. This size will allow Diggs to shadow WR1s throughout his career, as well. Heís already outstanding in zone coverage, displaying tremendous knowledge early in his career. He also uses his size when pressing his opponents, overwhelming them at the line of scrimmage.

While Diggs has flashed in press coverage, he isnít overly consistent in man coverage at this point in his career. He is also at his worst when playing off-man. The team that drafts him will need a plan in place for their defense to set Diggs up for success.

The Broncos are in an odd spot in their secondary. Chris Harris Jr. is one of the best cornerbacks in the NFL, but he could be on his way out of Denver. If thatís the case, they will need to replace him immediately. Even if Harris stays, the Broncos could add another high upside cornerback. Diggs may never live up to his potential if he canít produce in man coverage, but heíll be an outstanding zone corner regardless.

16. Atlanta Falcons - Yetur Gross-Matos, Edge, Penn State
Yetur Gross-Matos is another massive edge rusher in this draft. He uses his length extremely well, while also possesses solid hand speed and placement. Gross-Matos has a quick first step, allowing him to bend around the edge. He is a solid tackler, who owns enough power to set the edge, as well. Gross-Matosí best attribute could be his motor, wearing his opponents down throughout the game and individual plays.

Gross-Matos is a player that comes with plenty of upside, but he isnít quite there yet. He has trouble diagnosing plays, although his athleticism has made up for that at times in the NCAA. That wonít be the case in the NFL. Gross-Matos also doesnít win with elite speed or power, although he possesses enough of both. With that being said, he needs to add pass rush moves to his arsenal, which will come with time.

Adrian Clayborn and Vic Beasley are two pass rushers for the Atlanta Falcons that will be free agents this season. Atlanta will need to replace some of this production if they let either or both of them walk. Gross-Matos could play off the bench for Atlanta early in his career, allowing him to progress without losing his confidence to early struggles.

17. Dallas Cowboys - Grant Delpit, S, LSU
Grant Delpit is an extremely complete safety. He has the ability to play man or zone coverage. He also possesses plenty of range, while also flashing the ability to play in the box if needed. Overall, heís a downhill player, who can make big plays on the backend. Delpit is a willing, if unspectacular, tackler, who often tries to create turnovers. There are some that believe Delpit will have the ability to play cornerback at the next level, if needed, because of his intelligence.

Many scouts asked him to become a better tackler in 2019, and he certainly did. Heíll need to sure-up those skills if he wants to find consistent success in the NFL.

The Dallas Cowboys need to re-sign Dak Prescott, Amari Cooper, and Byron Jones. It looks at the moment as if Jones could be the odd man out. If thatís the case, theyíll need to replace one of the best safeties in the NFL. At this pick, the Cowboys have their pick of the top safeties, and Delpit would be a solid replacement in the back end of their secondary.

18. Miami Dolphins - Jedrick Wills, OT, Alabama
Jedrick Wills is an outstanding prospect. He comes with tremendous technique, winning at the line of scrimmage from his first punch on. He also boasts tremendous power, allowing him success in both run and pass blocking. Along with his great technique, Wills has plus footwork. He is an outstanding pass blocker already in his young career, and a solid run blocker. He possesses the ability to get to the second level, as well. Overall, Wills is a smart player, who wins with technique to go along with solid physical traits.

Wills strictly played right tackle for Alabama. Scouts have wondered if he can make the transition to left tackle at the NFL level. One of the biggest concerns is that Wills doesnít possess great foot speed. While he has outstanding technique, he wonít be able to move to left tackle if he struggles against speed rushers.

The Dolphins are in a complete rebuild, and they are in dire need of offensive linemen. If they draft Tua Tagovailoa with their first pick, they will need to keep him healthy, as he has struggled with injuries. Getting one of his personal offensive lineman from Alabama is a perfect match. If Wills canít move to left tackle, heíll make an outstanding right tackle throughout his career.

19. Las Vegas Raiders - Kristian Fulton, CB, LSU
Kristian Fulton is an elite man coverage cornerback. Heís at his best when heís pressing, as he is outstanding at disrupting his opponentsí routes. Fulton is extremely aggressive in his coverage, jumping routes, attacking the ball, and making any reception more difficult on receivers. He also trusts his instincts, while possessing enough makeup speed to recover from any wrong reads.

Fulton has the ability to play in any coverage, but he could improve in zone coverage. While it isnít a major issue, itís a necessity for success in the NFL. Fulton also needs to improve as a tackler. There are likely to be some concerns throughout his interviews, as well, after Fulton missed the 2017 season due to suspension.

The Raiders are in dire need of consistency in their secondary. They have been drafting defensive backs for years, but none have turned into a shutdown cornerback. Fulton is a player that possesses the ability to shadow number ones on opposing teams, and he could be the player that adds some consistency to the backend of the Las Vegas defense.

20. Jacksonville Jaguars - Kenneth Murray, LB, Oklahoma
Kenneth Murray is an aggressive linebacker with range and the athleticism to play sideline-to-sideline. He makes tackles even when he seems to be out of position. He plays fast from the start of the play, allowing him to hit the hole with explosion, although this also gets him into trouble at times.

Murrayís fast play is generally seen as a plus, but he misreads plays at too high of a rate for the NFL. Hr wasnít asked to play man coverage much at Oklahoma and while he is an athletic player, suggesting he will be able to, itís a bit of an unknown for the NFL. Overall, Murrayís play recognition will be his biggest concern for his future.

Telvin Smith stated that he was going to sit out the 2019 NFL season, and it remains to be seen if heíll actually return after his year off. The Jaguars will need to replace quite a bit of production, and Murray could help with that. Myles Jack is also coming off of a bad season, and Jacksonville will have their pick of linebackers at this point in the draft.

21. Philadelphia Eagles - Henry Ruggs III, WR, Alabama
Henry Ruggs III possesses elite speed, and will be able to take the top off of any defense in the NFL. That isnít the only good part about his game, though. Along with his speed, Ruggs is outstanding at tracking the ball and continues to add routes to his repertoire. His larger route tree is extremely important, as Ruggs is outstanding after the catch, and will be more than simply a deep threat at the next level.

Ruggs can make contested catches, but he too often allows balls to get into his body. He also needs to continue to add to his route tree, while working on his ability to get off the press. Solid press corners will disrupt his routes, limiting his speed and taking away the receivers best attribute.

The Eagles struggled with injuries to their receivers in 2019. Ruggs is a player that can learn behind DeSean Jackson, who is one of the best deep threats in the NFL. He would add another dimension to their offense, and would give them some much needed depth.

22. Buffalo Bills - Tee Higgins, WR, Clemson
Tee Higgins is a massive receiver, who utilizes his body extremely well. He boasts an elite catch radius with outstanding hands. Higgins isnít a player that often lets the ball get into his body either. He possesses the ability to play through contact, and is arguably the best receiver in the draft in contested situations. He was known as a deep threat at Clemson, and his tracking ability is outstanding at this point in his career.

While Higgins looked outstanding as a deep threat throughout his collegiate career, some have questioned his long speed. That is a question he can answer at the NFL Combine, although with his size, he doesnít need a blazing 40-yard dash to be able to beat corners deep in the NFL. Higgins also needs to work on his route tree. As primarily a deep threat at Clemson, he struggles in the short and intermediate routes.

According to Pro Football Focus, the Bills receivers caught only 40.3% of their contested catch opportunities last season. Thatís the situation in which Higgins thrives, and he can immediately help the offense. Furthermore, Allen can rely on John Brown and Cole Beasley early in Higginsí career, allowing him to become a more complete receiver before being thrust into a number one role.

23. New England Patriots - KíLavon Chaisson, OLB, LSU
KíLavon Chaisson is a player that could climb draft boards as we head towards late April. He has outstanding pass rushing tools, as he can win with both speed and power. Heís a player with outstanding bend as well, giving him a variety of ways to beat opposing linemen. Furthermore, Chaisson utilizes his power well when setting the edge in run support. His first step is outstanding, allowing him to get ahead of his opponents early in the play. Chaisson comes with coverage ability, flashing the tools needed to play both zone and man coverage at the next level. Heís a versatile option, as some believe heíll be able to play OLB or add weight and play with his hand in the dirt.

Chaisson missed the majority of the 2018 season with an ACL tear. While he proved that he was healthy during the 2019 season, this is still a major concern for the physicality of his position. Furthermore, Chaissonís injury stunted his development on and off the field a bit.

The Patriots could look to fill out their offense here, but adding a high upside pass rusher is also a necessity. Chaisson looks the part, and New England hasnít moved away from risky options in the past. He gives them tremendous upside late in the draft, which is something they may not find on the offensive side of the ball at this point.

24. New Orleans Saints - Laviska Shenault, WR, Colorado
Laviska Shenault is a strong receiver that uses his size and strength to play through contact. His strength along with his speed make an outstanding after the catch option. Heís an explosive receiver, who comes with solid hands. Furthermore, Shenault can play all over the field. He possesses the ability to play outside or in the slot, but he could also play an H-back role if he finds himself in a creative offense.

With his ability to play multiple positions, Shenault isnít quite as polished of a route runner as some of the other options in this draft. He has the ability to beat defenses on multiple levels, but his routes are far from polished or complete. Surprisingly, Shenault has also struggled against the press. Given his physical traits, this could be something that NFL teams believe they can fix quite easily.

The Saints desperately need someone to take the pressure off of Michael Thomas. While heís an elite receiver and can do it all without help, adding a high upside second option to the offense would make him that much better. New Orleans is also an extremely creative offense, and would be able to take advantage of everything Shenault does well. Similarly to Tee Higgins with the Bills, Shenault seems tailor-made for New Orleans.

25. Minnesota Vikings - C.J. Henderson, CB, Florida
C.J. Henderson possesses the speed and traits to play man coverage, while boasting the smarts to find plenty of success in zone, as well. Heís a player that isnít afraid to come off of his receiver to make a play. He also owns tremendous recovery speed, allowing him to jump routes and still find success, unlike slower cornerbacks in the NFL. Henderson has also proven that he can find success in press coverage, as he is a physical option at the line of scrimmage. Overall, he possesses all the tools to become the top coverage cornerback in this class.

There is one trait that the NFL will frown upon with Henderson - tackling. He isnít a willing tackler, and often times looks as if heís trying to avoid the confrontation. Other cornerbacks have fallen in the draft simply because of their unwillingness to tackle, and that may be the case with Henderson.

The Vikings are a team that needs help in coverage. Their cornerbacks have struggled quite a bit, and that is one of their only defensive flaws. Adding arguably the best cover corner in this draft makes quite a bit of sense. It simply comes down to whether they can accept his unwillingness to tackle.

26. Miami Dolphins - DíAndre Swift, RB, Georgia
DíAndre Swift is a stocky running back with a powerful lower half and this allows him to finish runs with power, although he has also flashed plenty of elusiveness throughout his career. Swift has a quick burst and he can get upfield in a hurry. Heís also a hands catcher, who will add more to his passing game in the NFL. Most importantly, Swift is an outstanding pass blocker for his position. If the Dolphins draft a quarterback that has struggled with injuries, getting an elite pass blocking running back is a must.

Swift often relies too heavily on his power. He boasts the elusiveness to make defenders miss, but often times finishes the play with power rather than speed/agility. Swift also struggled with injuries throughout his career. Consistently suffering from small injuries is could be problematic in the NFL.

Miami is a team that is in dire need of a rushing attack. Ryan Fitzpatrick led the team with 243 rushing yards last season. Kalen Ballage has proven to be a bust, while Myles Gaskin and Patrick Laird arenít the answer. Getting a versatile running back that can help a rookie quarterback in multiple ways would be a great way to end their trio of first round picks in this draft.

27. Seattle Seahawks - Josh Jones, OT, Houston
Josh Jones was a four year starter at Houston. He has all the physical tools to find success in the NFL. He boasts an outstanding build with the arm length to find success at tackle. He also flashes the foot speed necessary to find success as a left tackle at the professional level. Jones is at his best in pass protection, but he also flashed as a run blocker later in his career. While he is raw in some areas, he is experienced and has seen relatively consistent growth throughout his career.

Jones has all the physical traits to find success in the NFL, but he lacks nearly all of the technique. Surprisingly, he struggled to develop this even as a four year starter at Houston. Jones also lacks football IQ, and has struggled with his footwork in crucial situations. Heís an experienced physical specimen that needs to be molded into an NFL-caliber tackle at the next level.

The Seahawks have allowed Russell Wilson to mask how bad their offensive line actually is. This says quite a bit because they are still generally seen as one of the worst offensive lines in the NFL. Jones comes with quite a bit of risk if he canít change his technique, but he also comes with tremendous upside. He could be a consistent lineman for Seattle if they are able to progress him early in his career.

28. Baltimore Ravens - Terrell Lewis, Edge, Alabama
Lewis is a long, athletic pass rusher. Heís a bit thin, but has found ways to use that to his advantage when slipping blocks. He has an outstanding first burst on his way to the quarterback. He isnít elite at setting the edge, but he can make big plays in the run game due to his quickness and ability to squeeze through blocks. His length also works in his favor when he doesnít get to the quarterback, as he possesses the ability to bat balls down at the line of scrimmage.

Lewis has dealt with a few major injuries throughout his career. This comes as a major concern because of his slim build. He can maintain his size if heís strictly used as a situational pass rusher, but heíll need to add weight to become a three-down player. Lewis also needs to work on his play recognition and football IQ, but his pure athleticism has limited his issues with this throughout his collegiate career.

The Ravens are in an interesting position this offseason. They need to re-sign a few players, including some of their top pass rushers. Theyíre a team that would benefit greatly from finding pass rushers, who can get pressure without blitzing. Lewis enters the NFL as a high upside edge player, who Baltimore can mold into an every down option if they choose.

29. Tennessee Titans - Curtis Weaver, DE, Boise State
Curtis Weaver is one of the safer options this late in the draft. He boasts tremendous football IQ to go along with plenty of versatility. Teams will be able to use him as a 4-3 defensive end or a 3-4 outside linebacker. He wins with a quick first step, solid footwork, outstanding bend, and great hands. Weaver is a player that can find a consistent pass rush, while also setting the edge in the run game.

Weaver may be near his ceiling, though. He doesnít possess elite athletic traits, limiting his upside in the NFL. He has trouble making tackles in space, suggesting he could be at his best at defensive end rather than outside linebacker. Overall, Weaver is a relatively safe option, who doesnít boast All Pro upside.

Between a lack of production and age, the Titans are in need of pass rush help. Unfortunately, Weaver would have to play outside linebacker for Tennessee, but that is far from a deal breaker. They have taken high upside options in that past that havenít panned out, and getting a consistent pass rusher makes sense in this slot.

30. Green Bay Packers - Patrick Queen, LB, LSU
Patrick Queen is a linebacker that can play sideline-to-sideline. Heís an athletic player that sets the tone early in games. He also boasts a great combination of strength and speed. Queen is outstanding at navigating through traffic, as well. He can find the ball carrier while shedding blocks. Queen also comes with the upside to play both man and zone coverage at the next level and possesses the upside to become a three-down linebacker.

Oddly enough, Queen had plenty of ups and downs throughout his career at LSU. He wasnít always seen as a starter, but ultimately found plenty of success when gaining the job throughout the year. Queen plays with a bit too much aggression at times and if his first read isnít correct, he could take himself out of plays.

The Packers have a major hole at middle linebacker. Blake Martinez doesnít look like the answer, and Green Bay will certainly need to fill that hole if he leaves in free agency. Overall, they need someone that can make plays against the run if they want to make a run for the Super Bowl, and Queen could be that player.

31. San Francisco 49ers - Xavier McKinney, S, Alabama
Xavier McKinney is a versatile safety that can play a variety of positions. He has seen snaps as a deep safety, in-the-box safety, and slot cornerback. He can potentially play zone or man coverage, as well. McKinney is aggressive, attacking the ball in the air or the ball carrier in a downhill fashion. He boasts plenty of speed, but is known as a power hitter, who can play multiple positions at the next level.

McKinneyís biggest struggles come when heís trying to tackle in space. Shifty running backs and receivers will be able to make him miss in do or die situations. With that being said, McKinney is known as a solid tackling option when maneuvering through traffic. He simply needs to work on tackling without help in space.

The 49ers donít have a lot of holes on their team. Jimmie Ward is a free agent, and McKinney is a player that has been compared to him. He would be an easy fit but that doesnít need to be the case. McKinney could play behind or with Ward, and learn from a similar player how to maximize his ceiling in the NFL.

32. Kansas City Chiefs - Jonathan Taylor, RB, Wisconsin
Jonathan Taylor is an extremely complete running back. He has burst, power, speed, and quickness. He also possesses solid vision. Some have voiced concerns about his long speed, but that has never seemed to be a problem for his size in the NCAA. Taylor has flashed as a receiver, as well. Heís a safe option at running back, who comes with quiet upside.

Taylor needs to work on his receiving skills. He doesnít have a variety to his route tree and needs more reps as a pass blocker. With that being said, he should easily be able to improve in both facets in the NFL. The major concern with Taylor is the amount of touches he had at Wisconsin. He has been their workhorse running back for years, and may struggle to keep his physical traits late into his NFL career. Furthermore, Taylor struggled with fumbles and will need to work on his ball security at the next level.

The Chiefs are a complete team but could use some depth in the running game. Prior to the 2019 season, Kansas City made it clear that Damien Williams wasnít a workhorse back, but he ended up in that role late in the season. Taylor is a player that can be a workhorse, or they can split his carries to limit the amount of damage he takes early in his career.