Just one short year ago, I offered my strategy on how to gain a competitive advantage for the 2016 fantasy football season. If you followed my advice and went with an RB-heavy approach, you were probably handsomely rewarded. At the very least, you probably avoided disasters like Brandon Marshall, Allen Robinson, and DeAndre Hopkins. The reason that my call to go RB-heavy was so effective was not because it was some innovative concept I had just come up with Ė far from it. It was because of how anomalous 2015 was for both wide receiver production and poor running back production. There was a natural expectation that running backs would rebound and boy did they ever.

That leads us into the reason weíre all here: what should we do in 2017 to gain that competitive advantage in our drafts? First things first: Itís a new year and as much as Iíd love to tell you to go and grab two running backs with your first three picks, there are too few at the position to feel confident in, making it simply the wrong strategy to take. Perhaps we should not try and bend the strategy. Instead, only try and realize the truthÖthere is no strategy.

So what exactly does that mean? Using current ADP, there are 12 running backs going in the first two rounds, 11 wide receivers and one Gronk. We have reached a point of equilibrium in positional valuation between RBs and WRs. Yes, having an elite running back will always be better than an elite wide receiver because of position scarcity, but in terms of actual ability to produce fantasy points: wide receivers are just as good as running backs.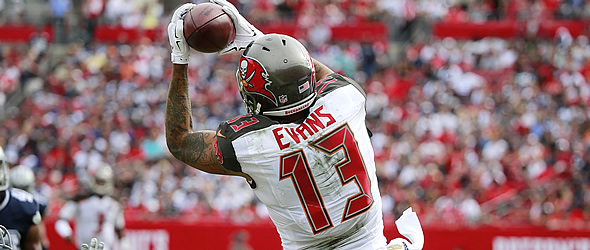 With so much uncertainly don't force an early pick based on a perceived need at any one position.


Despite the RB renaissance of 2016, the RB resurgence wasnít as strong as you may think. There were actually more wide receivers in the top 24 than running backs (15-9) in non-QB PPR scoring. The perception is a bit skewed due to the cataclysmic failure of pre-season top 12 wide receivers like DeAndre Hopkins, Allen Robinson, Keenan Allen and Brandon Marshall. Just like I advised everyone not to overreact to the WR boom of 2015, you must refrain from overreacting to the WR failure of 2016.

Last year, there was a decided advantage to be gained by foregoing the best player available in the early rounds in order to take an RB due to the huge point disparity between early- and late-round RBs. The edge you would gain was worth it. Thatís not the case this year. But itís also not the case that you should take a WR over an RB if the RB is the best player on your board. This yearís strategy is less about formula and more about individual player analysis.

Letís take a look at Melvin Gordon, Devonta Freeman, A.J. Green and Mike Evans. Last year, if you were picking towards the end of Round 1, I wouldíve suggested you go with the RB (Gordon or Freeman) no matter where you had those players ranked on your board. This year, you should take the player youíre most comfortable with regardless of position.

In fact, in the early rounds, your player tiers should not necessarily be separated by position. Thereís a consensus ďbig threeĒ at both premium skill positions: David Johnson, LeíVeon Bell, and LeSean McCoy at RB (replacing Ezekiel Elliott) and Antonio Brown, Julio Jones, and Odell Beckham Jr. at WR. Those are your three best players and should be your ďTier 1.Ē Which one you take is up to you and your personal evaluations of players.

After Tier 1, it becomes far less defined. Obviously you can delineate your tiers however you see fit, but for the purpose of this explanation, here is my Tier 2: DeMarco Murray, A.J. Green, Jordy Nelson and Mike Evans. If all of my Tier 1 players are gone, I am taking one of these four. And while I still would argue the ďtie goes to the running back,Ē itís not as clear cut as last year. If Evans is at the top of this tier, then donít worry about passing on the running back as once you get past the top two tiers, the level of uncertainty regarding all players skyrockets.

As an example, currently third round running backs are Lamar Miller, Marshawn Lynch, Isaiah Crowell, and Dalvin Cook. We have one of 2016ís biggest disappointments (which, not to toot my own horn, I did warn you about), a 32 year-old who hasnít played since 2015, a guy on the Browns, and a rookie in a bad offense in a potential three-way timeshare whose ADP has spiked as a result of two strong preseason games. Some question marks to be sure.

But WR isnít much better. Wide receivers in Round 3 typically include DeAndre Hopkins, Terrelle Pryor, Demaryius Thomas, and Keenan Allen. We have one of 2016ís biggest busts, a converted quarterback on a new team, a 30 year-old that hasnít been elite since Peyton Manning was around, and a guy who has played 9 games over the past two seasons. I canít, in good conscience, tell you that one position is objectively more valuable than another. Take the player you think is best, regardless of position.

One more thing: The way youíre going to be successful in your draft this year is by understanding the uncertainty regarding player valuations and ADP. Once you get into the middle stages of your draft, itís time to throw caution to the wind and trust your own knowledge. Do not be afraid to ďreachĒ for players. If someone is the top player on your board, but you know his ADP is two rounds later, donít wait. Do not miss out on your guy because your ADP source you told you it was too early to pick him.

Hereís a pitfall Iíve succumbed to in mocks that I wish to help you avoid. Many of the players I like after Round 5 all have ADPs of Round 8 or 9. If I donít take one of the three or four players I covet in Round 6, what happens? We get to Rounds 7 and 8 and all of a sudden, the top players on my board have become the top players available and Iíve now locked myself out of the ability to get them all simply because I was afraid to ďreachĒ in Round 6. Instead, I took a player I valued lower because the consensus valued him higher. It doesnít make sense. Go ahead and take the players high on your board without fear of ADP.

If youíre looking for a yellow brick road to victory this year, youíre not going to find one. The key to this year is to not go into your draft with a set strategy. You may end up going RB-RB-RB. You may end up going Zero-RB. You may end up taking a QB or TE early (or both). Your success will come from creating value based on your own player evaluations, allowing you to adapt to whatever the draft room presents.