Every year, rest assured someone at some point during each your draft will utter some variation of the words "value pick." But what exactly is a value pick? What is value? Value is a relative term that changes based on public perception. When I consider value, I'm looking for a positive return on my investment. Just because a player has an a fourth round ADP and is still sitting there in the sixth round does not make him good value. At the same time, taking a player a round or two above his ADP is not necessarily bad value. Again, everything is relative. My goal in every pick I make is to take a player I believe will have a higher ADP the following season. Last season, Melvin Gordon had a fifth round ADP. This year, he has a first round ADP. Gordon gave owners one hell of a positive return on investment. On the flip side, Brandon Marshall had a second round ADP. This year, he has a sixth round ADP. That's the type of pick we all hope to avoid.
This year's value series continues with Wide Receivers. Let's take a look at which WRs I expect to outperform their ADPs and which I expect to fail.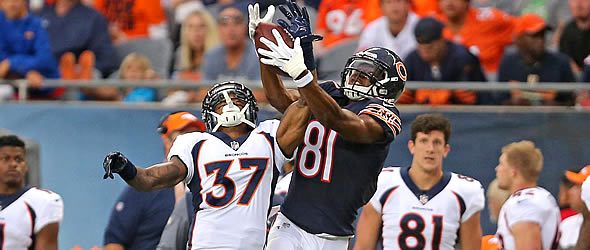 Undervalued: Cameron Meredith can be a low-end WR2 that you can steal at at WR4 price tag.
Undervalued
Cameron Meredith, Bears
ADP: 8.12, WR42
The case for Meredith being undervalued: He's the primary option in the Bears passing game and is being drafted behind second and third options in other offenses.
The case against Meredith being undervalued: The Bears are weak at the quarterback position and play slow on offense, ranking 29th in plays per game last season.
Verdict: I understand that Meredith was signed as an undrafted free agent. He has now played two NFL seasons and we saw him perform at a high level last year. His draft stock no longer matters. The man is good at football. He's incredibly athletic with a 95th percentile catch radius. Fantasy wise, he finished 2016 as the WR27 in PPR FPts/G and was a mid-range WR3 for your fantasy team. How in the world is he now being drafted as a mid-range WR4?
Meredith was barely used for the majority of last season. In seven games, he saw five targets or fewer and he had to deal with Matt Barkley as his quarterback for most of the season. Here's a fun fact: in games where Meredith saw double digit targets, he eclipsed 100 yards receiving in all of them (four total). In those games, he had reception counts of 9, 11, 9, and 9. His 68 percent catch rate was 20th in the league amongst qualified receivers. For comparison purposes, he finished just 0.8 percentage points behind Antonio Brown.
Mike Glennon is no world beater, but he offers a sizable upgrade to Barkley and the ghost of Jay Cutler. I have Meredith ranked as my WR18 and will be aggressively targeting him in every league. I see no reason he can't return mid-low WR2 value.
Tyrell Williams, Chargers
ADP: 9.03, WR43
The case for Williams being undervalued: He had a 1,000 yard season receiving last year and is firmly entrenched as Philip Rivers' second option in the passing game.
The case against Williams being undervalued: Keenan Allen's return and the emergence of young TE Hunter Henry will put a dent in the market share for Williams.
Verdict: Just like Meredith, Tyrell Williams was signed as an undrafted free agent. He's incredibly athletic and has an even better catch radius than Meredith (Williams' is in the 98th percentile).
Williams was the WR21 last year in PPR FPts/G. I ask again: how in the world is he being drafted as a mid-range WR4? If you look closely, Williams' 2016 season was even better than the numbers indicate. He had a grand total of four catches for 32 yards in his two games against Denver. He also tore his labrum in his right shoulder Week 12 and played through it, which clearly hampered his production. All in all, if you picked up Williams last year, you had a guy who gave you a nice stretch of WR1/2 performances.
Williams enters this year as the clear number two option. If Keenan Allen goes down again, Williams is once again the number one option in the passing game making his upside a high-end WR2. Rookie Mike Williams (back) isn't likely to see the field until October at best so he should have no impact on your ranking of Chargers wideouts. Tyrell is my WR28 and I will also be aggressively targeting him in all leagues.
Adam Thielen, Vikings
ADP: 10.07, WR48
The case for Thielen being undervalued: He posted a 69-967-5 line in a below average offense last season and his cost WR48 is minimal.
The case against Thielen being undervalued: The Vikings are a low volume passing offense and may not be able to support two fantasy viable WRs.
Verdict: Thielen probably won leagues for some of you last year with his 12-catch, 202-yard performance in championship week. A player doesn't flash that kind of potential without actual talent. I think many people mistake Thielen for an underneath/slot type receiver. He's actually 6'3 and a monster red zone target and will likely see more red zone looks than Stefon Diggs.
Thielen has showed a ton of promise and upside and can probably be your fantasy team's fifth receiver. He has great hands – he dropped just one pass all of last season and saw 92 targets, which figures to increase as he enters 2017 as the established number two option. It wouldn't shock me to see Thielen put up an 80-catch, 1200-yard season and that type of upside is well worth a 10th round pick.
Overvalued
Michael Thomas, Saints
ADP: 2.02, WR7
The case for Thomas being overvalued: This will be just his second season and is now the main focus of the opposing secondary. He is being drafted at his ceiling.
The case against Thomas being overvalued: With Brandin Cooks gone, Thomas' volume will only increase.
Verdict: Michael Thomas is a good wide receiver. Good, not great. He finished 2016 as the WR7 last year in PPR FPts/G. He is currently being drafted as the WR7 this year which seems reasonable, right?
My issue with Thomas is I do not believe he is built to be a team's top option. He would be a fantastic number two, as he was last year. But with the top spot comes the top corners. The film on Thomas shows his production noticeably dipped when teams switched their top corners off Cooks and to Thomas. Cooks is no longer there to occupy the defense. Should we expect an increase in volume to offset his increased attention? I think it's pretty ambitious to predict an increase in opportunities. Thomas saw 121 targets last year in 15 games. In Marques Colston's best season with Drew Brees, Colston saw 143 targets. That is the single most targets a Brees wide receiver has ever received in a season. That's Thomas' absolute ceiling. Accounting for the one game he missed last season, Thomas should have finished with 128 targets or so.
Thomas wasn't nearly as prolific last year as people think. Did you know that Cam Meredith he had more 100-yard receiving games than Michael Thomas? His 76 percent catch rate was also second in the league behind just Cole Beasley. That's simply unsustainable at Thomas' target volume.
Thomas will have a good year and be a useful fantasy wide receiver. I expect a high-end WR2 performance, which would be fantastic…except that Thomas is being drafted as a mid-range WR1. This is one of those classic cases where you need to not conflate "overvalued" with "bad." Thomas is not bad. He's my WR15. He's just going a round or two too high.
DeAndre Hopkins, Texans
ADP: 3.02, WR13
The case for Hopkins being overvalued: He played all 16 games last season and finished as the WR33, so why is he being treated as a borderline WR1?
The case against Hopkins being overvalued: He's still the same WR that posted a WR5 finish in 2015.
Verdict: DeAndre Hopkins has been in the league for four years now and was used heavily out of the gate (92 targets as a rookie). Target counts for his last three season include: 127, 192, 151 with yardage accumulated: 1210, 1521, 954 with touchdown numbers: 6, 11, 4. I ask you, fine reader, which one of these seems like the outlier?
We have four years of tape and stats on Hopkins. He's definitely one of the best receiving talents in the league. However, He's still a run-heavy team with a bad running game (a bit of foreshadowing on the final installment of this series). His quarterback is currently Tom Savage and it could get even worse because yes, DeShaun Watson will be worse for DHop than Savage. Watson's throwing velocity leaves something to be desired which doesn't bode well for any outside receiver. He held the ball too long in his first pre-season action, missed too many throws, and his arm looked weak. He actually demonstrated good control pre-snap and appears to be a smart quarterback; it's unfortunate he doesn't have the physical tools to match his brain. But I am almost certain he will make starts at some point this season.
Hopkins' sub 60 percent catch rate across his four seasons probably has more to do with QB play than anything, but that dynamic hasn't changed. His top five fantasy finish and 192 targets he saw in 2015 seem like the outlier. With an improved catch rate, I have every confidence in the world that Hopkins will have a better 2017 than 2016 maybe something similar to his 2014 season: 76-1210-6. Those numbers were good for a WR18 finish in 2014 so I just don't see how you can confidently draft him in the early third round. He's my WR23 and he should probably be going in Round 5.
Here's a bonus prediction for you: Cameron Meredith finishes with more fantasy points this season than DeAndre Hopkins.
Alshon Jeffery, Eagles
ADP: 4.03, WR19
The case for Jeffery being overvalued: He hasn't been able to stay healthy, missing 11 games the last two seasons and now his quarterback is Carson Wentz.
The case against Jeffery being overvalued: He flashed elite talent in the past and has the skills to dominate opposing secondaries.
Verdict: I'm not the biggest fan of Carson Wentz's talent but that's not the only issue with Jeffery. His early fourth round ADP is at least more reasonable than Hopkins, but just like Hopkins, Jeffery seems to getting credit for things he hasn't done in over two years. Jeffery had monster seasons in 2013 (WR8) and 2014 (WR10). Since then, he's missed roughly 12 games and acquired the "injury prone" label due to various leg ailments. These aren't random injuries like Corey Coleman's broken hand or Keenan Allen's lacerated kidney. These are recurring soft tissue problems. Jeffery has already missed practice time with a shoulder issue this pre-season.
In Jeffery's two huge years, he saw 148 and 145 targets. I struggle to see how he gets anywhere near those numbers in 2017. The Eagles are a run-heavy offense with a below average quarterback in his second year. Wentz was 31st in yards per attempt last season and Jeffery has typically had a higher than average ypc during his career. It just doesn't strike me as a good match. While mid-range WR2 value isn't out of the question, Jeffery is my WR35, which is one spot higher than where he finished 2016 in PPR FPts/G. There are far better options in the fourth round.