Every year, rest assured someone at some point during each of your drafts will utter some variation of the words ďvalue pick.Ē But what exactly is a value pick? What is value? Value is a relative term that changes based on public perception. When I consider value, Iím looking for a positive return on my investment. Just because a player has an a fourth round ADP and is still sitting there in the sixth round does not make him good value. At the same time, taking a player a round or two above his ADP is not necessarily bad value. Everything is relative. My goal in every pick I make is to take a player I believe will have a higher ADP the following season.
Last season, DeAndre Hopkins had a third round ADP. This year, he has a first round ADP. Hopkins gave owners one hell of a positive return on investment. On the flip side, DeMarco Murray had a second round ADP. This year, heís retired, and not because he went out on top. Thatís the type of pick we hope to avoid.
This yearís value series begins with Tight Ends. Letís take a look at the players I expect to outperform their ADPs and which I expect to fail.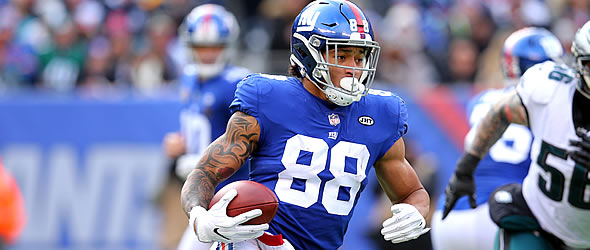 With room to grow in the efficiency department, Evan Engram could improve upon his 2017 season.
Undervalued
Evan Engram, Giants
ADP: 6.06, TE6
The case for Engram being undervalued: He posted the second greatest rookie season for a TE of all time despite leading the position in drops (13).
The case against Engram being undervalued: He will have a difficult time replicating his 115 targets from last season with a healthy Odell Beckham.
Verdict: Iím going with the basic premise that elite athletes playing the most difficult position in football will naturally get better in their second year. Engram has a lot of room to grow in the efficiency department so even if he loses an entire target per game, thereís no reason he canít be a top five or even a top three fantasy tight end this year. Engram is a monstrous red zone target and a mismatch all over the field given that heís basically a WR masquerading as a TE. He isnít asked to block so heís going to spend most of his time running routes. I am not worried about Sterling Shepard because Engram is higher on the pass catching hierarchy. I am not worried about Saquon Barkley because how many more targets can the running backs see after the 139 they saw last year? The only player that will command targets ahead of Engram is Beckham and that is fine. E Double is going to be an elite tight end in this league for years and that may start in 2018.
Vance McDonald, Steelers
ADP: 14.02, TE18
The case for McDonald being undervalued: McDonald is an athletic and finally has a starting role in a high-scoring offense.
The case against McDonald being undervalued: Sharing targets with Antonio Brown, LeíVeon Bell, and JuJu Smith-Schuster could result in inconsistent weekly volume.
Verdict: Vance McDonald should already be considered a top 15 TE, if not top 12. This is the same guy that saw 16 targets, on purpose, in a playoff game; one that featured AB, Bell, and JuJu. McDonald and Jesse James combined for 87 targets last season. Those should very easily could go to McDonald this year. The fact that VMD is going behind low-upside picks like Ricky Seals-Jones and Ben Watson is mindboggling. If youíre waiting on the position, channel your inner high school emo self and ďVance Vance.Ē
Overvalued
Kyle Rudolph, Vikings
ADP: 6.11, TE7
The case for Rudolph being overvalued: He was the PPR TE9 last year and saw a massive drop in volume from the previous season.
The case against Rudolph being overvalued: Kirk Cousins represents an upgrade at QB and Rudolph is the clear third option in the passing game.
Verdict: Fantasy owners need to realize that 2016 Kyle Rudolph is never coming back. There is a 0% chance he sees 132 targets. Thereís a 0% chance he sees 100 targets. Itís not happening. I expect a similar season to last year where Rudolph saw 81 targets and caught 57 of them for 532 yards. That only got him to TE9, two spots lower than where heís currently being drafted, in what was a down year for TE scoring. The eight touchdowns are very concerning, as they will be difficult to match. That TD total has to be considered his ceiling and what happens if he only catches five or six? With a healthy Dalvin Cook, the Vikings are going to run the ball more near the goal line and Rudolph is already competing for targets with the best WR duo (Adam Thielen and Stefon Diggs) in the league. It appears Rudolph is being drafted at his ceiling and after the top six TEs are off the board, I want a TE with vertical upside. Rudolph only has downside.
David Njoku, Browns
ADP: 12.11, TE13
The case for Njoku being overvalued: Reminiscent of Eric Ebron - he has all this athleticism, but doesn't really know what to do with it.
The case against Njoku being overvalued: He's athletic and the Browns may feature him more in the offense this year.
Verdict: I do see a world where David Njoku is a TE1. I just don't think it's likely. Njoku is down the target totem pole, behind Josh Gordon, Jarvis Landry, and Duke Johnson. He is possibly behind Corey Coleman as well. While the prospect of Baker Mayfield looms, Tyrod Taylor will start Week 1 and he's never attempted more than 436 passes in a season. If Landry and Gordon are commanding over 100 targets each, while another 100 go to the running backs, where exactly are Njoku's targets coming from? And this is notwithstanding the fact that the Browns still roster Seth DeValve, who saw 58 targets last year while Njoku was on the roster and active every week. The Browns also signed Darren Fells this offseason. Njoku may end up being better than I expect and still fail to even get close to a TE1 in fantasy. Nothing the Browns have done indicates a desire to push Njoku as their main TE. He may be their best option at the position, but in fantasy, we have no use for a Browns' TE that is splitting snaps.