Every year, rest assured someone at some point during each of your drafts will utter some variation of the words ďvalue pick.Ē But what exactly is a value pick? What is value? Value is a relative term that changes based on public perception. When I consider value, Iím looking for a positive return on my investment. Just because a player has an a fourth round ADP and is still sitting there in the sixth round does not make him good value. At the same time, taking a player a round or two above his ADP is not necessarily bad value.
My goal in every pick I make is to take a player I believe will outperform his ADP. Last season, DeAndre Hopkins had a third round ADP but returned first round value. Hopkins gave owners one hell of a positive return on investment. On the flip side, DeMarco Murray had a second round ADP. He provided a significantly negative return on investment. Thatís the type of pick we all hope to avoid.
Let's take a look at which wide receivers I expect to outperform their ADPs and which I expect to fail.
Undervalued
Tyreek Hill, Chiefs
ADP: 3.11, WR15
The case for Hill being undervalued: Heís coming off a PPR WR6 (FPts/G) and only getting better in this third year in the league.
The case against Hill being undervalued: Team changes include a new quarterback, new offensive coordinator, and the addition of Sammy Watkins. Also, itís unlikely that Hill will score seven touchdowns from 30+ yards out again.
Verdict: One of my biggest fantasy writing regrets from 2017 was not including Tyreek Hill in my undervalued wide receivers column last season. Anyone who read my stuff last year (and this year) knows my affinity for Hill (the player, not the human). I canít tell you why I didnít include him last year, but Iím certainly not making the same mistake twice.
I understand the counterarguments. The unlikelihood of long touchdowns. Alex Smith was the best deep ball passer in the league last year. Pat Mahomes is a huge unknown. Sammy Watkins is around. None of this is false. However, Hill is the most dangerous playmaker in the league. He is the best deep threat in the league. He made Smith, not the other way around. While Mahomes wonít be as efficient as Smith, I expect Mahomes to uncork it deep to Hill more often. Hill also saw 105 targets last season in 15 games. Many analysts are projecting that to decrease. Why? Why would Andy Reid replace conservative Smith with gun-slinging Mahomes if he wasnít looking to run a more aerial offense?
Watkinsí guaranteed money does not matter. Talent matters and Hill is the most talented WR on the Chiefs and itís not close. The Chiefs are not going to funnel targets away from their most explosive player, who has done nothing but succeed over his first two years. Hill will never see nor see 140+ targets in a season. That doesnít mean he canít see 120 as he continues to hone his craft and still leave room for 90-100 targets for Watkins.
Hill is going to be a WR1 in fantasy this year. You can take that to the bank. You currently do not have to pay a WR1 price to acquire him. The guy returned second round value from the fourth round last year and his ADP barely moved. The market is offering you almost the same discount on him this year. Take it.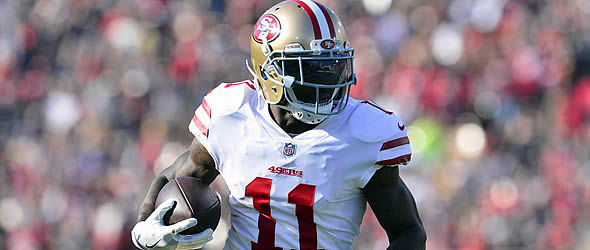 Marquise Goodwin's stock is on the rise after recent reports suggesting he's the No.1 option in SF.
Marquise Goodwin, 49ers
ADP: 8.01, WR36
The case for Goodwin being undervalued: Heís the No.1 WR on a Jimmy Garoppolo led offense.
The case against Goodwin being undervalued: Heís 29 years old and has roughly half a season of sustained productivity on his resume.
Verdict: As a fair warning to all of you reading this, Marquise Goodwinís ADP is broken. Between the time I write this and when it posts, I wouldnít be surprised if he was already inside the top 36 and rising. As we get deeper into training and camp and the preseason, it will become abundantly clear that Goodwin is Garoppoloís favorite. I wouldnít be surprised to see him push towards the top 24.
Although an admittedly small sample size, Goodwin was the PPR WR9 from weeks 13-16 last season with Garoppolo. He has proven to be more than just a speedster, connecting on various passes underneath. Goodwin has surpassed the aging Pierre Garcon. Goodwin is the No.1 WR on not just any NFL team, but a good one (well, a least a good offense). As long as he stays healthy, Goodwin is a stone cold lock to finish inside the top 36 and I would be more surprised if he finished outside the top 24 than inside the top 18 making him arguably the single best value in fantasy football right now.
Allen Hurns, Cowboys
ADP: 9.11, WR43
The case for Hurns being undervalued: Heís a No.1 wide receiver on an NFL team going outside the top 36.
The case against Hurns being undervalued: He has a limited track record of success and the running game dominates the Cowboys offense.
Verdict: I donít think Hurns is particularly talented nor do I think any NFL team should be entering a season with him as their top wideout. However, that is the reality of the situation in Dallas and when a player is the top target in his offense, that has some value. It may not be much, but itís something Ė certainly worth a WR4 dart throw in the ninth round. Hurns is on a very good offense with a talented QB and could easily see 120 targets. All he would have to do is catch half of them to provide WR4 numbers giving him a decent amount of upside and absolutely no downside.
Overvalued
Amari Cooper Raiders
ADP: 3.12, WR16
The case for Cooper being overvalued: Entering his fourth NFL season, Cooper is being drafted higher than heís ever finished at his position.
The case against Cooper being overvalued: The talent is still present and Michael Crabtree is gone.
Verdict: There is a non-zero chance Amari Cooper breaks out in 2018 and finally has the WR1 season weíve been expecting for years. If he does, I will miss out on the party. Cooper has never finished higher than his ADP, yet his ADP simply does not correct. He was fifth in the league with 10 drops last season and finished 49th in target separation, catching just half of his targets. Certainly Derek Carrís injury didnít help matters, but Cooper still did not play well.
Enter Jon Gruden, who professes his love Marshawn Lynch and his desire to bring the game back to 1998. Maybe itís in jest, maybe not. Either way, I am not optimistic about the second Gruden era in Oakland. And if weíre paying attention to what Gruden says, heís been singing the praises of Jordy Nelsonís to the point where Iíve done a complete 180 on him. Iím more inclined to believe Nelson is not done and might actually be the wide receiver to own in Oakland. Given Cooperís ADP, Iíd opt for the cheaper option and target Nelson if forced to choose a Raidersí wide receiver.
JuJu Smith-Schuster, Steelers
ADP: 4.07, WR18
The case for JuJu being overvalued: HeĎs at best the third option in the teamís passing attack and benefited from multiple huge plays as a rookie.
The case against JuJu being overvalued: He didnít become a starter until midway through his rookie season and now enters his second year with a better grasp of the offense and a clear starting job.
Verdict: JuJu is a good wide receiver but heís being overpriced by the fantasy community. Last season, he caught 73.4% of his targets, finishing with 58 receptions on 79 targets with seven touchdowns. I do not think that level of efficiency is sustainable. Itís also important to note that JuJu went 15-218-2 over the two games Antonio Brown missed. Assuming AB is healthy, heís going to command 180 targets. LeíVeon Bell will see over 100 targets as will the tight ends. The team also drafted James Washington to fill Martavis Bryantís role and the coaches seem to be impressed with the rookie. While heís not going to take JuJuís job, he could take 10-15% of JuJuís snaps which is significant. Increased volume doesnít seem likely but I can see a dip in efficiency, making JuJuís 2017 output somewhat of a ceiling, and making him overvalued at his current ADP.
Will Fuller, Texans
ADP: 6.11, WR31
The case for Fuller being overvalued: He has small hands and is nothing more than a deep threat.
The case against Fuller being overvalued: Had extreme success during his limited time with Deshaun Watson last season.
Verdict: Will Fuller only played 10 games last season, but if you extrapolate his targets over a full season, he would have seen just 80. But what about when he played with Watson? Great question. Letís focus on that since the Watson-Fuller connection seems to be the crux of all the pro-Fuller arguments. With Watson, Fuller saw 22 targets over four games. That would be 88 over a full season. The problem is that Fuller is not very efficient - just a 56% catch rate last season. While most of that was with Tom Savage, Fullerís catch rate with Watson wasnít much better at 59%. Sure, Fuller did score seven touchdowns in those four games with Watson - seven touchdowns on 13 receptions. If you think that is repeatable, then by all means, go and draft Fuller. I can assure you it is not. Fuller may very well finish as a WR3, but he will do so by having 2-80-1 games and 2-20-0 games. You will get no consistency and it will be difficult to predict when Fullerís boom games are going to happen. In the sixth/seventh round, there are still many superior options (Randall Cobb, Jamison Crowder, Marquise Goodwin) that drafting Fuller seems unnecessary.