All Out Blitz: Volume 50




10/11/12



Aggressiveness is a characteristic that tends to reward fantasy owners more times than not. In the NFL, an offensive line will sometimes hold up long enough to give the quarterback enough time to beat man coverage down the field and make the defense look foolish against a fierce pass rush. More often than not, though, when a defense brings the heat and forces the action, crisis management becomes the name of the game for the opposing team.

In that same vein, I hope to apply that same kind of pressure to the owners in all of my leagues by beating my opponents to the punch in regards to personnel moves. Sometimes, reaching a conclusion about a player too quickly results in making a bad situation worse. However, coming to a correct conclusion two weeks or two minutes quicker than your opponents is considered foresight and can often lead to fantasy championships.

Fantasy owners can be a uneasy lot, knowing that one two-or-three-game losing streak can wreak irreparable damage to his/her team's chances to make a visit to the fantasy postseason. But just as it is in the NFL and in life, it's hard to land the big prize by playing scared. Thus, I will strive each week to help each of you become a smart blitzer, so to speak.


---
There are decisions we make in life that we know almost immediately are good or bad. This is one of those good ones…

After months of wavering on whether or not I should consume more football than I already do, I finally gave into the billion-dollar empire of the NFL and decided to pony up the $60 necessary to watch any NFL game any time I wanted. Within five minutes of purchasing the Season-Plus subscription to NFL Game Rewind, it became obvious to me that I needed to "up my game". Here's why:

In addition to providing the coaches' tape in which fans get to see all-22 footage, Game Rewind offers the full broadcast and a condensed 30-minute version of games which essentially removes all the filler in between plays, leaving fans with a nice, tidy version of a NFL game that can be watched in about the same amount of time as most people spend watching a sitcom. After doing some quick math, it made sense to me that since I spend anywhere between 15-20 hours (usually more) putting together a column each week, why not watch each of the games myself, allowing me to become a more knowledgeable owner while sharing my thoughts and insights with you at the same time?

All right, enough about Game Rewind as I have no deal on the table currently to promote their services. But for the serious fantasy owner who gets tired of taking somebody else's word on how a player is performing or relying on a box score to tell you the story of the game, Game Rewind offers you a pretty valuable tool in your quest for a fantasy title.

Now, let's get to how I want to help you – the fantasy owner – going forward. In short, it is my goal to watch each condensed game every week and provide a summation of what stuck out to me the most in that game. While I hope to get more technical with my observations in the coming weeks (much like a scout or general manager would), I wanted to keep the first edition fairly basic while also providing the same kind of forward-thinking fantasy advice I strive to bring you each week.

Without further ado, let's give this new car a test drive:

Cardinals-Rams

Although it isn't a commonly-accepted practice, the Cardinals may be wise to make Larry Fitzgerald the default No. 1 option on just about every passing play. What do I mean? Essentially, on the few plays in which the defense doesn't put a safety over the top, it would be smart for Kevin Kolb to simply give Fitzgerald a target. Why do I say that? Given the current woes of the Cardinals' offensive line, I'm not exactly sure that unit can be trusted to give Kolb enough time to get to his second read...after giving up 17 sacks over two games, it is fair to say the line is THAT bad. The Rams knew their biggest offensive mismatch coming into the game was Danny Amendola, but one has to wonder how St. Louis saw it was beneficial to give Steven Jackson just five carries in the first half. While he has slowed down some in recent years, he hasn't slowed much. After all, we are talking about a 29-year-old RB with five percent body fat whose YPC has consistently been league average or better behind one of the worst lines in the league. With Amendola out for at least six weeks, it would be surprising if the Rams don't increase their reliance on Jackson.

Fantasy implications: It's a bit ironic these two teams start this column off and play in the same division because each has a player that needs to be in fantasy lineups each week almost regardless of their supporting cast or opponent since their ability essentially supersedes their matchup. What that does mean, however, is their owner is going to have to live with a little bit of inconsistency. While the emergence of Daryl Richardson and the lack of passing-game use have been discouraging to this point for Jackson's owners, I'm not sure the Rams can afford to scale back his touches anymore with Amendola out. While Brandon Gibson appears to benefit the most from Amendola's absence, I'm not so sure we don't start seeing a lot more of Steve Smith, who is a natural replacement for Amendola in the slot even if he lacks the chemistry Bradford had with his top receiver. However, given that Smith was inactive for this game and Austin Pettis was, there's reason to believe Pettis may be the first in line to replace Amendola.

Eagles-Steelers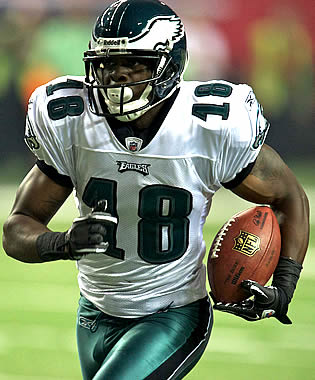 Is it time to panic if you're a Jeremy Maclin owner?
Maybe it ends up being nothing, but it seemed to me that Philadelphia ran the ball a lot to the left side in the first half and to the right in the second half (after doing a lot of damage against NYG to the right last week). Jeremy Maclin's last four weeks have been discouraging – to say the least – but I don't see much reason for concern, especially since there has been no news regarding his hip pointer lately. (Maclin just missed on a TD reception and was interfered with on another 40-50 yard throw in this contest.) After being miscast in the Eagles' defense last season, CB Nnamdi Asomugha is still not living up to his reputation this season and has graded negatively in three of his last four games, already having committed four penalties this season. As for the Steelers, they ran a lot of draws for Rashard Mendenhall and generated bigger holes in the running game than I have seen all season. I was actually more impressed with Mendenhall's debut than Adrian Peterson's in Week 1 as Mendenhall appeared to be quicker than he was before his injury, which doesn't seem possible less than 10 months after surgery.
Fantasy implications: I'm not sure if there is ever a buy-low time for the elite fantasy RBs like LeSean McCoy, but if you currently have a RB like Stevan Ridley or Alfred Morris that feels like they may be a bit too good to be true, it may not be a bad idea to float those backs and another potential starter at another position to the McCoy owner. While I don't usually agree with Jon Gruden's player analysis, I tend to agree with him when he says McCoy is the closest thing we've seen to Barry Sanders since the Hall of Famer retired. I still have little doubt Maclin will fulfill my preseason expectations as a potential low-end WR1 in fantasy, even if he seems to get nicked up a bit more than his owners would like to see. I was most surprised by Mendenhall, who makes it 3-for-3 on backs outperforming my expectations coming off ACL surgery. It seems unreal that Jamaal Charles. Peterson and Mendenhall - especially the last two – have been so effective at the 10-month mark when the standard recovery timetable used to be anywhere from 12-18 months not too long ago.
Ravens-Chiefs
Jamaal Charles routinely getting to the edge early to generate many of his rushing yards early, but Baltimore did a much better job of beating him to the spot in the second half after stacking the box, something future opponents would be wise to do from the get-go. Of course, the losses of Terrell Suggs and Jarrett Johnson in the offseason have made the Ravens a middle-of-the-road run-stopping unit. Fumbling is getting to be a concern with three over the past two weeks, two of which resulted in turnovers. His current workload is not only a concern for a running back of his size, but for any RB in general, especially one coming off a severe knee injury. In this contest, it really stuck out to me how often Dwayne Bowe is the one and only read for Matt Cassel on straight drop-back passes. On the surface, this game appeared to be Joe Flacco regressing to the same quarterback he was a few years ago who thrived at home but bottomed out on the road, but after watching the game, I'm more inclined to believe that penalties at key times disrupted any kind of offensive flow the Ravens tried to establish, ultimately killing a number of Baltimore drives.
Fantasy implications: Charlie Weis must really be a miracle worker because given the number of times I have seen Cassel since Weis left in 2010, he should not be a NFL starting quarterback (a ridiculously easy schedule in 2010 had something to do with his career year as well). Regarding Charles – despite his recent numbers – the big questions each week should probably be: 1) how quickly defenses stack the box against Kansas City and ultimately "set the edge", forcing him to run inside and 2) how long can he hold up under his current workload. I'm sure people aren't going to understand my continued support for Peyton Hillis – granted he is not Charles (quite the opposite actually) – but I don't like Charles' ability to hold up or even be effective long-term at this rate. And now, with Brady Quinn under center for at least a week, I don't think Charles' touches will decrease. While Charles rarely ever takes a big hit, I fear for any RB in today's NFL averaging 31 touches/game over an extended stretch.
Browns-Giants
Josh Gordon's first touchdown came as a result of the Giants' inexplicable decision to use LB Chase Blackburn to guard the slot receiver. That decision was made worse by S Antrel Rolle's slow reaction to Gordon thanks to a token play-fake by QB Brandon Weeden. However, Gordon could have actually scored a third touchdown if Weeden hadn't thrown a poor ball on a slant pattern in the red zone. Victor Cruz is nearly impossible to guard – as in Wes Welker in-his-prime – not exactly breaking news, I know. His lateral agility is among the best in the league today and it shows in the number of yards he collects after the catch. The Giants love to run the misdirection toss play with RB David Wilson, something I saw a few times in the preseason and again in Week 5. While I'm not quite sure if it is the team's concession to the rookie since he often reversed field at Virginia Tech or just a clever play drawn up by OC Kevin Gilbride to accentuate his speed, it's something that I believe we'll be seeing a time or two more from Wilson down the road.
Fantasy implications: Weeden's strong arm certainly matches up well with Gordon's ability to go deep , but even with reports that Gordon "turned a corner" in practice last week, I'd be hesitant to put much faith in the Browns' supplemental draft pick quite yet. As hard as it is for me to believe I'm actually typing this, the Browns need Mohamed Massaquoi back in the worst way in order to let Gordon grow as a receiver this year and not be pressed into a lead-receiver role just because he has the talent. Cruz's ability speaks for itself, which makes it that much harder to believe he was considered to be one of the Giants' final cuts during the 2010 preseason. Wilson's 40-yard TD run was a thing of beauty as he shot through the Browns' secondary untouched in a heartbeat. While no single run will do the trick, the fact that he didn't make a glaring mistake in this game should help open the door for him to establish a more regular role in the offense in the coming weeks.
Packers- Colts
In what should have been a plus-matchup for Cedric Benson, he managed to rush for less than 3.0 YPC before injuring his foot, which will probably end his season. A highly questionable roughing-the-passer call on Nick Perry in the first half– which negated a likely fumble return for a touchdown for the Packers' defense – and an overturned interception by CB Tramon Williams in which the ball did not move as he fell to the ground probably changed the course of this game and the perception of the Green Bay defense. In no way am I trying to defend the Packers' inability to hold a 21-3 lead, but 28-3 probably eliminates any chance of a comeback. Donald Brown isn't getting into the end zone, but given how poorly the Colts' offensive line has blocked for Vick Ballard so far, the Colts need Brown's speed on the field to get to the edge to have any semblance of a consistent running game. (I'll be interested to see how much this changes as the Colts face a string of weak defenses in the coming weeks.) Dwayne Allen has seen 44 fewer pass-play snaps this season than Coby Fleener, but despite missing Week 1, the Clemson alum has played two more snaps overall than his pass-catching complement.
Fantasy implications: Generally speaking, I understand most of the comments analysts make about certain players, even if I don't always agree with them. However, the notion that Benson was helping this offense confuses me. Here's a player who rushed for 3.5 YPC with a long run of 11 yards through 4 ½ games and 71 carries this season. By comparison, Alex Green broke loose for a 41-yard run on his ninth and final rushing attempt of this game, showing impressive speed to set the Packers up for their final score. Speaking of running the football, Brown recorded at least 16 carries in each of his last three games, but he's likely out the next 2-3 weeks following a knee scope, leaving Ballard with a trio of juicy matchups over that time. Given the fact that Andrew Luck isn't throwing to his running backs (seven catches on 11 targets), there isn't much upside in PPR leagues. But it is hard not to like Ballard's chances of managing decent flex value against the likes of the Jets, Browns and Titans – assuming Brown does not return before then.
Dolphins-Bengals
It is amazing how much Reggie Bush has improved as a runner. While he still has some of the elusiveness we remember from his college days as well as his time with the Saints, he is much more decisive runner than he was even two years ago. It was hard to get a good read on BenJarvus Green-Ellis in this game simply because Miami's top-ranked rush defense lived up to its billing, at least against him. "Law Firm" ran as hard as he always does, but he offers about as much big-play potential as Benson did during his Bengals' career. (Green-Ellis hasn't broken a 20+ yard run since Week 15 of the 2010 season with New England.) Fantasy owners who chased Brian Hartline's Week 4 success likely came away disappointed in his effort against Cincinnati. However, the Dolphins led for the last 36+ minutes of the game, so Ryan Tannehill attempted a career-low 26 passes, meaning panic is unwarranted. After watching the two last two games on Hartline, I'll admit I was wrong about him. He's not a special talent, but all he needed to be a productive NFL receiver was a decent quarterback to believe in him. I think we have seen over the past two weeks that Tannehill is well on his way to becoming something more than a "decent quarterback".
Fantasy implications: One of the reasons that pushed me over the top in regards to signing up for Game Rewind was so I could finally speak intelligently about players like Hartline, who was essentially cast into a deep-threat role under the previous coaching regime. I'm not entirely sure Bush is convinced he is 100% recovered from his knee injury, but he's close. Even though Jorvorskie Lane and Daniel Thomas appear to be the short-yardage backs of choice in Miami, Bush is a player I want for the rest of the season in fantasy, especially after looking at the rest of his schedule. On the other hand, Green-Ellis is trending the wrong way in a hurry after an impressive opener, failing to top 3.6 YPC in any of his last four games, including average-at-best performances against the Browns and Jaguars' poor run defenses. Then again, there was a reason why a "feature back" like him was drafted so low in fantasy. Bernard Scott showed just the kind of burst the Bengals needed in the running before he was lost for the season with a torn ACL. While Brian Leonard is the next in line, owners in deeper leagues should want to consider Cedric Peerman as a player who may eventually force a committee with "Law Firm".
Falcons-Redskins
So far, it appears Atlanta pulled one over on Jacquizz Rodgers and his fantasy owners. Certainly, his snaps have gone up this season (148 through five games after seeing just 319 all of last season), but Michael Turner has touched the ball on 43.5% of his snaps (81 touches on 186 snaps) while Rodgers has just 41 touches on 148 snaps (27.7%). In a comment that should already be familiar to anyone who has seen Turner run lately, it is inconceivable to me how a team that wants to play with the pace and pass-heavy approach the Falcons do that Turner continues to see the workload he does. Yes, he is doing fine statistically, but each of his last two TDs have come on plays the defense simply fell asleep and the majority of his runs appear to be over before they start. There is no doubt in my mind that Rodgers would not only be more productive with the touches Turner has received, but the team would also avoid putting Matt Ryan into "comeback mode" while they wait for the running game to "warm up". While Alfred Morris is no speed demon himself, he has the one trait no recent Mike Shanahan RB has had – the ability to stay healthy. However, let's hope that OC Kyle Shanahan was simply complimenting Morris' hard-charging running style, vision, quick feet and strong lower body when he said the rookie has "some of Terrell Davis" in him.
Fantasy implications: Turner owners will inevitably suggest his production speaks for itself, but this offense is not clicking on all cylinders and has been forced to rally twice in consecutive weeks against weaker opponents in part because I doubt defensive coordinators lose much sleep over Turner anymore. At this point, it will probably take a painful loss for Atlanta to change their ways in the backfield, but I stated earlier in the year that Turner is a back who doesn't scare me in fantasy simply because I have a lot of confidence in the fact that he won't break a long run as long as the defense doesn't severely blow an assignment. I have no problem with him being the main short-yardage option or the "four-minute back" that comes in to put the game away against a tired defense, but it is actually hard for me to watch him run now.
Seahawks-Panthers
Commentators often say football is an emotional game. If that is the case, why does Carolina wait so long to get Steve Smith – the emotional center of this offense – into the game? I've seen Philadelphia open the game on a number of occasions in recent years with a play-action deep throw to DeSean Jackson and don't see why the Panthers couldn't do the same. While he saw 13 targets in this contest, too many of those came in obvious passing situations, which is a recipe for disaster against Seattle's physical cornerbacks. Of course, it doesn't help matters when Cam Newton is fighting himself as a passer and his receivers and backs drop the few easy throws he had in this contest. To be fair, though, I don't think a single Carolina offensive player played all that well, the second time in the last three weeks that has been the case. Even though his numbers were average (for him), I am continually impressed with Marshawn Lynch's ability to get yards after contact. And although his overall numbers are going to be average at best in the Seahawks' overly conservative offense, I've seen Golden Tate flash a couple of times this season, something of a surprise since he has been hyped and disappointed for a few years now.
Fantasy implications: Even though C Ryan Kalil was grading out as one of the worst run-blocking centers prior to his season-ending Lisfranc injury, the running game can't be expected to perform better without the Pro Bowl pivot. In all likelihood, Newton will be asked to carry even more of the offense now and one would assume with such a dreadful defense, his numbers will come through the air. I'll be anxious to see if the bye week helps the Panthers get their offense on track. The inability to get Smith the ball nearly as much this season (completion rate is at 55%, down from 61% last season) as the sparkplug WR needed a 13-target game in Week 5 just to get back in the same target rate he saw last season. As for Lynch, his fantasy owners already know not to expect a ton of catches, but they are probably praying that Seattle somehow learns to trust Russell Wilson enough in the coming weeks so he can attempt more than 25 passes per game, which he hasn't done in four straight weeks.
Bears-Jaguars
I'm not sure what was more surprising: the fact this was a 3-3 game midway through the third quarter or that Jacksonville has been outscored at home this season 95-20. Let that second nugget wash over you for a second. Now consider that Maurice Jones-Drew has seen a total of 31 touches over the last two weeks and no more than 13 rushing attempts in any of those three home games and we can begin to understand why Jacksonville is 1-4. Justin Blackmon didn't look to be pressing near as much in this game and showed some of the same ability to get open that he did during the preseason, but Chicago took that away pretty quickly once the Jags thought they had found something. Not surprisingly, Cecil Shorts seems to be the only player capable of threatening a defense down the field, which will continue to make this offense a below-average unit more often than not. As for Chicago, the defense held Jacksonville in check as long as it needed to before the Bears fired up the passing attack and got a couple of TD returns from Lance Briggs and Charles Tillman. Matt Forte once again looked like the same all-purpose monster he has always been, which is great news as the Bears head into their bye.
Fantasy implications: The Jags' offense simply cannot be expected to hang with the likes of Houston and Chicago if MJD – who averaged 4.8 YPC in those two games – isn't getting 12 carries per half, much less a game as was the case in those two losses. For what it is worth, the road ahead should get better for MJD after the bye with Oakland, Green Bay and Indianapolis serving as three of the next four opponents. While I'm sure I'll talk about the Bears' offense more in future weeks, this game was all about Chicago's defense, especially in the second half. Brandon Marshall continues to see a ton of targets and is a matchup nightmare, as expected. But ultimately how consistent Marshall will be going forward is going to rely a lot upon how often "Bad Jay Cutler" shows up compared to how often "Good Jay Cutler" sees the field. We saw both again in this game.
Titans-Vikings
If indifference can show up on tape, then I believe that is exactly what I saw from Tennessee's offense. The offensive line is starting to rival Arizona's as the worst in the NFL and can only seem to give Chris Johnson a hole to run through on about 4-5 plays per game. I've also seen no fire from the front five outside of the Houston game, which is particularly concerning since HC Mike Munchak's background is on the offensive line. Of the three Titans' games I have seen thus far, this game was the first time that Johnson appeared to be anticipating contact (in the bad way) – at least on his first few carries – which is hardly surprising when we consider how often has been hit in the backfield in 2012. That's not to say he was hesitant in the hole, but it was the most hesitant I've seen him this season. Much like Johnson, Adrian Peterson didn't see much success on traditional running plays as both players saw the majority of their yards come via draws and delays. The use of the tight ends (or lack thereof) in this game was startling. Matt Hasselbeck did not target Jared Cook at all in the first three quarters while Kyle Rudolph was absent from the game plan until late – when it seemed Christian Ponder began to force-feed him the ball – against the worst defense vs. TEs.
Fantasy implications: One of the main reasons I wanted to make a move to this format was to better identify why players like Johnson are struggling (and, contrary to popular belief, not because I wanted to see more of my two least favorite NFL play-callers – Chris Palmer and Bill Musgrave). I went back to some of his 2009 tape for answers and two things became immediately clear: 1) very little defensive penetration and 2) a number of his big runs came out of shotgun. In that 2,000-yard season, Johnson averaged 11.4 YPC out of 36 "gun-runs" and 7.5 YPC on 132 carries in single-back formations. In short, Johnson needs space to run and hasn't performed well in two-back sets ever since he became a pro, so the Titans are wasting their time when they do it. His on-field demeanor will likely never be seen as charming, but I have my doubts that his attitude is what is driving this franchise down, which some people seem to be suggesting. I am anxious to see how he performs against Pittsburgh this Thursday – minus Troy Polamalu and LaMarr Woodley – because if he can gash the Steelers for a big run or two like another struggling back did (Darren McFadden), the schedule provides a possible three-game window for owners to get out from this potential mess of a situation in Tennessee since the poor run defenses of the Bills and Colts await in Weeks 7 and 8.
Bills-Niners
Michael Crabtree and Vernon Davis were open at will in this game as Buffalo's defense continues to underachieve in a big way, giving up an almost-unthinkable 300+ yards rushing AND 300+ yards passing. While San Francisco did some things to throw the Bills off-balance and Alex Smith was displaying pinpoint accuracy on many of his throws, there were at least two occasions in which Buffalo lacked awareness and effort in chasing down a ball carrier down on long runs from Frank Gore and Smith. The offense wasn't much better either with a woeful 115 yards passing. Brad Smith enjoyed a 35-yard run out of the "Wildcat" and C.J. Spiller also had a nice 12-yard run, but outside of those two plays, there wasn't much to like about Buffalo's performance.
Fantasy implications: There's simply no excuse for the Bills' defense to be this bad. In three losses to the Jets, Patriots and Niners, Buffalo has surrendered a minimum of 45 points in each game. To be blunt, this tells me the Bills either have little pride or little direction on defense. (With Dave Wannstedt in charge, it would not surprise me if it was more of the latter.) Meanwhile, San Francisco doesn't blow opportunities and it doesn't often give opponents many chances to exploit the few weaknesses it does have. When the Niners have a chance to tackle somebody, they do it. When they grab a lead, they usually hold and extend it. Merril Hoge (from ESPN's NFL Matchup) said earlier this season that San Francisco has the league's best offense. While that is a bit of a stretch in terms of overall numbers, he may be right when it comes to efficiency.
Broncos-Patriots
Seeing New England run its offense at breakneck speed certainly makes for an enjoyable watch, but I am fairly certain defenses will start picking up the Pats' tendency to run off-tackle and stretch plays just about every time they choose to operate at that speed, if they haven't already. Of course, tackling Stevan Ridley or Brandon Bolden is a chore no matter how quickly the offense moves, so it may not matter if the defense knows what is coming. By my highly unofficial count, Eric Decker has drawn pass interference penalties in the end zone on at least three potential touchdown catches this season. There's no denying Demaryius Thomas is the physically-superior player, but ball security (three fumbles already this season) has become a small concern with him. I'm also a bit surprised by the lack of routes he is asked to run. Willis McGahee's dropped pass on a fourth down and a late fumble – both in the fourth quarter – may be just the opening rookie Ronnie Hillman needs to secure a larger piece of the backfield pie although the rookie was getting more snaps in recent weeks anyway. Still, there's very little chance that McGahee doesn't remain the clear lead back in Denver this season simply because the Broncos have taken such care in managing his workload thus far.
Fantasy implications: There is no longer any doubt that New England learned a lesson from last season: no threat in the running game typically leads to a lack of a ring at the end of the season. As long as Ridley doesn't make fumbling a habit – the very thing that led to his reduced role last season – his job security should be a non-issue. However, much like Tom Coughlin, if there is a coach who cannot stand ball-security issues, it is Bill Belichick. With the amount of plays the Pats can run nowadays (averaging just under 78 through five games), Ridley is a very good bet for 20 carries on a weekly basis if he simply does not fumble. Since most of the Broncos' difficult opponents are out of the way now, don't be surprised if McGahee has a strong month-plus, with my only concern being that the soon-to-be 31-year-old begins to wear down after about 200+ carries.
Chargers-Saints
I'm always amazed when a player dominates early on in a game only to disappear for the next two-plus quarters. Such was the case Sunday night for Malcom Floyd, who had two catches for 71 yards on the Chargers' second drive of the game alone but was not heard from again until San Diego needed to rally on the final drive. As mismatches go, Floyd's 6-5 frame and ability to get deep should have been exploited all game long against a horrible Saints' secondary. Granted, he did see eight targets, but from 5:45 in the second quarter until the six-minute mark of the fourth quarter (a play Philip Rivers was intercepted), Floyd wasn't targeted once. Robert Meachem caught two touchdowns, but I haven't yet seen any hint of this "complete receiver" HC Norv Turner was talking about upon signing him this offseason. I'll get more into it down the road, but the Saints' lack of stubbornness with the run and the distribution of those carries in concerning. With the only notable loss on the offensive line being LG Carl Nicks, the Saints have gone from a team averaging 4.9 YPC and 132.9 yards rushing in 2011 to 3.9 YPC and 75.2 yards in 2012. Darren Sproles (averaging 5.4 YPC) is averaging just nine touches while Pierre Thomas (4.9 YPC) has as many carries as Mark Ingram (37) despite outgaining him by 2.0 YPC. Based on last season, this change has little to do with the loss of HC Sean Payton since current OC Pete Carmichael called plays for the final 10 regular-season games, when the offense was more productive than with Payton running the show.
Fantasy implications: The receiver position is typically an inconsistent one in fantasy due to game situation, talent and a whole host of other factors, but it doesn't make fantasy owners feel any better to see their player dominate a drive only to not get targeted for nearly 30 minutes in a plus-matchup. Vincent Brown's eventual return should go a long way in helping Floyd be more consistent. Meachem still looks like a matchup-fantasy WR to me right now, but with some success under their collective belts now, Rivers may be ready to trust Meachem a bit more. Sproles' part-time role isn't a surprise, but with the amount of time New Orleans has trailed this season, it is odd that his passing-game numbers haven't spiked. The player I feel truly sad for is Thomas, who continues to suffer statistically despite being one of the league's most effective and highest-graded running backs.
Texans-Jets
In short, this game was much more about what Houston failed to do than it was about what New York did. With no threat of a running game (and thus, little reason to acknowledge play-action) and a passer who completed less than 50% of his passes for a fourth consecutive game in Mark Sanchez, Houston continually let the likes of Jason Hill, Antonio Cromartie, Jeremy Kerley and Jeff Cumberland get behind the defense. After putting together a first drive one would expect from a complete (and healthy) offense playing against a shorthanded defense, I very much got the feeling the Texans took their foot off the pedal in what was easily their worst overall performance of the season. The one Jets' player I respected the most entering the game – Jeremy Kerley – was the one New York player I was most impressed with from this game. And for Houston, I'd be remiss if I don't mention J.J. Watt…what an incredible player. There are plenty of defensive backs who don't get their hands on as many balls as he does or situational pass rushers who sack the quarterback as often he does and that two things alone don't even begin to tell the story on the impact he has on a game.
Fantasy implications: Watching a running game like the Texans' on the same day I watch a running game like the Titans really provides an eye-opening display of how a running game should work vs. one that appears to have no clue. In the Houston games I've watched this season, I'm not sure I can recall five times combined in which Arian Foster has been forced to dodge a tackler in the backfield while Chris Johnson is lucky to go one half with that kind of success. The loss of Brian Cushing figures to have a substantial impact on the defense, but not so much that the Texans fall too far down the ladder in regards to fantasy defenses. With three useful fantasy games in five tries playing for a dreadful offense, it might be about time to think about giving Kerley a turn at WR3 or a flex if those spots are of some concern to your fantasy team…at least until the inevitable Tim Tebow promotion, that is.

Suggestions, comments, musings about the article or fantasy football in general? E-mail me or follow me on Twitter.

---
Doug Orth has written for FF Today since 2006, appeared in USA Today's Fantasy Football Preview magazine in each of the last two seasons and served as a weekly fantasy football analyst for 106.7 The Fan (WJFK – Washington, D.C). He is also a member of the Fantasy Sports Writers Association.