4/16/12



As we have learned in recent years, there is no such thing as "down time" in the NFL. If any group of people in the fantasy world can relate to that sentiment, it is probably dynasty- and keeper-league owners. Despite the fact the NFL season runs a shorter season than any other major sport, it is next to impossible to take a long vacation from football. Once the regular season is over, we have a five-week postseason. Shortly after the Super Bowl, there is the NFL Combine and a host of results from individual workouts to track leading up to the draft. You get the picture…

It should stand to reason then if the NFL is constantly in motion, then fantasy owners should be too. The irony of participating in dynasty and keeper leagues is that owners are fans of football – a subset of people typically considered to be impulsive with a win-now mindset. One of many key characteristics in winning in non-redraft leagues is channeling the passion for immediate positive results and combining that with the knowledge that setting your team up for success in the future is every bit as important – if not more so – than winning this season.

In all honesty, everything I have said up to this point should not be new information to the veteran dynasty or keeper league owner. In order to help each of you begin the process of starting your league year – just as the NFL does around this time – on the right foot, I would like to present my thoughts as to what players should appeal to those of us who need to look at each of these players as a long-term investment as opposed to a one-year stock.

We started this journey last week at the quarterback position. After breaking down the running backs last week, I will dissect wide receivers now and the tight ends next week leading up to the NFL Draft. My purpose: take each offensive position and rank the players in the order I would value them as long-term assets. In an effort to be as transparent as possible, I will list the different criteria (which will change based on the position being discussed that week) that I most strongly considered in the ranking process. I will attempt to provide some perspective regarding their past performance by attaching a percentage value that corresponds to the number of times that player finished in the top 12 and top 24 at their position when they have been in their current role. I will also provide the player's three-year consistency score in order to shed some light on how good he has been recently.

Notes:

In these rankings, I am using a full-point PPR league scoring format where 10 rushing or receiving yards equals one point. All touchdowns are worth six points and turnovers are -2.


The "% Yrs Top 12" and "% Yrs in Top 24" columns simply provide a percentage as to how often that player has enjoyed a finish in that area in his current situation simply because I didn't see a great deal of value in putting significant weight into Marshawn Lynch's time in Buffalo or Reggie Bush's career in New Orleans, for example, due to any number of reasons.


The age listed will be the player's age on September 1, 2012.


An "*" in any column simply means the player is a rookie, did not play in the NFL last year or is in a "new" situation this season and therefore has no input to be listed.


Because I feel reasonably good about where the top rookies are headed, I have chosen to include them in the rankings. (Their names and ages will be bolded and italicized.) Rest assured I will be profiling the rookies following the draft, so I will relay any substantial changes of opinion in those columns.
The Criteria

1) Elite production for at least three more years
2) Scheme
3) Durability/long-term job stability
4) Proven consistency
5) Age (will penalize over 32) - Typically, I'd set the bar at a higher number, but there are so few receivers in the league right now over 30. Thus, age will not be nearly the factor it was with quarterbacks and running backs.

Johnson just turned in the most dominant fantasy season by a receiver since Randy Moss in 2007. He has also stayed on the field for 16 games in consecutive years after dealing with injuries in two of his first three seasons in the league, removing the only concern fantasy owners had about the league's most difficult matchup. With "Megatron" and Matthew Stafford both likely just entering their prime, dynasty and keeper-league owners must think long and hard about Johnson as the most valuable property in fantasy football.
Despite being the sole focus of the defense in the passing game and subpar quarterback play since Kurt Warner retired, Fitzgerald has continued to thrive. Had Arizona managed to snag Peyton Manning, Fitzgerald could have pushed Calvin Johnson a bit more for the top spot on this list. Regardless, when a receiver posts an 80-1,411-8 line in an off-year with less than impressive quarterback play, it's hard to knock his long-term value. Fitzgerald has eclipsed 1,400 yards AND eight TDs in the same season four times in his career, hasn't missed a game since 2007 and should benefit from any improvement Kevin Kolb or John Skelton makes in 2012. Add in the fact he is the closest thing the NFL has to Jerry Rice in terms of his offseason workout regimen and there is enough to believe he has at least 5-6 elite years left in him.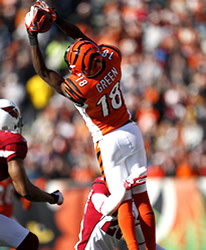 Green has top-five dynasty talent.
With the way Green crashed the party as a rookie last season, Calvin Johnson better not get too comfortable as the top receiver in dynasty and keeper leagues. Already one of the league's premier receiving talents, Green's ability to do just about everything on the football field – including playing hurt – makes him almost too good to be true. Unfortunately, like every other player in the league, Green does have a weakness or two. Cincinnati wants to be a running team in the West Coast offense, which will probably hold Green 10-20 receptions below where he should be each season. The other concern about Green is his size. While he is fearless, he is also wiry. Perhaps all the 6-4, 211-pound WR needs is a bit more time to mature into his body, but until he gets a bit thicker, he might not get the chance to challenge the two players listed above him.
Many owners did not realize until after the season had ended that Nicks was a beaten-up and downtrodden shell of himself for a good part of the season. Amazingly, he missed just one game despite lingering shoulder, knee and hamstring injuries and still finished 12th among receivers in PPR formats. But as the season came to an end and his body began to heal a bit, Nicks finished with a bang, taking us back to the dominance he displayed in 2010. With Victor Cruz emerging opposite him and the Giants likely to threaten teams with an athletic TE (Martellus Bennett) down the middle of the field, Nicks' owners may find he has another step left to take…into superstardom. Like Green, durability may be his most pressing concern.
For the majority of the 2011 season, Jones was either a fantasy tease or just being a typical inconsistent rookie – depending on your point of view. And then, as if Jones was summoned by the fantasy gods, he dominated during the fantasy playoffs and gave us a brief glimpse of the talent Atlanta saw when it dealt a boatload of picks for him last April. Jones was drafted to complement Roddy White initially, but at his current pace, it won't be long until he is the No. 1 option in the passing game. Furthermore, the Falcons will have a wealth of playmakers in the passing game for the foreseeable future even after Tony Gonzalez retires. So where's the downside? Without trying to sound like a broken record – durability. Jones' inability to stay on the field for a full season at Alabama and now Atlanta is about the only major long-term concern he has as a fantasy property.
Perhaps Jennings is just not physically imposing enough or maybe his resume lacks a 100-catch season. Whatever the excuse is, Green Bay's top receiver continues to fly under the radar as an elite receiver. While he is an old man (will turn 29 during the season) relative to all but one of the players above him on this list, Jennings has about as much going for him as any receiver in the league. His quarterback is Aaron Rodgers and Green Bay has an abundance of weapons in the passing game. Although that is a problem for some receivers, the Packers rarely forget to go his way for very long, making him one of the more consistent players in fantasy. As a key cog in arguably the most dynamic offense in the NFL, Jennings is an extremely valuable receiver relative to the other elite players at his position. And finally, for those of you who put stock in such things, Jennings is entering a contract year in 2012.
It appears Pittsburgh gambled and won when it placed a first-round tender on Wallace instead of the franchise tag. (I will continue to say this is a no-brainer for a team like Cincinnati, which has the cap room to offer a contract the Steelers cannot match while also hurting a division rival, multiple first-round picks and a pressing need at the position. Wallace is a proven receiver entering his age-26 season can be had for the same price it will take to land Kendall Wright or Stephen Hill.) In terms of his long-term fantasy value, Wallace should experience a short-term boost as the Steelers will likely be forced to feature him with Rashard Mendenhall unlikely to carry his usual load. And as long as Antonio Brown continues his emergence, Wallace should experience the same kind of consistency that Victor Cruz allows Nicks and Jordy Nelson gives Jennings.
White is a fantasy machine when he is healthy, which he certainly was not for the first half of the 2011 season while battling knee and thigh injuries. The first 30-year-old on this list, White's struggles (league-leading 15 drops) were likely a function of him operating at less than 100%. On the other hand, he has led the league in third-down receptions in each of the past two seasons, which suggests he has at least a couple huge PPR years ahead of him as Matt Ryan's most trusted receiver. With that said, Julio Jones will probably emerge as the best fantasy receiver on this team no later than 2013, so White's long-term stock takes a slight hit although I suspect he'll be a strong fantasy wideout through the end of his current contract in 2014. It is White's durability – and willingness to play with pain – that gives him the edge over the other grizzled veterans ranked below him.

The Injury-Prone Elite
Rk
Player
Tm
Age
Pos Rk '11
% Yrs Top 12
% Yrs Top 24
Three-Year
Consistency Score
9.
Andre Johnson
HOU
31
75
60 (3/5)
60 (3/5)
43.07
10.
Kenny Britt
TEN
23
100
0 (0/3)
0 (0/3)
14.38
11.
Percy Harvin
MIN
24
8
33 (1/3)
100 (3/3)
28.06
Over the last two seasons in which he played a full 16-game schedule, Andre Johnson posted 100+ catches and 1,500+ yards. Unfortunately, his hamstrings have made him something of a risk since those huge years occurred in 2008 and 2009. When he is right, there is perhaps no other receiver other than Calvin Johnson who matches his level of athleticism. His other fantasy flaw is the fact he has yet to eclipse the 10-TD mark in a single season, although it isn't really fair to blame AJ for that. Fortunately, the running game has taken center stage in Houston, which presents Johnson with his best chance for the first double-digit TD season he's had in his career. Certainly, AJ will see his share of double teams on passing downs, but defenses cannot commit just to taking him away anymore. It is for that reason that I believe he has enough good years left in him to warrant a top 10 spot among receivers. Perhaps he is just destined to be injury-prone, but I wouldn't bet on it.
Entering his fourth season in the NFL, Britt has hardly been an angel. And when he hasn't appeared on the police blotter, he's been in the trainer's room. After giving us a brief glimpse of his incredible potential in Weeks 1-2 of last season, Britt blew out his ACL in Week 3. His rehab is said to be going exceedingly well and we have already seen he will be the focal point of the Titans' passing game when healthy, so will he finally put it all together in his fourth season? I believe the answer is yes. According to sources, rehab and married life have helped to keep him out of trouble this offseason. The eventual ascension of QB Jake Locker into the starting lineup should also open up even more opportunities for Britt since Locker should be able to extend plays and has a stronger arm than Matt Hasselbeck. Assuming Britt's youthful indiscretions were just that and he can finally find a way to stay healthy, there is top-five receiver upside here in dynasty and keeper leagues.
While Harvin's physical dimensions (5-11, 184 pounds) suggest he is a something of a lightweight, he is anything but. Despite being on the field for just 57.9% of the Vikings' offensive snaps because Minnesota basically wanted to protect him from himself, Harvin set career highs in receptions (87), receiving yards (965), rushing yards (345) while finishing second to Wes Welker in yards after catch (616). If he can muster this kind of production with limited snaps and the combination of an ineffective Donovan McNabb and inexperienced Christian Ponder throwing him the ball, just imagine what is possible if he is on the field for two-thirds of his team's offensive snaps and Ponder is one year wiser. Furthermore, Harvin will likely be asked to do more early this year since Adrian Peterson will be less than his usual self. Until further notice, Harvin is the one difference maker the Vikings have in their passing game. There is virtually no limit to the number of ways he can touch the ball either, which means his best years should be ahead of him.

A Few With A Flaw Or Two
Rk
Player
Tm
Age
Pos Rk '11
% Yrs Top 12
% Yrs Top 24
Three-Year
Consistency Score
12.
Victor Cruz
NYG
27
3
100 (1/1)
100 (1/1)
56.30
13.
Wes Welker
NE
31
2
80 (4/5)
80 (4/5)
47.80
14.
Jeremy Maclin
PHI
24
31
0 (0/2)
50 (1/2)
14.98
15.
Dwayne Bowe
KC
27
14
20 (1/5)
80 (4/5)
24.54
16.
Miles Austin
DAL
28
49
33 (1/3)
67 (2/3)
30.57
For a player who was on the roster bubble in each of his first two years in the league, there is a definite one-year wonder factor to consider with Cruz. But while any number of players can come out of nowhere to have a huge season, very few have smashed team records and deliver in the clutch as often as he did. Time after time, Cruz made the key play or outfought a defender for a deep ball – occurrences that signal he may have some staying power. Also consider that Eli Manning will be his quarterback and Hakeem Nicks will continue to get the majority of defensive attention for as long as he can stay healthy and there is every reason to believe that Cruz's arrival on the scene was not a fluke. He essentially broke the Giants' all-time receiving record in just 13 games (he combined for 29 yards over three games during the first six weeks of the season). Ideally, fantasy owners would have a year to give a chance to prove himself again, but his obscene level of production once he became a starter speaks for itself – he should have good staying power.
Annually underrated in redraft leagues, Welker is a PPR dynamo – plain and simple. After taking a back seat to Randy Moss in the touchdown department early in his New England career, Welker has emerged as a viable red-zone threat over the last two years despite the emergence of matchup nightmare Rob Gronkowski. However, one has to think that Brandon Lloyd will give this offense what Chad Ochocinco was supposed to last season – a player who can threaten the defense vertically. Along with the Patriots' additions at fullback (yes, fullback), New England may try to emphasize the running game a bit more than it did under former OC Bill O'Brien. The difference shouldn't show up too much in Welker's year-end totals (except in TDs) since he will be fighting the likes of Gronkowski, Lloyd and Aaron Hernandez for those chances now. Otherwise, another 1-2 seasons of 100-catches and 1,200+ yards are very possible before his quickness starts to fade and/or Brady begins to lose his edge.
In what amounted to a wasted season for Maclin and the Eagles, the third-year receiver overcame a scary virus that robbed him of training camp and then dealt with nagging hamstring and shoulder injuries that dogged him for most of the season, limiting him to 63 catches, 859 yards and five TDs in 13 games. But as he begins his age-24 season, it is entirely reasonable to think Maclin has just scratched the surface of his fantasy potential. DeSean Jackson is unlikely to ever evolve into anything more than a deep threat but still strikes fear into defenses, leaving Michael Vick with several opportunities to hit Maclin on intermediate routes. LeSean McCoy, Jason Avant and Brent Celek each steal a share of Maclin's pie, but the Missouri alum is Vick's favorite (and most trusted) target when both Vick and Maclin are healthy. The Missouri alum doesn't possess the freakish athleticism of some of the receivers on this list, but he is the most dependable option Philadelphia has in its high-scoring, pass-heavy offense.
One of the common threads with the majority of receivers up to this point is solid to elite quarterback play. On occasion, Bowe has gotten that from Matt Cassel – but not often enough, which is why one of the toughest receiver matchups in the NFL occupies this relatively low spot in the rankings. Whether or not Kansas City comes out of the draft with competition for Cassel or adds a free agent before the start of training camp, there is a strong chance Cassel will be on a short leash in 2011. The downside, of course, is that option doesn't figure to be much better than Cassel. Regardless of who has been under center, Bowe has produced despite less-than-average QB play for most of his time as a Chief. While the QB mystery figures to go unanswered for a while longer, defenses can no longer game plan specifically for Bowe anymore as the Chiefs are collecting a wealth of receiving talent. This means that his dynasty arrow is pointing up as he enters his prime.
Based solely on last season, it would be hard to view Austin as a must-have fantasy receiver after hamstring injuries in both legs cost him six games in 2011. Certainly, it is easy to extrapolate his numbers from the 10 games he did play and suggest he is trending downwards, but how many games was he actually healthy for and how many others was he trying to "knock off the rust"? And before critics suggest he has experienced two "down" years since his 2009 breakout, remember Tony Romo – who seems to trust him almost as much as he does Jason Witten – missed more than half of the 2010 season. So where does that leave him long-term? Assuming Romo and Austin can both stay on the field this season, a return to elite status is entirely possible, especially with Laurent Robinson not around to steal scoring opportunities. And until we start seeing evidence of Romo repeatedly favoring Dez Bryant in critical situations over Austin and/or Witten, I see no reason to move the youngster ahead of Austin in redraft or dynasty formats.


The "Bad Boys"
Rk
Player
Tm
Age
Pos Rk '11
% Yrs Top 12
% Yrs Top 24
Three-Year
Consistency Score
17.
Steve Johnson
BUF
26
16
50 (1/2)
100 (2/2)
18.65
18.
Dez Bryant
DAL
23
19
0 (0/2)
50 (1/2)
16.26
19.
Brandon Marshall
CHI
28
11
*
*
26.60
The next few receivers deserve their own tier, but not just because they are supremely talented. Kicking off the "bad boy" tier is Steve Johnson, who apparently graduated from the Chad Ochocinco school of receivers (rebel on the field in any way possible but keep your nose clean off the field). Despite lacking the incredible physical talent of the two players ranked below him, Johnson is without question the best playmaker Buffalo has in its passing game. He also benefits from being in a Chan Gailey offense with a QB that suffers from a touch of the "Napoleon Complex" in Ryan Fitzpatrick. As a result, Johnson gets a lot of work within 5-10 yards of the line of scrimmage since many of Fitzpatrick's throws are off three-step drops. The few times Fitzpatrick challenges defenses a bit further down the field, he usually does so in Johnson's direction. After signing a rich five-year contract in March, it doesn't look like much is going to change anytime soon either. Johnson may ultimately lack the "wow factor" of some of the receivers below him, but at least he is durable and dependable – which are good traits to have from a fantasy WR2.
Quite simply, if Dez Bryant ever embraces the fact he is a football player, he has more than enough talent to become one of the best receivers in the NFL over the last decade or so. Obviously, as he enters his age-24 season, there is still more than enough time for him to mature to the point where he needs to in order to gain the trust of his team, but it's not likely to happen until he shows HC Jason Garrett and QB Tony Romo that he is significantly better than Miles Austin and more trustworthy than Jason Witten. As you have likely already guessed, Bryant doesn't warrant as high of a ranking as one might think because it is hard to know if/when his mind is right. Romo has two other dependable options, so with Bryant's off-field problems and reports that he still doesn't know how to run routes (which would explain the number of screen passes he gets in relation to other receivers) and you have enough ammunition to put him in the long-term "what could have been" tier in fantasy.
Long before Johnson was getting flagged for questionable on-field judgment and Bryant made poor choices off the field, Marshall was blazing the trail for them. While it is not fair or pertinent to list his most notable transgressions here, it really comes as little surprise why such a dominant talent is already working for his third different employer. Whether or not his problems stem from a disorder that can be treated – as has been reported – or just poor decision-making ability, Marshall essentially belongs in the Terrell Owens class of players who create as much chaos for opponents as they do for their own team. The thought of owning Marshall in a dynasty or keeper league setting makes owners hold their breath in a similar yet much different way than owning a player like Michael Vick, Darren McFadden or Frank Gore. Either way, Marshall gets another fresh start in Chicago, where he gets a chance to work again with a quarterback that helped turn him into a household name five years ago. In the end, Bears fans and fantasy owners alike can hope he will eventually conquer his personal demons, but until then, he's no better than a fantasy WR2 in dynasty and keeper league formats.


The Prove-It-To-Me-Again Crowd
Rk
Player
Tm
Age
Pos Rk '11
% Yrs Top 12
% Yrs Top 24
Three-Year
Consistency Score
20.
Jordy Nelson
GB
27
4
100 (1/1)
100 (1/1)
6.86
21.
Eric Decker
DEN
25
43
*
*
2.65
22.
Antonio Brown
PIT
24
24
100 (1/1)
100 (1/1)
0.86
23.
Denarius Moore
OAK
23
51
0 (0/1)
0 (0/1)
13.58
24.
Demaryius Thomas
DEN
24
62
*
*
3.15
25.
Torrey Smith
BAL
23
30
0 (0/1)
0 (0/1)
12.86

Nelson hinted at a potential breakout with some strong performances at the end of the 2010 season, but he surpassed all expectations with his 68-1,263-15 line from a season ago. Make no mistake, Nelson is not a fluke. The problem, however, is that no matter how efficient Green Bay's offensive machine is going forward, Nelson's numbers are likely to fall. Obviously, we know Nelson and Greg Jennings have no problem working off of each other, but one has to believe Jermichael Finley will bounce back in a big way. Furthermore, Randall Cobb will soon be eating into Nelson's production as well, perhaps as early as this season. The long-term upside is that Nelson will benefit immensely from the incredible offense he plays in and the fact he has Aaron Rodgers as his quarterback extending plays in order to give him another second or two to get open downfield. I suspect all of Nelson's catch, yardage and TD totals will all take a slight hit this season, with the 15 scores getting cut by a third or more. Still, a 60-1,000-9 line is more than acceptable from a WR2 and the kind of stats I would expect from Nelson over the next 2-3 years.

(Decker & Thomas) With all the buzz Demaryius Thomas created once he finally got on the field in 2011, it's hard to go against the grain and say that he won't also be the choice of Denver's new QB. Here's the problem: Thomas has either had some of the worst injury luck to begin his NFL career or he is just going to remain a perpetual injury risk. For that reason, I think Decker is the slightly better choice of the two young Bronco WRs in dynasty leagues. Using the personnel the Colts had several years ago (which is apt if Peyton Manning is allowed to call most of the game for the Broncos as expected), Decker is projected to play the Marvin Harrison role (flanker) while Thomas will inherit Reggie Wayne's split end spot. Harrison made a living on short "in" routes, something Decker should be able to emulate given his 6-3, 220-pound frame. Plus, Decker would seem to be the logical first choice to work out of the slot, opening the door for even more opportunity and single coverage while Thomas might see coverage tilted in his direction due to his big-play ability and the notion that he will remain on the perimeter. While both young receivers will take turns dominating in fantasy, I tend to believe Decker has more consistent upside in PPR leagues due to his new role while Thomas may enjoy huge games, but be a bit less consistent. In the end, I believe choosing between the two in dynasty league is simply splitting hairs as both players have significant upside now with Manning in town.

Most of us were led to believe during Antonio Brown's explosive 2011 preseason that he was simply another creation of the Steelers' passing game machine that has given us such WR3 luminaries such as Antwaan Randle El and Nate Washington over the years. After all, if any player was going to emerge as the next WR3 in line, it was going to be Emmanuel Sanders. Little did we know at the time Sanders was destined to be injury-prone, so by the time he was able to actually contribute in consecutive games, Brown had already breezed right past him and a declining Hines Ward in the pecking order for Ben Roethlisberger. And once teams got tired of watching Wallace burn them repeatedly over the first half of the season, Brown repeatedly burned single coverage as defenses made shutting down Wallace a priority. I'm still a bit leery of Brown's ability to be an actual WR1 if Wallace were injured for any length of time, but until that becomes an issue, the Steelers have a pair of receivers – much like the Giants and Falcons, among others – who will benefit from playing off their tag-team partner with a quarterback more than capable of hitting them in stride.

While A.J. Green and Julio Jones were expected to make an impact in their rookie seasons, I'm not sure a single first-year receiver impressed me more than Denarius Moore did in 2011. Certainly, it is easy to get caught up in all the measurables a gifted receiver has and/or the highlight-reel plays he makes, but Moore is more than just track speed and "wow" plays. In my opinion, he is a lot like Brandon Lloyd, just eight years younger. After flashing in his second NFL game (5-146-1 against Buffalo), Moore quickly lost his luster as injuries and defenses adjusted to him quickly since Oakland lacked an above-average quarterback. However, Moore enjoyed another rise to prominence in the second half of the season after the team acquired Carson Palmer. When you consider what Moore was able to do as a rookie (618 yards and five scores) with no offseason, constant change at QB and his own injuries, it boggles the mind what might be able to do when luck is actually is on his side. Over the final six games when he played with Palmer, Moore posted three games of 91+ receiving yards and scored three times. Palmer has already gone on record he expect Moore to become a star and, quite frankly, when quarterbacks make announcements like that, they do what they can to make it happen. Even though I compared him to Lloyd earlier, it is obvious he won't have to wait nearly as long as Lloyd did to break through. If Palmer can stay healthy and remain somewhat productive over the next 1-2 years, Moore could be vying for a Pro Bowl berth as early as 2013.

Much like Denarius Moore, Torrey Smith was another rookie who showed he was more than just a "speed guy" in 2011. His 50-841-7 stat line from last season came as a surprise to just everyone who not only considered him raw, but also because he wasn't supposed to get a whole lot of run last season after the Ravens traded for Lee Evans. As we look forward to 2012 and beyond, Smith has a wonderful opportunity to snatch the WR1 job from Anquan Boldin at some point this season or next since the ex-Cardinal will be turning 32 during the season. With Boldin likely to become less effective in the coming years, Baltimore doesn't currently possess much in-house competition for Smith's rise to the top receiving spot. The tight ends (Dennis Pitta and Ed Dickson) are solid, but will never be elite and Tandon Doss doesn't figure to see much action until Boldin has noticeably declined, so it is quite possibly Smith and Ray Rice lead the team in most receiving categories over the next few years. Smith has a lot of work to do on his route running, but considering how truly raw he was coming out of Maryland, his rookie-year numbers gives you a fair idea of what his upside is once he actually learns the art of receiving.

Age/Attitude/Injury Concerns
Rk
Player
Tm
Age
Pos Rk '11
% Yrs Top 12
% Yrs Top 24
Three-Year
Consistency Score
26.
Brandon Lloyd
NE
31
23
*
*
28.60
27.
DeSean Jackson
PHI
25
29
0 (0/2)
100 (2/2)
25.24
28.
Vincent Jackson
TB
29
13
*
*
22.40
29.
Steve Smith
CAR
33
7
100 (1/1)
100 (1/1)
14.33
30.
Marques Colston
NO
29
10
33 (2/6)
83 (5/6)
25.80
Give Lloyd credit – he knows a good thing when he sees it. Lloyd credits OC Josh McDaniels for being the first coach he had at the NFL level who really believed in him. Thus, he jumped at the opportunity to continue working with him when he signed a three-year deal with New England to fill the role the Pats hoped Chad Ochocinco would occupy in 2010 – a deep threat that could make some Randy Moss-like plays downfield. Lloyd was an obvious choice for New England since he already knows McDaniels' offense and the OC is certainly no stranger to the Patriots. Although Tom Brady is on a whole other level than either Sam Bradford or Kyle Orton, the quality of Lloyd's new QB figures to be counterbalanced by the fact that neither Denver nor St. Louis had anything close to the trio of Wes Welker-Aaron Hernandez-Rob Gronkowski. It is also worth noting that McDaniels' dynamic Patriot offenses leaned on Welker and Moss, so suggesting he will post Moss-like numbers at any point is a bit of a stretch. With that said, he is the best receiver the team has employed opposite Welker since Moss, so he will be productive.
For someone who returns punts on a part-time basis, it surprises me DeSean Jackson has the kind of reservations he does about running routes over the middle of the field. Perhaps he was simply playing to "protect himself" over the past year or two, but with his financial future now secure, he has little reason to operate solely as a clearout receiver now. Because he is such a big-play wideout, Jackson will always be more valuable in non-PPR formats, but if his contract was truly the one factor holding him back, then a return to his 2009 production (63-1,167-9) shouldn't be asking for too much. Because Philadelphia spreads the wealth in the passing game like it does and focuses much more on short and intermediate routes, that stat line from 2009 – barring an injury to Jeremy Maclin or Jason Avant – is probably his ceiling. And based on the way I saw him play (and complain) over the last two years, I'm not sure he's going to generate enough trust among his teammates to get back to that level.
Based on some early observations, the fantasy community seems to believe Vincent Jackson will take a production hit based almost entirely on the expected drop-off from Philip Rivers to Josh Freeman. While the reasoning is logical, Freeman is still easily an above-average NFL quarterback that may have a more complete offense around him than Rivers has enjoyed in years. With the Bucs focused on being a physical running team behind one of the league's most talented run-blocking lines, Jackson should be lethal as a deep-ball receiver off play-action. In short, I don't expect Jackson's overall numbers to drop much – if at all – over the next 2-3 years because whatever talent gap exists between the two quarterbacks should be made up by Freeman's ability to extend plays with his mobility and an offensive line that should give him a second or two more on a consistent basis than Rivers has received lately.
After seeing his career resuscitated by the arrivals of Cam Newton and OC Rob Chudzinski in 2011, Steve Smith was able to remind us all of the fearless mighty mite in his prime and land one more big contract – especially for a receiver entering his age-33 season. While age will probably catch up to him before the end of his contract – he'll be 37 if the option in his contract for 2016 gets picked up – there's a pretty good chance Smith will be Newton's main target for at least 2-3 more seasons. One reason for my level of confidence in that statement is based on Smith's physical build. At 5-9 and 185 pounds, he sounds like nothing more than a slot receiver. However, he is thick in addition to being quick and wears his weight like a running back, which makes him a nightmare for most of the defensive backs in the league now that spend such little time practicing how to tackle. It's his build that makes me think he'll age more gracefully than most receivers his age, which is why I'm giving him a slight nod here over some talented younger wideouts.
For a receiver who has been so productive, it may come as a surprise to see Colston this low. My issues with him are simple: the fact that he lines up in the slot so often nowadays helps mask his inability to create separation from most cornerbacks. Furthermore, he has proven to be an injury risk. In fact, the only reason I have him this high is based on the high regard I have for Drew Brees, who consistently threads the needle on his throws to Colston and allows him to use the one advantage he does have on most defensive backs – size. For those dynasty owners tied to Colston, you can probably safely assume about three more years of WR2-level production from him since Brees isn't going anywhere and Jimmy Graham and Darren Sproles will be attracting a lot of the defensive attention. Last but not least, it is very difficult for any defense to double a slot receiver since doing so leaves a defense very vulnerable to the kind of big plays that players like Graham and Sproles can create.

At first, the Chargers' acquisition of Meachem didn't thrill me a great deal. But as I considered it a bit more, if Meachem is going to thrive in an offensive system, it would be in a downfield passing game that uses play-action as often as HC Norv Turner does. Furthermore, Vincent Jackson never was a high-volume catch receiver, instead making his living by beating his man down the field and not as much because he was a strong run-after-catch player. It'd be foolish to expect Meachem to post the same kind of ridiculous numbers Jackson did in San Diego (such as V-Jax's career 17.5 YPC or his 28 TDs over his last 51 games), but I do not doubt Meachem's ability to play the position at a level at which he will be an every-week starter in three-receiver leagues. Ultimately, I can see Vincent Brown emerging as the lead receiver over the next few years, but despite flashes during his rookie season, that is a fairly risky projection for a 23-year-old receiver who will always be a better route runner than athlete. There's also something to be said about the opportunity Meachem has to make a name for himself (and the motivation that comes along with it) after being cast as a deep-threat specialist as a Saint.
Titus Young will be the first of two second-year receivers at the back end of this list that I'm sure will cause some debate with their rather high ranking. While it is quite obvious he will never be anything more than the second option in the passing game as long as Calvin Johnson is around, it doesn't mean he won't be important. Quite often, when talent meets opportunity in fantasy, big numbers will follow. In Detroit, there will be plenty of opportunity since Matthew Stafford will probably continue to attempt more than 40 passes per game (41.4 attempts in 2011) and "Megatron" will continue to attract more defensive attention than just about any other receiver in the game. Further consider that Young should begin his rise to fantasy prominence over the next year or two, allowing him to share WR2 duties with Nate Burleson this year before overtaking him in 2013. Since Detroit has no plans to run a balanced offense in the near future, Young should enjoy being one of the few high-volume big-play receivers that should never see double coverage. He's probably still a year away from 60+ catches AND 1,000 receiving yards, but once he gets there – presumably in 2013 – look for him to stay at that level for a few years.
Who exactly is Michael Crabtree? The Texas Tech alum is still plenty young (entering his age-25 season) and coming off a career-best season, but he continues to fall short of expectations. At some point, a player is who he is, with the only thing that can help him achieve more is when he is surrounded with more talent. Fortunately for Crabtree, he may be getting that needed talent infusion heading into his fourth season. In Randy Moss and Mario Manningham, the Niners should be getting at least one player who can stretch the field in three-receiver sets, allowing Crabtree to work the underneath zone coverage from the slot and use his run-after-catch abilities. There's little doubt Vernon Davis should remain Alex Smith's most trusted target going forward, but even if Crabtree does nothing more than find the end zone a bit more often, his 73 receptions and 880 yards over 15 games last season should serve as a floor for what he is capable of as a high-end fantasy WR3 over the next 3-5 years.
Let's get this out of the way right away: the Redskins overpaid for Garcon and just about everyone knows it, including his current employer. However, our job as fantasy owners is not to punish a player for that, but recognize the statistical contributions he will make because he is being paid like a WR1. With that said, I can't think of many other places that Garcon could have landed to maintain the same kind of fantasy value he enjoyed in 2011 with Curtis Painter and Dan Orlovsky on his way to a career-best season. Even without watching Robert Griffin III take a single NFL snap, it is clear to me that Team Shanahan will give him carte blanche to make plays with his feet – which includes extending pass plays – So when the rookie freelances like that, Garcon is the one Washington receiver most likely to benefit. I'm not going to suggest Garcon will average 65-70 catches or exceed 1,000 yards on a regular basis, but the threat of the run will open him up to match or break his career high of six TD catches. Garcon is probably going to be a matchup receiver in fantasy at best going forward and doesn't figure to be any more consistent now than he was as a Colt, but I tend to believe he will have enough "splash" games to be a solid WR3 option in fantasy for the next few seasons.
I'm not sure there was a player who benefitted from the offseason in reality but saw his short- to-intermediate fantasy stock drop more than the Bucs' Mike Williams this offseason. New HC Greg Schiano will stress the run game more than any recent Tampa Bay coach, which will certainly take some of the pressure off of Williams to carry the offense. The addition of Vincent Jackson also means that Williams will receive less of the defense's attention each week. However, unlike many of the other tag-team receiver situations mentioned above, the new offense under OC Mike Sullivan will probably be too conservative initially to ensure the fantasy success of two receivers, a tight end and a running back. Furthermore, if I were considering any young receiver for my dynasty league team, I would hate to be concerned about his work ethic or focus on football – and that is a concern with Williams, especially after last season. Perhaps Schiano and Sullivan will show Williams some tough love and get the best out of him, but I'm not going to assume that will happen either. So, for now, Williams' talent keeps him among the top 40 dynasty receivers, but just barely.


Great Talent but Uncertain Futures
Rk
Player
TM
Age
Pos Rk '11
% Yrs Top 12
% Yrs Top 24
Three-Year
Consistency Score
36.
Santonio Holmes
NYJ
28
33
0 (0/2)
0 (0/2)
12.72
37.
Justin Blackmon
TBD
22
*
*
*
*
38.
Darrius Heyward-Bey
OAK
25
28
0 (0/3)
0 (0/3)
3.04
39.
Randall Cobb
GB
22
96
0 (0/1)
0 (0/1)
-4.85
40.
Sidney Rice
SEA
26
78
0 (0/2)
0 (0/2)
20.94
As of this very moment, there is very little standing in the way of Holmes enjoying his best season as a Jet – outside of his lukewarm relationship with Mark Sanchez. (The kids are reportedly mending fences as we speak, so we'll assume for now they'll place nice in 2012.) However, despite the fact that touchdown vulture Plaxico Burress will not return, there are two rather large obstacles for Holmes drastically improving upon the 51- and 52-catch seasons he has managed in his first two seasons with the Jets: 1) New York may very well be the most run-heavy team in the league this season and 2) when Sanchez isn't the one throwing him the ball – far from an ideal situation anyway – it will be Tim Tebow. The more optimistic fantasy owner would suggest since the Jets will be so run-centric, it should loosen coverage on Holmes a bit when the team goes play-action, allowing Holmes to improve his YPC and long-distance touchdowns. Still, when you consider all that is wrong with his on-field situation and add in his less-than-ideal attitude, you have a recipe for a receiver whose name value will likely continue to outweigh his actual fantasy value on draft day.
For those that value my opinion on such things, I tend to agree with Mike Mayock's recent assessment that Blackmon compares more favorably with Hakeem Nicks and Dwayne Bowe – two receivers drafted in the twenties of their respective drafts – than A.J. Green and Julio Jones. (My early comparison was a slightly better version of Michael Crabtree.) While Minnesota would have us believe it is considering him at No. 3 overall, Blackmon is the most likely of the six "blue-chip" players to fall a bit on draft day. (In fact, I wouldn't be overly surprised to see him wind up in Miami or Carolina.) Regardless of his future employer, he will be expected to start almost immediately and likely to be asked to be his team's top receiver this year (or next, at the latest). While Blackmon doesn't possess the same skill set as Green or Jones, I don't think talent will be his issue – he's not elite in that regard, but he's good enough to be a long-term NFL starter – I'm more concerned about some of off-field decisions he has made (DUI, reported missed practices and flying to Las Vegas following Oklahoma State's win over Stanford in the Fiesta Bowl). As a result, I'm going to throw him into this top 40 in the same tier that I do other players who I cannot trust for one reason or another and allow him to prove me wrong.
For fantasy owners, it's a shame that former Raiders HC Hue Jackson wasn't kept around for a number of reasons. Among those reasons was the 2011 breakout of Heyward-Bey, who I believe will be negatively impacted by the transition from Jackson to new OC Greg Knapp. For the most part, Knapp tends to favor the run game and will be installing a zone run-blocking system in Oakland. Where this hurts DHB is that such teams usually don't run play-action from that in order to hit a receiver in the short to intermediate areas of the field – a place where Heyward-Bey was able to make a living last season with his improving run-after-catch abilities. Denarius Moore figures to move into the WR1 role and will likely command most of the deep shots Knapp dials up, so I struggle with the likelihood DHB will match his 64-975-4 line from a season ago. Additionally, I'm less than enthusiastic about Carson Palmer's ability to remain an above-average quarterback much longer. He still runs a bit hot and cold – as he did in his final years with the Bengals – and as he turns 33 at the end of the season, so I don't see that changing now. Last but not least, I'm afraid that a healthy Jacoby Ford could steal even more of DHB's fantasy thunder on an offense that will likely lean on the run.
As I hinted above in the Titus Young blurb, I am also really high on the future of another second-year receiver – Randall Cobb. I'm well aware that Donald Driver will likely be around for a farewell tour and that Green Bay has no shortage of receiving options, meaning production in 2012 may be hard to come by for Cobb. Here's the thing: Cobb is nearly impossible for one defender to guard in the slot and he is the most explosive player the Packers have on offense (and special teams). I suppose the case could be made that Cobb will remain in a Devin Hester-like role for the time being, but for a team that is so pass-happy, I have my doubts as to whether or not Green Bay will limit the role of such a dynamic playmaker. The upside with Cobb in this offense is huge and it would not surprise me if he became a bit of a drain on Jordy Nelson's fantasy value already this season. Perhaps he doesn't exceed 40 catches in 2012 (he had 25 as a rookie), but as one of the youngest players in the NFL, time is on his side.
I think it is safe to say that if this ranking was being done strictly based on athleticism and age, Sidney Rice would much higher. And it is too bad because Matt Flynn represents the best quarterback he's had to work with since Brett Favre in 2009 – the year before Favre finally started showing his age. Rice cannot seem to catch a break when it comes to injuries, having suffered three concussions in 12 months to go along with recent shoulder and hip surgeries. The injuries are piling up to a point now where he is probably a risky WR3 in redraft or dynasty leagues. Thus, Rice is much lower on this list than someone with his talent, age and situation should be. I'm not going to pretend that Rice is a perfect fantasy receiver when he's healthy, but the holes he does have as a fantasy wideout don't matter much to the dynasty owner that only gets to use him half a season and worries about his availability the rest of the time.
The Next 10
41. Vincent Brown, SD
Brown doesn't possess an elite skill set, but he was pro-ready coming out of last year's draft and has Philip Rivers as his quarterback for the foreseeable future. It would not come as a shock if overtakes Malcom Floyd in the starting lineup at some point this season.
42. Michael Floyd, TBD
Some draftniks are calling Floyd "the Larry Fitzgerald to Justin Blackmon's Anquan Boldin", which will only rile up the masses even more if the Golden Domer doesn't make 5-8 Pro Bowls. Floyd doesn't project to be an elite wideout, but like the other rookie receivers in this draft, he'll be selected at a point where he'll be expected to contribute in 2011. He could go as high as No. 6 to St. Louis, but Buffalo at No. 10 or any of the teams from Nos. 16-19 make more sense.
43. Greg Little, CLE
Fortunately for his fantasy stock (and unfortunately for his team's offensive potential), Little is currently his team's most dynamic regular offensive playmaker when he really should be the second or third. The lead receiver in Cleveland's underwhelming offensive talent pool, Little seems certain to lead the Browns in most receiving categories in 2012 almost by default unless they land Blackmon with their first pick or watch Floyd somehow drop to No. 22 overall.
44. Anquan Boldin, BAL
Long one of my favorite receivers, Boldin is closer to the end of his career than the beginning. His physical style of play has allowed him to maximize his fantasy potential over the years but also caused him to miss more games than fantasy owners want to see from a WR2. Torrey Smith should begin to emerge as Joe Flacco's top WR option over the next 1-2 years and Baltimore also has Ray Rice to steal a lot of short-catch opportunities from Boldin as well.
45. Lance Moore, NO
I find it nearly impossible to get a handle on Moore, but the stats speak for themselves: 50+ catches and eight-plus touchdowns in three of the last four seasons. For fantasy purposes, he's a "splash receiver" as his three-year consistency score (4.48) will attest. Still, serving as one of his quarterback's main short and intermediate options in one of the NFL's most explosive offenses makes him a viable low-end WR3 or WR4 most weeks in PPR.
46. Kendall Wright, TBD
Wright elicits comparisons to Santonio Holmes (thankfully, just on the field) while others believe he will ultimately find his long-term home as a slot receiver. He doesn't have Mike Wallace's long speed, but if he lands in a place like Cincinnati or Houston, he could find himself enjoying a lighter version of Wallace's first three years in Pittsburgh. I believe there is less difference between his floor and ceiling than any of this draft's other top receiver prospects.
47. Austin Collie, IND
I'm sure the absence of Reggie Wayne from this list is appalling, but he will turn 34 during the season and could easily be released after the season with the way his new contract is structured. Donnie Avery can't be expected to stay healthy, leaving Collie, who one of the most efficient receivers on a per-play basis entering his age-27 season, to work the slot in the coming years with a rookie QB.
48. Nate Washington, TEN
Washington showed me a lot more than I thought he was capable of last season, posting career highs across the board. One of these years, however, Kenny Britt WILL stay healthy AND Tennessee will commit to using Jared Cook – as a matchup nightmare all across the field as opposed to just a passing-down specialist – for an entire season. Additionally, the Titans will want to find Damian Williams playing time as well, meaning Washington will return to his 40-50 catch ways.
49. Laurent Robinson, JAC
Robinson has always been long on talent, but short on durability…until last season. In Jacksonville, he'll be part of the group of players/coaches that will attempt to make the Jags field a decent passing game after the debacle they put on the field in 2011. With Marcedes Lewis and Mike Thomas around, there is enough talent to field a respectable passing game – assuming Jacksonville didn't traumatize Blaine Gabbert too much by rushing him into the starting lineup in 2011.
50. Stephen Hill, TBD
Strictly a raw talent selection at this point, Hill could easily enjoy a Torrey Smith-like rookie season in the right situation or serve as a little-used WR4 in 2012. However, given the price some team will pay to draft him, the former seems more likely than the latter. In my opinion, he has a bit more polish to his skill set than former Georgia Tech WR Demaryius Thomas when he was drafted.

Suggestions, comments, musings about the article or fantasy football in general? E-mail me.

---
Doug Orth has written for FF Today since 2006, appeared in USA Today's Fantasy Football Preview magazine in each of the last two seasons and served as a weekly fantasy football analyst for 106.7 The Fan in Washington, D.C. this past season. He is also a member of the Fantasy Sports Writers Association. You can also follow him on Twitter.