Preseason Matchup Analysis




6/26/12



ARI | ATL | CAR | CHI | DAL | DET | GB | MIN | NO | NYG | PHI | STL | SF | SEA | TB | WAS | AFC

When I was a kid, I often anticipated and dreaded my middle-of-the-summer birthday. On one hand, another year entailed the customary receipt of birthday gifts eating of chocolate cake. On the other hand, the end of June marked the halfway point of my summer break and meant another year of advancing my education was on the horizon.

As June melts into July, serious fantasy owners should view this time as the halfway point of their preseason fantasy preparation. Since the attention of many fantasy football owners is probably spread in any number of directions at this point of the year, any bit of knowledge that can be gathered or opinions that can be researched and solidified at this point of the offseason can be considered gaining an edge on your competition. Certainly, most of us recognize that much of what is being reported right now is overly optimistic, but that does not mean all the information coming from team camps during the summertime can't be useful.

As a result, I find there is significant value in taking the information that beat writers and, in some cases, national columnists are providing us now and providing a way-too-early "fantasy look" at all 32 teams. Because this time of year is all about optimism (and since I haven't even attempted to begin projecting the season), I'll try my best to remove the rose-colored lenses that many of these reporters are looking through. At the same time, I will attempt to identify some of the players you should keep in mind. Remember, the purpose of this experience isn't so much to give you my final fantasy analysis; rather, it is my hope that some of this information will allow each of you to get a slight head start on your own forecasts.

Since we took a detailed look at the AFC last week, I'm going to turn my attention this week to the skill-position players for each NFC team making waves – good or bad – in their team's offseason workouts and provide some insight as to what it could mean this season.

Arizona
After showing the toughness and willingness to play with pain last season the coaching staff has wanted to see from him since he was a first-round pick in 2009, Beanie Wells will begin his fourth NFL season in much the same way he has the first three – as a question mark. In late January, Wells underwent a knee surgery for the second time in three years that was thought to be arthroscopic, but his unwillingness to provide details about it (other to say "it was more complicated than repairing a torn meniscus" and smiling when asked if it was microfracture) casts doubt on his ability to follow up on a breakout season. Then, there is the issue of Ryan Williams – a player many thought could take Wells' job last year until he tore his patella tendon – who the team hopes to have back by training camp, just like Wells. As we know from players like Cadillac Williams, recovery from a patella tendon injury can sometimes take years as opposed to months. So, given Wells' history and the seriousness of Williams' injury, it's only natural to wonder if either player will be effective in 2012 and if the Cards will need to give significant touches to Alfonso Smith at some point. During the team's OTA in early June, both Wells and Williams were doing rehab work while the rest of the team was practicing although it appears "certain" the latter will see the practice field before the former. As we stand here in late June, it is nearly impossible to determine how this is going to shake out for fantasy purposes as both players are significant injury risks. While Wells earned respect for his gutty play last season, Williams is the better all-purpose back. In the unlikely event both players make it all the way back and play a full schedule, consider Wells a low-end fantasy RB2 given his likely roles as early-down pounder and goal-line back. Conversely, expect Williams to be a useful flex option because he will probably secure most of the work in the passing game and is more elusive in the open field than Wells.
While there is plenty to be decided at quarterback, it is possible a more fantasy-relevant situation is shaping up at tight end. Despite the fact that Arizona tight ends combined for 65 receptions – more than the team had in 2009 and 2010 combined – no player had more than Jeff King's 27. Todd Heap couldn't get healthy again after a September injury and admits this year is "huge" for his future. One reason for that is the likelihood that second-year TE Rob Housler assumes a bigger role this season after dealing with his own injury woes as a rookie. Arizona would very much like to use two-TE formations on a more regular basis this season and Housler has the kind of speed and athleticism to be a fantasy factor. TE coach Freddie Kitchens estimated that Housler could have easily had 4-5 touchdowns last season on plays where he was "just screaming down the field". It's probably too much to ask Housler to push 40 catches this season if Heap and King are both healthy, but the Cardinals want him to succeed and the threat of Michael Floyd and Larry Fitzgerald on the outside should open things for him down the middle. Therefore, he is the tight end to own on this team in fantasy and a player to keep in mind as a possible breakout candidate.

Atlanta
The Falcons' offense figures to be dramatically different in 2012 despite the fact they experienced virtually no turnover among their core group of skill-position players. The reason: new OC Dirk Koetter. As the long-time play-caller in Jacksonville, Koetter regularly had to bypass his preferred method of attack (the passing game) due to average talent and lean on Maurice Jones-Drew to move the offense. The early indications are that Michael Turner's workload will be more closely monitored, the screen game will be much more prominent and Roddy White will see the ball less. While these were all changes that were likely coming anyway, the transition was made easier by the coordinator change and the fact that ex-OC Mike Mularkey's run-based attack failed to lead to any success in the playoffs. Obviously, all these changes mean increased touches for Julio Jones, Jason Snelling and Jacquizz Rodgers (perhaps even Harry Douglas). Turner has been rumored to see fewer touches for several years now, but this season is when it will likely become a reality because the Falcons now have no reason to remain a conservative offense with two of the best receivers in the league at their disposal and an explosive Rodgers coming out of the backfield. While White may not hit the 100-catch plateau for the third straight season, he's almost certain to turn in his sixth straight year of 80+ receptions because of the absolute trust QB Matt Ryan has in him. The sky is the limit for this offense with a renewed emphasis on the passing attack, meaning White and Jones may both end up as WR1s in fantasy while Atlanta tries to turn Rodgers into the 6-8 touch-per-game version of Darren Sproles. Snelling could also see a slight bump in value as well if the team follows through on its hopes to back off Turner.
Obviously, it takes more than a couple of glowing reports about offensive change to really start "buying the hype" on an offense. A shift from a run-first offense to a pass-heavy attack leads to more opportunities, but can also backfire with increased turnovers and less overall offensive efficiency. However, when a team smartly chooses to allow its quarterback more leniency to operate the no-huddle offense when he's proven he is adept at doing so, there is definitely potential for huge fantasy numbers. Fortunately, that seems to be exactly what Koetter wants to do this season, so with a bulked-up Ryan exhibiting more arm strength in OTAs, there's plenty of reason to be optimistic about the incredibly high ceiling this offense has in 2012. Assuming all this plays out as Koetter seems to believe it will, Ryan should improve on his eighth-place finish among fantasy QBs and take yet another step towards elite status.

Carolina
Whether or not Brandon LaFell has really been as good as the Panthers keep telling us he has been this offseason is a matter of some debate, but HC Ron Rivera once again noted in mid-June his third-year receiver "looks much more comfortable" and is quickly "building a rapport" with QB Cam Newton. While cautious optimism is still the way to go with LaFell, he did start coming on a bit more during the second half of last season (catching five balls in one game and going over 50 yards three times after not doing either one once in the first half). The Panthers further showed their faith in LaFell by not drafting or signing a high-profile receiver, meaning the LSU alum should only really have to hold off David Gettis. Even though his reception total actually dipped a bit from his rookie (38 to 36) despite playing two more games, LaFell's YPC jumped from 12.3 to 17.0 in large part due to the stellar quarterback play Newton gave the team. While we cannot simply give LaFell all 44 of Legedu Naanee's catches from last season, there's reason to believe he can get about half of them if we are to believe Rivera. That boost would easily push LaFell into the 50-catch club and give the team the kind of threat opposite Steve Smith it has wanted since Muhsin Muhammad retired. While there doesn't seem to be a sense that LaFell will threaten Smith's lead receiver status at any point of his career and become a fantasy star, he does have enough size and skill to be a valuable red-zone weapon and fantasy WR4 in 2012.
Since I provided my opinion on what I expect to happen in the Panthers' backfield a couple of weeks ago in my Free Agency Review, I will instead devote some more time to Newton and the Carolina passing game. With Newton proclaiming the improvement he has made over the last few months is "through the roof", it is worth wondering who else besides Smith and maybe LaFell will help him prove it. First of all, the team should be able to threaten defenses deep even more this season with Gettis returning from injury and rookie Joe Adams each possessing enough game-breaking speed. Secondly, the team is still "really high" on TE Gary Barnidge's ability as a downfield threat even though he has just 12 career catches in 45 games with the team. An ankle injury ruined any chance Barnidge had to shine in 2011, but the team thought enough of him to let Jeremy Shockey walk. Even though it is entirely possible that none of these players (Gettis, Adams or Barnidge) ever come close to fantasy relevance, defenses will have to account for that team speed and when they do, Newton could enjoy even more success as a rusher than he did as a rookie. With that being said, the most likely beneficiary of Newton's improvement should be the running game, which should be a bigger staple of the offense this year anyway in order to preserve the quarterback's health.

Chicago
Whatever Matt Forte is lacking in terms of money right now (with his holdout), he appears to be making up for it in terms of muscle mass. In a recent interview with Jay Cutler, the quarterback reported the Bears' starting running back was "huge, all ripped up" and that all he does is "go to the weight room…I've got nothing else to do." Although Forte has mostly dispelled the pre-draft notion that he lacked breakaway speed, it's probably not the greatest thing for him to put on much too weight – be it the good or bad kind – since his elusiveness is one of his best traits. Cutler also expressed in the same interview that he would be "shocked" if he doesn't sign his tender in mid-July and report to training camp on time. Chicago Tribune beat writer Brad Biggs suggested in mid-May there was "no chance" Forte would skip regular season games, so given that the RB has been nothing but a standup player so far in his career, we can probably go along with Cutler and Biggs. As to what he will be returning to, new OC Mike Tice should make the running game more of a staple than former OC Mike Martz did, so it shouldn't be a stretch for Forte to return to his 2009 or 2010 workload if he plays all 16 games as he did in each of his first three seasons. Michael Bush's presence will probably cap Forte's scoring ceiling at about six touchdowns, but assuming all the key parts of this offense remain healthy, Forte should have low-end fantasy RB1 value in what should be a surprisingly good offense this season.
One big reason Chicago should field a dynamic offense this season is due to the presence of new QB coach (and passing game coordinator) Jeremy Bates, the same QB coach Cutler had in his final season in Denver when he threw for a career-high 4,526 yards. Although working with then-HC Mike Shanahan probably influenced Bates to get Cutler outside the pocket, Bates wants Cutler to use his athleticism – as he did in Denver on rollouts and such – and not confine him to Martz's somewhat rigid dropback approach. As a result, Cutler now warrants low-end QB1 consideration in fantasy. But while the addition of Bates as well as receivers Brandon Marshall and rookie Alshon Jeffery are all key parts of the newfound optimism in Chicago, the biggest fantasy surprise coming out of the "Windy City" this fall could very well be Kellen Davis, who I hyped back in April during my Dynasty Rankings series. As we know, Martz was rarely ever a friend of the tight end in the passing game – other than as a blocker – so almost any change was going to be a good one for the Bears' top tight end. But Davis may feel like he really hit the jackpot with Tice as the former NFL tight end has typically managed to coax fantasy-relevant seasons from the likes of George Wrighster, Jermaine Wiggins and Byron Chamberlain. Davis is certainly a more talented receiver than any of those players, so when he suggests he is hoping for at least 40-60 catches this season, he may not be far off. Certainly, Bates will have some say about that, but Davis will be on the receiving end of a number of Cutler rollout throws. Because he was such an underused asset under Martz, Davis may not even get drafted in regular-sized leagues, but don't be surprised if he makes a push to be a top 15 fantasy TE in 2012.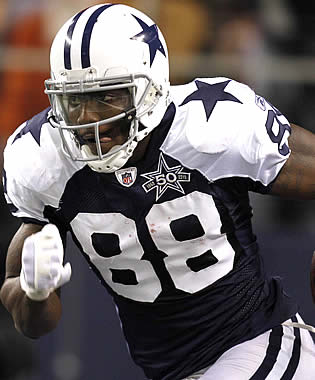 A committed Dez Bryant would easily become a top five fantasy receiver.

Dallas
There's a good chance that if Dez Bryant's first three years are in any way indicative of the rest of his career, he could become a permanent fixture in "Early Observations". In January, he managed to make the news again when he confronted a heckler outside of a Miami club, although nothing came of it. Later that same month, the Dallas Morning News' Rick Gosselin suggested that Bryant "still doesn't know how to run routes", which comes as little surprise to people like myself who have stated for some time the receiver makes most of his plays either on screens or deep balls. Bryant revealed that he never fully healthy last season and also admitted his conditioning probably wasn't "at its best". Despite the fact he is being considered a relative disappointment this far in his career, he seems to be embracing the notion that he is a professional more and more. So while he may still be prone to a bout of immaturity here and there, the coaching staff thinks he is starting to "get it". And let's be honest, if his 63-928-9 line over 15 games last season is what he does when he is not completely healthy or not in the best of shape, wait until he starts showing some pride in his craft, as he appears to be doing this offseason. A fully-engaged Bryant that can actually run routes probably profiles into an Andre Johnson clone in fantasy, which makes this offense downright scary considering Miles Austin appears to be in "outstanding shape" as well this summer. There is virtually no limit on how good this offense can be if Bryant is committed, Austin is healthy and QB Tony Romo plays the way he did during the second half of last season. Romo likely won't come cheap in fantasy, but previously-burned owners may pause with Bryant or hesitate on Austin because of his hamstring issues last season, so if either one (or both) can be snagged in the fourth or fifth round of fantasy drafts, they should represent significant value.
Jerry Jones can't help but sell everyone on the idea Dallas is in prime position every year to win the Super Bowl; he does it every year and he does it so much that he tends to set Cowboys fans up for disappointment. Indirectly, Jones also has a bit of influence on the fantasy world since his team just happens to be one of the most high-profile franchises in the league, so it often just seems like he is always in front of a microphone. And most fantasy owners aren't any different from the rest of the world, when they see or hear something enough, they start to believe it more and more. What do I mean? Last year, Felix Jones was the clear workhorse in the Cowboys' backfield. A few years ago, Jerry Jones thought Tashard Choice was "too valuable" to trade despite being the third-string running back on the roster. This year, the owner believes DeMarco Murray is the new workhorse while also saying Felix Jones is an "integral part of our firepower". So where does the hype end and truth begin? Murray can actually be the centerpiece of this running game, but he isn't the most durable player around – something that followed him from his college days. If he can stay healthy this time around, he should have an improved line to run behind coordinated by one of the most respected OL coaches in the league in Bill Callahan. The "sell job" applies a bit more to Felix Jones, who just doesn't seem capable of being anything more than a complementary runner. While he will see some work, it's unlikely to be more than an inconsistent 5-10 touches per game; Murray is healthy now and should get as much work as he can handle. Murray's injury history suggests he should be considered a fantasy RB2, but he should make a fine RB1 for any owner that decides to go with a QB or WR in the first round. On the other hand, Jones is probably a flex option at best.

Detroit
Few teams have become as entertaining on the field and perplexing off of it recently as the Lions. By now, most of us are familiar with how Mikel Leshoure spends his leisure time. Already faced with an uncertain future in just his second year in the league due to the seriousness of his Achilles' injury last season, Leshoure is by no means a lock to produce in 2012 as he continues to rehab and faces a two-game suspension for his marijuana-related arrests. On the other hand, Jahvid Best enters yet another season with the worry of adding to his concussion history. To his credit, he has caught the eye of GM Martin Mayhew this offseason, so he represents one of the finest examples we have of risk-reward picks in fantasy football. When healthy, he is a 15-touch player who will produce at a RB1 level more often than not. And then there is Kevin Smith, who set the fantasy world abuzz with his Week 11 destruction of the Panthers last season. But he could not stay healthy either and it ultimately sabotaged what could have been a fine end to his season. While he makes for an interesting stash in redraft leagues this season, his injury history is probably the worst of the three. Smith is addressing it, however, and hopes the eight pounds he dropped from last year – while adding muscle mass – will help him stay on the field a bit longer. In short, we have three different types of backs who all have the talent to play at a RB1 level for the most pass-happy team in the league, but little in terms of clarity. Best will get the starts – and probably the most touches – when everyone is healthy, but it gets pretty cloudy beyond that. As a result, the current ADPs of Best (6.09), Leshoure (9.11) and Smith (12.02) all sound about right given the risk each player carries.
Continuing the entertaining/perplexing theme from above, keep your eye on Titus Young – literally and figuratively. That sorry attempt at humor comes after the second-year receiver reportedly punched S Louis Delmas when he wasn't looking during a May practice, a move that resulted in Young's dismissal from voluntary workouts. He has since apologized to the team and stated that he and Delmas were joking around shortly after he was allowed to return. As for the reason he is actually in Detroit, Young has looked "amazing" and is "catching nearly every ball thrown his way, including the less than perfect passes". Although the second-year Boise State product was about as inconsistent as any rookie receiver is, he began to string together some solid performances late in the year and is now likely on the verge of forcing the Lions' hand at the position. Young will probably overtake Nate Burleson as the starter at some point this season, allowing Burleson to move into the slot full-time until rookie Ryan Broyles eventually nudges him out of that spot in a year or two. It's no secret that Young (or Burleson) will operate opposite the most difficult receiver to defend in the league in Calvin Johnson, so with guaranteed single coverage for the foreseeable future, a big-play receiver like Young has 1,000+ yard and 6-8 touchdown potential. To what degree Burleson and Broyles steal targets from him is another story, but in this pass-heavy attack, there is potential for 3-4 receivers to be worthy of fantasy consideration. Young is another player who should be drafted as a low-end WR3 in fantasy, but has all the tools he needs to finish as a top 25 receiver.

Green Bay
By the time Jermichael Finley started playing at the level most expected him to perform in 2011, most of his owners had either traded him away or lost any hope that he would live up to his fantasy draft spot. A big part of his "limited" production – he did catch 55 balls after all, second-most in team history for a tight end – was a lack of consistent focus, perhaps best illustrated by his 13 drops on 103 targets. Finley attributes his disappointing season to a number of factors, including but not limited a lack of chemistry with QB Aaron Rodgers, no offseason and a back-of-the-mind concern about the same leg injury that limited him to four games in 2010. Perhaps the most interesting factor he cited was his former TE coach Ben McAdoo, who apparently caused Finley to overthink his job. McAdoo is now the QB coach and Finley believes the switch to Jerry Fontenot will allow him to "freestyle", which will allow him to play loose and less like a "robot". One NFC scout went so far as to say "other than Calvin Johnson, there's probably not a scarier guy in the (NFC North) than Finley". There's little doubt that Finley wasn't all there mentally last season and it is reflected in his drop percentage, which was 12.6% in 2011 as opposed to 5.1% over his first three seasons. As easy as it is to count him out as an elite-level tight end, it would not be wise to let him slide too far in a fantasy draft. Rodgers still has a high opinion of his tight end and understands the kind of production a focused and motivated Finley brings to the offense. In fact, there probably isn't a better candidate to join Rob Gronkowski and Jimmy Graham as the league's new elite young TEs.
With Ryan Grant no longer in the picture, could Green Bay be returning to the feature-back approach? The term "feature back" may be a bit of an exaggeration, but given the notion that Alex Green is no guarantee to contribute heavily to the team following last year's knee surgery and Brandon Saine is the only other realistic option, there's an awfully good chance that James Starks will be the primary back. HC Mike McCarthy did suggest that Saine may be his most consistent back, but the only way Starks isn't going well over 200 touches this season is if he suffers yet another injury – which is probably the biggest concern fantasy owners have about him. Somewhat amazingly, Packer RBs combined for 392 regular-season touches in 2011. Even if we use that number as a benchmark and give goal-line threat John Kuhn 80 touches – almost double of what he had last season – that gives Starks a great shot at eclipsing 200 touches in 2012. It may not be the stuff of legends, but since he can also catch a few passes (30-plus would not be a stretch), that kind of activity is more than serviceable as a flex option.

Minnesota
Were it not for the presence of Visanthe Shiancoe in 2011, then-rookie TE Kyle Rudolph could have easily enjoyed a rather successful first season in the NFL. When it became clear Shiancoe would not return, Rudolph appeared to be set up for a breakout, that is, until the Vikings inexplicably handed free-agent TE John Carlson a deal worth $5 M per year. On the surface, it seems simple enough: a team wants to run the ball and control the short passing game with two very capable receiving tight ends. But is it that simple? Even the biggest Rudolph supporter has to admit Carlson's new salary is a big chunk of change for a player who will supposedly see less activity in the passing game than the second-year tight end. However, don't tell 2011 NFL Draft classmate QB Christian Ponder that, as his draft classmate called Rudolph's hands "freakish" and that "he's going to make a lot of plays this year". Naturally, people will then wonder – after a handful of tight ends across the league put up some ridiculous numbers – if his quarterback is so thrilled with him, will another athletic tight end like Rudolph join the crowd? The answer is almost certainly "no" for a number of reasons. Durability has been a concern recently, but his biggest problems are the presence of Carlson, lack of an elite quarterback and a conservative offense (when Adrian Peterson is healthy). Without Carlson around, Rudolph could be a top 10 fantasy tight end since his situation and talent in that situation would have been comparable to Greg Olsen when he was a Bear, which probably represents his fantasy upside as well. As it stands, Rudolph should be considered one of top fantasy TE2s in 12-team leagues.
Sometimes, it is fair to wonder whether Adrian Peterson is a mere mortal. Heck, one of physical assistants for noted Dr. James Andrews – the man who repaired his ACL and MCL tears – suggested that even the football players he is working with this offseason (such as Packers CB Tramon Williams and Bucs DT Amobi Okoye) "recognize Adrian's different…he has a different protoplasm than the rest of the world." There is nothing wrong with believing he will return this season and return strong. In fact, if there is anyone that can, it is probably him. The problem – and this is where fantasy owners can sometimes fall into the "hype trap" – is when they start subscribing to the notion that "it will happen because he's Adrian Peterson". His current ADP – according to Fantasy Football Calculator – is 2.02, which is acceptable considering he won't be asked to carry his fantasy team from that spot (and could even be a RB2) but the obvious downside is that his owners are virtually guaranteed to get a fraction of the AP they are used to seeing. There is also every possibility Minnesota will decide to take it easy on him this year and lean a bit more on Toby Gerhart. HC Leslie Frazier sounds pretty certain the leaner yet meaner Gerhart will be relied on at the start of the season, as he told the Star-Tribune in early June "there's a very good chance he's going to have to really carry the load early on". Remember, AP didn't suffer the injury until Week 16 of last season, so he's not going to have the same benefit of time that some other football players who suffered a similar injury much earlier in the season. The point to be made is that owners cannot allow themselves to get caught up in buying into AP this season because he is more "affordable" now than he has been since he was a rookie. As difficult as it might be to read (and for me to type), there is a small yet realistic chance that Gerhart matches or exceeds Peterson's production this season, especially if the lack of trust that most ACL survivors have in their knee following surgery plays tricks on his mind.

New Orleans
The Drew Brees contract saga has managed to do the impossible: take some of the focus away from the fallout resulting from the "bounty" suspensions handed out by the league. Despite the absence of one of the league's best triggermen, the Saints' receivers are still worth discussing. It's pretty clear Marques Colston and Lance Moore will remain high-volume targets for Brees when he returns, but who is next in line? Devery Henderson is the veteran and best deep threat on the team – now that Robert Meachem is a Charger – so his role appears set as well. After that, it's a problem many teams would like to have. The team has long wanted an excuse to give more playing time to Adrian Arrington, but he may find himself in the exact same situation he did the first four seasons. Interim HC Joe Vitt suggested second-year Joseph Morgan is a "young Meachem" while OC Pete Carmichael thinks fourth-round pick Nick Toon is comparable to Colston. Most teams are stretched to keep six receivers on the active roster and some will roll with five, so one of the aforementioned wideouts may need to find a new home. But why does the Saints' No. 4-6 receivers matter for fantasy purposes anyway? For the same reason Meachem and Henderson had some relevance in fantasy in previous seasons: this offense is dynamic enough to ensure that two players (Colston and TE Jimmy Graham) are every-week starters while Henderson, Moore and at least one other receiver usually reside on fantasy benches. Toon's 6-4, 218-pound frame likely means he will join Colston and Graham as the primary red-zone threats while Morgan will have a chance to assume the production Meachem left behind. And in case that wasn't confusing enough, undrafted free agent Chris Givens (from Miami of Ohio) is picking up steam. As sportsnola.com suggests, Arrington and Henderson (a free agent at the end of the season) may both be on the roster bubble if Givens continues to impress.
One of the more interesting phenomena from year to year in fantasy is the "tumble" a hyped rookie takes when he fails to live up to his fantasy draft status. Based on the way he was used during the 2011 preseason, Mark Ingram appeared to be a sound fantasy investment in the fourth to fifth round area, but the lead-back role that he appeared destined for never materialized. It also didn't help his final numbers that Darren Sproles took on a bigger role than most expected and Pierre Thomas didn't fall victim to injury, as his injury history suggested he could. The final straw was a turf toe injury that essentially ended his season in Week 13. Ingram's current ADP is the late eighth round, which seems a bit extreme for a player that is ticketed for goal-line carries and 10-15 carries per game in one of the league's highest-scoring offenses. Maybe some of the initial skepticism has to do with his additional offseason arthroscopic knee surgery, but fantasy owners have to assume the Saints will expand his responsibilities a bit more this season, assuming his fine for the start of training camp. Factor in the likelihood that Thomas' injury history should prepare us for another layoff from him and it may just be the window necessary to turn this into a two-horse backfield. Either way, it is hard to imagine that Ingram will post such meager totals again in 2012.

New York Giants
The natural assumption to make with the reigning Super Bowl champs is that the running game is probably not as important to the Giants as it once was, especially considering Eli Manning nearly threw for 5,000 yards last season (over 900 more than his previous career high). While that notion may not be entirely wrong, it's probably not all that accurate either. HC Tom Coughlin will always want his team to run the ball and limit turnovers and he has proven that time and again over the years, even when the running game hasn't always been all that productive. And if the recent reports on rookie David Wilson and Ahmad Bradshaw are accurate, the running game could very well be as efficient AND productive as it has ever been under Coughlin. For those who may have doubted my take on Wilson from a couple of weeks ago, OC Kevin Gilbride pretty much confirmed it and took it one step further, suggesting the first-round pick is one of the most explosive players – regardless of position – to wear the Giants' uniform since he has been with the team. He went on to say, "In this guy, you've got the kind of explosion that I'm not sure how many guys in the league have." Pass protection will limit his playing time initially, but Wilson will be nipping at Bradshaw's heels for more playing time starting in 2013, in all likelihood. And, of course, there is the matter of Bradshaw's troublesome right foot. For now, however, the veteran is saying his foot feels "great" and that his limited participation at OTAs was because he wanted to "take it slow". The presence of Wilson – and his big-play ability – figures to threaten Bradshaw's fantasy numbers more than Brandon Jacobs did, so fantasy owners should be conservative with their expectations for Bradshaw. He should remain a fantasy RB2 – while Wilson should be a solid flex play – but it would be a mistake to expect Bradshaw to post huge numbers now just because Jacobs is gone; his final numbers in 2009 and 2011 are much more likely.
Staying with the running back theme, what player benefits most from Jacobs' departure? Considering Bradshaw is a remarkable 15-of-24 at scoring touchdowns from five yards out or less over the last three years, he seems pretty certain to secure half of the meaningful short-yardage scoring opportunities yet again. But New York is unlikely to turn him into the full-time goal-line runner and Wilson probably won't fill that role either since he is unlikely to earn the trust of the coaching staff in those situations right away. And if we take Gilbride at his word, he has already stated "Wilson has a lot to learn" before the Giants can "tap into (the explosion)" the rookie possesses, which could mean someone from the group of D.J. Ware, Da'Rel Scott and Andre Brown joins Bradshaw. Ware is a bigger back known for his contributions in the passing game, but has limited upside. Scott probably has more raw talent, but durability has been an issue for some time. So perhaps the "new Brandon Jacobs" is the one player who is actually trying to emulate him. Brown is now up to 240 pounds and feeling confident now that he's finally had a chance to learn just one playbook. Brown has endured through a multitude of struggles since joining the NFL, but the recent lifting of his four-game suspension for performance-enhancing drugs and relatively good health of late – plus staying in the same offensive system – may be just the break he's been waiting for. It is also quite likely the team "approved" of the 16-pound weight increase in order to give them a bulldozer-type to go along with their two speedsters. For now, Brown should only be considered a longshot, but he also has a better chance to be a flex-type option this season than most people think.

Philadelphia
It could be argued that only one aspect of the "Dream Team" lived up to his end of the bargain last season – LeSean McCoy. Once considered too small to carry the load, McCoy amassed 273 carries in 2011 – the ninth-highest total in team history and most since Brian Westbrook in 2007. Shortly after the season, beat writer Jeff McLane tweeted that HC Andy Reid "may lessen his load a little this season to increase his shelf life". That concern – for fantasy owners anyway – gained more steam on draft weekend when the Eagles brought in two very talented backs that fell in the draft (Bryce Brown) or completely out of it (Chris Polk) for different reasons. But let's take a look at some facts here: Reid was the driving force behind getting McCoy's five-year, $45 M contract extension done this spring, McCoy played 81.1% of the plays from scrimmage last season – far and away the highest percentage in the league – and he won't turn 24 until the middle of July. Furthermore, OC Marty Mornhinweg believes the fourth-year pro has "the opportunity to be one of the great ones". Even with his short history as the featured back, McCoy is going to be fantasy relevant regardless of whether or not he loses a few touches here or there. But given Reid's history with Westbrook, there's a pretty good chance McCoy's touches (21.4 per game last season) will stay about the same – even if his rushing attempts decline a bit. With the way the Eagles uses their main running backs in their offensive system, players like McCoy and Westbrook are virtually matchup-proof, so there is virtually no reason why he shouldn't be a top three fantasy pick in just about every draft. In fact, a strong case can be made that he should be the No. 1 overall pick.
Nothing drives the hard-core fan crazy quite like a player who acts like he takes it for granted. By his own admission, Michael Vick has admitted his focus hasn't always been on the field. As he enters his fourth season with the Eagles – and second as the starter – and his age-32 season, Vick appears ready to atone for his turnover-plagued 2011 in what is his first actual full offseason with the team as the unquestioned starter. Although it is cliché, the National Football Post reports that Vick has been first-in and last-out at the NovaCare Complex this offseason "according to those who know". This comes as great news for fantasy owners who want great upside at the QB position and less of the sticker shock that players like Aaron Rodgers, Tom Brady and Drew Brees will carry in most draft this summer. Vick's newfound dedication also is probably great news for Jeremy Maclin, who the quarterback compared to Michael Irvin. Vick isn't the only one that thinks Maclin is ready to take the next step as one Eagles coach told the Philadelphia Inquirer – without hesitation – that Maclin will make his first Pro Bowl this season. Despite the mysterious health scare that threatened his livelihood, cost him the bulk of training camp and led to a limited role in Week 1, he was on pace for 88 receptions and 1,212 yards at midseason last year before injuries caught up with him. The former University of Missouri speedster is now 205 pounds, seven pounds over his listed weight last season. With a current ADP of 5.06, he is an absolute steal as a WR2 since he should finish the season as a top 10 fantasy receiver.

Seattle
All indications are that the Seahawks' quarterback race will not be determined until training camp and that third-round rookie Russell Wilson, Tarvaris Jackson and free-agent pickup Matt Flynn will have "a fair shot" to win the starting job. If anything, Jackson has a slight edge over Flynn right now. As we know, quarterback competitions are not usually settled in May or June and the "advantage" Jackson has right now is the familiarity he has with OC Darrel Bevell's system. Despite a 5-3 finish to the 2011 season and the coaching staff's insistence this is a three-way battle, Jackson faces long odds to begin the season as the starter. Flynn's three-year, $26 M contract will probably serve as the first tiebreaker while GM John Schneider thought Wilson was one of the top three players he scouted last fall and likened him in some ways to Jeff Garcia and Drew Brees in terms of his ability to slide, find lanes and create for himself in the pocket as well as from an accuracy and anticipation standpoint. That kind of high praise means Seattle probably wants Wilson to start in 2013 and Flynn's contract suggests he will be the starter for at least 2012. Admittedly, there isn't going to be a lot of fantasy impact coming from this passing game regardless of which player is named the starter, but the winner figures to have a big say on just how much a healthy Sidney Rice is worth on draft day.
Since Rice represents about the only other player besides Marshawn Lynch on Seattle's roster worth drafting in the early to middle rounds in most leagues, let's discuss his latest injury nightmare. While Rice's three concussions over a 12-month stretch garnered the most attention for obvious reasons, the Seahawks' top wideout actually had both shoulders repaired in the offseason as well. As the linked article details, Rice tore his right labrum in training camp last year and asked doctors to look at his left one as they were mapping out the details to repair the right shoulder. (As it turned out, Rice needed 11 anchors in each shoulder after a 360-degree tear was discovered in the left one!) Somewhat amazingly, Seattle did not add any blue-chip talent to the receiver position and Schneider expects Rice to be the healthiest he's ever been as an NFL player by training camp. Rice's goal is to be ready for Week 1 but not necessarily training camp as he has yet to be cleared for contact. Schneider's comments aside, Rice is one of the quintessential boom-bust picks in fantasy because his durability makes him a risk as anything more than a WR3, but his talent screams WR1. Fortunately, with a current ADP of 8.08, owners seem to be doing a good job so far of recognizing both his talent and injury history.

San Francisco
All aboard the Alex Smith bandwagon? Fantasy owners may not have a choice considering the amount of receiving talent the Niners acquired during the offseason. However, the one receiver that has captured the imagination of the team isn't the first-round pick (A.J. Jenkins) or the player who made a pivotal catch in the Super Bowl (Mario Manningham), but rather the player who played for three teams during his last pro season and sat out all of 2011. That player, of course, is Randy Moss. According to a team insider, "you can still see the Hall of Fame skills" and "at times, he's been unstoppable". OC Greg Roman confirmed Moss' commitment by saying, "He has really been as good as you can possibly ask for in terms of being totally engrossed in football." It's no secret that the 35-year-old Moss probably has the talent to play until 40 if he wanted to, but the question for most of his career has been his willingness to stay "interested" when he wasn't being challenged, seeing the ball enough or part of a losing team. Amazingly, the early-drafting public has been slow to buy into the idea of a reborn Moss as his current ADP is in the ninth round. As I stated in my Free Agency Review, I believe that Moss is at worst an every-week WR3 this season, meaning he is an incredible value pick right now. He may not have a vintage Moss season, but the odds are rather good that he'll win his owners at least a game or two this season almost by himself. There is a long list (larger than one might expect) of receivers that have been productive during or after their age-35 season and few – if any – of them had the natural talent Moss does. In short, another 60+ catch, 1000-yard, 10-touchdown season is entirely possible.
On the other end of the spectrum is Jenkins, who has done little but disappoint the coaching staff since the team surprised many by taking him at the end of the first round in April. Roughly two weeks after he was drafted, HC Jim Harbaugh was less than impressed by the stamina of his prized rookie. One month later, he struggled with consistency during OTAs. Neither offense is an unforgiveable crime and, in most cases, is completely expected from a rookie receiver. The problem is that while his conditioning was no longer an issue by minicamp, standing out in a positive way was. Thankfully, neither San Francisco nor fantasy owners were expecting immediate contributions from him, but it's a safe bet the team did not want the likes of Nathan Palmer and Brian Tyms – two undrafted free agents – impressing it more than Jenkins has to this point. In case it wasn't already obvious, Jenkins faces a long road to even see playing time ahead of Manningham – the likely third receiver – this season, so he is pretty much off the radar in redraft leagues.

St. Louis
Not since Torry Holt in 2007 has a Rams receiver finished than 29th in PPR scoring. Although there's a pretty good chance that drought will not end this season, there is a lot of reason for optimism. RB Steven Jackson recently made a public plea to second-round rookie Brian Quick to "work real hard" for the rest of the offseason because the team is "going to lean heavily on him". This was in no way meant to be a jab at Quick for a lack of work ethic, but rather a nod to the rookie since he saw the same kind of talent in Quick that the front office did. In fact, St. Louis believes Quick is every bit the prospect Justin Blackmon is, with more size and without the character red flags. In fact, about the only question marks anyone had with Quick throughout the draft process was his small-school background (Appalachian State) and tendency to take his time getting into the flow of a game, as was the case during Senior Bowl week. At 6-4 and 220 pounds, Quick will almost certainly start because he offers the Rams something no one else on their team does – size – and will be a key part of their ability to give Jackson some space, not to mention he also projects as well as the team's first two options in the red zone. And in case none of this starts his hype train, perhaps the fact that Ray Sherman – his new position coach – sees "a lot of similarities" between him and Terrell Owens (again, minus the red flags). In fantasy, Quick will almost certainly be drafted as a low-end WR4 or WR5, but his upside is much higher than that. Considering the fact he has a better quarterback than Greg Little, it would not surprise me at all if Quick outperforms the Browns' 2011 rookie who found himself in a similar (hopeless) situation last season.
Lost in the buzz of Quick and fellow rookie Chris Givens is the fact that St. Louis has a former 100-catch receiver on its roster. It's pretty clear that few people are counting on Steve Smith to have much impact after seeing his 2011 season come to an end with the Eagles after just 11 catches, but it was a small miracle he was even on the field to begin with last season. No team wants to start a pair of rookie receivers and the Rams are no different. Since St. Louis will essentially hand Quick one of the starting jobs, it is fair to say it would probably like a veteran to handle the second spot. That's why, in my opinion, more fantasy owners need to focus on Smith and Greg Salas and less on Givens in 2012. Smith came on strong during the spring practice period and should really be considered the favorite to start opposite Quick if he is anything close to the player he was prior to his knee injury. Then again, a healthy Danario Alexander is probably the most talented receiver of the group at the moment, so the pecking order will not be decided until sometime in training camp. Just don't be overly surprised if the Rams manage to provide fantasy owners with at least two receivers this fall (Quick and Danny Amendola) that can be used on a matchup basis and maybe even three if Smith is truly close to 100%

Tampa Bay
Given the way last season ended for the Bucs, LeGarrette Blount appeared to be on the verge of becoming a non-factor, largely because of his ball security issues and inability to contribute much in the passing game. That sentiment was further advanced when the team traded back up into the first round to select Boise State RB Doug Martin. However, the Tampa Bay Times suggests there is "clearly going to be a role" for Blount despite the investment in Martin. Since new HC Greg Schiano loves to run the football, I went back to the 2005 season at Rutgers to research the run-pass breakdown of every season since Schiano directed the Scarlet Knights program to their first winning season and bowl game in recent memory. In all but one season (2011), Rutgers ran the ball more than it passed and in all but two seasons, the Scarlet Knights ran the ball at least 121 more times than it passed. The last time Schiano had the same kind of backfield talent he has at his disposal now (Ray Rice and Brian Leonard, 2005-06), he oversaw an offense that called nearly 200 more runs than passes (197 in 2005, 198 in 2006). Granted, there is only so much information we can realistically obtain from play-calling tendencies from the middle of the last decade, but it is clear the new coach will run the ball (423 carries was the lowest mark over that seven-year period). As a result, there may be some hope for both Blount and Martin owners after all. It seems rather doubtful Blount can win this competition in training camp, but based on my research, 150-175 carries does not seem like an impossible feat. Of course, that would leave Martin with a solid 225-250 carries while fellow rookie Michael Smith picking up the scraps. Throw in Martin's likely role as the passing-down back and it becomes evident that despite losing more touches to Blount than he probably should, Martin could maintain solid fantasy RB2 value, especially if gets the goal-line carries. Although Blount's size would suggest he should be the goal-line back, he has scored on just four of 11 carries inside the 5 in his career.
Is it really possible that Mike Williams could go from unstoppable rookie to the bench in less than two years? While it isn't likely, it is possible. QB Josh Freeman singled out Preston Parker during a mid-June mandatory minicamp practice, calling him "one of the Bucs' most improved players". Williams, on the other hand, has the same work ethic and physical strength question marks that he did when he slipped to the fourth round of the 2010 draft. Meanwhile, free agent acquisition Vincent Jackson has received high marks for his commitment in the very same areas that Williams is reportedly struggling with. WR coach P.J. Fleck remarked in mid-June that Jackson has "made it very clear to me that he wants to become an elite player". While that is refreshing news for a Tampa Bay team that hasn't received a great deal of year-to-year consistency from a receiver in some time, it seems unlikely that his yearly totals are going to change all that much from his days as a Charger. In other words, Jackson should still continue to post one of the highest YPC averages in the league and go over 1,000 yards receiving. However, it seems unlikely that he'll be able to break his career highs of 68 catches or nine touchdowns in such a run-heavy offense unless OC Mike Sullivan makes a commitment to him as the main option on short and intermediate routes as well. Jackson will likely remain the boom-or-bust fantasy WR2 he has been for years while Parker and Williams' roles will hopefully be sorted out by training camp. Both are worth drafting in fantasy, but expecting consistency from either one figures to be a tall order since this will be such a run-heavy offense.

Washington
Lost in the buzz of all the improvements the Redskins made on offense this offseason is that one of the key cogs over the years hasn't left. Pierre Garcon is pretty much guaranteed a starting spot, but somehow after one down season, Santana Moss has pretty much been eliminated as a receiver worthy of fantasy consideration despite being just one year removed from a 93-catch campaign. Certainly, few will argue that Moss is on the back end of his career at age 33 and should transition into a part-time slot receiver. Furthermore, Leonard Hankerson and Josh Morgan are better fits physically for the West Coast offense. But if we are to believe what OC Kyle Shanahan and WR coach Ike Hilliard have to say, Moss is not quite ready to accept his fate from Father Time quite yet. Moss has reportedly dropped 15 pounds and "came in possessed", according to Shanahan. Although Moss spent most of his time in the slot last season, Shanahan also suggested that Moss could also see some time on the outside and push Hankerson or Morgan inside in order to get the matchups they desire. While it is not entirely unjustified based on his final 2011 numbers, Moss' ADP of 11.01 is too low for someone capable of a 60-plus catch season. There's a very distinct possibility that he outperforms the likes of Lance Moore and Sidney Rice, players going a full round or two ahead of him in early drafts. As long as he is healthy, he should have no problem fulfilling WR4 value in PPR leagues.
It's not uncommon for a rookie to "earn" a nickname from his teammates, but few players earn a moniker like "The Arm" about a month after the draft. Of course, for those that watched Robert Griffin III at Baylor and during the draft process, his arm strength isn't exactly surprising. The bigger key for a young quarterback is his ability to process information quickly and command the respect of his teammates. By all accounts, he has done just that. The same disclaimers that exist with any rookie – especially quarterbacks – apply here as well, but fantasy owners would be wise to consider the possibility that one year after Cam Newton knocked the NFL off its kilter, Griffin could be poised to do the same thing. Obviously, excelling in OTAs and minicamps isn't the same thing as doing it during the regular season, but one could argue that RG3's college offense was more demanding than Newton's – from a passing perspective – and that he is more pro-ready than the player he is most often compared to in Michael Vick. It is certainly risky to even consider a rookie signal-caller as a low-end QB1 in fantasy, but RG3 in Washington with Team Shanahan is a perfect marriage of offense and skill set. There will be bumps in the road along the way as defensive coordinators begin to exploit his flaws, but the running game will be a prominent enough part of the gameplan that his highs will outweigh his lows. Considering the likes of Mark Sanchez and Ryan Fitzpatrick finished among the top 11 fantasy QBs last season, it is entirely possible Griffin that could end up as a top 12 fantasy QB in 2012.

Suggestions, comments, musings about the article or fantasy football in general? E-mail me or follow me on Twitter.

---
Doug Orth has written for FF Today since 2006, appeared in USA Today's Fantasy Football Preview magazine in each of the last two seasons and served as a weekly fantasy football analyst for 106.7 The Fan (WJFK – Washington, D.C). He is also a member of the Fantasy Sports Writers Association.