4/23/12



As we have learned in recent years, there is no such thing as "down time" in the NFL. If any group of people in the fantasy world can relate to that sentiment, it is probably dynasty- and keeper-league owners. Despite the fact the NFL season runs a shorter season than any other major sport, it is next to impossible to take a long vacation from football. Once the regular season is over, we have a five-week postseason. Shortly after the Super Bowl, there is the NFL Combine and a host of results from individual workouts to track leading up to the draft. You get the picture…

It should stand to reason then if the NFL is constantly in motion, then fantasy owners should be too. The irony of participating in dynasty and keeper leagues is that owners are fans of football – a subset of people typically considered to be impulsive with a win-now mindset. One of many key characteristics in winning in non-redraft leagues is channeling the passion for immediate positive results and combining that with the knowledge that setting your team up for success in the future is every bit as important – if not more so – than winning this season.

In all honesty, everything I have said up to this point should not be new information to the veteran dynasty or keeper league owner. In order to help each of you begin the process of starting your league year – just as the NFL does around this time – on the right foot, I would like to present my thoughts as to what players should appeal to those of us who need to look at each of these players as a long-term investment as opposed to a one-year stock.

This is the final installment of my four-part dynasty series after discussing quarterbacks, running backs and wide receivers over the past three weeks. In an effort to be as transparent as possible, I will list the different criteria (which will change based on the position being discussed that week) that I most strongly considered in the ranking process. I will attempt to provide some perspective regarding their past performance by attaching a percentage value that corresponds to the number of times that player finished in the top 12 and top 24 at their position when they have been in their current role. I will also provide the player's three-year consistency score in order to shed some light on how good he has been in recent years.

Notes:

In these rankings, I am using a full-point PPR league scoring format where 10 rushing or receiving yards equals one point. All touchdowns are worth six points and turnovers are -2.


The "% Yrs Top 12" and "% Yrs in Top 24" columns simply provide a percentage as to how often that player has enjoyed a finish in that area in his current situation simply because I didn't see a great deal of value in putting significant weight into Marshawn Lynch's time in Buffalo or Reggie Bush's career in New Orleans, for example, due to any number of reasons.


The age listed will be the player's age on September 1, 2012.


An "*" in any column simply means the player is a rookie, did not play in the NFL last year or is in a "new" situation this season and therefore has no input to be listed.


Because I feel reasonably good about where the top rookies are headed, I have chosen to include them in the rankings. (Their names and ages will be bolded and italicized.) Rest assured I will be profiling the rookies following the draft, so I will relay any substantial changes of opinion in those columns.
The Criteria

1) Elite production for at least three more years
2) Scheme
3) Durability/long-term job stability
4) Proven consistency
5) Age (will penalize over 30) - Typically, I'd set the bar at a higher number, but there are so few receivers in the league right now over 30. Thus, age will not be nearly the factor it was with quarterbacks and running backs.

The Elite
Rk
Player
Tm
Age
Pos Rk '11
% Yrs Top 12
% Yrs Top 24
Three-Year
Consistency Score
1.
Jimmy Graham
NO
25
2
50 (1/2)
50 (1/2)
33.51
2.
Rob Gronkowski
NE
23
1
100 (2/2)
100 (2/2)
27.97
If ever there was a time to use 1A and 1B, it might be now when trying to decide whether Gronkowski or Graham deserve top billing at their position in dynasty leagues. (Ultimately, I went with the latter at #1 because he will have less in-house competition for top status and is still learning the game of football.) Whereas Gronkowski excels in the red zone because of his size and power, Graham is a fluid athlete that can turn a TE screen into a big play or burn a safety and/or linebacker down the field with speed. As a receiver, he can pretty much do it all. So until the NFL is able to find bigger safeties who can match his athleticism, Graham will continue to push 100 catches, 1200-1300 receiving yards and 10-12 touchdowns for the foreseeable future in this pass-happy offense.
Two seasons, 28 total touchdowns. It is easy to forget the reason he slipped into the second round (and thus, was not the first tight end drafted) of the 2010 NFL Draft was due to a back injury that caused him to miss his final season at the University of Arizona. That "gamble" by the Patriots has paid off in a big way, giving Tom Brady yet another matchup nightmare (along with Wes Welker and Aaron Hernandez). Perhaps only Calvin Johnson presents the same red-zone dilemma that Gronk does in the sense that he is such a huge target that he can defeat double teams simply by rising above his defenders. Entering only his age-23 season, he could easily enjoy an Antonio Gates-like run atop the TE leaderboard for the next 5-7 years. Perhaps the only potential negative on his long-term outlook is the fact that Brady will turn 35 before the start of the season.


The Near Elite
Rk
Player
Tm
Age
Pos Rk '11
% Yrs Top 12
% Yrs Top 24
Three-Year
Consistency Score
3.
Vernon Davis
SF
28
8
100 (3/3)
100 (3/3)
22.12
4.
Aaron Hernandez
NE
22
3
50 (1/2)
50 (1/2)
20.05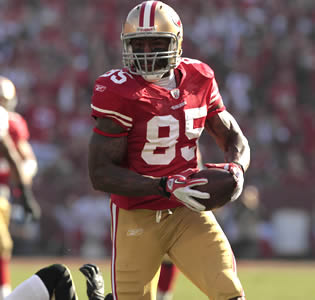 Vernon Davis: Alex Smith's most trusted target.
For most of the 2011 season, Davis was a disappointment in fantasy, especially for someone with his talents. Lo and behold, he managed to post a 6-72-1 line in Week 15 – a game that signaled one of the best finishes to a season a tight end has enjoyed in recent memory. All told, Davis' 19.2 fantasy-point total in Week 15 matched his previous season high until he eclipsed that benchmark in each of his last three games (Week 17 and the Niners' two playoff games). Davis later attributed his slow start to initially being "overwhelmed" by HC Jim Harbaugh's offense and his fast finish to the fact he finally "got it". If that was in fact the case, one can only imagine what kind of season he could have in 2012 with Randy Moss and Mario Manningham around to open up the middle of the field. While Michael Crabtree did have a career year last season, Davis is unquestionably Alex Smith's most trusted target. Harbaugh's tendency to lean on the run will hurt Davis' potential to match his career-best 2009 season, but the influx of talent should allow him to score double-digit touchdowns over the next season or two, which would allow him to be a fine alternative to the owners who aren't able to land Gronkowski or Graham.
Just about anywhere else, Hernandez would not only be the top receiving tight end on the team, but perhaps its go-to option in the passing game. (That's if the team didn't have him buried on the depth chart due to his lack of ideal size.) In New England, he's simply just another matchup conundrum who the Patriots like to use out of the slot in the short passing game and sometimes even out of the backfield. While I would not be surprised to see his role expand under new OC Josh McDaniels, I can't imagine he'll ever be given the opportunity to seriously challenge Gronkowski in the red zone. On the bright side for his dynasty owners, I can see the time where he basically begins to challenge Wes Welker for the most attention out of the slot as the soon-to-be 31-year-old begins to lose his explosiveness. It will also be interesting to see if McDaniels attempts to rely a bit more on the run, which will obviously affect Hernandez's playing time negatively since he isn't the blocker Gronkowski is. Last but not least, let's not forget that Hernandez has missed two games due to injury in each of his first two seasons. All in all, there's reason for a bit of long-term concern here for dynasty owners, but not so much that he isn't a top-five PPR option at his position.


The Talent Is There, So Why Can't I Count On You?
Rk
Player
Tm
Age
Pos Rk '11
% Yrs Top 12
% Yrs Top 24
Three-Year
Consistency Score
5.
Jermichael Finley
GB
25
9
67 (2/3)
67 (2/3)
18.14
6.
Fred Davis
WAS
26
13
0 (0/1)
0 (0/1)
5.68
Before the emergence of Jimmy Graham, Finley was supposed to be the next great former-basketball-player-turned-tight-end. Prior to the 2011 season, Finley was a fantasy risk due to durability issues. But something funny happened on the way to his first 16-game NFL season – his hands let him down (13 drops on 103 targets for a league-worst 12.62% drop rate at his position). Since he had a total of seven drops over his first three seasons in the league, maybe we can attribute some of those drops to the lost focus that can occur in the last year of a player's contract. Finley is every bit as talented as the tight ends rated above him on this list and has the best quarterback in the league at his disposal, so we should not bet against him in 2012 or beyond. However, there is also enough risk with him that he should go after the tight ends listed above him. So, as you may have guessed, if Finley is past his durability and ball security issues, he could easily join the elite tight ends over the next year or two.
After the first four tight ends, there is a fairly significant drop-off. However, this tier does not lack for talent. In fact, the only reason it exists is because the two TEs in this group do not appear to be as "focused" as the first four players. While Finley's issues right now are certainly correctable, the just is very much out on Davis, who is on the verge of receiving a one-year suspension from the league if he fails another drug test. HC Mike Shanahan seems convinced that Davis has made the necessary changes to "kick the habit", but he is a risky choice for dynasty and re-draft owners alike since he has basically run out of chances. On the field, few TEs were doing it better than Davis for the first 13 weeks of the season as he was operating as a mid-TE1 despite the fact he was catching passes from Rex Grossman and John Beck. Obviously, the 2012 season will be a much different animal with Robert Griffin III throwing the ball and Pierre Garcon, Josh Morgan, Santana Moss and Leonard Hankerson around to threaten defenses a bit more than the 2011 Redskins did. Therefore, while a good tight end and a good running game are almost always a young quarterback's best friends, it wouldn't surprise me if Davis fails to match last season's 12-game averages. But if you can live with one average season from a tight end in your dynasty league, there should be a fairly sizable payoff for his owners down the road.


High-Volume Pass Catchers
Rk
Player
Tm
Age
Pos Rk '11
% Yrs Top 12
% Yrs Top 24
Three-Year
Consistency Score
7.
Brandon Pettigrew
DET
27
6
67 (2/3)
67 (2/3)
10.90
8.
Jason Witten
DAL
30
5
100 (6/6)
100 (6/6)
23.43
9.
Jermaine Gresham
CIN
24
14
0 (0/2)
100 (2/2)
6.22
10.
Greg Olsen
CAR
27
18
0 (0/1)
0 (0/1)
6.70
At this point, it is pretty clear in Detroit that Calvin Johnson will receive the bulk of the scoring opportunities when the Lions opt to pass in the red zone. But after consecutive seasons with 70+ catches and 700+ yards, Pettigrew has emerged as a lite version of Jason Witten (in that he hasn't shown quite the same consistency Witten has). He's not particularly explosive, but he is generally very reliable and Matthew Stafford's safety valve over the middle. And it's not a role that should change anytime soon either since the Lions are not all that committed to running the ball and will be forcing defenses to play soft in an effort to take away Johnson and Titus Young. Although he hasn't quite established the same kind of bond Tony Romo has with Witten, I'm going to give Pettigrew a slight nod over Witte given the three-year age difference. Whereas I believe Witten has enjoyed his best statistical years already, I think we have yet to see the same from Pettigrew.
When a tight end manages a 79-942-5 line over the course of a season and is considered a disappointment, you know he has created a high standard. Witten did not score a single touchdown over the final six weeks of the season and put up some meager fantasy totals over the second half of the season. While most casual observers will attribute that drop in production to his age, it was more likely a function of the Cowboys' three receivers all being healthy for most of that stretch – especially in final month of the season. But after comparing his 2011 target totals to those in previous seasons, Witten wasn't exactly neglected in the passing game with 117 targets, only 11 off the pace from the season before. He just didn't reach the end zone as often. Translation: with Laurent Robinson no longer in the picture, Witten could easily return to his 80-90 catch days as Tony Romo's favorite option. And assuming Miles Austin and Dez Bryant can stay healthy, defenses will likely let Witten try to beat them over the middle. Since Witten doesn't exactly rely on speed or quickness to get open and has Romo's unwavering trust, he probably has 2-3 more solid years of TE1-level production left in him.
While A.J. Green certainly enjoyed life with fellow rookie QB Andy Dalton, the Bengals continued to underutilize Gresham's complete game even though he improved his rookie numbers. Besides Gronkowski's aforementioned back injury, one major reason the ex-Sooner was drafted ahead of Gronk was because of his ability to make plays down the field coming out of college. Through two seasons, Gresham has one career catch over 30 yards, contributing to his low 9.9 YPC. If Cincinnati is to take the next step as an offense, it will need to find a way to show off Gresham's skill set because, quite frankly, two sub-600-yard seasons for someone as talented as Gresham with a dearth of other proven playmakers on this team is inexcusable. The Bengals seem likely to land a highly-rated receiver in this draft, but as he develops, Gresham could and should be Dalton's second option on most passing plays for the foreseeable future. If Cincinnati's offense wasn't so conservative, I would suggest a breakout this season was possible. However, we may just have to settle for gradual statistical improvement, like his first 60-70 catch season in 2012.
Is this the year we can expect Greg Olsen to break out? After all, Jeremy Shockey remains unsigned, Carolina isn't rushing to sign his replacement and Cam Newton will only get better, right? The problem with that logic is that while two of three are likely true, the Panthers like another TE already on their roster who missed all of 2011 in Gary Barnidge. Despite a number of factors working in his favor (such as the emergence of Newton, the lack of quality receiving threats outside of Steve Smith and an OC that loves involving the TE), Olsen still only managed to slightly improve the numbers he posted in his final season in Chicago. Still, as he enters his age-27 season, we probably need to give him the benefit of doubt as a potential impact fantasy TE who needed more time to learn a new offense. Olsen may never become an elite option, but if the playbook was in fact his biggest hindrance last seasons, he could be in line for a repeat of his career-best 2009 season. In this offense – for as long as OC Rod Chudzinski is there – Olsen has 60-70 catch potential.


Aging Greatness
Rk
Player
Tm
Age
Pos Rk '11
% Yrs Top 12
% Yrs Top 24
Three-Year
Consistency Score
11.
Antonio Gates
SD
32
7
100 (6/6)
100 (6/6)
40.87
Age and, in particular, injuries have begun to take their toll on Gates, but when the soon-to-be 32-year-old isn't battling through severe foot pain, he is still an elite player in this league. The problem is the durability that once made Gates a fantasy favorite has evaporated over the last two seasons, which would seem to suggest he is nearing the end. It also doesn't help matters that San Diego has lost two important playmakers over the last two offseasons that used to make his job slightly easier (Darren Sproles and Vincent Jackson). Despite all that, Gates should remain among the best TE options in PPR leagues for another year or two simply because he hasn't lost his ability to get open and Philip Rivers needs him perhaps now more than ever as a red-zone weapon. Re-draft owners can continue viewing Gates as a top-five tight end, but dynasty owners need to start judging him on a year-to-year basis if they haven't already started doing so.
Ready to Rise?
Rk
Player
Tm
Age
Pos Rk '11
% Yrs Top 12
% Yrs Top 24
Three-Year
Consistency Score
12.
Jared Cook
TEN
25
16
0 (0/1)
100 (1/1)
-1.35
13.
Zach Miller
SEA
26
44
0 (0/1)
0 (0/1)
5.52
14.
Jacob Tamme
DEN
27
45
*
*
6.91
15.
Brent Celek
PHI
27
11
67 (2/3)
100 (3/3)
17.17
16.
Coby Fleener
TBD
23
*
*
*
*
17.
Kyle Rudolph
MIN
22
34
0 (0/1)
0 (0/1)
3.92

One of my favorite breakout candidates in redraft leagues prior to the 2011 season, Cook suffers from the same problem that affects a number of football players each year – his play-caller (OC Chris Palmer) refuses to adjust his philosophy to fit his personnel. In the case of Cook, he is a "move" TE that struggles as a blocker, which is why he loses playing time to Craig Stevens. While I would rarely ever blame a coordinator for doing what he can to protect the quarterback, it's hard to understand how Cook has less value as a playmaker than a fullback does as a blocker in the Titans' offense. (The blame doesn't fall all on Palmer since Cook could help himself simply by relentlessly working on becoming a better blocker. On the other hand, Cook creates more problems for a defense than a fullback leading the way for Chris Johnson does.) Cook is an automatic mismatch for just about any linebacker or safety that will cause defenses to play things a bit more conservatively, which in turn should allow Johnson to be a better runner. When Tennessee has decided to emphasize Cook at the end of the past two seasons, he has turned in lines of 15-196-1 (2010) and 21-335-1 (2011) over the final three weeks, with each stat pack leaving Cook among the top seven players at his position over that time. Were he simply the No. 2 option in the passing game behind Kenny Britt each week like he should be, I would have no problem moving him near the top of the fourth tier. His age and talent makes him a worthwhile dynasty "buy" because the Titans will figure it out at some point. And when they do, dynasty owners may just find they have a Pro Bowl-caliber tight end on their roster.

I'm not exactly sure how HC Pete Carroll's convinced Miller to join the Seahawks last season when it was pretty clear Seattle was a rebuilding team with a less-than-desirable quarterback situation. With Tarvaris Jackson as his main QB in 2011, most fantasy owners expected a down year from Miller as a result and he met our expectations, delivering a 25-233-0 line over 15 games. (That line was just more than half the production he was able to muster as a rookie in Oakland back in 2007 when he was catching passes from Daunte Culpepper, Josh McCown and JaMarcus Russell.) However, the worst should now be over assuming Matt Flynn is able to beat out Jackson as the team's starting QB this fall. While Jackson has shown he can lead a team to a few wins, he is limited as a passer. On the other hand, Flynn has proven – at least in his two career starts – that he can spread the ball around and make defenses respect the entire field. Even if Flynn is no better than a league-average QB in Seattle, Miller should hover around 50-60 receptions each year, if for no other reason than he is the team's second-most dangerous playmaker in the passing game when everyone is healthy. And if he is producing at that level for the next 2-3 years, he stands a great chance at finishing among the top 12 fantasy TEs each time.

There are several reasons Tamme is the toughest player to rank this week. For starters, it is always difficult to gauge how much a new environment will affect a player's final numbers, even if they get to play with the same quarterback at their new destination. Second, if we call Dallas Clark below average as a blocker, well, Tamme is near abysmal. This means that unless Tamme upgrades that part of his game quickly, he might be a niche player at best. Last but not least, fellow free agent addition Joel Dreessen is the best all-around TE on the Broncos' roster while both Julius Thomas and Virgil Green are certainly more athletically gifted and possess more upside than Tamme. With all of that said, however, Tamme has two rather big factors working in his favor: 1) significant experience with Peyton Manning and 2) since he is such a liability as a blocker, will he even line up as a tight end? In other words, will he be the regular slot receiver enough though he'll be listed as a TE? I think the logical assumption is the 6-4, 236-pound Tamme will be used in the same fashion the Pats use Aaron Hernandez. Additionally, Tamme's three-year, $9 M deal (when Denver knew what it was getting beforehand) represents a pretty significant investment in a "move" TE only, so I tend to believe Tamme will have some staying power as the Broncos' most fantasy-friendly tight end.

As is so often the case in the NFL (and life for that matter), when a person receives the opportunity to do what they do best, they can make a substantial impact. By all accounts, Celek appeared to be a one-year wonder when he followed up a breakout 2009 season with a disappointing 2010 campaign. However, fantasy owners need to keep in mind that tight ends run the highest risk of following up a breakout season with a clunker because a big part of their job description includes blocking. This becomes a big problem in fantasy when a team suffers significant injuries across the offensive line, thereby forcing tight ends to often become extensions of the offensive line instead of another weapon in the passing game. We basically saw this transformation happen more than once in Celek's career, in fact, you could argue he experienced each side of it in 2011. One of the better pass-blocking TEs in the league, the Eagles used Celek as such throughout the early part of last season. But once the Eagles felt they could trust their pass protection without keeping him at the line of scrimmage, it became quite apparent he was still a viable threat for Michael Vick. (Compare his game logs prior to Week 6 to the ones after.) On an offense with so many weapons, Celek isn't going to be the best bet as a dynasty league TE since there is every possibility he will be asked to block more often the moment the Eagles suffer another injury on their offensive line. It is that delicate balance that makes Celek nothing more than a top-end TE2 option for the foreseeable future.

The only reason Fleener isn't higher on this list is because I don't feel like I have a good gauge on where he will land. (If I had to guess right now, it would be in Indianapolis at the top of the second round.) Initially, he should be a "move" TE that finds himself in the slot about as much as he should remain in-line. I'm not suggesting he is going to have a Rob Gronkowski- or Jimmy Graham-like instant impact just because he is a very good athlete, but in a league that is all about matchups, most defenses just don't have the personnel to contain someone with his speed and size. In terms of a comparison to another TE we've already discussed, he is probably most like Greg Olsen – which should give you a fair idea of what I expect from him over the next few years. I like the Stanford rookie a bit more than I did Olsen coming out of Miami, so the upside here is fairly high. While rookie success at TE isn't all that common, be patient with him if he doesn't hit the 40-catch mark in 2012; his time will come soon enough.

Until the Vikings made the puzzling decision to outbid the world for John Carlson, Rudolph was set to make a huge jump in fantasy importance going into his second season despite my obvious lack of faith in OC Bill Musgrave. As it stands now, I'm still going to promote him simply because the decision to sign Carlson suggests Minnesota will run a lot of two-TE sets and hand a lot of playing time to each player. And given that Rudolph is "their guy", I can't see how he isn't playing the role of Visanthe Shiancoe last season (who played just over three-fourths of the team's offensive snaps) while Carlson takes on Rudolph's 2011 playing time (just under half of the snaps). Assuming Musgrave simply lets his top players in the passing game play the majority of the snaps – unlike last season – Rudolph could easily enjoy a healthy bump across the board in all of his fantasy numbers since he is, at worst, the second-most gifted receiver on the team. For a player who won't turn 23 until November, Rudolph has plenty of time to emerge as a solid TE1 in dynasty leagues. It probably won't happen yet this season, but 2013 is a pretty reasonable expectation. Rudolph simply is too talented to be held down much longer than that.
Great Potential but Serious Flaws
Rk
Player
Tm
Age
Pos Rk '11
% Yrs Top 12
% Yrs Top 24
Three-Year
Consistency Score
18.
Dustin Keller
NYJ
27
10
33 (1/3)
100 (3/3)
3.92
19.
Martellus Bennett
NYG
25
49
*
*
-5.74
20.
Tony Moeaki
KC
25
*
0 (0/1)
100 (1/1)
2.68
As a fantasy commodity, it's hard to love Keller because he has established a reputation of starting out fast in September, only to leave his owners wanting more after about Week 4. As a football fan, it's hard to understand how a team like the Jets can't find a way to feature him on a more regular basis. And there within lies the rub: do fantasy owners draft talent hoping the team sees what we see or do we draft the player for the role he plays in the offense? To the Jets' credit, Keller did actually enjoy a relatively strong stretch in Weeks 15-17 this past season, but will his numbers continue to improve in 2012 with Mark Sanchez likely fighting for his job all season long or when Tim Tebow is taking 15-20 snaps/game? In short, it's hard to find the long-term fantasy upside with Keller despite the fact he is a pretty solid pass-catching TE. His offense will be run-heavy, his quarterbacks are inconsistent and/or inaccurate (to be kind) and the potential for team turmoil is quite high when you mix a spark (the quarterback situation) with the powder keg that can be Santonio Holmes. As a result, Keller is a strong TE2 in 12-team leagues and will remain such until the Jets either rely more on the passing game or secure a consistent quarterback.
Let's get the negative out of the way right away with Bennett. He hasn't scored a touchdown since his rookie season in 2008 and has managed to catch just 85 passes in four years despite the fact the Cowboys desperately wanted an excuse to use him more often, which has helped him establish a reputation as an underachiever. Now for the positive: Bennett is huge (6-6, 267), athletically-gifted and known as one of the best blockers in the league, which means he should be one of the few three-down TEs in the league with New York. In addition to very competition for a starting spot on his new team, he also has one other significant factor working in his favor: his new TE coach (Mike Pope) is regarded as one of finest – if not the best – at his craft. If you need proof on Pope's influence, just look at what he has been able to get out of players like Kevin Boss and Jake Ballard recently. With defenses likely to put the majority of their attention on stopping Hakeem Nicks and Victor Cruz, they simply don't have enough resources to help the linebacker or safety covering Bennett. Despite this rather high ranking for an unproven player whose work ethic has come under scrutiny, it is very possible that, by this time next year, I will need to move him up in my rankings at least another five spots.
Every sport seems to have at least one player who has the talent to be a real and fantasy stud, but just can't seem to stay healthy. One of the few players in the NFL that currently matches that description is Moeaki, who is coming off an ACL tear and has dealt with injuries since his college days at Iowa. Certainly, it's way too early to start writing the book on the career of a player entering his third NFL season, but Moeaki will need to string a couple of productive 14-16 game seasons together before he can truly be considered a must-have dynasty TE. Moeaki should be ready to contribute in 2012, but as is the case with most players recovering from ACL surgery, he may not be all the way back for another season. There is also the matter of Matt Cassel – who may or may not be his quarterback in 2013 – and the amount of competition and receiving talent for a team in Kansas City that will try to remain a balanced offense for the foreseeable future. With all the questions surrounding him and his situation, I suppose it is appropriate that he be placed right in the middle of TE2 territory.


What Does The Future Hold?
Rk
Player
Tm
Age
Pos Rk '11
% Yrs Top 12
% Yrs Top 24
Three-Year
Consistency Score
21.
Owen Daniels
HOU
29
15
50 (3/6)
83 (5/6)
11.17
22.
Kellen Winslow
TB
29
12
100 (3/3)
100 (3/3)
10.05
Almost the exact opposite of Celek's fantasy story, Daniels' 2011 season started relatively fast but ended with a whimper. Although some of the blame goes to the absence of Matt Schaub, Daniels disappointed in fantasy despite the fact he served as the de facto top receiver in the Texans' offense for over half the season since Andre Johnson only played in seven games. However, the biggest factor working against him now is the transition the team has made, placing less of the fate of the team on injury-prone players like Johnson and Daniels (and even Schaub to a certain degree) and putting more of it on Arian Foster and the defense Houston has spent so many high-round picks on over the years. Daniels has yet to score more than five touchdowns in any of his six seasons in the league and is only third in the pecking order for the Texans in the red zone, so don't expect that to change anytime soon. Therefore, Daniels' upside is somewhere among the top half of fantasy TE2s.
What gives with such a low ranking on Winslow? After all, Winslow – who will turn 29 just before the start of the season – has shed the injury-prone label he earned early in his pro career and has turned in three consecutive 16-game seasons, catching no fewer than 75 balls in any of those seasons. The quick answer to the question is that he simply isn't the athletic marvel he was before all of his knee injuries and he's never been a great red-zone weapon. Winslow also faces the possibility of getting released sometime over the next season or two since he is due base salaries of $4.5M and $5.5 M over the 2013 and 2014 seasons. Those salaries may be hard to swallow for a team that likes what it has in Luke Stocker, who is also a better fit for the run-oriented offensive approach HC Greg Schiano wants in Tampa. Regarding his potential contributions for just this upcoming season, the Bucs figure to have more skill-position talent than at any point during his first three years with the team, meaning there is a distinct possibility Winslow will have his worst statistical season since his injury-shortened 2008 campaign. Since he has never scored more than five times in a single season, it's hard to imagine he'll set a new personal best now with two legit red-zone options at receiver and a coach who wants to run the ball in every situation.


Low-Upside Options
Rk
Player
TM
Age
Pos Rk '11
% Yrs Top 12
% Yrs Top 24
Three-Year
Consistency Score
23.
Dennis Pitta
BAL
27
25
0 (0/1)
0 (0/1)
-2.54
24.
Ed Dickson
BAL
25
17
0 (0/1)
100 (1/1)
-1.76
25.
Heath Miller
PIT
29
19
29 (2/7)
100 (7/7)
6.93
26.
Marcedes Lewis
JAC
28
30
20 (1/5)
60 (3/5)
0.36
(Dickson and Pitta) Dickson did enjoy a solid second season in the NFL, but his production suffered as much as any player on the Ravens' offense when OC Cam Cameron decided to jump on Ray Rice's back and have his running back carry the team to the postseason following Baltimore's Week 10 loss to Seattle. At the same time, Pitta's importance to the offense began to increase (all four of his touchdowns last season came in the team's final eight games). So what does it all mean? In my opinion, this is pretty much what was expected of them when they were drafted. Pitta was regarded as a weak blocker but strong receiver while Dickson was regarded as the more complete tight end of the two. Since there isn't much reason to think the identity of this offense will change anytime soon (the running game), a continuation of the trend that began the week after the Seahawks loss with Dickson and Pitta is a fair assumption to make going forward: Pitta will probably be the slightly more valuable PPR tight end of the two starting in 2012.
Despite a slight increase in his final numbers in 2011, Miller appears to have hit the fantasy ceiling of his career. He has firmly established himself as a 40-50 reception player who will move the chains and block well, but not score a lot of touchdowns despite his on-field connection with Ben Roethlisberger. Not only do the Steelers have a wealth of receiving talent, but it also seems rather unlikely that new OC Todd Haley will lean on the passing game as much as former OC Bruce Arians did. This should mean a bit more run-blocking for Milller, who will turn 30 during the season.
The words few fantasy owners want to hear about their tight end at a new coach's first press conference: "he (Lewis) is perhaps the best blocking tight end in the NFL". While that nugget ensures that Lewis will rarely ever leave the field, it pretty much solidifies that another 30-40 catch, 400-500 yard season with 2-3 touchdowns is probably in the cards. Blaine Gabbert isn't going to be as bad as he was last year, but new HC Mike Mularkey has established a reputation as a coach who loves his running game. He also has a history of excluding the tight end – his old position – from the gameplan on a consistent basis. Furthermore, Jacksonville may (sadly) be satisfied with Lee Evans working as a starter opposite Laurent Robinson, allowing the Jags to move Mike Thomas back into the slot. Obviously, all of this is a problem for any owner hoping Lewis can recapture the form that made him a fantasy revelation in 2010. His size and athleticism should make him the top choice for Gabbert and Mularkey when the team wants to throw in the red zone, but he's a poor bet as anything more than a low-end TE2 in dynasty leagues.

One Year Left
Rk
Player
TM
Age
Pos Rk '11
% Yrs Top 12
% Yrs Top 24
Three-Year
Consistency Score
27.
Tony Gonzalez
ATL
36
4
100 (3/3)
100 (3/3)
22.92
Gonzalez has probably never seen a ranking this low in his entire career, including his rookie season. However, we know longevity has a lot to do with where a player is ranked in dynasty leagues and it seems fairly certain Gonzalez is entering his final season. I expect Gonzalez to end his career on a fairly high note for fantasy purposes, although I don't expect a repeat of last year's 80-875-7 line in what figures to be his swan song, so dynasty owners willing to use him as a one-year serviceable option at the TE position (while they wait for a player like Rudolph to emerge) should consider him a bit higher than most.
The Call-Me-Crazy Bunch
Rk
Player
TM
Age
Pos Rk '11
% Yrs Top 12
% Yrs Top 24
Three-Year
Consistency Score
28.
Kellen Davis
CHI
26
35
*
*
-1.14
29.
Julius Thomas
DEN
24
100
0 (0/1)
0 (0/1)
*
30.
Scott Chandler
BUF
27
21
0 (0/1)
100 (1/1)
2.30
If I had to select one player on this list that has been criminally misused throughout his career, it might be Kellen Davis. As veteran fantasy owners have known for some time, former OC Mike Martz viewed the TE position predominantly as a blocking position in order to get his receivers more time to run their deep in-routes. New OC Mike Tice has a much stronger history with using the position in the passing game and Davis came out of Michigan State in 2008 as one of that draft's most freakish athletes. Now, at 6-7 and 267 pounds with Brandon Marshall around to occupy the defense's attention, is it finally time for Davis to break out in his fifth season? I believe it is, as his team-leading five TDs last season may attest. In fact, it wouldn't surprise me much if Davis goes on to enjoy himself a delayed career renaissance similar to that of Visanthe Shiancoe with similar production after the age of 26.
This offseason quickly went from good to bad for Thomas, much like his rookie season. Initially, when Peyton Manning chose Denver, Thomas appeared to be one of about 3-4 players whose fantasy value was set to skyrocket since he was likely going to be the pass-catching half of a TE committee with Virgil Green. But just like the high ankle sprain suffered in mid-September that lingered and essentially derailed his season, the Broncos squashed Thomas' immediate fantasy prospects by bringing in one of Manning's buddies from the Colts (Jacob Tamme) and a very capable all-around TE (Joel Dreessen). I still expect Thomas to emerge as the starter eventually, but that may not happen until 2013 or even 2014. There is enough talent and fantasy potential here to stash him in a deep dynasty league, but be willing to sit on him for a while if you choose to go that route.
Chandler emerged as a waiver-wire darling early last season, but once he scored his final two touchdowns of the season in Week 8, he was of very little use in fantasy. Despite a huge frame (6-7, 272), Chandler is limited in his ability to be anything more than a red-zone threat because he isn't that great of an athlete. His potential for fantasy greatness is also hurt by the wide-open offense HC Chan Gailey runs. Buffalo wants to play Chandler more than it did last season, but even though he should see more than the 40% of the team's offensive snaps he did in 2011, he just doesn't have a skill set that suggests he'll experience a fantasy explosion. That becomes even more the case if the Bills land a first-round receiver like I think they will later this week.

The Next Five
31. Robert Housler, ARI
Housler managed just 12 catches in his rookie season, which was hampered by a groin injury. In addition to being injured, Housler was drafted by Arizona months before it knew it would secure Todd Heap. Heap is a free agent after this season and Jeff King fits best as a TE2 – opening the door for Housler to make an impact this season if/when Heap gets hurt again – or next year at the latest when Heap's contract expires.
32. Anthony Fasano, MIA
New HC Joe Philbin might have praised Fasano upon his arrival, but GM Jeff Ireland wants an "explosive" young tight end in the mold of Vernon Davis, Rob Gronkowski or Aaron Hernandez. Although this draft has a player or two at the position (Dwayne Allen, LaDarius Green) that may intrigue Miami after Round 1, it says here that Fasano should be in decent shape to be fantasy-relevant for another year or two as the Dolphins attempt to add viable options at receiver.
33. Joel Dreessen, DEN
An under-the-radar player for the Texans, Dreessen makes a move to the Mountain Time Zone essentially to keep the same role he had in Houston. For those fantasy owners that remember Peyton Manning's early days with the Colts, I expect Dreessen to play the Ken Dilger role in this offense while Jacob Tamme (and eventually Julius Thomas) assumes the Marcus Pollard persona. His upside for the next 1-2 years is roughly the 36-518-4 line he posted in 2011.
34. Lance Kendricks, STL
As a rookie last season, Kendricks struggled with drops. While Sam Bradford's injury woes probably didn't help his catch rate, the bigger problem going forward is that St. Louis will lean on the run and Kendricks has a long way to go to become an all-around tight end. Still, there is upside considering new OC Brian Schottenheimer took a similar athletic pass-catching specialist in Dustin Keller and made him fantasy relevant, so Kendricks needs to be on the dynasty radar.
35. John Carlson, MIN
I would have preferred putting a rookie TE like Allen or Green here instead of Carlson, but the fact of the matter is that the soon-to-be 28-year-old (in May) was a 50-catch TE in his first two years as a Seahawk and still has significant upside if he can stay healthy. Given the lack of current talent at WR in Minnesota after Percy Harvin, it is highly likely Minnesota will be in a lot of two-TE sets over the next year or two.


Suggestions, comments, musings about the article or fantasy football in general? E-mail me.

---
Doug Orth has written for FF Today since 2006, appeared in USA Today's Fantasy Football Preview magazine in each of the last two seasons and served as a weekly fantasy football analyst for 106.7 The Fan in Washington, D.C. this past season. He is also a member of the Fantasy Sports Writers Association. You can also follow him on Twitter.