Investing in rookies for redraft purposes is not for everyone. They are unpredictable, tend to wear out by the time the fantasy playoffs roll around and can often be overhyped. I choose to look at it another way, however. With the exception of a select few in recent years, the earliest first-year runners typically go is the third round while incoming receivers can often be had in the seventh round or later. In other words, if an owner is doing his/her job, the most he/she should be asking out of a rookie is to be a RB2 or WR3. When one considers what we are often left with to choose from at those positions in those areas of the draft, it doesn't seem like such a bad deal if we can land a Day 1 or Day 2 talent just because he is unproven and/or has a veteran obstacle or two in the way.

We kicked off our preseason preparation last week with the release of the bottom half of my top 20 rookies and will conclude our discussion about the incoming draft class this week with the 10 players I believe will have the most impact on the NFL this season.

As per usual, I think it helps to ask at least four simple questions when evaluating rookies – each of which I will try to address in the write-ups below:

1) Is he in a position to succeed?
2) What are his most obvious obstacles?
3) Is he an offensive building block, complementary piece or role player?
4) How is the "fit" and does his style mesh with what the team is trying to accomplish or is the offense going to cater to his talents?

Certainly, there are always going to be more questions than answers at this point of the year. But to establish a baseline for a rookie, I think this gives us a pretty good start. At the very least, I hope to provide each of you with my early assessments on each player before I really buckle down on player evaluations in July and August using what I hope will be a new-and-improved Preseason Matchup Analysis.

Note: The rankings below are for the 2015 season only and are ranked in order of likelihood of fantasy impact. (For example, quarterbacks like Marcus Mariota and Jameis Winston may accrue more fantasy points given the nature of their position, but the chances of them impacting a fantasy team are slimmer than say, a potential fantasy WR3 in a three-WR league, because the receiver may end becoming an every-week fantasy starter.) The QB2/RB3/WR4 designations are what I expect that rookie to be in PPR formats this season.


10. Devin Funchess, WR Carolina

2015 Projected Role: Complementary player; clear No.2 receiver (hopefully by no later than midseason) behind Kelvin Benjamin and No. 3 option behind TE Greg Olsen.

Why he will live up to this ranking and perhaps exceed it: Most teams opt for two different styles with their likely starting receivers, preferring one bigger-bodied player and one medium-sized wideout in hopes one can stretch the field and one can move the chains. Funchess (6-4, 232) was more like Benjamin (6-5, 240) physically than just about any other player in this draft, including the fact that both were being considered as tight end prospects early in the draft process. There is a method behind the madness, however: when QB Cam Newton tends to miss receivers, he tends to miss them high. One way to help alleviate that problem somewhat is to draft wideouts with large catching radiuses, which is what most believe the Panthers are trying to do by selecting Benjamin and Funchess in consecutive drafts. Perhaps the biggest difference between the two behemoths is the rookie projects to be better after the catch. Balance in the passing game was lacking last season as pretty much everyone (including Carolina) knew Jerricho Cotchery was going to be stretched as a second receiver at this point of his career. Funchess is unlikely to evolve into the red-zone beast Benjamin has become – the Michigan product never scored more than six touchdowns over three seasons in Ann Arbor and only visited the end zone once after the Wolverines' first game in 2014 – but he should be more than serviceable in the red zone simply because most cornerbacks aren't going to have the size necessary to consistently stop the fade or fade-stop Benjamin and Funchess will run inside the 20.

Why he won't: Whereas Funchess should be better than Benjamin after-the-catch (assuming his 2012-13 tape was the rule and 2014 was the exception), the second-year veteran is the bigger threat downfield and in the red zone. The rookie's lack of touchdowns (and overall production in general) in college is also a bit of an eyebrow-raiser because it is not as if the Big Ten was loaded with Day 1 or Day 2 talent at cornerback or that the Wolverines had a ton of other offensive weapons they could utilize if Funchess was drawing too much coverage. Size and opportunity aren't the only requirements for a receiver to perform as a rookie, so the fact that he didn't exactly dominate in his final collegiate season is also a red flag. Does he need more time to develop? (He did just 21 in late May after all.) Or did the combination of average-at-best quarterbacking, Michigan's struggles and/or increased attention from opposing defenses expose him?

2015 Fantasy Assessment: WR3/4. Without a doubt, Funchess scares me more than any other player in the top 10. At the very least, he is not going to be counted on to carry the passing game in the same way Benjamin was asked to last year, so he'll have a little more time to get up to speed if he needs it. A top-40 finish would be a good Year 1 goal for Funchess because it would mean he found the end zone with some degree of regularity, did at least a fair job outmuscling defenders when he needed to and continued to improve as a route runner. I think the No. 41 overall pick – like many rookie receivers – will have a very up-and-down first season in the league, driving owners crazy by following a 5-90-1 line with 2-3 weeks of two catches for 30 yards. His overall numbers could end up being respectable, but I can't imagine owners will start him with much confidence until at least midseason.

Fearless early-June prediction (15 starts): 53 receptions for 700 yards and six TDs


9. Breshad Perriman, WR Baltimore (Draft Profile)

2015 Projected Role: Complementary player; likely assumes the role left behind by Torrey Smith with the added benefit of being able to contribute more in the short and intermediate passing game than his predecessor.

Why he will live up to this ranking and perhaps exceed it: Steve Smith Sr. has 915 career catches; the rest of the 10 receivers in Ravens' camp have a total of 134 (73 of which are by Marlon Brown). In other words, there are no proven or even remotely productive receivers to push Perriman for Torrey Smith's old job in an offense that will probably push it downfield even more often under new OC Marc Trestman. Steve Smith, who turned 36 in May, started his inaugural season in Baltimore like gangbusters, only to watch his production drop dramatically after the first month of the season. It is fair to say that while age may not have been the only reason for the decline, it was the most likely. TE Dennis Pitta (hip) may not ever play again and the players vying to replace him are either rookies or unproven themselves. In short, Perriman has very little competition for playing time or targets in an offense that will be making the transition from run-minded OC Gary Kubiak to pass-heavy Trestman. If opportunity isn't enough, then take comfort in the fact that Perriman (6-2, 212) already has a NFL build with significant deep speed (4.26) and will catch passes from a quarterback in Joe Flacco who just happens to own one of the biggest arms in the league. It is here where he figures to make his biggest impact as a rookie. Unlike Smith, Perriman also flashed the ability to run underneath routes in college, which means he won't necessarily be limited to just running deep routes 80-90 percent of the time.

Why he won't: There are two major concerns in regards to Perriman's future fantasy value, the most important of which is most likely correctable – drops. Perhaps the major (only?) reason why a 6-2, 212-pound receiver with sub-4.3 speed fails in the league is if he struggles to do the one job he is paid to do, which is catch the ball. Perriman, who had nine touchdowns and eight drops in his final year at Central Florida, told the Baltimore Sun shortly after he was drafted that he felt most of the drops came from lapses in concentration. While that may be true (and his game tape reveals the ability to make the spectacular catch, providing further evidence that concentration may be the problem), it is far from ideal for any receiver to have a drop percentage anywhere close to 14 percent. The second problem regarding Perriman's ability to contribute right away is his college production, which topped out at 50-1,094-9 in 2014. Supporters of the No. 26 overall pick will point to the Knights' run-heavy offense as the main reason he didn't post video-game numbers, and look at his amazing 20.9 YPC and strong finish to his college career as reasons to believe in him. Detractors will cite his drops and wonder why it took someone with his build, speed and bloodlines (his father, Brett, is a former longtime NFL receiver) so long to make his mark in the American Athletic Conference.

2015 Fantasy Assessment: WR3. While HC John Harbaugh has stated the running game will still remain a big part of what the team does, he probably isn't going to spend a lot of time overruling Trestman's play calls or else he would not have hired him for the job in the first place. Trestman runs a vertical offense and Perriman is going to be the best deep threat on the team in short order, assuming he isn't already. So, if we piece together that nugget with Flacco's huge arm in a vertical offense, we've got ourselves a recipe for at least a DeSean Jackson-like fantasy receiver (dominant one week, nearly invisible the next) – at least early on in his career. Since I expect Steve Smith to lead the team in receiving one more year, the Jackson hit-or-miss rollercoaster ride is pretty much my expectation for Perriman in his rookie season, so it should come as no surprise if his rookie season ends up mirroring Torrey Smith's 2011 debut (50-841-7).

Fearless early-June prediction (16 starts): 55 receptions for 850 yards and six TDs; 12 rushes for 100 yards


8. Ameer Abdullah, RB Detroit (Draft Profile)

2015 Projected Role: Complementary player; should split touches with Joique Bell at the beginning of the season and lead a committee by the end of it.

Why he will live up to this ranking and perhaps exceed it: Most 5-9, 205-pound runners project to be change-of-pace (COP) backs in the NFL; don't automatically make that mistake with Abdullah. The second-leading rusher in Nebraska history amassed his fair share of injuries over his 978-touch college career, but didn't miss a game and is built about as well as a "smallish" back can be. The departure of Reggie Bush opens up the possibility of a Bush-like role for Abdullah and that is exactly the kind of role the No. 54 overall pick should expect at the beginning of the season. Bell is a power back entering his age-29 season coming off surgeries to his knee and Achilles this offseason while Theo Riddick is either a satellite back, potential slot receiver or both. If there are any hiccups in Bell's recovery or he proves to be the same back that has averaged 3.9 YPC over the last two seasons, it seems pretty obvious the Lions would opt for a player like Abdullah that is a better inside runner than most backs his size and much more explosive than Bell. More than anything else, however, is that Abdullah is a good fit in OC Joe Lombardi's system and the team's most explosive threat at the position. While he lacks the breakaway speed teams covet, he will be one of the league's most elusive runners right away. Considering the light box Detroit should face most weeks with Calvin Johnson and Golden Tate commanding respect in the passing game, Abdullah's ability to find holes and dodge defenders should play well in Ford Field.

Why he won't: While size is probably the first negative that comes to mind for most people concerning the ex-Cornhusker, I don't see that as being such a huge disadvantage in this case because he is so elusive. Abdullah's biggest shortcoming at the moment is ball security, which is likely caused by two factors: 1) small hands (8 5/8") and 2) his unwillingness to give up on runs. The Alabama native also has some work to do as a pass-blocker, which may be ultimately why Bell ends up getting a few more snaps than some of us might expect if Abdullah ends up becoming the starter midway through the season. Another issue could be that Detroit likes what he does on kickoff and/or punt returns so much that he will actually end up sharing snaps somewhat equally with Bell and Riddick. (It is unlikely the Lions would go that route, but it is a possibility that needs to be considered.)

2015 Fantasy Assessment: RB2/3. HC Jim Caldwell is suggesting that Bell, Abdullah and Riddick will all be part of a committee in 2015, telling the team's official site in late May that each one brings something a little different to the table. For what it is worth, it seems unlikely that Bell will come anywhere close to the 223 carries he had in 2014 considering Abdullah would put so much more stress on the defense. Additionally, Abdullah would be the best power back guaranteed a spot on Detroit's roster if Bell has a setback in his recovery from either of his surgeries, meaning he is probably going to get his 12-15 offensive touches per game one way or the other. LeSean McCoy (5-11, 208), Jamaal Charles (5-11, 199), Justin Forsett (5-8, 197) and Tre Mason (5-8, 207) are all either smaller or the same size as Abdullah and each carried the load successfully for their teams for the better part of the season last year without much incident. I would argue Abdullah's muscle is packed tighter than any of those backs. Moreover, Abdullah is so elusive that he rarely takes a direct hit, which should further ease concerns about his ability to stay healthy at his size.

Fearless early-June prediction (10 starts): 160 rushes for 740 yards and five TDs; 34 receptions for 260 yards and one TD


7. Todd Gurley, RB St. Louis (Draft Profile)

2015 Projected Role: Building block when he is cleared to play (this ranking assumes he begins the season on the PUP list and returns around midseason).

Why he will live up to this ranking and perhaps exceed it: Talent usually wins out in the end in the NFL and one would be hard-pressed to find a better one at running back than Gurley, who was the Rams' first-round pick despite the fact Tre Mason performed admirably for most of the second half of last season. The No. 10 overall selection will likely be the featured back the same day St. Louis' medical staff decides his recovery from a November 2014 ACL tear is complete. In a league where few players own the title of "feature back" anymore, Gurley's potential workload – even over just half a season – may be worth a fifth-round selection in redraft leagues. The Georgia standout is also quite adept in the passing game – as a receiver and a blocker – and a powerful runner to boot, meaning the only time he should leave the field early in his career is because he either is injured or needs a breather.

Why he won't: First and foremost, it seems like a lot of people are assuming Gurley will be ready to dominate the league as soon as he is allowed to play. Let's first remember that while full recoveries from ACL tears are becoming more and more commonplace, very few players that suffer them actually thrive in their first year post-surgery. In St. Louis, he'll join a team so unhappy with last year's offensive line that it spent four draft picks to address it, two of which (Jamon Brown/Andrew Donnal at RG and Rob Havenstein at RT) could easily end up starting in Week 1. Of course, the Rams also play in the NFC West, meaning they will try to pound the ball six times a year against the solid – if not great – run defenses of the Seahawks, 49ers and Cardinals. That is a tall order in and of itself, but they'll try to do it with a first-time NFL offensive coordinator (Frank Cignetti) and a new quarterback (Nick Foles), all the while hoping top receiver Brian Quick (shoulder) is able to pick up where he left off before his season-ending injury last year.

2015 Fantasy Assessment: RB2. Few running backs are "clean" in terms of being a fantasy prospect nowadays and Gurley is no different. For all the talent and opportunity he brings to the table, he enters the league with a serious knee injury that may not allow him to show the NFL what he is capable of until 2016 and a well-documented injury history on top of that. It is entirely possible (and probably quite likely) that Gurley struggles to stay above 4.0 YPC as a rookie because of all the aforementioned pitfalls (injury, offensive line and uninspiring passing game), although no one should really be surprised either if the best running back prospect since Adrian Peterson takes a page out of his book and has a season for the ages in his first year back from ACL surgery. This ranking reflects my prediction that Gurley will miss at least the first six games of the season and I think that is a safe assumption to make at this point. Still, even with so much going against him, I'd argue that his potential workload and talent is so great that owners should be willing to consider him in the fifth-round area even if he begins the season on the PUP list.

Fearless early-June prediction (nine starts): 157 rushes for 700 yards and six TDs; 31 receptions for 225 yards and two TDs


6. Kevin White, WR Chicago (Draft Profile)

2015 Projected Role: Complementary player; clear No. 2 option at receiver behind Alshon Jeffery at first, where he will likely remain until he polishes up his route-running.

Why he will live up to this ranking and perhaps exceed it: Brandon Marshall was traded in the offseason, leaving a huge void opposite Jeffery. While the fourth-year pro will be the lead receiver in new OC Adam Gase's offense (he's ticketed to fill the Demaryius Thomas role initially), White is a talent unlike anything that has walked through Halas Hall in years. A 6-3, 215-pounder with 4.35 speed, the Biletnikoff Award finalist from a year ago is fast, strong and displays exceptional concentration on contested catches. His size, leaping ability and tenacity should all carry over nicely from West Virginia as well, which should allow him to be one of the better red-zone options in the league right away. Jay Cutler doesn't get credit for much, but his huge arm should complement White's ability to get down the field. Former HC Marc Trestman's departure dims Chicago's fantasy outlook across the board, although the drop-off may end up being negligible in the likely event Gase can get more out of Cutler than the 32-year-old quarterback gave the Bears last season.

Why he won't: White has some work to do as a route-runner and could very well start slowly as a rookie. First and foremost, Chicago is asking him to learn all three receiver positions, which may be a bit of overload for a receiver that lined up almost exclusively on the right side in Morgantown. Considering he struggled with Dana Holgorsen's offense in his first year after JUCO at that one spot before exploding as a senior, he may not be able to learn everything quickly enough to be a trusted option until late in the year or at any point before 2016. Gase will probably strive for better offensive balance than Trestman could manage a season ago (609 pass attempts versus 355 rush attempts), meaning the Bears probably won't have four players with more than 100 targets like they did in 2014 either. As a result, it should come as no surprise if Cutler leans a bit more on Jeffery, Martellus Bennett and Matt Forte, considering each player has spent at least two seasons with the embattled quarterback.

2015 Fantasy Assessment: WR2/3. Once White become a more professional route-runner (and his work ethic up to this point suggests he will get there), I have no question he will be the top receiver in Chicago someday. Guessing when he gets to that point is another issue entirely and makes him difficult to peg for redraft purposes. White should be a standout in the red zone right away, but will also face plenty of competition with Jeffery and Bennett inside the 20 as well. Don't be surprised if the rookie makes his noise over the first half of the season as a downfield receiver, convincing the Bears he is ready to do more than just take the top off the defense. White is one of those rare cases in which it wouldn't surprise me if he topped out around 40 catches or hauled in 85-plus and made the Pro Bowl as a rookie. Another huge variable is Cutler; so much depends on whether or not we end up seeing the 2013 version or the 2014 model.

Fearless early-June prediction (15 starts): 60 receptions for 875 yards and six TDs; eight rushes for 65 yards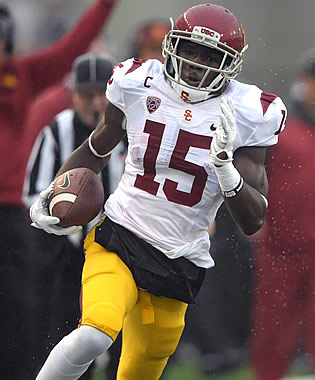 Can Chip make another rookie WR fantasy relevant?
5. Nelson Agholor, WR Philadelphia (Draft Profile)
2015 Projected Role: Complementary player that may contribute on kick/punt returns; could alternate slot/outside snaps with Jordan Matthews (both can play in the slot). Figures to start out as No. 3 option in the passing game behind Matthews and Zach Ertz, but should reach equal footing with them before the end of the season.
Why he will live up to this ranking and perhaps exceed it: Agholor may not be the most gifted athlete in this class, but he's a smooth and sudden receiver that is also an efficient route-runner. While he can make things happen in the short and intermediate passing game, one of the qualities that likely most attracted HC Chip Kelly to the All-Pac-12 first-team selection was his ability to move all around the formation, which becomes an issue for defenses as the Eagles' up-tempo offense gets rolling. Kelly's high-volume offense is going to get more players more touches than a lot of other teams, so the rookie is going to get targets. Jeremy Maclin departed in free agency, leaving Agholor to battle only Riley Cooper and maybe Miles Austin for the right to start opposite Matthews in Week 1. During the draft process, Agholor spoke about his preparation and attention to detail during his days at USC, qualities that became evident when watching his film and will undoubtedly endear him to his new coach.
Why he won't: Cooper and Austin may not do much well at the pro level anymore (assuming either makes the team), but both can block in the run game. That's a fairly notable point to make because the Eagles are a run-based offense. Kelly also has a fondness for TE Brent Celek and will continue to give him plenty of snaps, meaning Philadelphia may use more two-tight personnel than most realize. As a result, Cooper's (or Austin's) advantage over Agholor as a blocker could very well end up costing the rookie quite a few snaps. At 6-0 and 198 pounds, the rookie didn't excel at it in college and isn't likely to close the gap in that area much during his first year. Agholor's lack of ideal size and muscle is also likely to cost him in the red zone, where Cooper, Austin and Matthews all have a size advantage on him. With two very good running backs at his disposal, an injury-riddled quarterback taking snaps (Sam Bradford) and what should be an improved defense, Kelly may be inclined to run the ball even more than the Eagles did last year (474 times).
2015 Fantasy Assessment: WR3. After suggesting he had little to do with the selection of OLB Marcus Smith or the rest of a fairly disappointing draft class last year, Kelly predictably isn't go to throw too many obstacles in front of the first player he picked as the new man in charge of player personnel and make himself look bad in the process. Agholor can expect to be a jack-of-all-trades, contributing inside and outside as a receiver, occasionally as a returner on special teams and even a few times on an end-around. Although Agholor has drawn some Maclin comparisons, the new Chief is a better deep threat and all-around receiver, so it would be unfair to expect the rookie to step into those shoes in 2015. Thanks to his suddenness, the No. 20 overall pick should be on the receiving end of a lot of screens and may end up being the top option on short and intermediate routes. While unlikely, it is not unthinkable that Agholor could lead the team in catches as a rookie if his body proves capable of holding up under a 16-game schedule.
Fearless early-June prediction (14 starts): 62 receptions for 785 yards and five TDs; 12 rushes for 80 yards and one TD
2015 Projected Role: Eventual building block; lead back at some point in possible committee with Devonta Freeman; capable of assuming feature-back role with strong camp.
Why he will live up to this ranking and perhaps exceed it: The mere fact that new OC Kyle Shanahan signed off on the selection of Coleman should be enough to capture fantasy owners' attention. From Steve Slaton (Houston) to Alfred Morris (Washington) to Isaiah Crowell (Cleveland), Shanahan has repeatedly coaxed very productive seasons out of backs he identified as being good fits for his zone-running scheme. Coleman (5-11, 206) may never be a power back or have great lateral agility, but few backs in this draft possess a better combination of vision, patience, elite acceleration and top-end speed. Coleman can catch the ball and is a plus-blocker in the passing game, which should only help his cause to establish lead-back duties. The Falcons also sport a dynamic passing attack led by Matt Ryan, Julio Jones and Roddy White, so a running back like Coleman that can repeatedly plant his foot, hit the hole and utilize his 4.46 speed against a defense that has to respect the passing game is set up for success.
Why he won't: Although his size and explosiveness would suggest Coleman is an elusive or creative runner, that isn't necessarily the case. He isn't a tackle-breaker either, as STATS stated that the Indiana product broke a tackle or made a defender miss on just 12.2 percent of his college carries. (By comparison, Gurley, Jay Ajayi, and Melvin Gordon were all over 21 percent while Duke Johnson was at 19 percent.) Shanahan's recommendation means a lot, but Freeman flashed toward the end of last season and is quite adept in the passing game while Antone Smith provided more excitement in limited action than perhaps any other back in the league last season. In short, there is no guarantee a true lead back will emerge at any point in 2015. The Falcons have added some upgrades to the offensive line over the last two years through the draft (most notably LT Jake Matthews) as well as some players Shanahan is familiar with from Washington (Chris Chester and Tyler Polumbus), but the front five as a whole is still a work in progress.
2015 Fantasy Assessment: RB2/3. As noted a time or two above, "The Rock" – as his parents nicknamed him – is a strong bet to emerge as the lead back at some point simply because Shanahan had to sign off on the pick. At this point, Coleman is a one-speed runner (very fast) that approaches just about every carry like he has a point to prove, which is inherently good and bad. On one hand, he broke off an FBS-best eight 60-plus yard runs in his final year of college and half of his 28 career rushing touchdowns covered at least 43 yards. On the downside, it is fair to wonder how long a straight-linish 206-pound runner can hold up each year. If he learns to use tempo and/or breaks a few more tackles on a more regular basis, he could easily be a top-10 back in the league. If he doesn't, he could end being the next Felix Jones. As long as Shanahan is around, I believe he'll be closer to the former. Coleman's ADP is 7.9 at the moment, which I think represents a steal considering the likelihood that he is the best bet for 15-plus touches in the Atlanta backfield over the final 10-12 games of the season.
Fearless early-June prediction (10 starts): 167 rushes for 820 yards and six TDs; 32 receptions for 250 yards

3. Melvin Gordon, RB San Diego (Draft Profile)
2015 Projected Role: Building block; definite early-down back that could end up sharing third-down snaps with Danny Woodhead if he proves to be as good in pass protection as the Chargers believe.
Why he will live up to this ranking and perhaps exceed it: Out with the injury-prone Ryan Mathews, in with the running back that finished 41 yards shy of matching Barry Sanders' single-season FBS record of 2,628 rushing yards. When the Chargers opted to let Mathews walk in free agency this spring, all that was left behind was the undersized duo of Branden Oliver and Woodhead as well as the disappointing Donald Brown. While Oliver did flash early last season, San Diego quickly discovered he is probably best in a complementary role. Gordon repeatedly showed he was a big play waiting to happen – 40 runs of 15 yards or more in 2014 alone and 15 career runs over 50 yards – and allows them to happen naturally, often setting up second-level defenders to get his yards as opposed to bowling them over or bouncing everything outside. The Chargers should be on the verge of establishing a solid run-blocking line as well, adding former Bronco Orlando Franklin to be the new left guard (among the front five that features behemoths LT King Dunlap and RT D.J. Fluker). At 6-0 and 215 pounds, Gordon is also San Diego's biggest back, which pretty much locks him into the short-yardage and goal-line carries as well.
Why he won't: Gordon is probably going to get about all the early-down work he can handle, so the question becomes how often he will play on passing downs with Woodhead in the mix. The Chargers spoke glowingly hours after his selection about the rookie's ability as a pass blocker – calling him the best pass-protecting back in the draft – although there isn't much reason to believe that is the case yet. Gordon also fumbled 12 times (seven lost) on 653 career offensive touches, with seven of the 12 fumbles coming over 362 offensive touches in 2014. San Diego has also utilized a three-man committee (when it could) since HC Mike McCoy arrived in 2013, so it is fair to wonder if Oliver and Woodhead somehow steal about 10 backfield touches per game. And despite the Chargers' offensive line upgrades since McCoy arrived, I'm not sure I'm ready to buy into the group as a top-10 blocking unit quite yet.
2015 Fantasy Assessment: RB2. Whether or not Gordon is the top player on this rookie list or ends up only in the top five depends heavily on how much of Woodhead's usual passing-down role Gordon is able to steal. San Diego is selling the rookie as a three-down back by calling him "the best pass-protecting back in the draft", but can we buy that as fantasy owners? His Wisconsin tape didn't suggest he is worthy of that title and it isn't as if the Badgers spent a great deal of time developing him in that area given their devotion to the running game. Similarly, Gordon only caught 22 passes in his college career, so can we really put a lot of faith in him to double that number in 2015 with two other able-bodies passing-down backs on the roster? It should also go without saying that the huge runs that helped boost Gordon's rushing totals each week in college will be much harder to come by in San Diego, making it that much more important he maintain the patience he showed throughout his final year in college. Gordon is a very good bet to exceed 225 carries barring injury, but what he does above and beyond that will likely be decided in training camp and early in the season.
Fearless early-June prediction (15 starts): 240 rushes for 1,080 yards and seven TDs; 28 receptions for 190 yards

2. T.J. Yeldon, RB Jacksonville (Draft Profile)
2015 Projected Role: Building block; likely three-down back.
Why he will live up to this ranking and perhaps exceed it: Toby Gerhart will likely move into an H-back role this season while Denard Robinson is expected to return to the COP role the Jaguars' coaches expected him to fill last year. Yeldon was the last of the three runners in this draft that most analysts pegged as a true "foundation back" and that is exactly what Jacksonville will expect him to be. HC Gus Bradley and new OC Greg Olsen want to run the ball more this year in an effort to aid Blake Bortles' development as a quarterback, so workload should not be an issue anytime soon for Yeldon. The Jags added third-round G A.J. Cann through the draft as well as C Stefen Wisniewski and RT Jermey Parnell in free agency, solidifying a blocking unit that ranked 30th in adjusted line yards (according to Football Outsiders), which measures the degree to which the offensive line is responsible for making the running game work. Yeldon (6-1, 226) is a smooth runner in the Le'Veon Bell mold that was incredible successful as a short-yardage back in college and offers just as much in the passing game as he does in the running game.
Why he won't: The Jaguars haven't had a running back finish higher than 20th in PPR scoring since Maurice Jones-Drew won the rushing title four years ago. Part of that can be blamed on injuries to and the decline of MJD after 2011, but the fact of the matter is that Jacksonville probably didn't have the personnel necessary to support a 1,000-yard rusher even if Jones-Drew was still in his prime. That may be on the verge of changing, although the jury is still out on whether Bortles, Allen Robinson and Marqise Lee can/will do enough to free up some running lanes for Yeldon. The Alabama product is more of a sustaining runner than big-play back, so expecting huge rushing totals buoyed by a 50-plus yard run are unlikely to be the norm. Last but not least, Yeldon never handled more than 207 carries in three years with the Crimson Tide and fought through injuries for most of 2014. Is he durable enough to make it through a season?
2015 Fantasy Assessment: RB2. The Jaguars aren't going to get many breaks in the first half of the season (seven of their first nine games are against Carolina, Miami, New England, Houston, Buffalo, the New York Jets and Baltimore), so the defense will need to step up in a big way to make sure Yeldon is a weekly candidate for 18-20 carries. Free-agent signee Julius Thomas must be able to add something to the second-year trio of Bortles, Robinson and Lee to make opposing defenses pay for loading up the box. With that said, talent and the promise of a voluminous workload are important in fantasy football. Add in the fact that Yeldon should rarely ever leave the field and an improved supporting cast and there is hope for a top 15 finish by a Jaguar back if he proves he can handle 300-plus touches.
Fearless early-June prediction (16 starts): 258 rushes for 1,005 yards and seven TDs; 43 receptions for 270 yards and one TD

1. Amari Cooper, WR Oakland (Draft Profile)
2015 Projected Role: Building block; top target for second-year QB Derek Carr.
Why he will live up to this ranking and perhaps exceed it: There aren't a lot of flaws in Cooper's game; he is one of the more pro-ready receivers to come out of the draft in recent years. The Heisman Trophy finalist runs routes with the precision of a veteran wideout at the age of 20 (21 in mid-June) and can beat a defense short just as easily as he can deep. Cooper can work out of the slot and excel on the outside, which should give new OC Bill Musgrave the ability to pick and choose the rookie's matchups in an offense Cooper himself told the San Francisco Chronicle in early May "(is) kind of similar" to the playbook Alabama used last year under OC (and former Raiders HC) Lane Kiffin. The Biletnikoff Award winner also doesn't have a great deal of quality competition for targets as Michael Crabtree, Andre Holmes or Rod Streater cannot be considered game-changing threats. The running game should also be better than it has been since Hue Jackson left after the 2011 season. Musgrave's offense relies heavily on play-action, so with a capable running game making defenses play a bit more honest, Cooper should have enough time to show off his ball skills and run-after-catch abilities.
Why he won't: It is beyond me how Musgrave continues to find work as a play-caller in the NFL; his conservative game plans have destroyed more than a few fantasy dreams. Musgrave has talked this offseason about applying some of the concepts (including playing with tempo) that he saw work so well as the quarterbacks coach under Kelly in Philadelphia last year, but I'll have to see it to believe it with him. History is also working against Cooper: no Oakland wideout had even 700 receiving yards last year and no Raider has reached 1,000 receiving yards in a season since Randy Moss did so in 2005. Additionally, no qualifying quarterback since Blaine Gabbert in 2011 (5.36) averaged fewer yards per attempt than Carr did last season (5.46), which speaks to the quality of receivers in Oakland just about as much as it does how quickly the then-rookie signal-caller had to get rid of the ball. The Raiders are quietly adding quality pieces up front, but the right side of their offensive line is still very much in question. Cooper can get open quickly, but it might be a lot to ask for him to consistently do so in 2.5 seconds.
2015 Fantasy Assessment: WR2/3. Cooper is more than capable of a top 20 finish at his position this year. However, the presence of Musgrave is enough for me to push him to the bottom end of the WR2 tier of receivers and at the top end of the WR3s. The rookie isn't going to catch many breaks inside his division, however, since Denver and Kansas City should be able to generate a lot of heat while the Broncos and Chargers each have multiple quality corners that have proven themselves. Still, it should become obvious to Musgrave before long that Cooper needs at least eight targets every game (given the Raiders' other options) and should be the No. 1 option in the red zone as well. The Crimson Tide product is not a lock for 80-90 catches as some have projected, but he should be able to end Oakland's nine-season drought when it comes to sporting a 1,000-yard receiver.
Fearless early-June prediction (16 starts): 74 receptions for 1,020 yards and seven touchdowns; four rushes for 25 yards

---
Doug Orth has written for FF Today since 2006 and been featured in USA Today's Fantasy Football Preview magazine since 2010. He hosted USA Today's hour-long, pre-kickoff fantasy football internet chat every Sunday in 2012-13 and appears as a guest analyst on a number of national sports radio shows, including Sirius XM's "Fantasy Drive". Doug is also a member of the Fantasy Sports Writers Association.