Auction drafting is my favorite way to build a fantasy football team. While the general idea of this format is to allow every owner an equal opportunity to "buy" the players they want, it combines the ability to value a player's potential contribution with managing a budget, all the while testing a drafter's patience. Moreover, I feel it really tests the conviction an owner has in certain players. Furthermore, I think it rewards the prepared and punishes the unprepared. In snake drafts, it is obvious to anyone using a draft board when a player is slipping. In auctions, owners need to be keenly aware of who is left and balance that against their remaining funds. Owners are forced to decide what players they like the most and to what degree they are willing to go to secure their services, which is perhaps the best part of auctions - along with the fact every owner has an equal opportunity to land each and every player.

This coming season will mark the 10th year I have participated in The Huddle Expert Auction League. Over the first nine seasons, FF Today has made the six-team playoff every time (last year's team was a No. 1 seed) and advanced to the championship game in six of the last eight years. Suffice it to say my approach has proven to be effective.

This year's draft was held on August 21, so keep that date in mind as you review the prices below (both the price each player went for and the value at which I set for him).

Below, you will find the values I used to prioritize the players and the rationale I used in selecting my team.

Pre-draft

My general auction strategy entering each draft is securing two back-end RB1s I really like and pair them up with two WR1s who don't live in the high-rent district. This approach typically bears fruit because at least one of the two tends to outperform their draft position while the other usually holds his own as an RB2 or WR2. This year's plan wasn't much different, as loyal readers know how much I like Leonard Fournette, who is typically available at the end of the first round in snake drafts and comes a bit cheaper than the recognized elite backs in auctions.

Unsurprisingly, the goal for this draft was to land Fournette and someone like Alex Collins as my main two backs and pair them up with one of the generally recognized top eight receivers and a wideout like Larry Fitzgerald. Another goal was to spend no more than $10 on quarterbacks or $15 at tight end.

Each year, I also make it a point to pay less than my valuation on just about every player, knowing the depth at receiver will allow me to find a bargain or two. Ideally, I'll come away from a draft with two surefire starters at running back and another mid-priced player I believe will be an RB2 to use as my flex, but it doesn't always work that way.

Although it is a departure from conventional auction-draft strategy, I've never been a big fan of setting pre-draft positional budgets – such as spending 40 percent of my budget at receiver. My method: isolate the players I want the most, place them at the top of my spreadsheet and keep a record of how much a player goes for a little bit lower on the page. I stay true to my valuations with very few exceptions and stick with that "preferred" list of players as long as possible. A list of 300 players can be daunting, especially when trying to research how much players in a certain tier went for with no more than 10 or 15 seconds to make a decision, so it makes a ton of sense to focus in on about 50.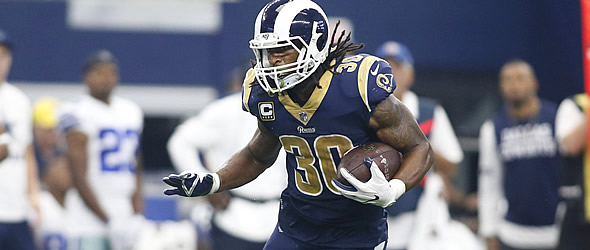 Thumbs up! When you head into an auction looking to land Fournette and end up with Todd Gurley.
The Draft
Players with bolded names are ones I specifically selected before the draft as players I was targeting. The key is picking players from several different tiers and expected cost valuations.
Below you will find the actual prices that secured a player's services (Act $) and the price I valued them before the draft (My $). A dash in the first column reflects the fact a player was not nominated. The orange highlight represents winning bids for FF Today. Finally, I will follow each position with some brief commentary.
All values are based on a $200 cap and players are organized by "My $". All players that were nominated are included, but I removed a number of players that are unlikely to go in auctions in leagues with 12 teams and 18-man rosters or for other common-sense reasons.
Required starters: 1 QB, 2 RBs, 3 WRs, 1 Flex, 1 K and 1 Defense/Special Teams unit.
Quarterbacks
Actual $
My $
Player
Tm
16
18
Aaron Rodgers
GB
17
14
Deshaun Watson
HOU
10
14
Tom Brady
NE
9
13
Drew Brees
NO
8
11
Kirk Cousins
MIN
10
11
Cam Newton
CAR
4
10
Andrew Luck
IND
14
10
Russell Wilson
SEA
6
10
Philip Rivers
LAC
7
9
Carson Wentz
PHI
2
8
Marcus Mariota
TEN
9
8
Matthew Stafford
DET
8
6
Patrick Mahomes
KC
4
6
Matt Ryan
ATL
3
5
Jared Goff
LAR
3
5
Ben Roethlisberger
PIT
3
4
Jimmy Garoppolo
SF
1
4
Dak Prescott
DAL
1
3
Blake Bortles
JAC
2
3
Alex Smith
WAS
-
3
Eli Manning
NYG
-
2
Andy Dalton
CIN
-
2
Jameis Winston
TB
1
2
Derek Carr
OAK
-
1
Mitch Trubisky
CHI
-
1
Case Keenum
DEN
1
1
Tyrod Taylor
CLE
-
1
Ryan Tannehill
MIA
-
1
Sam Darnold
NYJ
-
1
Joe Flacco
BAL
-
1
Sam Bradford
ARI
-
1
Josh McCown
NYJ
-
1
Josh Allen
BUF



Observations:

Even though I expected quarterbacks to go for less than they ever have in this league this year, I didn't expect them to go quite this low. Only five quarterbacks garnered double-digit bids and Rodgers ($16) wasn't even the one that attracted the highest bid. All in all, my fellow owners did a great job at showing restraint at this position as a whole, with only Wilson ($14) securing a bid that seemed a bit extravagant (albeit understandable given how he played last year). I find myself hoping to get Wentz ($7) in drafts but the timing always seems to be a bit off, plus he never seems to come with the discount I think he should. Luck ($4) has a great chance to be the best value pick at this position, but it wouldn't surprise me if owners didn't want to deal with an injury setback, got scared a bit by his Monday Night Football performance or both.

In leagues in which passing touchdowns are worth four points (my most important high-stakes leagues award six points), I strive for quarterbacks with the ability to provide at least 200 rushing yards and a few touchdowns on the ground (Smith). Short of that, I want a proven starter with a great supporting cast (Ryan). I don't expect Smith ($2) to come anywhere close to last year's numbers, but if he can do a reasonable impression of Cousins, I'll be thrilled. I don't have any delusions about Ryan turning back the clock to 2016, but it's also hard to find a significant weakness on the Falcons' offense either.

Total spent at QB: $6
Running Backs
Actual $
My $
Player
Tm
49
54
Todd Gurley
LAR
47
52
David Johnson
ARI
45
50
Ezekiel Elliott
DAL
44
48
Leonard Fournette
JAC
46
48
Melvin Gordon
LAC
42
48
Saquon Barkley
NYG
41
46
Kareem Hunt
KC
48
44
Le'Veon Bell
PIT
39
39
Dalvin Cook
MIN
40
37
Alvin Kamara
NO
45
36
Christian McCaffrey
CAR
23
33
Alex Collins
BAL
27
32
Jerick McKinnon
SF
30
30
Devonta Freeman
ATL
35
30
Joe Mixon
CIN
31
30
Jordan Howard
CHI
24
27
Derrick Henry
TEN
27
26
LeSean McCoy
BUF
16
23
Jay Ajayi
PHI
19
22
Royce Freeman
DEN
15
22
Lamar Miller
HOU
23
22
Kenyan Drake
MIA
19
21
Dion Lewis
TEN
17
17
Isaiah Crowell
NYJ
27
17
Tarik Cohen
CHI
8
16
Rex Burkhead
NE
12
16
Marshawn Lynch
OAK
11
16
Tevin Coleman
ATL
5
16
Chris Thompson
WAS
9
15
Chris Carson
SEA
19
15
Mark Ingram
NO
11
12
Peyton Barber
TB
15
12
Kerryon Johnson
DET
7
11
Jamaal Williams
GB
5
11
Duke Johnson
CLE
6
11
Ronald Jones
TB
6
11
Carlos Hyde
CLE
17
10
Sony Michel
NE
4
10
Adrian Peterson
WAS
3
10
Matt Breida
SF
3
9
Ty Montgomery
GB
10
9
Marlon Mack
IND
3
8
Bilal Powell
NYJ
4
8
Rashaad Penny
SEA
6
7
Nick Chubb
CLE
1
7
Frank Gore
MIA
7
7
James White
NE
3
7
Jordan Wilkins
IND
1
5
Devontae Booker
DEN
3
5
Austin Ekeler
LAC
2
5
Giovani Bernard
CIN
3
4
Theo Riddick
DET
8
4
Aaron Jones
GB
3
4
Doug Martin
OAK
4
4
Corey Clement
PHI
4
4
C.J. Anderson
CAR
3
2
Nyheim Hines
IND
3
2
Jeremy Hill
 NE
-
2
Tavon Austin
DAL
3
2
Latavius Murray
MIN
1
2
LeGarrette Blount
DET
1
2
Jonathan Williams
NO
-
1
Jalen Richard
OAK
-
1
Elijah McGuire
NYJ
-
1
D'Onta Foreman
HOU
2
1
Javorius Allen
BAL
-
1
DeAndre Washington
OAK
-
1
Kenneth Dixon
BAL
1
1
James Conner
PIT
-
1
C.J. Prosise
SEA
-
1
Kalen Ballage
MIA
-
1
Darren Sproles
PHI
2
1
T.J. Yeldon
JAC
1
1
Chris Ivory
BUF
-
1
Ameer Abdullah
DET
1
1
Chase Edmonds
ARI
1
1
Rob Kelley
WAS
-
1
Spencer Ware
KC
-
1
Wayne Gallman
NYG
-
1
Samaje Perine
WAS
4
1
Corey Grant
JAC



Observations:

Without fail, I want an elite running back every year. With that said, I don't want to be the owner setting the market at a position either. Needless to say, I was stunned when the music stopped on Gurley at $49. Because I was willing to go into the mid-40s on someone like Fournette ($44), it didn't require much of an adjustment in my draft strategy. (In a related note, I was the only one pushing USA TODAY Sports for Fournette at the end.) As most of my loyal readers know, I believe at least one of the two of Bell ($48) and Kamara ($40) will prove to be poor investments. Those same readers also know of my affection for McCaffrey ($45), but it's a big ask for a back - even one with his talent - to consistently thrive behind what Carolina is calling an offensive line this season. His contributions in the passing game make him a safe investment, but USA TODAY Sports paid the same for him as Gridiron Experts did for Elliott.

Speaking of Gridiron Experts, he cornered the market on elite/high-end runners, grabbing Barkley ($42) in addition to Bell and Elliott. Last year, the owner who tried a similar strategy (and will remain nameless in this article) finished among the bottom teams in the league when his bargain-bin receivers failed to pan out.

The mid-level running back group - players typically available in the early third to late fourth rounds - seemed to go much cheaper than expected. McKinnon ($27), Collins ($23), Royce Freeman ($19), Ajayi ($16) and Miller ($15) all came at a bit of a discount and should provide solid bang for the buck. Readers can disregard the $27 bid on Cohen, as his owner somehow had that much remaining in his pocket for his final roster slot. Chris Thompson ($5) was a spectacular value near the end of the draft and one I probably should have kept enough saved back for in the event he went for as little as he did. (I landed Kenny Golladay moments earlier at the same price to give my receiving corps some upside.) If Hyde ($6) can hold down the early-down job in Cleveland for any length of time, he's going to be a solid get for Big Guy Fantasy Sports.

Conversely, Kerryon Johnson ($15) and Sony Michel ($17) seemed like unnecessarily high bids for players who have the talent to be significant pieces to their respective offenses but have little in the way of clarity as far as their roles are concerned. The industry also seems to be embracing McCoy ($27) despite his numerous question marks. (I still dislike taking him at 3.12 in our staff league draft last week and that is the latest I've seen him go since.) Ingram ($19) continues to be treated as if he isn't going to miss the first month of the season. If he only had the four-game suspension OR was only serving as the 1B component in the Saints' offense, I could understand his price. He's got both factors working against him AND he's got a brutal schedule to come back to when he returns. There is no question Mixon ($35) has the talent, but he also feels a bit overpriced - especially for someone who may lose 100 to 150 touches to Giovani Bernard. I also found it quite interesting Aaron Jones ($8) went for one dollar more than Jamaal Williams ($7) and more than twice as much as Montgomery ($3).

Total spent at RB: $95
Wide Receivers
Actual $
My $
Player
Tm
46
49
Antonio Brown
PIT
39
48
Odell Beckham Jr.
NYG
41
47
DeAndre Hopkins
HOU
40
43
Julio Jones
ATL
48
42
Davante Adams
GB
41
42
Michael Thomas
NO
40
41
Keenan Allen
LAC
30
40
A.J. Green
CIN
26
36
Mike Evans
TB
28
34
Larry Fitzgerald
ARI
29
34
Stefon Diggs
MIN
30
32
T.Y. Hilton
IND
38
30
Tyreek Hill
KC
22
29
Demaryius Thomas
DEN
22
28
Doug Baldwin
SEA
25
28
Adam Thielen
MIN
20
28
Amari Cooper
OAK
26
26
Jarvis Landry
CLE
24
24
Chris Hogan
NE
15
23
Emmanuel Sanders
DEN
18
21
Allen Robinson
CHI
16
21
Marvin Jones
DET
20
20
JuJu Smith-Schuster
PIT
20
20
Golden Tate
DET
15
20
Corey Davis
TEN
10
18
Jamison Crowder
WAS
9
17
Sammy Watkins
KC
20
16
Michael Crabtree
BAL
13
15
Robby Anderson
NYJ
11
14
Julian Edelman
NE
14
13
Marquise Goodwin
SF
8
12
Robert Woods
LAR
12
12
Cooper Kupp
LAR
12
12
Josh Gordon
CLE
11
11
Alshon Jeffery
PHI
7
11
Kenny Stills
MIA
25
11
Brandin Cooks
LAR
14
11
Randall Cobb
GB
8
10
Jordy Nelson
OAK
6
10
Sterling Shepard
NYG
8
9
Devin Funchess
CAR
1
8
Cameron Meredith
NO
11
8
Will Fuller
HOU
2
7
DeVante Parker
MIA
6
7
Nelson Agholor
PHI
9
7
Kelvin Benjamin
BUF
1
6
John Brown
BAL
5
6
Kenny Golladay
DET
5
5
Anthony Miller
CHI
8
5
Mike Williams
LAC
3
5
Pierre Garcon
SF
3
4
Michael Gallup
DAL
2
4
Josh Doctson
WAS
5
3
D.J. Moore
CAR
10
3
Chris Godwin
TB
2
3
Tyler Lockett
SEA
1
3
Tyrell Williams
LAC
5
3
Calvin Ridley
ATL
2
3
John Ross
CIN
3
3
Keelan Cole
JAC
1
3
Geronimo Allison
GB
2
3
James Washington
PIT
7
2
Allen Hurns
DAL
2
2
Christian Kirk
ARI
1
2
Rishard Matthews
TEN
1
2
Dede Westbrook
JAC
3
2
Marqise Lee
JAC
2
2
Ryan Grant
IND
1
2
Danny Amendola
MIA
-
1
DeSean Jackson
TB
-
1
Quincy Enunwa
NYJ
2
1
Taywan Taylor
TEN
1
1
Courtland Sutton
DEN
-
1
Cole Beasley
DAL
1
1
Mohamed Sanu
ATL
1
1
Donte Moncrief
JAC
-
1
Jermaine Kearse
NYJ
2
1
Mike Wallace
PHI
-
1
Chester Rogers
IND
1
1
Martavis Bryant
OAK
-
1
Dante Pettis
SF
-
1
Corey Coleman
BUF
-
1
Willie Snead
BAL
2
1
Paul Richardson
WAS
2
1
Ted Ginn Jr.
NO
1
1
Albert Wilson
MIA
1
1
Trent Taylor
SF
-
1
Antonio Callaway
CLE
1
1
Curtis Samuel
CAR
1
1
Eric Decker
 NE
1
1
Dez Bryant
 FA



Observations:

The high-end receiving market yielded two bargains in Beckham ($39) and Green ($30), and I kicked myself almost immediately for letting both go at those prices. Evans ($26) also has the potential to be a great value as well. The bidding got out of control on Adams ($48), who went for more than Antonio Brown ($46) or Hopkins ($41). (His owner admitted he panicked, for what it is worth.) Adams could challenge either of those players for overall WR1 honors, but I probably just as soon come away from a draft with Hogan ($25) and Baldwin ($22) for the same price Fantasy Alarm paid for him. Hill ($38) has more factors working against him than most of his supporters want to admit, as Watkins ($9) is going to steal more targets from him than any receiver opposite him last year. Travis Kelce will also attract a 20 percent target share again this year. As great of a theoretical fit as Patrick Mahomes is for Hill, I can't get on board with him going for nearly the same price as Beckham and Julio Jones or for $8 more than Green. Logic suggests he is going to see fewer targets and probably can't be expected to score six or seven receiving touchdowns consistently if he only sees four red zone targets again this season.

There were also plenty of bargains in the WR2/WR3 market. Thielen ($25) has seen his stock take a small hit of late, yet we are all speculating that he will take a backseat to Diggs in 2018. What if he doesn't? What if Diggs gets dinged early in the season again? Baldwin ($22) may not fit in the WR2/WR3 crowd per se and may have been discounted due to his preseason knee injury, but he's a steal if he's 100 percent by Week 1. Cooper ($20) probably isn't going to repeat 2017 and should be the featured receiver in Oakland. Even if all he does is produce like he did in 2015 and 2016, he'll make DavidGonos.com proud. Marvin Jones ($16) was another solid value, even if he can't repeat his highly efficient campaign last season. He has reportedly been the best receiver in Lions' camp. Even if he hangs around the 60-catch mark and sees his average yards per catch drop by two or three yards and his touchdown total fall from nine to seven, he's probably going to live up to his price in this draft.

Corey Davis ($15) hasn't got much preseason run this month, but it's not hard to see a scenario in which he becomes a top-15 fantasy receiver. Sanders ($15) continues to be highly undervalued in my opinion. Already an obvious starter in two-wide sets, the addition of Courtland Sutton should push him into the slot on a regular basis when the offense goes to three receivers. Sanders consistently drew around 140 targets over his first three seasons as a Bronco before last year's injury-marred disaster. If we assume Case Keenum is at least as good as an aging Peyton Manning or the 2016 version of Trevor Siemian, then another 120 or 130 targets while consistently drawing the easiest matchups in Denver's passing game bodes well for him. Stills ($7) continues to be ridiculously cheap in snake and auction drafts. When it comes right down to it, volume and quarterback play are about the only things keeping him from being south Florida's version of Marvin Jones.

In my opinion, the worst value of the draft - and the winning bid I cannot explain - is Cooks at $25. He has produced three straight 1,000-yard seasons, so he has that going for him. But is he on par with Evans or Thielen? No. There's not even a guarantee he'll be any better than the third-most targeted receiver in his own offense. Wow.

Much as he did last season (one of the few things that went according to form in this draft) and running completely contrary to Gridiron Experts, RotoViz cornered the market on first-round receivers: Brown, Beckham and Hopkins. For good measure, he also landed Cobb ($14) and Stills. He did well to land Lamar Miller and Dion Lewis as his starting running backs, giving him some measure of production at the position despite going zero-RB.

Some of the better bargains other teams had at receiver: Crowder ($10), Woods ($8), Garcon ($3), Meredith ($1) and Allison ($1). I was giddy about landing John Brown ($1). It's hard to argue DeVante Parker ($2) hasn't also fallen into that group.

Total spent at WR: $74
Tight Ends
Actual $
My $
Player
Tm
22
24
Rob Gronkowski
NE
19
22
Travis Kelce
KC
15
17
Zach Ertz
PHI
10
15
Jimmy Graham
GB
9
11
Trey Burton
CHI
7
10
Kyle Rudolph
MIN
5
9
Delanie Walker
TEN
7
8
Greg Olsen
CAR
8
7
Evan Engram
NYG
5
7
Jack Doyle
IND
2
6
David Njoku
CLE
4
6
Jordan Reed
WAS
1
5
Mike Gesicki
MIA
1
5
George Kittle
SF
1
4
Ricky Seals-Jones
ARI
5
3
O.J. Howard
TB
1
3
Ben Watson
NO
4
2
Austin Seferian-Jenkins
JAC
-
3
Cameron Brate
TB
2
3
Tyler Eifert
CIN
-
2
Eric Ebron
IND
-
2
Vance McDonald
PIT
1
2
Charles Clay
BUF
-
2
Hayden Hurst
BAL
-
1
Jared Cook
OAK
-
1
Austin Hooper
ATL
-
1
Gerald Everett
LAR
-
1
Vernon Davis
WAS
-
1
Tyler Kroft
CIN



Observations:

Graham ($10) and Burton ($9) have the potential to pay off in a big way and represent my favorite values at the position. They will be my targets in most of my high-stakes leagues, along with Walker ($5) if his current injury situation is cleared up between now and then.

After hitching my wagon to Rudolph ($7) for what seems like most of the decade, I finally acquired the services of the one player at the position who should give me a significant weekly advantage. Gronkowski ($22) scored at least 20 fantasy points six times last season; he could be even busier than usual early this year while Julian Edelman serves his four-game suspension and New England tries to break in an unproven receiving corps behind Chris Hogan.

What the tight end position lacks in proven playmakers, it makes up for with potential. Seals-Jones ($1) has no competition for his starting gig in Arizona and very little keeping him from a large target share. He flashed in a big way when he was given the opportunity in 2017, and his new quarterback (Sam Bradford) - not to mention new OC Mike McCoy - seems to enjoy utilizing their tight ends. A field-stretching tight end with the kind of size and athleticism he possesses makes him an inviting red zone target, Seals-Jones is poised to break out in 2018.

Total spent at TE: $23
Kickers
Actual $
My $
Player
Tm
2
1
Greg Zuerlein
LAR
2
1
Stephen Gostkowski
NE
2
1
Justin Tucker
BAL
1
1
Jake Elliott
PHI
1
1
Matt Prater
DET
1
1
Matt Bryant
ATL
1
1
Graham Gano
CAR
1
1
Wil Lutz
NO
1
1
Robbie Gould
SF
1
1
Chris Boswell
PIT
1
1
Ryan Succop
TEN
1
1
Harrison Butker
KC



Observations:

Year after year, I look for the same qualities in a kicker. I want someone with a strong leg in a good offense. Additionally, I often target kickers who play on teams with good or great defenses since coaches are more apt to settle for field goals when they are confident their defense can keep the opponent off the board. Short of that, I want a team who I believe will have a good offense but bogs down in the red zone because it lacks a strong running attack. Bryant ($1) has been a solid option for years and there's no reason to expect he won't continue to be one in 2018.

Total spent at K: $1


Defense / ST
Actual $
My $
Team
5
3
Jaguars
3
2
Rams
4
2
Eagles
4
2
Vikings
4
1
Chargers
1
1
Texans
1
1
Broncos
2
1
Ravens
1
1
Titans
2
1
Steelers
1
1
Saints
1
1
Lions



Observations:

This league certainly hasn't received the memo about defenses being expendable. Four teams spent at least $4 on one, while another three owners spent more than $2. I'm not even going to try to justify the thinking of the first group. Almost every other year it seems, someone in this league spends $5 on a defense. I value a rock-solid defense more than most, but owners who bid that much are paying for roughly 3-4 huge weeks at most, all while sacrificing a potential handcuff or low-end starter at another position. Unless a D/ST unit goes on to have a truly historic year, they are unlikely to yield a good enough return on investment to be worth that bid.

Total spent at D/ST: $1

Post-draft

The FFToday team
QB: Matt Ryan, Alex Smith
RB: Todd Gurley, Alex Collins, Royce Freeman, Javorius Allen, Frank Gore, James Conner
WR: Stefon Diggs, Doug Baldwin, Emmanuel Sanders, John Brown, Kenny Golladay, James Washington
TE: Rob Gronkowski, Ricky Seals-Jones
K: Matt Bryant
D/ST: Tennessee Titans

Simply put, this is the first draft in this league in recent memory that went in a completely different direction than I expected. Generally speaking, my recent pre-draft valuations in this league have been accurate. It became clear early on this draft wasn't going to follow the same script. My pre-draft values were way off in the early part of the draft - more than they ever have been. With that said, I don't feel as if my valuation process was wrong as much as the league didn't come close to following the same path it had in recent seasons. Additionally, I felt my fellow owners were significantly more desperate than usual when the last player of the elite tier at running back or receiver came up for bid (Davante Adams going for more than Antonio Brown or Christian McCaffrey going for the same price as Ezekiel Elliott, anyone?) and seemed to lack urgency when value was staring them in the face. (Among others, A.J. Green for $30 and Baldwin for $22?)

Not a single player went for $50 this year - I remember a time not too long ago when Adrian Peterson was worth over $60 - after three cleared that benchmark in 2017. For further reference, seven players drew bids over $50 in the King's Classic Auction - Blanda Division over the weekend, including Elliott at $65. The biggest difference between the two leagues is the latter requires a second flex spot, meaning the prices of the top players in that league should have been slightly depressed to account for the extra starting spot. The opposite happened, which serves as yet another reminder that owners need to be able to adjust on the fly in auctions. I had no intention of landing Gurley in this draft and certainly not at the same price Alvin Kamara went for over the weekend. Ditto for Gronkowski, who was six dollars cheaper in this draft than he was in Ohio.

I have a pretty simple philosophy when it comes to fantasy football. Give me at least one player that can finish in the top five at each of the four core positions and I'll show you a team that has a realistic shot at winning it all. I probably don't have that player at quarterback, but Gurley and Gronkowski are generally recognized as the best at their positions while Diggs and Baldwin could easily finish inside the top 10 at receiver.

Ryan and Smith hardly form an imposing duo at quarterback, but there just isn't much reason to pay up at quarterback this season. It's not hard to imagine Ryan bouncing back returning to his pre-2016 form in which he throws for roughly 4,500 yards and 25-plus touchdowns with an improved supporting cast. Smith is in some ways a more conservative version of Kirk Cousins in that he'll throw fewer interceptions and offers a safe floor because he can run.

In a time in which it is difficult to land more than one workhorse running back in fantasy, I feel I got at least two without paying through the nose to do so. Gurley is a candidate for regression, but he probably isn't going to drop off too much. Collins is a player I plan on loading up on over the next two weeks, as it would appear he has a clear path to 250-plus touches. For all the buzz Freeman is garnering, I have somehow managed to acquire him for $19 and $20 in my two auction drafts. Considering the rookie seems to be well on his way to earning 200-plus touches - including goal-line work - that may end up looking like a bargain sooner than later. I think I have snagged Gore late in every draft. Miami has thrown out hints all summer he's going to see a lot of work, so I'd be willing to bet he comes in handy as a flex at some point. Only one thing needs to happen for Conner to pay off big - Le'Veon Bell needs to succumb to the history of heavy workload running backs I have cited several times throughout the summer.

Once I had secured Gurley and Gronkowski within the first 10 minutes of the draft, I knew it was going to be important to strike when the moment was right on some low-end WR1s with upside. Of course, that also meant I needed to be patient, as only Diggs joined my team over the next hour and 11 minutes. While I'm sure I received a bit of a discount on Baldwin's injury, getting a potential top-10 receiver at $22 still felt like a bargain. I wanted Chris Hogan as my third receiver, but I also had a good feeling Sanders was going to come considerably cheaper despite the fact I have them ranked next to each other. There is a very good chance at least one of the three of Golladay, Washington and Brown are going to hit. Considering the preseason hype and performance of the last two, it was shocking to get them for a combined $3. Barring injury, I wouldn't be surprised if I end up holding on to all six of my receivers for the bulk of the season.

Owners already know what to expect from Gronkowski. As long as he can stay healthy, he is the most dominant force at the position. With his durability being an issue, it was important to me to land a TE2 with some upside, and that is exactly what I believe I did in Seals-Jones. How the former college receiver remains so undervalued in fantasy drafts this summer is beyond me, especially considering what Arizona has at receiver after Larry Fitzgerald.

I expect Bryant to serve as my kicker for the bulk of this season, and he comes with the added bonus of being attached to my QB1. (Not exactly something I shoot for, but also not a bad thing if they are part of a good offense.) The Titans have a solid Week 1 matchup against the Dolphins in Miami. The initial plan is to stream defenses.
---
Doug Orth has written for FF Today since 2006 and been featured in USA Today's Fantasy Football Preview magazine since 2010. He hosted USA Today's hour-long, pre-kickoff fantasy football internet chat every Sunday in 2012-13 and appears as a guest analyst on a number of national sports radio shows, including Sirius XM's "Fantasy Drive". Doug is also a member of the Fantasy Sports Writers Association.