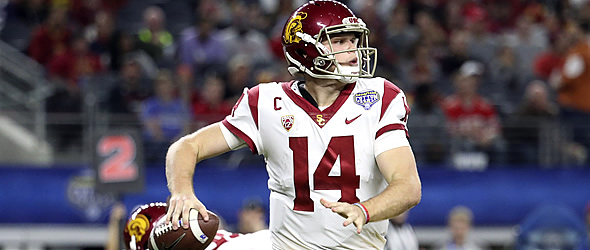 Evaluators love his intangibles but Sam Darnold still needs time to develop his entire game.




Vitals



College: USC
Height/Weight: 6'3"/220
Hands: 9 3/8"



Important NFL Combine Numbers



40-Yard Dash: 4.85
Vertical Jump: 26.5"
Broad Jump: 8'9"
20-Yard Shuttle: 4.40
3-Cone: 6.96



Bio/Background

(College Stats)

Grandfather was a USC basketball player and an Olympic volleyball player, while father and several other relatives were collegiate athletes.


In 2016, he became the first freshman to ever win the Archie Griffin Award - given annually to college football's most valuable player to his team throughout the season.


Only quarterback in school history to throw for five touchdowns in back-to-back games.


Set Rose Bowl records for passing touchdowns (five) and total offense (473 yards) en route to winning the Offensive MVP Award.


Named first-team All-Pac-12 in 2017, throwing for 4,143 yards and 26 touchdowns while completing 63.1 percent of his passes.
High-end NFL Player Comp(s): Jameis Winston
Low-end NFL Player Comp(s): Ryan Fitzpatrick
Best Scheme Fit: Darnold seems to excel the most on the move and when plays begin to break down, so a timing-based offense that allows him to roll out on play-action passes and create would suit him well.

Note: All times listed in parentheses in strengths/weaknesses section reflect the start time on video - via Draft Breakdown - that displays that skill/trait.
Strengths
Concerns
Elongated - almost circular at times - throwing motion somewhat mitigates his quick release. (0:01, 1:12, 2:45, 4:27, 8:06)


Aggressive downfield passer who forces the action on occasion and takes unnecessary chances; threw at least one interception in 10 of 14 games in 2017. (0:32, 0:46, 0:59, 2:59, 3:14, 4:08, 8:56)


Occasionally inconsistent with his bottom half on follow-through, causing him to overcompensate, although this improved as 2017 progressed. (4:03, 4:25, 5:22)


Has to do a better job pre-snap of recognizing when he needs to unload quickly. (2:37, 2:43, 3:14, 5:59, 6:06, 6:46)


Doesn't always appear to identify a potential undercutting safety or linebacker after the snap. (0:59, 1:23, 1:55)


Needs to learn when he's maximized a scramble/running opportunity and slide or get out of bounds. (0:38, 2:13, 3:13, 6:26)


Showed a tendency to hold on to the ball much more in 2017, contributing to a marked spike in sacks from six in 2016 to 29 in 2017. (0:59, 4:31, 5:30, 5:59)


Charged with 11 fumbles (nine lost) in 2017.
Bottom Line

Darnold is far from a finished product. His windup is somewhat similar to Fitzpatrick's, although he possesses much more arm strength and is much less of a true gunslinger than the veteran journeyman. Darnold had "noisy" feet in the pocket and appeared to be more frenetic than any quarterback prospect on some of the early film I watched (although he seemed to improve dramatically as 2017 progressed). He has roughly 1 1/2 years of starting experience and is entering the NFL following his redshirt sophomore season, so there will be a larger-than-usual learning curve. And yet, he exudes remarkable self-confidence and the guts of a seasoned NFL veteran. At a position in which a player's psychological and mental makeup is every bit as important as physical skill, it's not hard to understand why evaluators love his "intangibles."
But is that enough for the presumptive No. 1 overall pick? Allow me to answer that question by saying I don't believe he is in the same class as Carson Wentz or Deshaun Watson - the players I believed were at the top of their respective classes at the quarterback position in each of the last two years. His anticipation and creativity are well ahead of most of today's college quarterbacks, and those traits are worth a lot on their own. None of his Darnold's aforementioned concerns above are terribly egregious on their own, but the combination of all of them means he needs time to develop at the very least. If a team will take it slow with him in 2018, he could easily end up being the best quarterback in this class. With that said, his floor scares me.
Darnold looks every bit the part of an elite prospect when he knows he has time to throw or is on the move. He also consistently makes something out of nothing. However, there are far too many examples of him forcing the action and using poor mechanics, which is why he shouldn't be considered a plug-and-play player. Winston is still struggling in those same areas entering his fourth NFL season, proving it will probably take Darnold some time to reach his ceiling even in an optimal situation. In my humble opinion, whether he will grow into a top-10 NFL starter or bust will depend on how patient and adaptable (to Darnold's ability to improvise) his new team is with his development. In most years, I believe he would be rated as the second- or third-best quarterback available, and that is about where I feel he will probably fall on my position rankings when I wrap up my evaluations.

---
Doug Orth has written for FF Today since 2006 and been featured in USA Today's Fantasy Football Preview magazine since 2010. He hosted USA Today's hour-long, pre-kickoff fantasy football internet chat every Sunday in 2012-13 and appears as a guest analyst on a number of national sports radio shows, including Sirius XM's "Fantasy Drive". Doug is also a member of the Fantasy Sports Writers Association.