Throughout the course of a 16-week season, there are numerous opportunities for fantasy owners to improve their squad. Usually, those opportunities come via the waiver wire when key starters get hurt or demoted on good "real" teams, generally leaving the "next man up" on the depth chart to make a name for himself.

Not all "improvement opportunities" are that obvious, however. Sometimes, there is a ton of value to be had in players who have failed to meet preseason expectations and/or been victims of their situation. It takes a special set of circumstances that one team - especially a winless one through four games - can provide owners with help almost across the board. I believe that team is the New York Jets. (Yes, the same Jets who have scored a total of two offensive touchdowns through four games.) Allow me to explain.

Just over a month ago, the Jets entered the season with reason to believe they could go .500 and maybe even contend for a playoff spot. While the majority of people across the country were not particularly interested in Bills-Jets in Week 1, I was. New York needed 2 1/2 quarters to build a 16-0 lead against a defense that most people are just now starting to realize may be pretty good. Had it not been for a late third-quarter injury to C.J. Mosley and the kicking woes of Kaare Vedvik, New York probably gets that win.

By now, just about anyone with a passing interest in the NFL knows what happened next - Sam Darnold was diagnosed with mononucleosis days after the loss and the offense bottomed out after turning to Trevor Siemian and then Luke Falk against a trio of teams with nasty defensive fronts (Browns, Patriots and Eagles). Darnold's return to practice - and ultimately game action - in Week 6 is not going to save the Jets' season, as it's more likely than not they are 0-6 with upcoming games against the Cowboys and Patriots. However, one would be hard-pressed to find a more accommodating second-half schedule for offensive players on one team than what the Jets have to look forward after their next two contests.

Let's go position-by-position to make things a bit easier: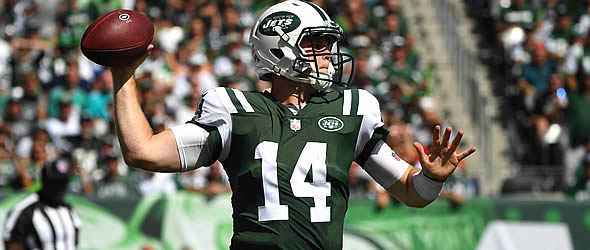 While his 28-of-41, 175-yard effort in Week 1 versus the Bills hardly qualifies as a masterpiece, it's important to remember Buffalo hasn't allowed a quarterback to throw for more than 250 yards since Tom Brady did so in Week 8 of last season. Only one quarterback over that same stretch (Ryan Tannehill) has thrown for more than one score and only one signal-caller (Matthew Stafford) was able to complete 68 percent of his passes as Darnold did.

Darnold's return is not going to have a dramatic effect on the quarterback position in fantasy, so don't pretend as though anything I've said to this point suggests he will be a QB1 from here on out. However, he can be expected to bring the quality of play at the position to an acceptable level and allows HC Adam Gase to open things up to his liking. Between the level of competition so far and Darnold's unfortunate illness, Gase hasn't had a chance to do that yet. The first-year coach talked during the offseason how he wanted to play with pace and (finally) had a quarterback to execute that vision; no matter how much readers dislike Gase (and there are plenty of people who do), former employers have either been trying to hide (or avoid playing) Siemian and Falk for most of their NFL careers.

Given the current state of the position in fantasy - including but not limited to injuries to Drew Brees, Cam Newton and Ben Roethlisberger - there are likely at least one or two owners in just about every 12-team league who wouldn't mind having a capable QB2 whose team has already completed its bye week with a solid supporting cast and a multitude of soft matchups over the second half of the season.

As referenced earlier, New York still has two more weeks before completing its first-half gauntlet. Beginning in Week 8, there is no shortage of plus matchups (points per game allowed to QBs followed by the opponent's current rank in terms of most fantasy points allowed to the position - assumes six points per passing TD and one point for every 25 yards passing):

Week 8: @ JAC (20.7, 14th)
Week 9: @ MIA (33.1, first)
Week 10: NYG (24.3, sixth)
Week 11: @ WAS (26.9, fourth)
Week 12: OAK (23.3, eighth)
Week 13: @ CIN (22.8, ninth)
Week 14: MIA (33.1, first)

To give readers some sense of what that level of opposition looks like in a more common statistical form, each of six opponents (Miami twice) listed above is allowing at least 243.2 yards passing. Only Jacksonville (1.4) isn't giving up at least 1.5 passing touchdowns, although the Jags have unsurprisingly been much worse versus the pass with Jalen Ramsey out of the lineup. Five of the games mentioned above are against opponents giving up at least two passing TDs per game.

This is the one Jet I'll discuss that won't be on any waiver wire, but it's fair to say his fantasy owners were probably expecting more than 2.9 yards per carry, 6.1 yards per catch and one total touchdown through four games. About the only area Bell hasn't disappointed his owners is volume, and it's hard to know for sure how much of his work over the last three games has been a product of Gase wanting to hide his quarterback.

Much as the case is with Darnold, there may be a bit of an extended buying window over the next two weeks as the Cowboys will likely be smarting from last week's Aaron Jones-induced shredding and the Patriots continue what will probably go down as one of the easiest first-half schedules in NFL history. After that, sign me up.

Week 8: @ JAC (27.7, seventh)
Week 9: @ MIA (38.3, first)
Week 10: NYG (24.1, 17th)
Week 11: @ WAS (27.4, eighth)
Week 12: OAK (22.3, 22nd)
Week 13: @ CIN (37.7, second)
Week 14: MIA (38.3, first)
Week 15: @ BAL (25.5, 15th)
Week 16: PIT (25.7, 13th)

Admittedly, Weeks 15 and 16 are more middle-of-the-road matchups as things stand at the moment, but Bell's fantasy owners are looking at five potential top-10 defenses to exploit over a seven-week period before then. The former Steeler probably will not continue averaging 24.5 touches moving forward, but 21 or 22 seems realistic. From the above group of defenses, only Pittsburgh (3.9), Oakland (4.0) and Washington (4.3) are holding running backs below 4.6 yards per carry. Three of those teams (four games total) are yielding over 10 yards per catch to running backs. Six of those same foes are giving up at least one touchdown per game to the position as well.

For the sake of argument, let's assume he handles an average of 17 carries and four receptions beginning in Week 8. Furthermore, let's take the combined YPC (4.6) and YPR (8.7) numbers from each remaining opponent to give us some sort of realistic expectation for him. Using those data points, we expect Bell to average roughly 78.2 yards rushing, 34.8 yards receiving and easily one touchdown per game. (His current marks: 51.5, 41.5 and 0.25). While those 4.6 and 8.7 averages probably represent a best-case scenario for Bell, I'm also assuming what I believe is his floor in terms of volume.

In leagues in which I have an underperforming back with similar fantasy production - be it due to injury, circumstance or some other reason - I am targeting Bell by offering a back such as James Conner along with a WR3-level receiver. My preseason RB10 in PPR leagues, Bell is a near-lock to improve from his current RB18 slot (RB11 in points per game).


Juicy upcoming matchups are the primary reason why I am pushing for Darnold and Bell. It makes sense if matchups are working in Darnold's favor moving forward, the same can probably be said for his receivers. I'm not sure it's that easy (the road isn't exactly easy for Robby Anderson), but it's also not the primary reason why I think Crowder is such an excellent trade target either. Still, let's take a look at the expected slot matchups for him beginning in Week 8 and each cornerback's NFL passer rating allowed in his coverage this season (per Pro Football Focus):

Week 8: D.J. Hayden (71.4)
Week 9: Jomal Wiltz (156.3)
Week 10: Grant Haley (131.4)
Week 11: Jimmy Moreland (143.9)
Week 12: Lamarcus Joyner (108.5)
Week 13: B.W. Webb (72.3)
Week 14: Jomal Wiltz (156.3)
Week 15: Brandon Carr (73.6)
Week 16: Mike Hilton (93.2)

For those who don't remember, 158.3 is a perfect passer rating. In today's game, cornerbacks are generally doing a relatively good job if they can post a passer rating against in the 80s and doing pretty good if they can keep it in the 70s. They are generally playing at the elite level when they can maintain a level in the 60s or lower. It doesn't take very long to see Crowder is going to have his chances to tear it up in November and December.

With that said, there's a better reason to go after Crowder, who has operated out of the slot on 69.4 percent of his snaps so far. The slot position has long been a key part of Gase's offenses. Last season in Miami, Danny Amendola tallied 43 of his team-high 59 receptions inside. In 2017, 68 of Jarvis Landry's 112 catches were in the slot. In 2016, it was 65 of 94 for Landry. Wes Welker also had a field day in the slot under Gase in Denver.

It gets better though. Darnold attempted 414 passes as a rookie last year - 23.9 percent of those throws were directed at slot receivers even though more than half of those 95 targets went to the likes of Jermaine Kearse and Quincy Enunwa. In the only regular-season game Darnold and Crowder played together in Week 1, Crowder was targeted on 12 of his 38 snaps in the slot (he ran 46 snaps overall that day).

Without going overboard on the small sample size of one game, a perfectly legit knock on Crowder is too much competition for the area of the field a slot is expected to work most of the time (mostly short and over the middle and in front of the chains). Bell and even TE Chris Herndon could and probably will steal plenty of potential looks in those areas. However, Gase noted shortly after signing Crowder that the Duke product offered an element of speed none of his previous slot receivers had. While that's not to say Crowder is or ever will reach the same level of production as Welker or Landry, it means he theoretically possesses more big-play ability than they did. In short, he's more than an extension of the running game.

While Crowder is probably no longer a candidate for 90-100 catches following three consecutive slow weeks with Siemian and Falk under center, the fact is that it's still not out of the question. His current 7.9 yards per catch will almost certainly increase as defenses eventually get tired of him moving the chains on the short stuff. Against the aforementioned less-than-stellar group of corners he is expected to face over the second half of the season, it would be stunning if he didn't. Even though Crowder is the current WR58 in fantasy points per game, I like his chances of finishing as a top-36 option if he and Darnold are fortunate enough to stay healthy the rest of the way.

Herndon's triumphant return - along with this story idea - took a bit of a hit when it was announced Wednesday morning (Oct. 9) that the second-year tight end injured his hamstring while working out on his own last week near the end of his four-game suspension to begin the season. Nonetheless, it only delays what many of his strongest supporters believe: he can be a low-end fantasy TE1, especially given the current landscape of the position. Is he going to go toe-to-toe with the likes of Travis Kelce, Zach Ertz and George Kittle? Of course not. Especially after missing the first four games of 2019, expecting much more than a repeat of last year's 39-502-4 line with players like Bell and Crowder around would be unrealistic.

Although I don't put a ton of weight into coach-speak, it did pique my interest when Gase referred to Herndon as a "unicorn type player" in February shortly after getting the job. It's the type of compliment coaches don't typically hand out, especially to young players they didn't draft. Coaches almost always find ways to get players they consider "matchup nightmares" the ball, and Herndon is undoubtedly one of those kinds of players.

So while Herndon's immediate availability is unknown given the hamstring injury, it seems realistic that he'll be able to compete with the likes of Gerald Everett (46.3 PPR fantasy points), Jason Witten (44.3) and James O'Shaughnessy (41.3), who currently rank as the TE11, TE12 and TE13. Everett's ascension is based primarily on two games, Witten's spot has much to do with his team's early schedule and unsustainable touchdown production, while O'Shaughnessy basically nickel-and-dimed his way to his ranking before suffering a torn ACL.

Eight fantasy points per game is not a high standard to set, but that's about what it takes so far this year to achieve low-end TE1 production. Herndon scored at least eight PPR fantasy points seven times in 10 games between Weeks 6 and 16 as a rookie. It's debatable how significant that achievement is considering it came under a different coaching staff, but it's still notable he accomplished that feat at a position notorious for not getting production from rookies. I still like him as a potential difference-making piece in the second half of the season.



---
Doug Orth has written for FF Today since 2006 and been featured in USA Today's Fantasy Football Preview magazine since 2010. He hosted USA Today's hour-long, pre-kickoff fantasy football internet chat every Sunday in 2012-13 and appears as a guest analyst on a number of national sports radio shows, including Sirius XM's "Fantasy Drive". Doug is also a member of the Fantasy Sports Writers Association.