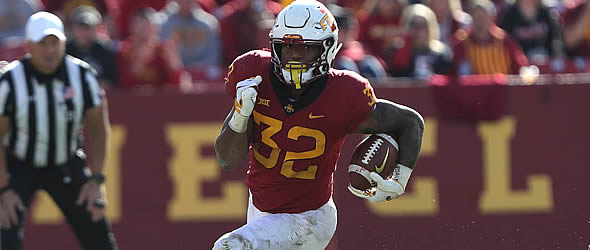 David Montgomery: A highly versatile back capable of stealing the opponent's soul late in games.

Predict the top ten picks of the NFL Draft for a chance to win FFToday prizes. Enter our NFL Draft Contest.



Vitals



College: Iowa State
Height/Weight: 5'10"/222
Hands: 9 1/4"



Important NFL Combine Numbers



40-Yard Dash: 4.63
Vertical Jump: 28.5"
Broad Jump: 121"
20-Yard Shuttle: N/A
3-Cone: N/A



College Production

(Stats)


High-end NFL Player Comp(s): James Conner
Low-end NFL Player Comp(s): Elijah McGuire

Best Scheme Fit: Three-down back in a power-running scheme; while he likely lacks the speed to get to the edge consistently against NFL defenders, he has the vision and lower body strength necessary to run in between the tackles and move the chains.

Strengths
Physical downhill runner with high-end contact balance/lateral quickness (0:00, 1:15, 3:13, 3:36, 3:53, 6:47) with a bit of a mean streak (4:55, 5:06, 5:28, 7:21); led college football with 185 missed tackles forced over the last two seasons per Pro Football Focus.


Strong lower half allows him to push the pile (0:39, 1:15, 4:20), drag tacklers (0:15, 4:55, 5:34, 6:47) or run through arm tackles. (0:42, 3:22)


Not purely an inside runner; while he lacks explosiveness as a whole, he has enough juice to occasionally beat the defender to the edge. (0:00, 0:40, 1:39, 2:01, 3:22)


Has a good feel for anticipating where the hole will open, patient enough to wait for it and sudden enough to exploit it. (0:40, 2:22, 2:36, 4:20, 4:55, 5:34)


Although not lightning-quick, he has the ability to stack moves together once he reaches the second level of the defense. (3:36, 3:48)


Durability and dependability (did not miss a game in three seasons and only lost two fumbles in 573 offensive touches over the last two years).


Underutilized as a receiver (especially in 2018) but makes himself a viable target when asked to leak out (2:58, 3:05, 9:15), routinely lined up in the slot (0:09, 4:55, 5:51) or out wide (5:25); creative NFL play-caller will take advantage of this versatility.


Concerns
Overall lack of burst; more of a grinder whose balance, power and instincts help him avoid negative runs.


Play speed better than timed speed but did not break a 40-yard run in 257 carries last season and was the only back at the NFL Combine without a touchdown of 20-plus yards.


Riding the fine line of having proven he can handle a full workload at the college level (20-plus carries in 13 of his last 19 games) and perhaps being slightly overused (695 career offensive touches).


In addition to potential heavy college workload concerns, running style opens him up to punishment on nearly every play. (0:01, 1:05)


Bottom Line

If evaluators can look past the lack of big-play ability, the team that drafts Montgomery is going to land a highly versatile back capable of stealing the opponent's soul late in games. He runs with impressive power and is going to win the physical head-to-head battle with a linebacker much more often than he will lose it. There are elements of Marshawn Lynch and Kareem Hunt in his game, although I hesitate to say any rookie is as powerful as Lynch was in his prime, and I know he lacks Hunt's burst. Nevertheless, Montgomery is in their class when it comes to contact balance, ability to run inside and handle a heavy workload, and that alone is more than enough to make him worthy of a Day 2 selection. He is at his best running in between the tackles and should have no problem operating as his team's short-yardage/goal-line back immediately.
While the team that drafts him will likely want to occasionally pull him on passing downs to get a more explosive player on the field, it's fair to question if that is a smart move considering he is a solid blocker who can line up all over the field and serve as a mismatch against a linebacker. To that end, his own coach (Matt Campbell) has reportedly told NFL coaches and general managers this spring that Montgomery was the best slot receiver on the team this year. His workload to this point is probably a bit of an overrated concern, but it makes for an interesting discussion nonetheless because it's fair to wonder how long he can last without breaking down - given the ferocity with which he runs - and how many years after his rookie contract he can maintain his level of play. Lynch was able to handle the rigors of his playing style for the bulk of his career, but there are many others that cannot say the same.
Montgomery projects to be a bit of a rare breed in that he should be a physical inside runner who is capable of catching 50-60 passes but still disappoint because he can't turn many (or any) of his medium-sized runs into long touchdowns. Does that mean he can't be a very good NFL back? Of course not. However, it will probably take him out of first-round consideration, as backs drafted among the top 32 picks in today's game should be players who don't need to come off the field AND can deliver big plays on a semi-regular basis. At worst, Montgomery should be the powerful half of a running back committee (much like Mark Ingram has been in recent years). His upside is that of a low-end feature back, albeit one who could explode if he lands with a team with the supporting cast capable of emptying out the box to accentuate his inside running ability and featuring his receiving skills (Kansas City would be a great fit, in my opinion).
---
Doug Orth has written for FF Today since 2006 and been featured in USA Today's Fantasy Football Preview magazine since 2010. He hosted USA Today's hour-long, pre-kickoff fantasy football internet chat every Sunday in 2012-13 and appears as a guest analyst on a number of national sports radio shows, including Sirius XM's "Fantasy Drive". Doug is also a member of the Fantasy Sports Writers Association.