On a fairly regular basis, I debate the pluses and minuses of owners drafting before the final 1 1/2 weeks of the preseason - especially in high-stakes leagues. Obviously, my stance on drafting late is not the norm (anymore) because there are plenty of high-stakes leagues that are open for business right around the start of the NFL Draft. In my opinion, the upside of landing players like Chris Carson and David Montgomery in the fifth and sixth rounds during the spring and early summer pales in comparison to the downside of losing an every-week starter for the season before Week 1. We were reminded of the perils of drafting early over the weekend, as Andrew Luck shockingly announced his retirement before turning 30 years old and Lamar Miller tore two ligaments in his knee on his first and only carry of the preseason.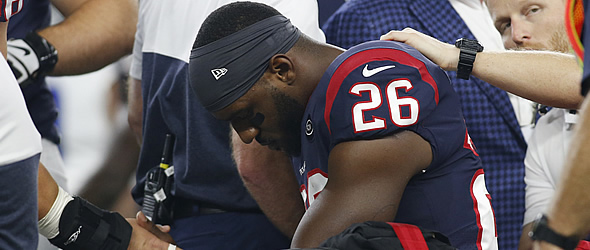 The problem with an elite quarterback retiring for fantasy purposes isn't so much that owners' seasons are ruined due to his absence (there's plenty of depth at the position now), but rather the trickle-down effect that comes along with the drop-off in talent from Luck to Jacoby Brissett. Obviously, the situation could be much worse for the Colts, as Brissett has been getting all of the first-team reps throughout the summer and his experience as the starter during the 2017 season. Perhaps more importantly, he has a better coaching staff, better skill-position talent surrounding him and a better offensive line blocking for him. He's also a more mature player, and it's often easy for fantasy owners to remember that players can improve their game (from the last time we saw them in regular-season action) through practice and their offseason activities.
In other words, the sky is not exactly falling in Indianapolis as much as it could be. However, it would be foolish to suggest the expectations haven't changed for every fantasy property wearing the horseshoe. For example, HC Frank Reich's talk this summer about wanting Marlon Mack to carry the load in the backfield. He should get that chance now, but more volume doesn't always equal more fantasy production - especially when defenses don't have to respect the passing game in the same way they needed to with Luck. The automatic assumption with T.Y. Hilton is that he will repeat his disappointing 57-catch, 966-yard campaign with Brissett from 2017. That's not necessarily going to be the case, as Indianapolis only attempted 487 passes that season (644 last year). The biggest difference for him could be his efficiency. Hilton caught only 52.3 percent of the passes thrown in his direction two years ago (as opposed to 63.3 in 2018). Eric Ebron was already a strong candidate to experience touchdown regression in 2018 before Luck's retirement. He's definitely a strong candidate now. While a top-12 finish isn't completely out of the question given how much Reich keeps the tight end involved, owners should definitely consider Ebron a TE2 now and hope for the best.
In regards to Miller, he became a zero-RB favorite over the years given how consistently he finished inside the top 20 fantasy backs at the cost of a fifth- or sixth-round pick in drafts. Do the Texans simply slide Duke Johnson into his place and hope he can handle the same kind of workload as his fellow University of Miami alum? I personally think he could - people have been way too quick to pigeonhole him as little more than a passing-down back after Cleveland went through three head coaches and four different play-callers during his four-year stay there. He is 5-9 and 210 pounds and did plenty of running in between the tackles during his college career (shockingly, not all of his 526 college rushing attempts were tosses and outside zones). He holds the Hurricanes' record for rushing and all-purpose yards and has yet to miss a game in his pro career. That's a pretty solid resume for a player for a "scatback" - one considered too small to be what qualifies as a bell-cow back nowadays. I personally believe Damarea Crockett could end up being a low-rent Latavius Murray to Johnson's Alvin Kamara - albeit with far less fantasy upside in both cases - but HC Bill O'Brien has typically opted to roll with one main back throughout his coaching career.
---
Doug Orth has written for FF Today since 2006 and been featured in USA Today's Fantasy Football Preview magazine since 2010. He hosted USA Today's hour-long, pre-kickoff fantasy football internet chat every Sunday in 2012-13 and appears as a guest analyst on a number of national sports radio shows, including Sirius XM's "Fantasy Drive". Doug is also a member of the Fantasy Sports Writers Association.