One of the jobs of a good fantasy analyst is not telling readers who to select in their drafts, but rather to provide them with as much relevant information as possible to make sound decisions. After all, they are YOUR fantasy teams.

Change is one of the few constants in this world and the NFL (and fantasy football, by extension) is no different in that regard. To that end, it is often helpful to see if we can identify when and why a particular event took place in the previous season when looking ahead to the next one. Unfortunately, false narratives are often created and certain myths are embraced as fact by the fantasy community for any number of reasons, including but not limited to wanting the easy answer to be the right answer.

Over the next two weeks, I'll attempt to see if there is there some level of truth to the narratives and maybe even debunk some myths while I'm at it. This week, I am taking a closer look at four situations in the AFC that require more examination since they had a dramatic effect on how the season played out last year and figure to interest fantasy owners again in 2020: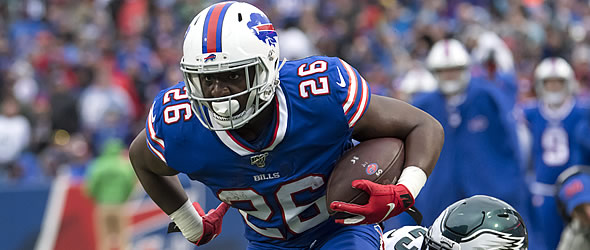 What happened to the Buffalo backfield after Devin Singletary returned from injury? What are the implications of Zack Moss replacing Frank Gore as Singletary's backfield partner?
It's impossible to know for sure if Singletary's breakout was on the verge of happening as early as Week 3 last year because it took only two games upon his Week 7 return from a hamstring injury to move ahead of Gore on the depth chart. Regardless, Gore didn't give Buffalo much of a choice upon his return.
2019 Buffalo RBs (first half of the season vs. second half)
 Player (Weeks)
Car
RuYd
YPC
RuTD
Tgt
Rec
ReYd
ReTD
FPts/G
Gore (1-8)
95
422
4.4
2
8
7
48
0
9.4
Singletary (1-8)
20
172
8.6
1
12
9
58
1
11.0
Gore (9-17)
71
177
2.5
0
8
6
52
0
3.6
Singletary (9-17)
131
603
4.6
1
29
20
136
1
13.0

Over the first eight weeks (seven games), Gore averaged 4.4 yards per carry and turned two of his seven rushing attempts inside the 5 for touchdowns. He was not setting the world on fire by any means, but the backfield arrangement made sense - use Gore's no-nonsense interior running to pound away at defenses and put Singletary in positions where he could hit the big play. Singletary did an exceptional job in his role, running for at least 12 yards on seven of his first 10 career carries in Weeks 1 and 2. Interestingly, five of those seven explosive runs came in the fourth quarter. He did not see a single carry inside the 10 until November, although it should be pointed out that he missed three games in that time.

Singletary found himself in the same bit role he left upon his return, garnering the same 10 carries and six targets in Weeks 7-8 that he did in Weeks 1-2. For whatever reason, OC Brian Daboll chose Week 9 against Washington to give the youngster his shot. Whether Singletary's 20 carries in that game was part of a plan to unleash him in the second half of the season or based the offense needing a spark following a 13-3 loss to the Eagles in Week 8 is anyone's guess, but Gore made the decision of sticking with Singletary in that contest and the rest of the way easy by failing to crack 26 rushing yards in eight of his final nine games (including the playoff loss to Houston).

GM Brandon Beane suggested in early April that Singletary "definitely could be the workload guy" if the team didn't use an early pick at the position. While the No. 86 pick isn't exactly a priority pick, the fact that it became Moss is more important. I wrote the following in my predraft analysis of Moss:
Moss runs with a grudge and isn't overly concerned about how his body will feel the next day. According to Pro Football Focus, he ranks second in this draft class in missed forced tackles with 89 in 2019. For a 222-pound back who runs with such force and possesses such high-end contact balance, his vision and ability to change direction (not as in cutting on a dime so much as he has quick feet) is highly impressive. However, anyone who pegs him as just a physical runner is selling him short. He's not going to be a player (who will) flex out as a receiver very often, but he is a more-than-capable outlet receiver that will create some chaos in the open field when defensive backs are forced to tackle him (33 broken tackles on 66 career catches, per PFF). He won't be among the leaders in 20-plus yard runs very often, but he'll break the spirit of the defense regularly.
Singletary did nothing to lose his job as the primary runner in 2019, but the fact Gore even averaged 9.3 carries (versus Singletary's 16.4) over the second half of the season when he was so unproductive suggests the Bills want two backs splitting carries and/or the ability to ride the "hot hand."
Although Gore had the advantage of four more games than Singletary, it should not come as a surprise if Moss mimics his predecessor and ends up leading this backfield in rushing attempts, nor should it be much of a shock if he gives Josh Allen a run for his money for the team lead in rushing touchdowns. Moss is being advertised as the back to take over Gore's role, but he figures to be much more than that. If his body can withstand the punishment his running style will attract, he is going to be a significant thorn in Singletary's side for fantasy purposes.
---
Doug Orth has written for FF Today since 2006 and been featured in USA Today's Fantasy Football Preview magazine since 2010. He hosted USA Today's hour-long, pre-kickoff fantasy football internet chat every Sunday in 2012-13 and appears as a guest analyst on a number of national sports radio shows, including Sirius XM's "Fantasy Drive". Doug is also a member of the Fantasy Sports Writers Association.