One of the jobs of a good fantasy analyst is not telling readers who to select in their drafts, but rather to provide them with as much relevant information as possible to make sound decisions. After all, they are YOUR fantasy teams.

Change is one of the few constants in this world and the NFL (and fantasy football, by extension) is no different in that regard. To that end, it is often helpful to see if we can identify when and why a particular event took place in the previous season when looking ahead to the next one. Unfortunately, false narratives are often created and certain myths are embraced as fact by the fantasy community for any number of reasons, including but not limited to wanting the easy answer to be the right answer.

Over the next two weeks, I'll attempt to see if there is there some level of truth to the narratives and maybe even debunk some myths while I'm at it. This week, I am taking a closer look at four situations in the AFC that require more examination since they had a dramatic effect on how the season played out last year and figure to interest fantasy owners again in 2020: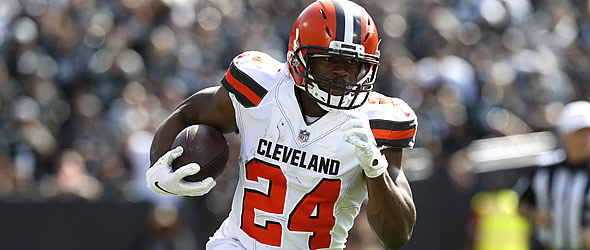 Was Nick Chubb's drop-off in the second half of the year as bad as it appeared? Can fantasy owners expect more of the same in 2020 as he shares the field with Kareem Hunt for an entire season?
One of the biggest dilemmas for fantasy owners on draft day last summer was taking Chubb at the 1-2 turn. Most of the owners who decided to do so reasoned they would be willing to accept the potential risk of Hunt's return in Week 10 for half a season's worth of potential RB1 efforts from Chubb. Surprisingly, that is almost exactly how it played out as Chubb was the overall RB6 in fantasy after Week 9. To hear others tell it, the former University of Georgia standout fell off a cliff after that. Was it really that bad?
Chubb's averages before/after Hunt's return from suspension
 Player (Weeks)
Car
RuYd
Tgt
Rec
Total TDs
FPts
Chubb (Weeks 1-9)
19.3
100.4
4.0
3.1
6.0
19.7
Chubb (Weeks 10-17)
18.0
86.4
2.1
1.4
2.0
13.0

Admittedly, it doesn't look great as Chubb took a hit in every category listed above. However, his biggest issue was bad touchdown luck and atrocious blocking when it mattered the most. On 32 carries inside the 10, he gained a total of 12 yards. On 15 carries inside the 5, he lost 14 yards! (Hunt only attempted two runs inside the 10, but he managed to score on both.) The Browns made enough improvements to their offensive line this spring to believe a repeat performance from Chubb near the end zone is highly unlikely.

While it's always dangerous to remove certain outlier games when making a comparison, it's important to note that if we exclude the Browns' Week 4 victory over Baltimore (which was missing standout DL Brandon Williams) and recalculate Chubb's averages after erasing his 165 rushing yards and three touchdowns that day, his second half doesn't look all that much different from his first.
Chubb's averages before/after Hunt's return (excluding Week 4)
 Player (Weeks)
Car
RuYd
Tgt
Rec
Total TDs
FPts
Chubb (Weeks 1-3, 5-9)
19.1
91.1
4.0
3.1
3.0
16.9
Chubb (Weeks 10-17)
18.0
86.4
2.1
1.4
2.0
13.0

We can see Chubb still takes the hit in the receiving game, but his rushing numbers are not much different otherwise. Most people seem to be focusing on Chubb's second half of last season and using that as something of a barometer for 2020. It's not entirely wrong to do that, but there are also a couple of key assumptions being made that are being accepted as fact. The truth is we honestly don't know if they will prove to be true.

Assumption #1: Cleveland will split the backfield duties in the same manner it did upon Hunt's return despite replacing former HC (and play-caller) Freddie Kitchens.

There's nothing wrong with this assumption, and it is a logical one to make. It's the most likely scenario. The problem is that no one should blindly assume new HC Kevin Stefanski feels last year's backfield was the best way to utilize Chubb and Hunt.

Assumption #2: We already know what Stefanski is as a play-caller.

Actually, we don't even know for sure if he will serve as his own play-caller. He should, but either he is being coy or hasn't decided yet. The plan in late February was to have new OC Alex Van Pelt call plays in the preseason to see if he was up to the task. As recently as the beginning of July, Stefanski told reporters that "it (who calls the plays) remains to be seen" and he is hopeful that decision will be made when everybody gets "back in the building." In the unlikely scenario that Stefanski goes with new Van Pelt with this offseason being what it is, the offense could operate much differently than most of us expect.

Even if we assume he is the one calling the shots this year, the 2019 season was Stefanski's first as an offensive coordinator. While there is no question he was in charge of the offense in Minnesota last year, HC Mike Zimmer made it clear running the ball was of the utmost priority early in the offseason. Stefanski would accomplish this task with a helping hand from assistant head coach and offensive advisor Gary Kubiak. There's a strong chance Stefanski was hired to run the same kind of offense in Cleveland, but we've already established there is no guarantee of that.

Before becoming the offensive coordinator in 2019, he served as an assistant under Norv Turner, Pat Shurmur and John DeFilippo the previous three seasons. Any one of those three men had a more profound (or at least equal) influence on Stefanski has a play-caller than Kubiak in their few months together in Minnesota. Will there be a Kubiak influence on this offense? Almost certainly. Will it be a carbon copy? We have no idea.



---
Doug Orth has written for FF Today since 2006 and been featured in USA Today's Fantasy Football Preview magazine since 2010. He hosted USA Today's hour-long, pre-kickoff fantasy football internet chat every Sunday in 2012-13 and appears as a guest analyst on a number of national sports radio shows, including Sirius XM's "Fantasy Drive". Doug is also a member of the Fantasy Sports Writers Association.